Discovering Sloomoo Institute Atlanta: The Sticky Facts of a Slime Museum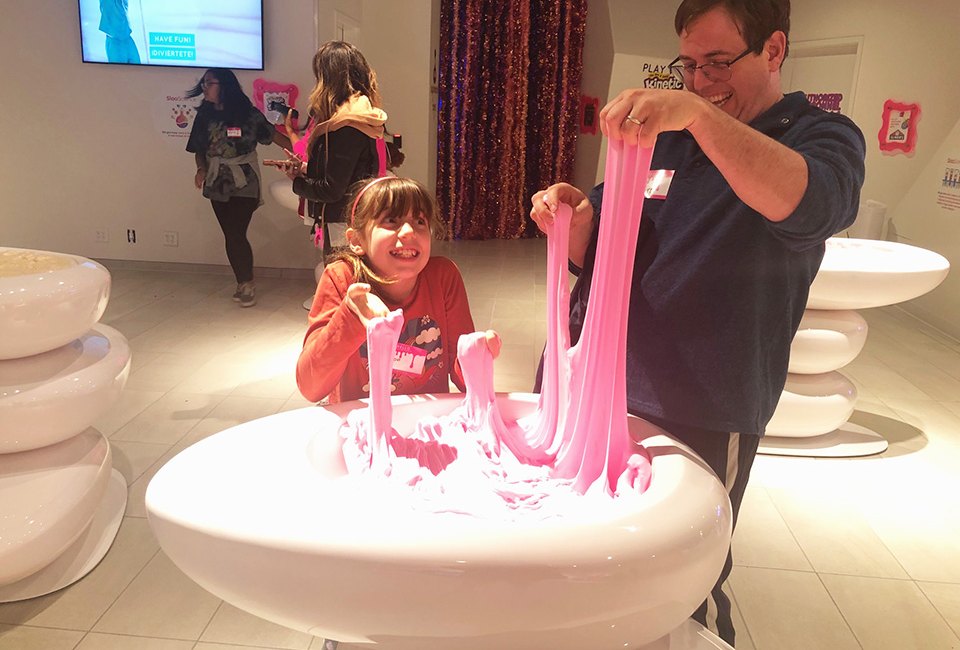 12/11/22
- By
Melanie Preis
There's nothing more enticing to a child than a blob of sticky, stretchy, soothing slime; and they can get oodles of the gooey stuff at Sloomoo Institute Atlanta. This mecca of slime is a wacky experience that pays homage to the best of Elmer's Glue. Kids will fan out over the amount and variety of slime, showcased in cool, colorful ways at Sloomoo Institute. And parents will love the fact that all the slime experimentation stays at the Institute and not stuck in their carpet.
My young daughters are definitely working on their doctorates in Slimeology, and by attending Sloomoo Institute Atlanta, their passion in the sticky science has only increased! I can only hope these little graduates go on to make their alma mater proud by coming up with even more insane slime inventions...in our backyard.
Slime too messy for your family? Take a look at our Atlanta Museum Guide for Kids for more ideas of where to teach and entertain local kids. And make sure to subscribe to our newsletters to learn about the latest and greatest happening on Mommy Poppins.
Find your favorite vat of slime and make stretchy creations.
Kids can manipulate slime with cool equipment beyond their own hands.
Sloomoo Institute Atlanta: Say My Name (or Noomoo)
Upon arrival at Sloomoo Atlanta, located at 3637 Peachtree Road NE in Buckhead, guests create their Sloomoo name. Replace all the vowels in your name with double o's and you've now been Sloomoo'd (get it..."sloomoo"="slime"). Write that new name on the name badges and proudly display your new moniker (my kids LOVED calling me Mooloonoooo the rest of the afternoon).
Now it's time to get down and dirty with all that slime with vats of various slime concoctions located throughout the space. Sloomoo is an experience that entices all the senses -- from fluffy versions (cloud slime) to super sticky ones -- kids can stretch, squeeze, pull, and almost any other verb you can think of with this slime. Sloomoo staff wander to help kids and adults, even assisting with the creation of slime bubbles! Beyond texture, each vat (my kids described them as "egg containers" based on their shape) features different colors and various smells.
This is the wall of slime that everyone builds upon!
Check out the Sloomoo mascot as the creature wanders through the Institute at certain times.
In this exhibit, Sloomoo Institute visitors can help build a slime wall by adding their own slime to towering walls covered in the sticky stuff. Beyond learning how to create slime bubbles, kids also enjoy using various props to see how slime reacts; my daughter was obsessed with squeezing blue slime through a tennis racket and watching the matter drip through the strings. Visitors can also slingshot slime (with the help of trained staff) aimed at their targets standing behind plexiglass.
Check out the plexiglass slingshot stations in the background to slime friends at high speeds!
Sloomoo Institute Atlanta: Get Your Sloomoo On!
Sloomoo Institute Atlanta offers exhibit after exhibit of fascinating ways to enjoy slime in a sensory-focused environment. Play with kinetic sand lit by blacklight; climb through a slime-themed obstacle course; jump barefooted into a shallow pond of slime; and much more. If you really want to get the full-body Sloomoo experience, put on your poncho and get slimed, Nickelodeon style, by standing under the slime showers at Sloomoo Falls. (My kids didn't want to go that far, but it was fun to watch the brave families who did choose this option.)
Every paid ticket includes the ultimate souvenir: SLIME! Each visitor takes home an eight-ounce container of a custom-made slime, created and perfected at the Slime Bar. Choose your preferred texture (mine was Butter Slime because of its spreadable texture) and color, as well as scent and even charms. Be aware that there are LOTS of smells to choose from and this can get a little overwhelming.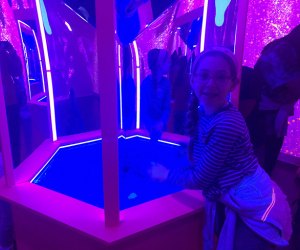 My kids LOVE kinetic sand but enjoyed it even more under the hue of ultraviolet light.
Take your shoes off and stomp through a satisfying pool of squishy slime.
Like any reputable attraction, Sloomoo's exit is through the gift shop, and visitors can purchase premade slime containers, as well as shirts, hats, and other tchotchkes. Kids looking for one final sensory moment are in luck —there's one last slime egg/vat in the gift shop to dig your hands through before heading to the car.
Run through Sloomoo's obstacle course, full of wonderfully wacky shapes and colors.
When creating custom slime, visitors choose their favorite smell from a huge list of options.
All that Sloomoo slime requires glue. Lots and lots of glue.
Sloomoo Institute Atlanta: Know Before You Goo
Sloomoo Institute is located on the corner of Peachtree Road NE and Roxboro Road NE (next to Nova Sushi). Free parking.
Dress comfortably, in clothes that can be rolled up so you can really dig into the slime. Slime does come out of clothes with vinegar and water FYI.
Sloomoo is an all-ages attraction, but all guests ages 1+ must purchase a ticket. Kids under age 14 must be accompanied by an adult.
Timed-entry tickets start at $39 and include your take-home, custom-made slime. An enhanced ticket goes for $69.
Before starting the experience, visitors are required to thoroughly wash hands before touching slime. Wet wipes and hand sanitizer are located throughout the space, including those for bare feet at the jump pond.
New sensory hours on certain days at 9-10am, with reduced capacity and a quieter atmosphere. Slingshot and Slime Falls are not available prior to 10am on these days.
Sign up for a Sloomoo subscription and have its fun products delivered directly to your door.
Book birthday parties and events in one of Sloomoo's private rooms.
All photos by author
Places featured in this article:
---
Sloomoo Institute Atlanta