Disney's The Little Mermaid x CAMP Atlanta: Become a Part of That World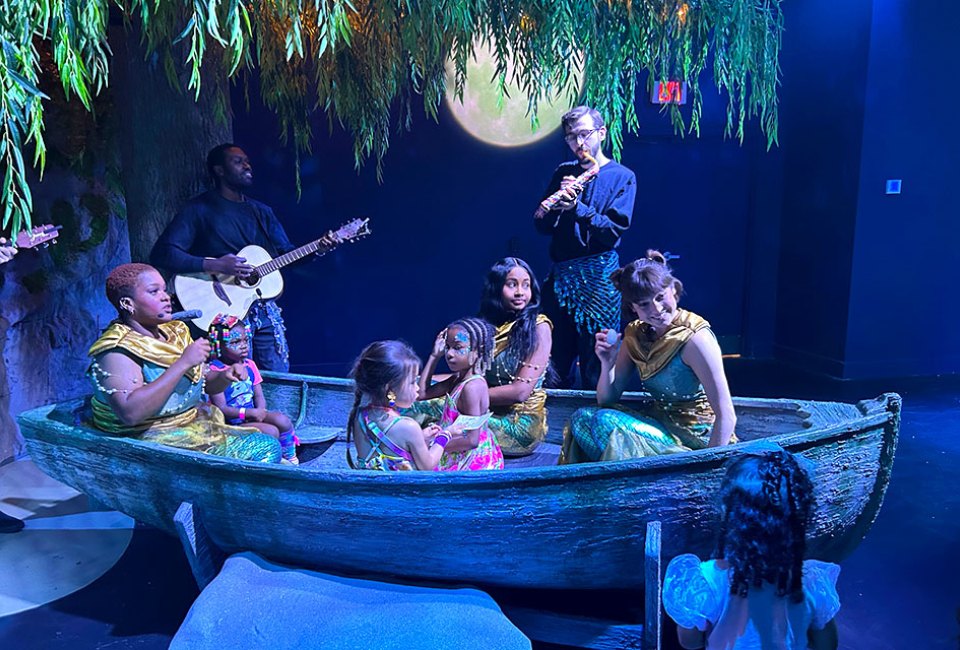 6/16/23
- By
Melanie Preis
Disney's The Little Mermaid x CAMP Atlanta, which opened in Dunwoody earlier this month, is a unique, immersive experience that will have kids belting "Kiss the Girl" the entire ride home. CAMP is a wonderful combination of retail, media, and entertainment, open in many major cities across the country. CAMP's first location in Atlanta collaborated with Disney to celebrate the new Little Mermaid film with aquatic awe.
I recently took my kids to CAMP Atlanta for a morning of magic, merfolk, and merchandise, and it's truly the best. When it comes to Ariel, we always want to be a "Part of [Her] World" and the fantastic experience at CAMP made it happen. Take a look at our guide to Disney's The Little Mermaid x CAMP Atlanta for family fun!
Got a few crabby (get it?!) kids who don't love mermaids but still cherish Disney? Visit Atlanta's Lighthouse Immersive Disney Animation experience for a step into the nostalgia and magic of beloved Disney classic movies. Or forget Disney all together and go on a mind-bending trek through the Museum of Illusions Atlanta. Take a look at all our entertaining ideas in our Ultimate Kids Summer Vacation Guide!

Little ones stay enthralled with CAMP Atlanta's engaging underwater entertainers.
From the outside, CAMP Atlanta looks like a regular (yet still awesome) kids' retail shop, featuring colorful toys, games, dolls, and of course, slime. But upon closer examination, clever kiddos may notice an emphasis on mermaid-esque products, including bags with iridescent scales, mermaid fins, and a beauty bar that provides a total mermaid makeover, with mermaid face gems, shimmering face paint, and hair tinsel.
Families step through CAMP's signature "Magic Door" to explore a 5,300-square-foot watery world! Ticketholders step beyond the wall of merchandise and go "Under the Sea," transforming into merpeople and living life under the bubbles. CAMP's experience includes live music, puppetry, magic shows, slides, an indoor playground, and more! Families can climb, slide, sing, dance, and play in Ariel's exciting world.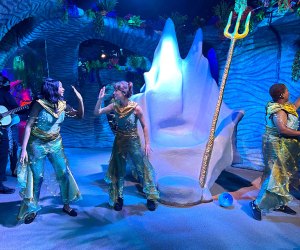 Sit upon King Triton's throne and touch the mighty trident—it may even light up!
My children especially loved engaging with the talented entertainers performing for families—these actors/singers/musicians make the CAMP Atlanta experience fun for every age. Upon first diving into the undersea adventure, families enter and explore Triton's Throne Room, featuring an illuminated trident, slides, and bubble balls. Next, hang out in Ariel's treasure trove and enjoy a comedy show by the merfolk.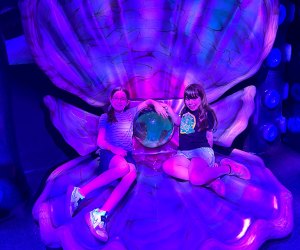 Pearls among pearls in Ursula's lair!
Kids can "swim" on the wild side upon entering Ursula's lair! Slide down her blacklight slides, relax in the pearl oyster, and cause some trouble at the witch's bubbling cauldron. My kids enjoyed a magic show in Ursula's lair, as well as pretending to be one of her evil henchmen/eels.
Climb aboard Prince Eric's ship and let the kiddos run free in this pirate-themed indoor play space. Calm things down by sitting in the rowboat that Eric and Ariel use during their romantic outing from the movie (also an awesome photo opp).
RELATED: Encanto's Casita Comes to Life at CAMP Fifth Avenue

Get into the spooky side of The Little Mermaid by hanging with the villainous sea witch!
Throughout these interactive scenes, kids can participate in a scavenger hunt and look for hidden clues. When children solve the clues, they head to CAMP's Little Mermaid-themed gift shop (every good Disney attraction has one) and trade in their work for CAMP stickers and an activity book.
The Little Mermaid experience lasts about an hour. Once you're ready for dry land, follow the exit signs and you're magically transported back to CAMP Atlanta's retail shop. Feel free to continue to shop, create custom slime, and draw at the open coloring tables.

Complete the scavenger hunt in Ariel's treasure cove to win a prize! Photo courtesy of CAMP
The Little Mermaid x CAMP Atlanta is located at 4551 Olde Perimeter Way in Dunwoody.
Disney's The Little Mermaid x CAMP Atlanta hours are Monday-Thursday, 10am-6pm; Friday 10am-7pm; Saturday, 9am-7pm; and Sunday, 9am-6pm. Note: Retail hours vary from the experience hours.
Experience ticket prices range from $29-$35, depending on day of the week. You can buy tickets in person at CAMP, but the ticketed experiences frequently sell out. Buy tickets online before arrival to ensure availability. (The retail store is always free to enter.)
CAMP Atlanta hosts birthday parties, and interested families can get more details online.
The Little Mermaid immersive experience is geared toward ages 4-8. Movie characters do not appear but merpeople performers play live music and present live entertainment and comedy.
Unless noted, photos by the author.
Disclosure: We may earn a small commission if you click through our link and make a purchase. This revenue helps us maintain this site, so thank you for supporting us.
Places featured in this article:
---
The Little Mermaid x CAMP Atlanta
Click Here to Sign Up!
i