Interactive Puppetsburg Show at Brooklyn Greens
Brooklyn Greens
Submerge: NYC Marine Science Festival
Hudson River Park Pier 84

Cirque-tacular presents 'The Art of Circus'
BMCC Tribeca Performing Arts Center
Encanto's Casita Comes to Life at CAMP Fifth Avenue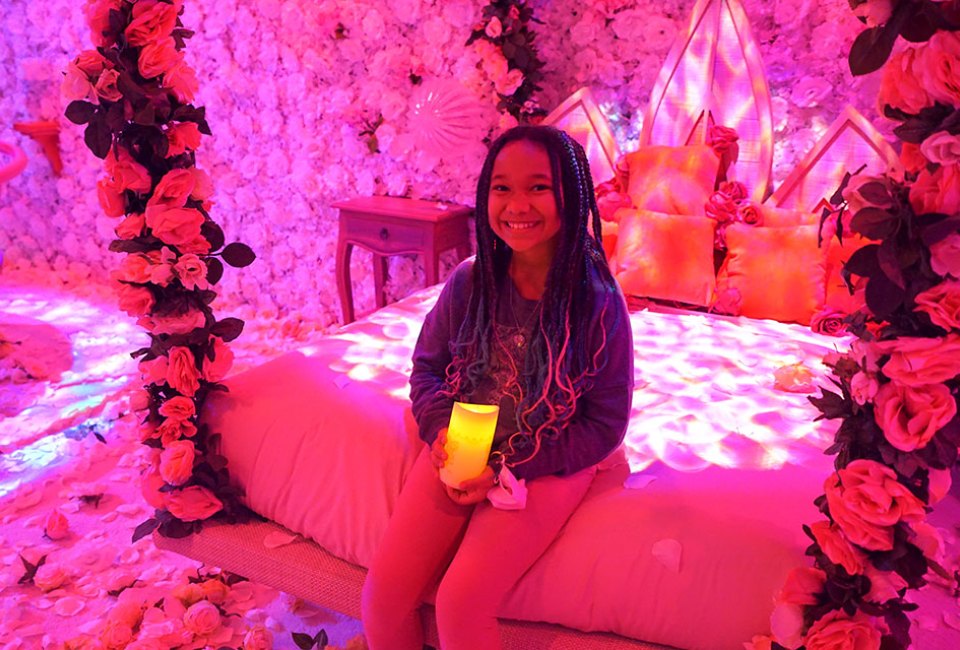 10/13/22
- By
Jody Mercier
Subscribe to our newsletters to get stories like this delivered directly to your inbox.
If you've visited CAMP's Fifth Avenue location before—even for the recent Mickey mashup—know that Disney Encanto x CAMP is unlike any CAMP experience that preceded it. While there's always something exciting going on behind that Magic Door, the Encanto experience is transformative.
RELATED: 50 Best Kids' Movies for Family Movie Night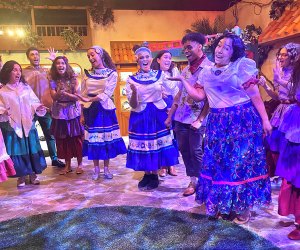 A roving cast of performers fills the CAMP space with live performances of Encanto's catchy songs.
Beyond just being a place to play or a story-driven experience, Disney Encanto x CAMP puts you in the center of the Encanto story, complete with a costumed cast of characters who offer pop-up concerts throughout the space.
RELATED: Kids Can Play for Free at These New York City Stores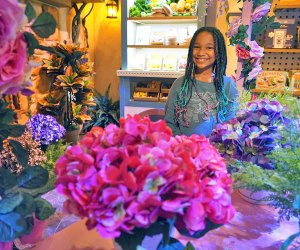 Shop in the beautiful wares in la placita after you explore the casita.
While you explore the rooms of the Casita, showering yourself with rose petals in Isabella's flower-filled room, testing yourself with feats of strength in Luisa's, or going behind the walls in Bruno's, you'll be serenaded with the soundtrack by roving musicians, and you'll be hard-pressed to not join in the sing-along.
RELATED: Visiting the Sloomoo Institute: Soho's Museum of Slime Produces Ooey-Gooey Fun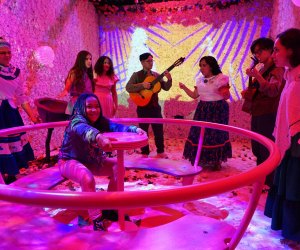 Spin on the merry-go-round in Isabella's picture-perfect room.
Kids can't get enough of the play spaces, including slides, skee-ball alleys, and even a merry-go-round, while parents will be drawn to the seemingly pulled from the animated hit backdrop on which it's all staged. A fun, family photo-op gives you a takeaway treasure to remember the experience.
A toy store at heart, of course, you'll exit into La Placita—the town square—to be surrounded by Encanto-themed merchandise, which can even be customized with chain stitching and patches.
Disney Encanto x CAMP is now open at CAMP Fifth Avenue and runs through at least Sunday, July 2. Timed-entry tickets are required and must be booked online in advance. Tickets start at $30 and go up from there depending on the date. For the best deal, book far in advance and on a weekday. Officially an all-ages experience, we'd suggest a visit for anyone who loves the movie and the music.
Photos by the author
We may earn a small commission if you click through our link and make a purchase. This revenue helps us maintain this site, so thank you for supporting us.
Places featured in this article:

Sign up for our free
newsletters.
Mommy Poppins is a family activity website that helps people find things to do with kids.
©
2023
MommyPoppins. All Rights Reserved.
mp-prod4-v4.32.99
Click Here to Sign Up!