Sloomoo Institute Pops Up in Soho With Plenty of Ooey, Gooey, Slimey Fun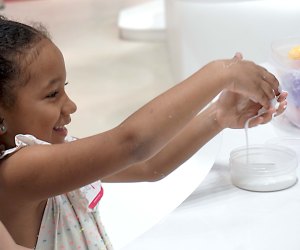 Slime lovers can now indulge in the slippy slimy stuff at the Sloomoo Institute, a newly-opened Soho popup experience where tons of sensory-fueled fun awaits. If the ooey-gooey-slime craze has crept into your life, and you've been known to celebrate a good deal on a gallon of Elmer's Glue, read on for the inside scoop.
A brightly colored storefront, complete with "slimers" honing their craft in the window for all to see, is the gateway to the timed-entry experience that's part science experiment, part art exhibit, and all hands-on, slimey fun.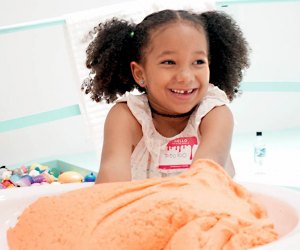 Kids (and adults!) will love squishing into a big batch of gooey slime.
Vats of slime—more than 30 of them!—dot the path you'll travel through the 8,000 square-foot space. Each slime you experience has a different combination of texture and smell. We played with a purple butter slime that smelled exactly like a Welch's Grape Soda, and dunked our hands into a cloudlike slime that looked like cotton candy when stretched.
RELATED: Interactive Museum of Ice Cream Comes to NYC This Winter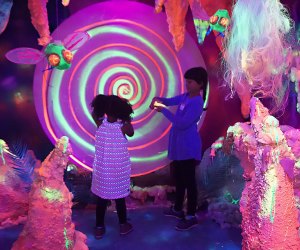 There's even glow-in-the dark slime.

Along the way, we got to play with slime in unexpected ways, posing for photos and videos that were emailed to us before we even left the exhibit. Slimey facts dot the walls, and the experience calls out uses for slime that go far beyond child's play. In fact, Sloomoo Institute co-founders Karen Robinovitz and Sara Schiller both fell in love with the healing, stress-relieving power of slime as adults and hope to share that love with the masses through this new venture.
One installation puts slime's relaxation-promoting powers to the test: Visitors sit on opposite ends of a table, with brain-wave measuring headbands on. One visitor is given a hunk of slime to play with; the other forced to watch. A silver ball sits at the table's center to start, and gravitates toward the player who feels the least relaxed based on the brain-wave measurements, which are projected on televisions above the table.
RELATED: New Art of the Brick Exhibit Dazzles at NY Hall of Science

Create your own concoction at the slime bar.
The most exciting aspect of the exhibit is the slime bar, where you can DIY your own special 8-ounce Sloomoo mix, choosing from a variety of bases and customizing it with your favorite scent, color, glitter, and add-ins like confetti, beads, charms, and more. You'll leave with a generous container of slime that's all your own. My oldest daughter cooked up royal blue-hued snow-fizz slime that had a sugar-cookie dough-like texture and was scented with "Cinderella," a floral-like perfume. My younger daughter's purple butter slime smells like a fresh-baked cake, and even my slime-averse self had fun crafting a lilac-hued cloud slime that smells like vanilla bean, is flecked with pearls, and now lives on my desk where I'm hoping it will help cure my next bout of writer's block.
Kids who follow slimers on social media will likely get a kick out of the SlooTube studios where slime-crazy kids can craft their own slime videos complete with professional lighting. A Slimer in Residence program invites established and up-and-coming slime stars to Sloomoo to host meet-and-greets, craft slime, and more.
Lest you think this is a kids-only spot, take note: Sip x Slime and CBD x Slime events are in the works for the 21 and up crowd. Of particular interest to millennial parents, perhaps, is the available add-on of a photo shoot at Sloomoo Falls, providing a trip back in time to your Double Dare-watching days.

Take a little something home to remember your day of sliming!
As for where all the leftover slime ends up, Sloomoo has teamed up with Rensselaer Polytechnic Institute to develop a slime recycling program. Another feel-good aspect to Sloomoo? A portion of all proceeds is donated to a trio of mental health charities: Love is Louder, NAMI, and Sad Girls Club.

The great slime wall at Sloomoo Institute.
What to Know Before You Go:
Sloomoo Institute on Broadway between Broome and Grand Streets in Soho is open daily from 10am-8pm through April 18, 2020. After that, the fun will pack up and head west to LA for a new installation.
Dress comfortably, in clothes that can be rolled up so you can really dig into the slime.
Kids ages 3 and up are allowed, but close adult supervision is required and the attraction is really best suited to the elementary school and up crowd.
Timed-entry tickets are $38 and include your take-home, custom-made slime. Everyone who enters needs a ticket.
For those questioning the cleanliness, we're told slime is swapped out several times daily. Wipes are ubiquitous, and you'll be encouraged to wipe down before and after you touch each slime.
An on-site store sells Sloomoo's custom slimes, and is open to the general public during business hours. Additional tubs of slime can be purchased for $16. If you want to participate in the Sloomoo Falls photo shoot, plan to shell out an extra $30.
Photos by the author