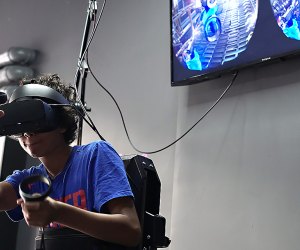 16 Fun Things to Do With NYC Tweens (With No Adolescent Eye-Rolling)
It can be challenging to find family activities that will entertain you and your tween—they're a bit too old for most playgrounds and a bit too young to wander around NYC alone. That's why this mother of a picky 11-year-old asked her peers and their kids for things to do in NYC with tweens that are guaranteed not to prompt one of those infuriating eye rolls. So next time you're planning a family outing, try one of these tween-tested-and-approved excursions in NYC—who knows, your tween might even look up from whatever gadget they're holding.
Explore a Grown-Up Museum
Now that they've officially outgrown all the children's museums, your tween can better appreciate MoMA, the Met, the Brooklyn Museum, the Guggenheim, and NYC's other world-class art institutions. Of course your sophisticated tween may have already been going to those culture hubs for years. But they've probably never visited The Frick, which doesn't allow visitors under age 10, or Neue Galerie New York, although you must be at least 12 for that one. Meanwhile, many usual haunts offer drop-in activities perfect for tweens, like monthly Saturday Sketching sessions at the Met and the Guggenheim, MoMA's Family Films, which often have tween-specific screenings, and the New Museum's First Saturdays for Families. All of the city's major museums offer creative family activities, and even if they're not tween specific, they're much more sophisticated than arts and crafts, and best appreciated by mature children.
RELATED: NYC Museum Guide for Kids and Families

There's something Lord of the Flies-ish about Governors Island's adventure playground that tweens will love. Photo by Philipp Klaus/courtesy of play:groundNYC.
Hit the Adventure Playground
No swings, no jungle gym, no sandbox, and definitely no pesky toddlers or parents! At play:groundNYC on Governors Island, big kids can craft whatever they want out of wood, nails, saws, hammers, and assorted junk. And since parents and caregivers aren't allowed in (though there are adult playworkers on the premises), it's an exercise in independence, too. NYC's sole adventure playground opened in 2016 and has been a summer fixture ever since. While it welcomes kids as young as 6 to the building area, there are always lots of tweens. It's certainly much more creative and challenging than a typical playground, but it's still FREE. Tweens will also love exploring the island's other attractions, including the massive slides and hammocks.
Play Laser Tag
Tell your tween to put down the joystick and jump into a real-life video game with a session of laser tag—where tag meets hide-and-seek, played with infrared laser guns in the dark. Your goal: Take out your opponents before they get you by shooting, running, and hiding. There are only a handful of places to play laser tag in NYC, and Indoor Extreme Sports, with locations in Long Island City, Queens, and on Staten Island, is definitely the tween favorite because of its themed courses: black ops, zombie, arena, plus no-mess paintball that's played with pellets. There are a few drawbacks, though. You need to make advance reservations and have a minimum of six players on weekdays, eight on weekends and holidays. If it's just your family, call ahead to see if there's walk-in availability and the staff may match you with another party.
Go Bowling
An oldie but a goodie, there are lots of family-friendly bowling spots in NYC, though the swanky Manhattan ones turn into 21-and-up lounges after dark. Modest outer borough alleys, like Brooklyn's Melody Lanes and Shell Lanes, and Queens' Jib Lanes and Whitestone Lanes, tend to be the cheapest and most kid-centric. But state-of-the-art Bowlmor Chelsea Piers offers the most activities to make your tween squeal, including a 3,000-square-foot, NYC-themed laser tag arena featuring replicas of landmarks like the Washington Square Park Arch and the Statue of Liberty, an aerial ropes course, plus Ping-Pong and arcade games.
Play Mini Golf
While there are multiple miniature golf courses in NYC, many tend to be small (nine holes), easy (to accommodate tots), and not as over-the-top and kitschy as their suburban competitors. One we particularly love for older kids is the Shipwrecked Miniature Golf in Red Hook. Its indoor location makes it a year-round destination, too. Another bonus: It offers generous discounts on its site, and opens early on school holidays.
Go Old-School: Pinball, Arcade Games, and Slot Cars
While NYC seems to be overrun with 21-and-over barcades, there are a few old-school video game havens that are great for families with tweens. Skip Times Square's touristy Dave & Buster's and head down to Chinatown Fair. Overhauled in 2012, this longtime arcade is bursting with adolescents (many unaccompanied so be forewarned!) and games like Ultra Street Fighter, Dance Dance Revolution, and basketball hoops. If your tweens are more into pinball, Modern Pinball boasts more than 30 different machines, from restored classics to newfangled releases. Or go really vintage at Buzz-a-Rama, NYC's sole remaining slot-car racing joint as kids (and parents) navigate their vehicles around a track. It's only open weekends and often closed for parties so call ahead.

Immerse yourself in the games at VR Bar. Photo by Mommy Poppins
Try a Virtual Reality
VR World debuted in the shadow of the Empire State Building in 2017, bringing with it a whole new gaming dimension. Immerse yourself in the games there, at the brand new Escape Virtuality nearby, or Brooklyn's VR Bar. While it may not get your kid away from tech, at least these games are a bit more physical and interactive.
RELATED: 16 NYC Activities Even a Teen Will Call On Point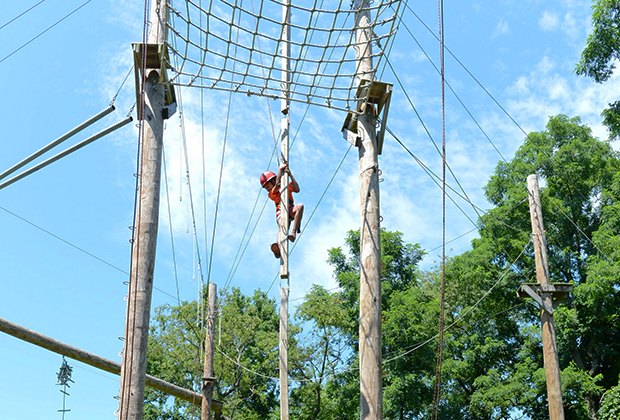 Climb among the tree tops right in Queens! Photo by Daniel Avila/courtesy of NYC Parks.
Try Rock Climbing or Zip-Lining
There are lots of family-friendly rock climbing spots in NYC where you can scale the heights with your child. While most are indoors, DUMBO Boulders in Brooklyn Bridge Park, which debuted in 2016 and is only open seasonally, is outdoors and boasts amazing views. But if you really want a heart-pumping alfresco challenge, consider the Alley Pond Park Adventure Course in Queens. A trained professional leads athletes ages 8 and up through a series of team-building challenges, including a low- and high-ropes course, a zip-line, a climbing wall, a trust-fall station, swings, nets and balance platforms. The course is FREE and open to the public on a first-come, first-served basis on Sundays, May through November. During July and August, families must register in advance the Monday before the Sunday they want to go. Another option: The Bronx Zoo Treetop Adventure, which takes you on a zip line and ropes course soaring high above the Bronx River but also comes with a hefty price tag.
Try a Board Game Cafe
For less physically demanding play, hit a board game haven. The Brooklyn Strategist hosts workshops in everything from chess to Dungeons & Dragons, as well as drop-in open play sessions for an hourly fee. Good Games NYC in Astoria boasts a full calendar of collaborative games, too. The Uncommons cafe in Greenwich Village lets you rent games from a huge onsite collection. There's also Brooklyn Game Lab with locations in Park Slope and Tribeca and Hex & Company caters to Upper West Side families. Strangely, tweens are less likely to complain they're bored with board games when they play them competitively outside your living room.
Jump, Bounce, and Fly
No, the tweens are not too old for bounce houses—and neither are you! NYC is home to two BounceU locations where gravity-defying folks can jump, bounce, and fall to their heart's content. The Queens outpost has regular family bounce nights while Brooklyn offers all-ages sessions. Want to go even higher? Staten Island is home to NYC's only indoor trampoline park, Fly High. There's nothing the 'burbs have that we don't...except (maybe) affordable housing.
RELATED: Kids' Sports Centers and Indoor Fun Zones

Hit the roller rink on Pier 2 in Brooklyn Bridge Park. Photo by the author.
Twirl Around a Rink
Not too long ago, there was only one outdoor roller rink in all of NYC in Harlem's Riverbank State Park. But Brooklyn has become a roller rink hotbed with rinks in Prospect Park and Brooklyn Bridge Park, plus the new Dreamland Roller Rink at Industry City. Staten Island's indoor, super-disco RollerJam USA is also destination worthy. If that's not cool enough for your family, there are plenty of indoor and seasonal outdoor ice-skating rinks with regular drop-in hours. But somehow roller-skating seems like a better tween option with its funky, retro appeal.
Batter Up!
No one in your family needs to be on a team to practice their swing in a batting cage. In Manhattan, you can increase your average at Chelsea Piers or the Baseball Center. Queens has The Cage in Middle Village. There are also outdoor cages at the Turtle Cove Golf Center near City Island in the Bronx and Staten Island Go-Karts.
Play Pool and Billiards
While not all NYC pool halls are kid-friendly, we rounded up five that welcome families. Eastside Billiards on the Upper East Side is particularly tween-friendly during daytime hours. Pingpong, Foosball, and Skee-ball are also offered. Amsterdam Billiards in the East Village is also a popular tween choice because of its arcade games and pingpong.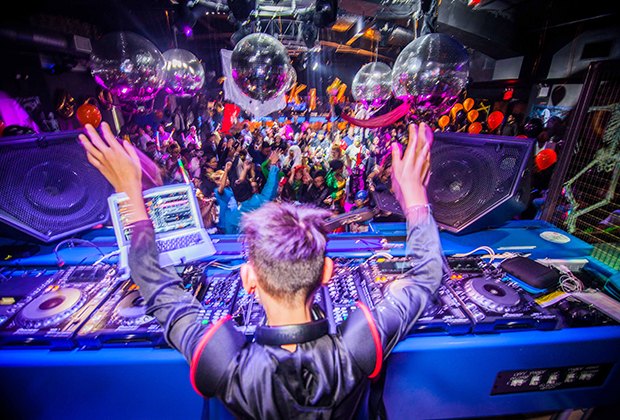 Party like a rock star at CirKiz. Photo by David Cova/courtesy of CirKiz.
Shake Your Groove Thang at a Family Dance Party
While Rock and Roll Playhouse and Little Club Heads cater to the sippy-cup set, there are a few underage family dance parties that skew a bit older. Created by NYC parents and club scene vets Jesse Sprague and Jenny Song, CirKiz is aimed at 7- to 13-year-olds and features a father-and-son DJ duo spinning electronic music, interactive live performances, and dance contests for prizes. Brooklyn Museum's FREE Target First Saturdays are at night and always feature a DJ and dancing. And Harlem's roaming Sweet Spot Festival hosts outdoor daytime dance gatherings throughout the summer.

Try an escape room adventure at Shipwrecked. Photo courtesy of Shipwrecked
Unlock Some Fun
If your kid is up for a mental challenge, consider booking an escape room experience. Ranging from fun (Brooklyn's Beat the Bomb sprays you with colorful paint if you can't defuse the paint bomb in time) to spy-themed, to escaping a medieval dungeon, there's seemingly an escape room theme for every age and interest. Most require a bit of advance planning and a large group if you don't want to rely on strangers to assist you.
Hit a High-Tech Megastore
Considering how much time your tweens probably spend on screens at home, this may be the last thing you want to do—especially considering everything is for sale. But the fact is, tweens could spend hours in the recently revamped Nintendo World Store or any of the ever-multiplying Apple Stores messing with games, gadgets, and apps. Just make sure they bring their own wallets. You plan the outing, they make the purchases.
A version of this post was published in 2017; it has been updated for 2019. Jody Mercier contributed additional reporting.