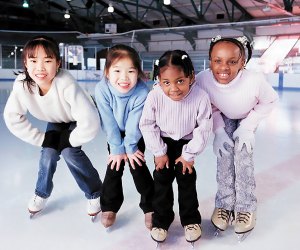 Indoor Ice Skating Rinks for Every Season in NYC
As much as we love ice skating outside, sometimes it's just too cold, hot, or rainy for New York City's seasonal outdoor rinks. Indoor ice skating rinks let NYC kids skate year-round, and some in-the-know parents with young skate enthusiasts say they prefer indoor ice skating rinks because the quality of the ice is better, making for a smoother glide, which is especially helpful for newbies.
Here are six NYC indoor ice skating rinks to check out whether your kid is just starting or is perfecting their hockey or figure skating moves. Many offer birthday party options, skating lessons, and rentals—plus, most are open in the summer if you ever need to cool down.
Coney Island Boardwalk and West 19th Street
Open October-March on Saturdays and some holidays, 2-4pm
All-ages $10; Skate Rental $5
Skate on the Coney Island boardwalk this winter at this decades-old rink. Open Saturdays (and some holidays) only, this popular destination gets crowded. The Greater New York City Ice Hockey League has its home here and offers ice hockey lessons.
RELATED: Outdoor Skating Rinks for NYC Families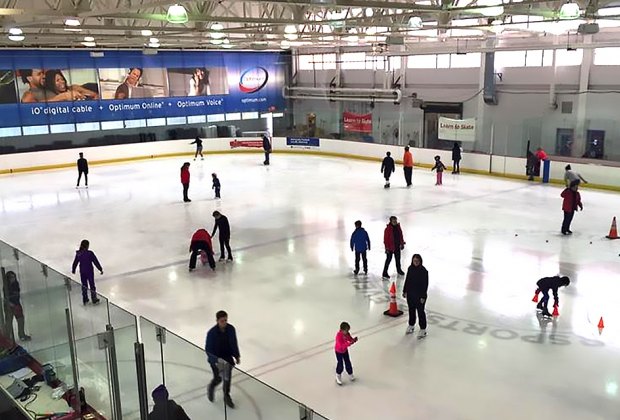 Aviator Sports and Events Center houses a pair of ice skating rinks. Photo courtesy of Aviator Sports
3159 Flatbush Avenue in Floyd Bennett Field
Open year-round, times vary; visit the website for a complete schedule.
Adults $12; Children $10; Skate Rental $6
In this airport hanger turned mega sports center, there are two giant ice rinks with lots of public skating sessions to choose from, including extended hours on weekends. Additionally, Aviator offers hockey leagues, figure skating lessons with skate rentals, and free lockers (just bring a lock). This spot makes for a great daylong destination: If the kids get tired of skating, they can check out rock climbing (ages 5 and up), pickup basketball, and tons of other drop-in activities. Ice-skating birthday parties are available, too.
47-32 32nd Place between 47th and 48th Avenues
Open year-round, times vary. Public sessions are held on Wednesdays and Sundays; visit the website for a complete schedule.
Wednesdays $7; Sundays $10; Skate Rental $6. Note: Helmet rental not available; you must bring your own.
Located on top of a mattress store in Long Island City, this rink is very popular with Queens residents. Its proximity to Manhattan means plenty of families I know take the short subway ride to skate here, too. The rink offers public skating times, youth hockey, lessons of all kinds, and birthday parties.
RELATED: Bryant Park's Ice Rink Bumper Cars Set to Return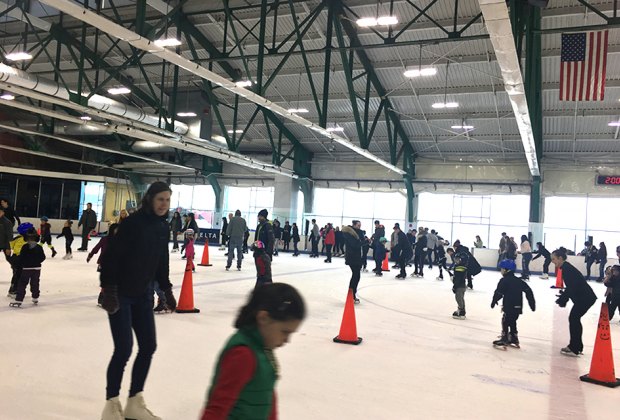 The Sky Rink at Chelsea Piers is a popular destination no matter the season. Photo by Sara Marentette Nighswander
Chelsea Piers-Pier 61, 23rd Street and the Hudson River
Open year-round, times vary; visit the website for a complete schedule.
Offseason $13 (April to August); Peak Season $14 (September to March); Skate Rental $7; Helmet Rental $5
The Chelsea sports complex boasts two ice-skating rinks that are open year-round and offer drop-in skating nearly every afternoon. Programs include figure skating lessons, skating school, and youth hockey, plus locker, skate and helmet rentals onsite. Sky Rink also offers ice-skating birthday parties. Bonus: Score 2-for-1 admission with your IDNYC card.
RELATED: Best Snow Tubing Spots Near NYC

Staten Island Skating Pavilion offers all-ages fun. Photo courtesy of the venue
3080 Arthur Kill Road
Open year-round: Fridays, 8-10pm; Saturdays, 2:40-4:30pm & 7:30-9:30pm; and Sundays, 2:30-4:30pm; special public skating hours during school holidays; visit the website for a complete schedule.
Adults $13; Children $11; Skate Rental $7
This busy rink only offers public skating on weekends (though extra sessions are added during school breaks). The weekdays are taken up with lessons, events, and games. There's lots for skaters here, including hockey league play and learn-to-skate instruction for tots and older kids. Birthday parties are also available.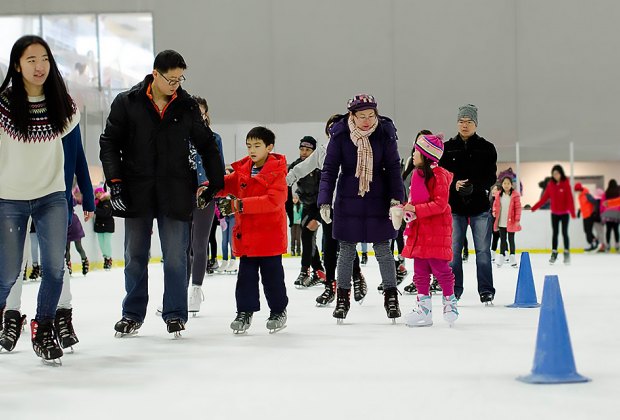 Take a spin at World Ice Arena. Photo courtesy of the rink
13135 Avery Avenue, inside Flushing Meadows Corona Park
Open year-round, times vary; visit the website for a complete schedule.
Weekdays $7; Weekends and holidays $10; Skate Rental $6
Located on the northeastern edge of Flushing Meadows Corona Park, World Ice Arena offers more public skating sessions than any rink on this list, along with skating lessons, parties, and hockey leagues. World Ice Arena is a sister rink to City Ice Pavilion.
This post, originally published in December 2010, is updated annually.