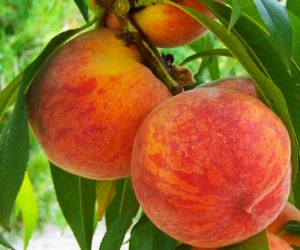 11 Spots for Peach Picking Near NYC During Summer 2020
Peach picking season is upon us in the Northeast, and it's the perfect excuse for NYC families to plan a sweet summertime day trip.
Starting in July or early to mid-August, depending on the farm and the weather, the peaches begin to ripen, and the peach season typically runs into September. Peach picking follows berry picking season and is often a less commercial and more straightforward outing than some of the more popular fruit seasons like apple picking, meaning you're not going to run into as many hayrides, face painters, or crowds, but you will get a more authentic farm life experience. This might be especially true this summer as health concerns have closed some farm amenities and peach festivals, but also because a cold spring has wreaked havoc on some peach crops, too.
We've rounded up 11 peach orchards, all less than two hours by car from NYC who are offering peach picking for summer 2020. Several are accessible by mass transit.
Please note, while we've tried to highlight these farms at their best, there are many restrictions in place due to the pandemic. Be sure to click through to each farm's website or call before heading out for the most up-to-date information.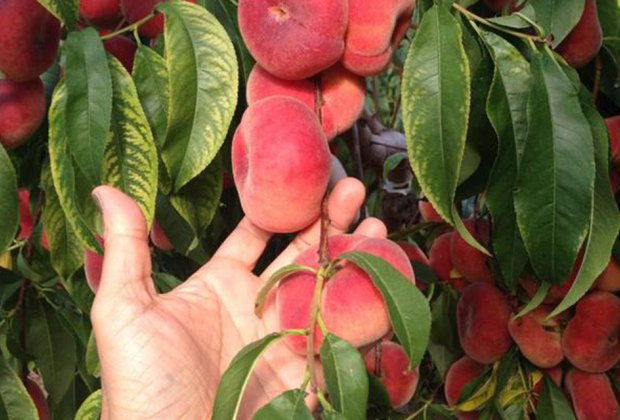 Pick delicious ripe peaches at DuBois Farms.
Peach Picking in New York
2020 update: All visitors must wear a face covering and practice social distancing.
209 Perkinsville Road
Just under 2 hours by car from Midtown Manhattan
Though this family-run fruit farm is a popular apple picking destination, there's no need to wait until fall. DuBois' pick-your-own season for peaches, nectarines, and plums starts in early July and runs through late September. Hit the cafe for lunch and special treats like snow cones and cotton candy, or visit the farm animals. Later in the season, enjoy a pony ride, play in the "tiny town," or take a wagon ride.
2020 update: The farm anticipates an August 15 opening for peach picking.
1335 White Hill Road
914-245-5111
Approximately 1 hour by car from Midtown Manhattan; also accessible via Metro-North
This Westchester County farm is a quick day trip from NYC, making it a favorite place to pick apples and select and cut your own Christmas trees in season. This summer, peach picking begins mid-August. There are not a lot of bells and whistles here, but visitors find homemade baked goods, hot dogs for a quick lunch, and other snacks and candy. You can bring your own bag or box to collect your harvest or borrow one of their baskets. No car? Take Metro-North to the Croton-Harmon Station or the Peekskill Station, then take a 15-minute taxi ride to the farm.
2020 update: All visitors over the age of 2 are required to wear face coverings. Outside bags are not permitted and extra hand sanitizing and handwashing stations are scattered throughout the farm.
306 Frozen Ridge Road
845-562-4268
Approximately 80 minutes from Midtown Manhattan
This pick-your-own delight, thanks to the sheer variety of produce, offers everything from strawberries in June to apples and pumpkins in the fall. The months in between offer greens, peas, peppers, corn, and tomatoes along with a variety of berries, sour cherries, and plums for your picking enjoyment. Peaches are expected in early August. The farm charges a $5 admission fee for everyone over the age of 2, but included in the price is a sweet little play village and access to the goats, chickens, and other animals. Be sure to bring your own container to hold your haul or be prepared to buy one from the farm.
2020 update: All visitors are required to wear face masks and follow social distancing. Golf cart transportation is not available this year. Extra hand sanitizer and handwashing stations will be available.
4 Ochs Lane
845-986-1591
Approximately 80 minutes by car from Midtown Manhattan
If you're looking for a true country experience, Ochs Orchard is the place to go. It's perched at the top of a hill along a dirt road in Warwick, just over the state line from New Jersey. While there's no cafe or food service at this third-generation family farm, it does allow picnicking, and the orchard has gorgeous views of the Hudson Valley. There's also a small petting zoo with ducks, goats, and other barnyard animals for the kids. Peaches are ready in mid-July but call ahead as they may all be snatched up.
RELATED: 17 Day Trips Near NYC for Summer 2020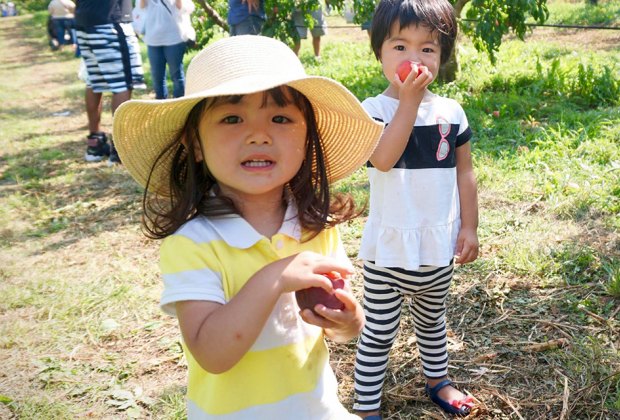 Eat a peach in the orchard at Fishkill Farms.
2020 update: Timed-entry reservations are required. Limited peach crop in 2020 but still picking berries here.
9 Fishkill Farm Road
845-897-4377
Approximately 90 minutes by car from Midtown Manhattan
Another no-frills farm experience, this low-spray, organic-certified, environmentally friendly farm (complete with free-range rabbits and chickens) provides peaceful picking on its grounds. Mid-July and August mark the harvest of juicy, tree-ripened peaches. Extend your day by packing lunch for a lovely picnic at the farm. Just be sure to follow the rules: no barbecuing and no booze.
Peach Picking on Long Island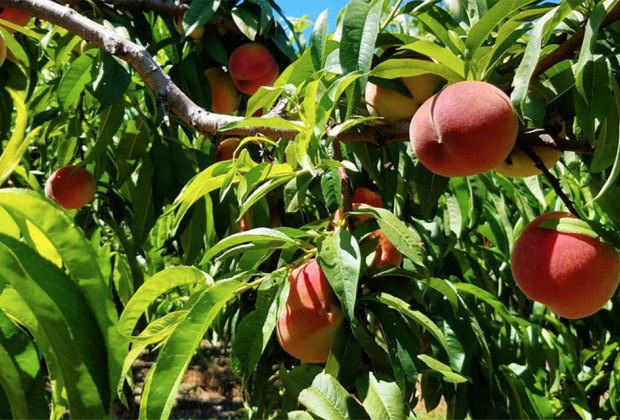 These gorgeous peaches are just waiting to be picked at Lewin Farms.
2020 update: Group size is limited to no more than four patrons. Guests are asked to maintain social distancing. Call ahead for the day's u-pick options.
812 Sound Avenue
631-929-4327
Approximately 90 minutes by car from Midtown Manhattan
Lewin Farms is my family's go-to pick-your-own spot on the isle and is notable as the first farm on Long Island's North Fork to allow u-pick in its orchards. Each year, families flock here to pluck berries, vegetables, peaches, and other local specialties. Early peaches are ready now and picking goes through mid-September. Call before you head out to confirm. While there, stop at the amazing indoor farm stand and sample the delicious, home-grown roasted corn on the cob.
2020 update: Masks are required for visitors, and guests are asked to maintain social distancing. 28700 Main Road (Route 25)
631-734-6441
Approximately 105 minutes from Midtown Manhattan
A bona fide Long Island institution, Wickham's is the largest and oldest farm on the North Shore. In August, you can harvest a few varieties of peaches and, if you time it right, maybe even some blueberries. Pickers pay upfront, rather than by the pound, and you must use the containers the farm provides. It's worth noting strollers are not allowed in the fields, so be prepared to carry infants and tots. The farm is closed Sundays.
Pick-Your-Own Peach Farms in New Jersey
2020 update: Timed-entry reservations are required, and guests must wear masks and practice social distancing.
244 Wierimus Road
201-666-0472
Approximately 35 minutes by car from Midtown Manhattan
Demarest is the closest peach picking place for NYC families. Just across the Hudson River, this popular farm offers 12 varieties of peaches, beginning in mid-July, and is open to the public on weekends. Admission is $5 per person. There is also a $10 flat fee for the bag to hold the peaches you pick.
RELATED: Where to Pick Blueberries and Blackberries This Summer Near NYC

Peach picking with kids at Alstede Farms is a great summer outing. Photo by Rose Gordon Sala

2020 update: Online reservations are required, and face masks must be worn. Barnyard animals and pony rides are available but some other play areas are closed due to health concerns.
1 Alstede Farms Lane
908-258-6245
Approximately 1 hour by car from Midtown Manhattan; also accessible via New Jersey Transit
Alstede's is the most commercial farm of the lot with a slew of entertainment extras like pony rides and bounce houses to enhance your visit. The farm charges daily admission fees and most of the activities require tickets or a wristband. Its peaches are up for grabs from mid-July through mid-September. After picking apples and pumpkins here, I can attest to how much fun this farm is for kids (even if your wallet screams for mercy!). Included in the admission price are the short hayride to the orchard, access to the 4-acre sunflower maze, and a chance for some face time with the barnyard animals. For a more relaxed experience, arrive between 9am and 11am Monday through Thursday when admission is waived and most of the attractions are closed. You'll also find seasonal fruit like melons and berries for picking this time of year. Alstede generally celebrates the peach harvest with festivals and other special events in August, so check its calendar for the latest. Best of all, you don't need a car to get here: Take New Jersey Transit to the Gladstone Station and arrange for the FREE shuttle to take you to the farm.
Peach Picking in Connecticut
2020 update: Face masks are required during pick your own. You must pay before you pick.
1355 Boston Post Rd
203-453-2338
Approximately 1 hour and 40 minutes by car from Midtown Manhattan
Peaches are anticipated to be available mid-August to mid-September, but check out the Facebook page or call the farm's hotline for timing updates. A bonus: Bishop's is also a winery, so be sure to check out its fruit wines or add a winery tour to your afternoon. It often hosts a sunflower maze mid-summer, which is always a big hit with the kids.
Peach Picking Farms in Pennsylvania
2020 update: Timed-entry tickets are required. Wagon rides practice social distancing, and all guests must wear masks.
931 Stony Hill Road
215-968-1670
Approximately 90 minutes by car from Midtown Manhattan
This historic working farm and garden center in bucolic Bucks County, Pennsylvania, has summer peaches and berries ripe for the picking. Ride a wagon straight to the picking field. Food options include Uncle Dave's homemade ice cream, a full-service deli, and hot items. The farm typically hosts a festival for each fruit's growing season, including Peachy Fun Days on weekends with extra attractions like bouncy houses and wagon rides. Admission is $3 per person, or drop in for regular picking and pay by the pound. As with most farms, call ahead to ensure the fruit is ready for picking!
A version of this article was first published in 2015; it is updated yearly.
Photos courtesy of the farm