Manhattan's Best Drop-in Play Spaces and Kids' Gyms
Finding non-membership, drop-in play spaces for your toddler or preschooler is like gold to New York City parents—almost as good as scoring a deal on rent. When it gets too cold for the city's many playgrounds, and another playdate at home seems dull (or, let's be honest, stressful), taking your kid to a cool indoor kiddie gym or other play space, where everything seems new, and someone else does the cleaning up is a relief to the whole family.
While the outer boroughs of Queens and Brooklyn dominate the indoor play space market, Manhattan has plenty of creative kid spaces. Some of these awesome spots allow families to drop in, while others ask that you make reservations, but none require any long-term financial commitment.
Editor's note: All the play spaces listed are adhering to COVID regulations, including mandatory mask wearing, temperature checks, hand washing, and additional cleaning and sanitizing measures. Given how quickly things are changing during this pandemic, be sure to check their websites or call to confirm pricing and availability. Please always keep your family and others safe by wearing a mask and practicing social distancing.

The Art Farm in the City offers kids a chance to play in its spacious play area.
2021 update: Drop-in meet and greet with the animals is available by reservation only. Discounts are offered if you purchase multi-visit punch cards. Children must be 18 months or older and can be accompanied by one adult. Face masks are required for adults and strongly encouraged for children over age 2. Temperature checks are required.
419 East 91st Street between First and York Avenues
Drop-in play: See the calendar for current availability.
Ages 18 months and up
Don't have a pet of your own? Kids can get up close and personal with the animals at The Art Farm while also enjoying art projects, storytime, and a well-appointed play space. Visit the website for a full schedule.
2021 update: Reservations are required for open play, and temperatures are taken before entry. Only one adult is allowed per child. Adults must wear a mask at all times, and socks are required.
550 West 110th Street at Broadway
Drop-in times vary; visit the website for a complete schedule.
Ages 0-8
A multi-sport spot, FunFit Kids was founded with the mission to help kids build confidence through sports, so you'll find plenty of specialized equipment and classes here. During drop-in hours, kids have free-run of the 2,700-square-foot play space and can climb the walls (literally), propel themselves around a scooter raceway, clamber up playground equipment, play with soft balls and sports equipment, and more. Sound too wild for your brood? There's also a book and music nook.
RELATED: Private Playtime: 13 Indoor NYC Play Spaces That Can Be Rented For Pods or Families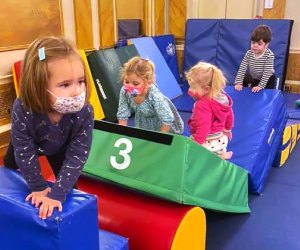 Elliot's Gymnastics has a full slate of classes, but it is often open for drop-in play.
2021 update: Face coverings are required for children ages 3+ on their way to the facility and before and after programs, though not during playtime. Daily health screenings are required to visit.
131 West 86th Street between Amsterdam and Columbus Avenues
Drop-in times vary; visit the website for a complete schedule.
All ages
We're longtime fans of the gymnastics classes at this Upper West Side spot. But even if your kids aren't enrolled in the gymnastics program here, they can still enjoy the developmental gymnasium's facilities on select weekday afternoons.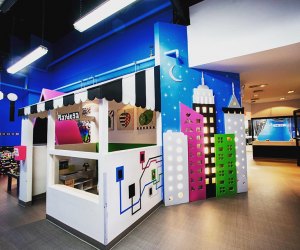 The Playroom NYC offers a variety of playtime options with reservations required.
2021 update: Reservations are required for open play. All guests ages 2+ must wear masks. Visitors are asked to fill out a health care questionnaire upon arrival and wash their hands before playing. No food is allowed. The space is closed for 30 minutes between sessions for cleaning.
1439 First Avenue at 75th Street
Drop-in times vary; visit the website for a current schedule.
Ages 6 months to 5 years
True to its name, this Upper East Side spot focuses on playtime and offers open-play hours seven days a week. The 3,000-square-foot play space offers an indoor jungle gym, dress-up area, faux bodega for grocery fun, and more imaginative play options.
RELATED: The Top Indoor Play Spaces Across New York City Open Now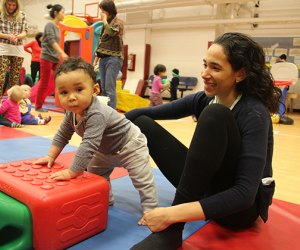 ACT Indoor Playstation is one of the best deals in Manhattan.
Drop-in Play Spaces Temporarily Closed Due to COVID
Cathedral Church of St. John the Divine, 1047 Amsterdam Avenue at 111th Street
Ages 0-5
During fall and winter weekday afternoons, this early childhood education program opens its spacious gymnasium to the public. The child-size equipment includes slides, balls, and places to crawl, all on a safe mat area. The center closes during school breaks, summer, and holidays, so it's best to call ahead to confirm it's open. However, if you enjoy visiting ACT Indoor Playstation, check its website for information about camps, toddler classes, and special programming when the Indoor Playstation is unavailable.
2021 update: Virtual family programs are currently being offered.
344 East 14th Street between First and Second Avenues
Ages 6 months-3 years
The padded playroom on the top floor of the 14th Street Y was one of my son's favorite play spaces when he was young. The no-frills classroom-sized space is clean, with soft climbing and sliding structures for the toddler set. Occasionally the staff brings out large toys, bubbles, or giant balls. The Y typically doesn't offer programs when school is out, so call ahead to confirm hours. Also, check its website for weekly drop-in classes like Messy Play, Music & Movement, Sing-Along, and more.
Field House at Chelsea Piers, 23rd Street and the Hudson River
Ages 6 months-4 years
I cried when my son aged out of this awesome play space. He enjoyed sliding, climbing, and crawling through the big play structure, but he especially loved dive-bombing into the ball pit. The center also has manipulatives on the wall, additional slides, soft playthings, and a tiny rock-climbing area.
Chinatown YMCA, 273 Bowery between Houston and Stanton Streets
All ages
On weekday mornings, kids can drop in for some indoor fun at the 3,200-square-foot gym at the Chinatown branch of the YMCA. Let them run, jump, climb, and balance freely—there's plenty of space!
Scandinavia House, 58 Park Avenue at 38th Street
Ages 1-5 (children must be walking independently to be admitted)
Scandinavia House's awesome indoor play spot was my son's second home before he started school. This is where he was introduced to Brio trains, Legos, and Pippi Longstocking. The center was completely redesigned in 2011 and we were blown away. Inspired by early childhood centers in Scandinavia, it features a reading room full of English and Scandinavian-language books connected to a softly lit sensory room by a kid-sized tunnel. This isn't a place for wild romping (and believe me, the staff enforces calm cooperative play). Instead, it's a great spot for relaxing and imaginative play.
266 East 78th Street between Second and Third Avenues
Ages 6 months-6 years
This music education program has a cozy playroom featuring slides, a play kitchen, a market, a soft block area, a short rock climbing mountain, a train table, and lots of puzzles, books, and toys. The small space can only accommodate 15 children, so reservations are recommended and can be made via phone at 212-744-0407 or email tlb@tlbmusic.com.
328 East 61st Street between First and Second Avenues, second floor
Ages 0-6
This dance school opens its cozy playroom to the public on weekdays during the school year. Attractions skew toward the preschool set, like a puppet theater, play kitchen, pop-up tent, dollhouse, manipulatives, and picture books. It offers a great place for imaginative play on rainy or cold days. Families should arrive on the hour or half-hour. Reservations are required Mondays; drop-in visitors are welcome all other weekdays. Call 917-281-1030 or email info@theballetclub.com to reserve.
507 Main Street
Ages 0-8
This music class hot spot offers daily open play for tots, attracting families from Manhattan and Queens. There is an indoor climbing playground and various play stations to explore, as well as special events like movies for kids and drop-off PJ parties for older kids.
Photos courtesy of the venues
A version of this article first published in December 2009, but it is regularly updated.