Furry Friends, Camps, Classes, and More Await at The Art Farm
2/21/22
- By
Jody Mercier
Enter The Art Farm, and it's easy to forget you're in the heart of Manhattan. This out-of-the-ordinary learning center is full of unexpected surprises. Situated in a bustling corner of the family-friendly Upper East Side—a neighborhood it's called home since its founding 20 years ago!—this nature-focused spot is a haven for animals and animal lovers alike.
From preschool to after-school, summer camp to drop-in classes and birthday parties to baking, The Art Farm seemingly has it all. Read on to learn about our visit, which was full of new, furry friends and even some chinchilla kisses.
Subscribe to our newsletters to get stories like this delivered directly to your inbox.
Founded in 2002 by music educator Valentina Hantke, The Art Farm spent the pandemic remodeling and moving into a brand new home on East 91st Street. In its bright, loft-like, second-floor home, you'll find state-of-the-art spaces for all of the programs it offers—and there are a lot—but at the heart of each is The Art Farm's mission to foster connection between city kids and the natural world.
Its wide-ranging class offerings cater to kids ages 18 months up to 10 years, with everything from music to art and hands-on, farm-to-table cooking classes. No matter what you choose to enroll in, there's one constant: the animals.

Meet Minnie, the lovable chinchilla who shares whisker kisses!
All programs come with at least a 15-minute session on The Farm, a two-room oasis filled with bright light, that's home to more than 50 animals, ranging in size from stick bugs to a flock of friendly chickens.
RELATED: Petting Zoos Near NYC Where Kids Can See Farm Animals

Everything from birds to bunnies and hermit crabs have found a home at The Art Farm.
On a recent visit, I struggled to get my 8-year-old daughter to leave. She was delighted with facetime with tons of these super cute superstars, from the feathered to scaly and even creepy crawling. Her comfort with the animals—including calmly holding and stroking a Madagascar Hissing Cockroach—was no doubt aided by the incredibly patient staffer, Mallory, who showed my daughter around, introduced her to one new animal after another, rattled off tons of facts about their care, and answered every question thrown at her.
RELATED: Best Art Summer Camps Near NYC

Enjoy tons of on-site programming, including a Rocks, Smocks, and Animals farm that mashes up music, crafts, and animal playtime. Photo courtesy of The Art Farm
While drop-in programming is plentiful, families looking for a more long-term commitment might consider enrolling in The Art Farm's Preschool program, which offers two, three, and five-day a week, full-day classes for kids from ages 2-4. Art, music, cooking, and educational animal time are included as kids progress through their years at The Art Farm Preschool.
RELATED: Top Upper East Side Preschools and How to Choose the Best One for Your Kid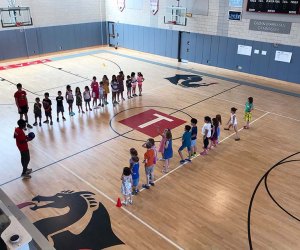 The Art Farm's popular summer camp program for kids ages 4-11 is run out of the nearby Trevor Day School. Photo courtesy of The Art Farm
Both school break and summer camp programs are also offered, with camp for older kids, ages 4-11, taking place at Trevor Day School nearby. Preschool-age campers as young as 2 have run of The Art Farm's main location. Beyond visiting the petting zoo, campers get outdoor time daily, and everyone participates in farm-to-table cooking lessons; big kids get swimming instruction at the 92nd Street Y. Weekly sessions are available, and discounts are available for siblings as well as multi-week bookings.
If your kid is as animal crazed as mine is, take note: The Art Farm offers both birthday parties in its home or it can help you plan an "Art Farm on the Moove" Party, where the petting zoo comes to you.
As for our next visit: My daughter—who regularly rises before the roosters—is looking forward to returning for one of its Mornings on the Farm drop-ins, where together we can feed and snuggle some of her newfound friends.
Unless noted, photos by the author
Places featured in this article:
Click Here to Sign Up!
i