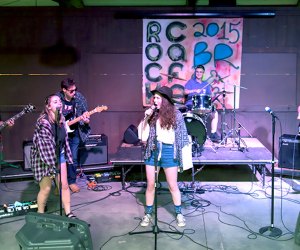 Great Art Camps for NYC Kids: Paint, Sculpt, Sing, Perform
There's really no place like New York City for kids to learn about art. There are many professional artists who moonlight as a talented pool of teachers and the demand for art programs has created an amazing wealth of exceptional art classes and camps. After evaluating many creative arts camps, we have selected 16 exceptional camps which excel for different reasons.
We found visual arts camps, dance and theater camps, music camps, and even creative writing camps. There are also camps that have programs in cool stuff like circus arts and art camps that allow kids to sample a little of everything. We found programs that run all summer as well as week-long intensives. No matter their age, if your child is ready to dive into a summer of artistic expression, read on to find the perfect camp.
If you need more ideas, check out our Camp Guide and full Directory of Listings for dozens more great camps.
Visual Arts Camp
Children's Museum of the Arts Summer Art Colony – Tribeca, Governors Island, & Prospect Park
103 Charlton Street between Hudson and Greenwich Streets
Ages 6-15
One thing I love about the summer camps at the Children's Museum of the Arts is that they run on an artist's schedule. CMA summer art camps start at 10am, a very civilized hour, perfect for parents with creative jobs who don't need to be in the office at 9am. (It's the little things that make me happy.) For parents who have regular office jobs, children can be dropped off at 9am and stay until 5pm. CMA's programs are led by professional teaching artists and vary widely in content from animation classes to drawing and painting, puppetry, film, and more. We encourage you to also check out CMA's Summer Art Colony Camps on Governors Island and Lakeside in Prospect Park.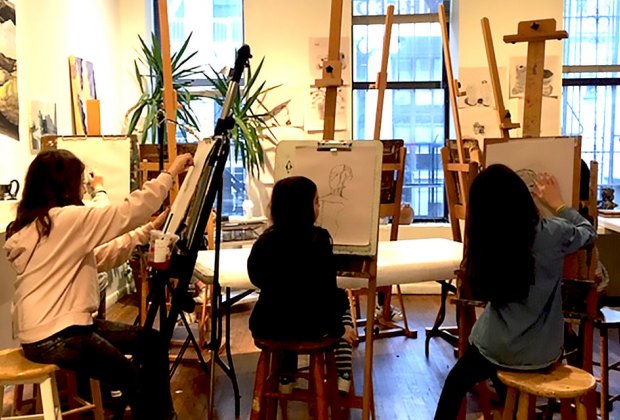 Wet Paint! ArtVentures! Art + Architecture Day Camp – Tribeca
118 Chambers Street between Church and West Broadway
Ages 9-14
ArtVentures! treats your kids like professional artists and architects. The day starts with a warm-up drawing exercise in the art studio, followed by a presentation of a specific art or architecture project for the day, and then the campers head out into the city on a field trip to draw or paint at a museum, an architectural landmark, or in a park. Back at the studio, your little Michelangelo works on her own studio art project. Wet Paint instructors are practicing artists and architects; counselors are college art or architecture majors.
Greenwich House – Greenwich Village
27 Barrow Street between Bleeker and West 4th Street
Ages 7-14
The Greenwich House Visual Arts Summer Camp encourages children to explore art individually and collaboratively. Once solely a pottery program, it now teaches a variety of mediums including architecture, painting, drawing, ceramics, animation, and more. The Greenwich House school has been a New York institution for over 100 years and is an incredible resource for New York City families interested in art. During the week, kids take field trips to museums, galleries, parks, and other places of interest. You can register your child for one to eight weeks.
Cooper Hewitt Design Camp – Upper East Side
2 East 91st Street
Ages 6-13
What better place to study visual arts than a Smithsonian Institution? Cooper Hewitt Design Camp offers week-long immersions in the latest advances in design, from fashion to architecture and technology. Guest designers share their problem-solving strategies and engage campers in fun, real-life design challenges. Campers will receive special access to the museum's permanent collection and enjoy exciting collaborations.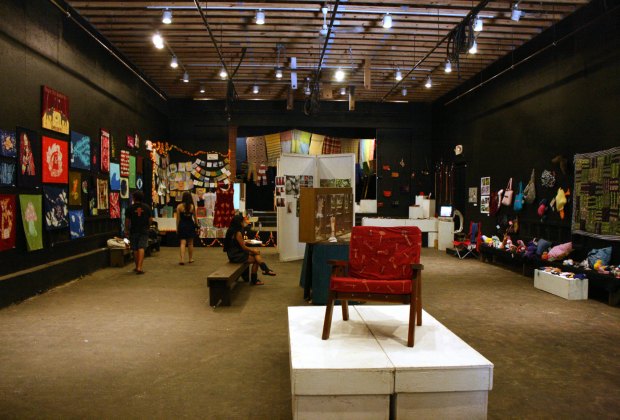 Buck's Rock offers kids professional-level materials, teachers, and facilities.
Buck's Rock Performing and Creative Arts Camp – New Milford, Connecticut
59 Buck's Rock Road
Sleepaway camp for ages 9-18
Buck's Rock is an incredible arts camp that gives kids access to professional-level arts facilities where children can learn glassblowing, metalsmithing, woodworking, sculpture, sewing, batik, weaving, printmaking, performing arts, and more. After a summer at Buck's Rock, your child will have had the opportunity to explore and participate in things many artists don't have access to until college and many people will never get to try.
As a Buck's Rock alum, I can attest to how Buck's Rock gave me skills I was able to turn into real work later in life without any further professional training. I consider Buck's Rock a life-altering experience and an amazing opportunity for any child seriously into the arts. (Note: Though they have great performing arts programming, I have placed Buck's Rock under visual arts because I think the visual arts facilities there are the thing that really distinguishes it from any other camp.)
Center for Architecture Camp – Greenwich Village
536 LaGuardia Place
Ages 8 & up
The Center for Architecture's Summer Programs give curious kids an opportunity to dive into an architectural topic of interest and test out their own design ideas. Each program explores a different theme through art and building activities, design challenges, and special site visits. Campers are given the opportunity to take in and sketch architecture around the city.
Textile Arts Summer Camp – Brooklyn and Greenwich Village
505 Carroll Street
Ages 5-13
Campers are encouraged to create and connect with the world of contemporary and historical textiles in interactive week long programs. Children will create an in depth project in Weaving Class or Textile Surface Design Class, as well as daily craft projects using fiber and textile processes and concepts drawn from exhibitions visited on regular field trips.
The Barking Cat Studio Art in the City Summer Camp – Windsor Terrace, Brooklyn
219 Greenwood Avenue
Ages 5-12
Art in the City offers Brooklyn kids up to eight weeks of creative daily physical movement, and thought-provoking visits to museums and places around the city that inspire kids' daily art projects. Weekly themes include Mixed Media Madness, LEGO Building, Nature & Fiber Arts, and more.
The Painted Cloud – Williamsburg, Brooklyn
168 Marcy Avenue​
Ages 4-12
Young artists work on art projects, along with drawing, choice time, snack, lunch, and outdoor play; upper elementary and middle school artists take an Art Trek field trip and explore the city a bit before returning to home base to create.
Theater Camps
Brooklyn Arts Exchange – Park Slope, Brooklyn
421 Fifth Avenue between Seventh and Eighth Streets
Ages 5-11
Brooklyn Arts Exchange's Summer Arts Program is a more relaxed "family-style" performing arts program with weekly sessions in movement, theater, music, storytelling, and more. Campers also participate in fun and original counselor-led activities such as arts and crafts, singing, yoga, and non-competitive sports. Each week-long session ends with a performance by campers on BAX's stage.
TADA! Youth Theater Summer Camp – Flatiron
15 West 28th Street
Ages 4-12
TADA! is well-known for its performing arts programming year round, but newcomers can get a taste of the action in its weeklong summer camps. Campers are given a theme each session and then their imaginations are allowed to run wild as they work with the organization's professional teaching artists to write, rehearse, and perform an original musical each week. Camp runs from 9am-5pm for the older campers and 9am-1pm for mini-campers (4-5 year olds).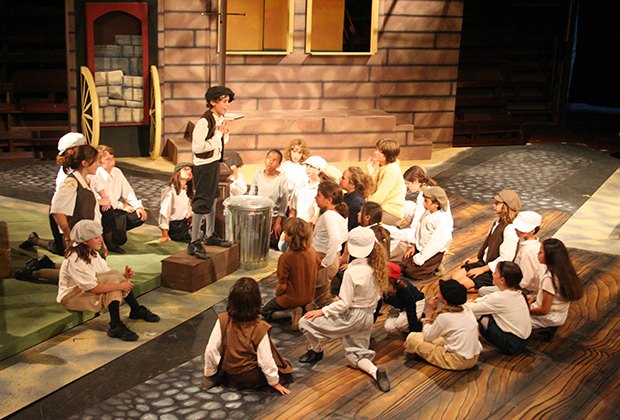 From the theater to horseback riding, the French Woods sleepaway camp lets kids pick a summer "major."
French Woods – Hancock, N.Y.
199 Bouchoux Brook Road
Sleepaway camp for ages 7-17
French Woods sounds like kid heaven if I've ever heard of it. Each child can pick his or her activities from a to-die-for assortment of "majors" including theater, arts, music, dance, sports, circus, waterfront, horseback riding, adventure, computers, skateboarding, sailing, rock and roll, magic, and many more. But when they say they have, say, a circus program at French Woods, they're not talking about teaching the kids to juggle and put on clown noses. French Woods has a 12,000 square foot, professionally equipped circus tent with trapeze, Spanish web, stunt bikes, fire twirling, and more. The other activities at this summer camp sound just as impressive.
Music Camps
New York City Guitar School — Midtown West
251 West 30th Street
Ages 8-17
Whether your little one is simply curious about learning to play guitar, or harbors serious rock-band dreams, NYC Guitar School offers a supportive and intensive program split into two-week sessions. Programs are divided by skill level and age. The school offers three core programs: Boot Camp, Rock Band 101, and Intermediate/Advanced Rock Bands.
See our full roundup of impressive music camps for more options.
Multi-Arts Camps
Abrons Arts Camp – Lower East Side
Henry Street Settlement's Abrons Art Center, 466 Grand Street between Pitt and Willett Streets
Ages 5-13
Children can sample the professional instruction in dance, music, theater, and the visual arts, with classes taught by skilled teaching-artists and special workshops and performances presented by visiting guest artists. The camp also offers gallery educational tours and performance opportunities. Campers take a cultural field trip once a week.
Harlem School of the Arts – Harlem
645 Saint Nicholas Avenue
Ages 4-12
This community institution has long been a favorite summer home for uptown families. The ARTScape summer program provides campers classes across all art genres from music, dance, and theater, to classes in visual arts, too. Last year, campers went on weekly field trips and hit the pool, and each two-week session culminated in a performance for families and friends.
West Side YMCA - Upper West Side
Kids ages 5 to 12 participate in 20 hours of arts instruction per weekly session, including dance, drama, vocal music, and visual arts. Campers enjoy weekly field trips to shows and museums, swim in the indoor pool, and visit Central Park daily. Each session culminates with a performance in the theater.
For more great camp ideas, check out our Summer Camp Guide!
Top photo: Wingspan Arts Summer Conservatory. All photos courtesy of the camps.
A version of this article was published in 2018; it has since been updated. Katie Nave Freeman contributed additional reporting.