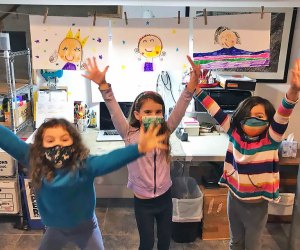 Summer Arts Camps for NYC Kids: Learn to Paint, Sculpt, Sing, and Perform
There's no place better than New York City for kids to learn about the arts. And what better way for your child to pursue their creative passions than a summer arts camp? Many professional artists moonlight as talented teachers, and the demand for art programs has created a wealth of exceptional art classes and arts camps. This year, more parents are also thinking about the benefits of sleepaway camps, where kids stay with their own pods for the duration. Whether your child is into visual arts, performing arts, or wants to sample all the arts, we've found more than 15 exceptional arts camps, which all excel for different reasons.
Some offer virtual or hybrid programming. Specialties range from circus arts to film making, magic, and more. From summer-long intensives to week-long sampler sessions, no matter their age, if your child is ready to dive into a summer of artistic expression, we've found an arts camp to fit their interests.
If you need more ideas, check out our Camp Guide and Directory of Listings for dozens more great camps. You can also learn more about local and virtual summer camps with our upcoming Online Camp Fair. Visit virtual booths and watch live camp demos.
Editor's Note: Summer camp information for the 2021 season is changing daily. Please click the links to the individual camps below to see which ones are offering programs this year.