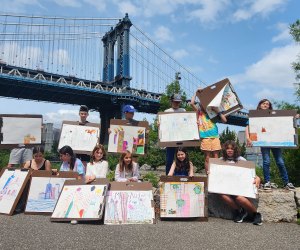 Creatively WILD Art Studio
For well over a decade, Creatively Wild located in the heart of DUMBO, has been providing an unrivaled, top quality visual arts program and remains a reliable source of enriching artistic experiences in the Brooklyn and Downtown Manhattan and Brooklyn areas. The studio is committed to presenting an innovative and vibrant range of diverse artistic learning opportunities accessible to all ages, abilities and backgrounds. At Creatively Wild you will be inspired and supported as you enjoy the benefits of learning visual art best practices. Art Classes balance professional-skill level instruction and provide techniques and essential tools students need, with a warm nurturing informal approach that leaves students open to learning in a vibrant stimulating environment, while encouraging personal development, self expression and confidence!
We teach: Painting (all styles: oil Painting, Acrylic, Watercolor) plus Modern Art for Kids and Old Masters Inspiration, Drawing, Illustration, Graphic Art Novel, Styoryboarding, Mixed Media, Collage, 3D Art Work, Found Object Art, Self Expression + more!
Nominated Best Art School, Best Camp and Best Continuing Education Best of Brooklyn 2024
Art Classes offered for all ages + levels: Full Adult Art program, After School and Weekend Art classes for Children 4-8 and Teens 9-17 yrs, plus Toddler program for 22 months- 4 yrs.
Art Camps offered during Fall and Winter school recess and public Holidays plus Spring Break and all Summer long. Our popular Art camps are action packed and offer a both fun and educational experience, plus Stop Motion Animation Camps are offered too.
Online Art Tuition for Teens and also offered privately for all ages and levels in any medium
Private Art Tuition in the studio in DUMBO for individuals or small groups, also offered ONLINE or OFFSITE
Birthday Parties, Adult Painting Parties, Team Building + Corporate Events
Seasonal Art workshops + Free Pop us!
---
Creatively Wild Art Studio
Reviews
Click Here to Sign Up!
i