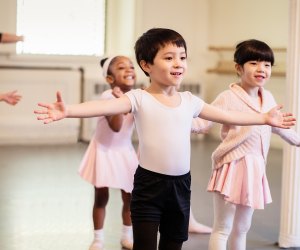 New York Theatre Ballet School
New York Theatre Ballet School is the official training academy of NYTB, offering classes for ages 4 and up. Since 1978, the NYTB School has developed its young dancers by following the Cecchetti syllabus, a method that emphasizes musicality, theatricality, gesture and style. Well-trained Cecchetti dancers have purity of line and simplicity of style that adapts to professional performance companies everywhere.
Small class size guarantees highly individualized instruction, with teaching assistants in every class. For qualified students, the NYTB Company provides ongoing, professional performing experience in ballets featuring roles for children. For the advanced and professional level student classes in modern, theater dance, pointe, variations and repertory round out the training curriculum.
Pre-Ballet Summer Session for Ages 5-7: This summer let NYTB School introduce your child to the joy of ballet. Classes are offered twice a week on Tuesdays and Thursdays during this 6 week session. No audition is required for pre-ballet students.
Summer Intensive for Ages 8-13: This 2-week intensive is lead by Artistic Director Diana Byer, plus NYTB School faculty and guests. Classes are held Monday through Friday with a performance on the last day. In addition to daily ballet class, the schedule includes alternating days of Modern and Jazz Dance, plus an enrichment class of Choreography, guest lecturers, or field trips which may include institutions like Radio City Music Hall, the Museum of Modern Art, and the Library for the Performing Arts. Students new to NYTB School may send photo & video submissions to audition.