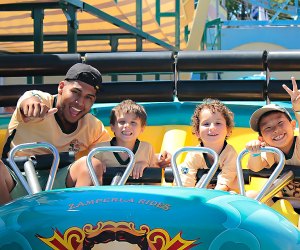 17 Popular Preschool Summer Camps in NYC
Finding a cool and enriching summer camp that's right for your kid always takes a bit of work. Finding one that's a good fit for your first-time, preschool-age camper can be downright nerve-racking. You want their initial camp experience to be fun, safe, and memorable, but not over-stimulating or overwhelming. With so many high-quality camps for NYC preschoolers, it's hard to figure out which one to choose.
That's why we turned to the experts: our friends at the American Camp Association of New York and New Jersey. They've selected a handful of awesome New York City programs that offer preschoolers a well-rounded summer experience filled with games, arts, sports, socializing, and plenty of outdoor time, and we've added more options to it. Best of all, many of these camps grow with your child, taking kids in elementary school and beyond.
Keep in mind, every camp has its own philosophy and program so check out the website, call the director, and, if possible, attend an open house to get all the information you need. Check out our Summer Camp Guide Directory for more ideas, or these Brooklyn and Queens preschooler camps for more outer borough options.
Note: The ages specified are for the preschool camp. Many of these camps also offer summer camps for big kids, too.
92Y Camp K'Ton Ton – Upper East Side
1395 Lexington Avenue at 92nd Street
Ages 3-5
Specifically created for preschoolers and managed by the lauded nursery program at the 92nd Street Y, this camp offers creative art projects, imaginative activities, music, movement, gymnastics, sports, and science, as well as periods of unstructured, child-directed play. Outdoor fun includes romping at one of the Y's three outdoor play spaces, bike-riding lessons, and swim instruction.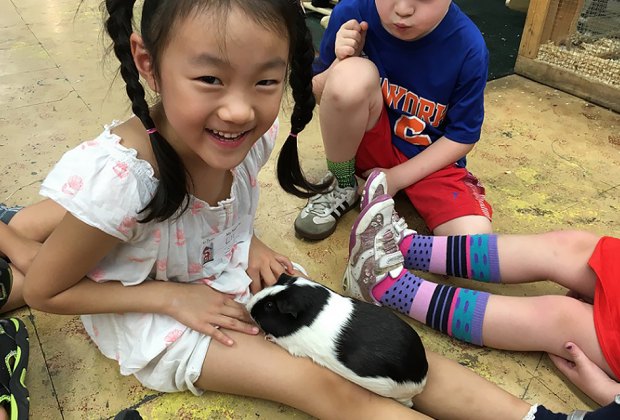 Get your city kid involved with nature this summer at The Art Farm!
The Art Farm in the City – Upper East Side
Trevor Day School, 312 East 95th Street
Ages 3-5
The folks behind this innovative, animal-focused play space offer half-day camps for children ages 3 and 4, and full-day options for 4- and 5-year-olds, all at the Trevor Day School. Campers will participate in art-making, animal-care, gardening, and more. Those who spend a full week at camp get swimming lessons at the 92nd Street Y twice a week. Field trips to the Art Farm's indoor petting zoo are included for full-day campers, while half-day students receive coupons to drop in on their own time.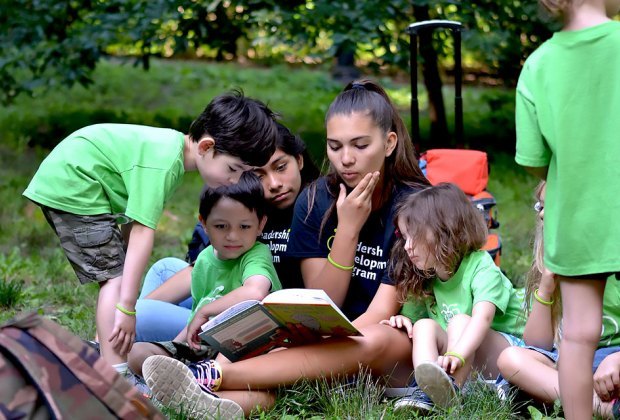 At Bank Street Summer Camp, children learn to become careful observers, experimenters, and creative thinkers.
Bank Street Lower Camp Village – Upper West Side
The Bank Street School, 610 West 112th Street between Broadway and Riverside Drive
Ages 4-6
At the Bank Street Lower Camp Village, activities are designed to develop a child's cognitive skills with an emphasis on play. Campers call the Columbia Kraft Center home for the summer but spend a lot of time exploring the city. Campers are divided into age groups and led by head counselors who are usually teachers at the Bank Street School for Children or graduate students from Bank Street College. Participants go on weekly field trips to places like the Bronx Zoo, Central Park Carousel, and other developmentally- and age-appropriate spots. Swimming lessons take place three times a week at Riverdale's outdoor Skyview pool.
RELATED: 25 Top Things to Do with NYC Preschoolers Before They Turn 5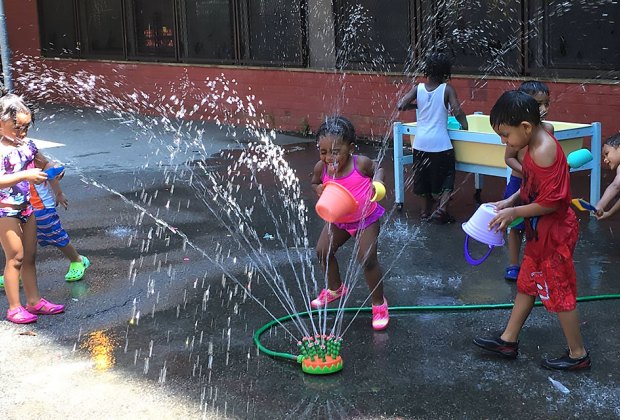 Summertime sprinkler fun at The Bronx House day camp.
Bronx House – Morris Park, the Bronx
990 Pelham Parkway South
Ages 2½-4
Bronx House's experienced early childhood education staff leads a great pre-pre-K summer camp for young campers. Over the six-week session, kids will explore the local neighborhood, spend plenty of time splashing in the sprinklers, enjoy picnicking in the great outdoors, and pick up new friends and skills along the way. Full- and half-day programs are available, but campers must register for the entire summer.
The Caedmon School Discovery Camp – Upper East Side
416 East 80th Street between First and York Avenues
Ages 2.8-5
Campers are organized by age into three separate preschool groups: ages 2.8-3 attend half day sessions throughout the week; 4-year-olds go for the full day and attend an end-of-summer field trip, and 5-year-olds go on one off-site trip per week. Attendees of all ages enjoy arts and crafts, cooking, science, yoga, music, recreation, and sports on a daily basis. One day a week the whole camp participates in a themed event, such as a carnival day or dance party.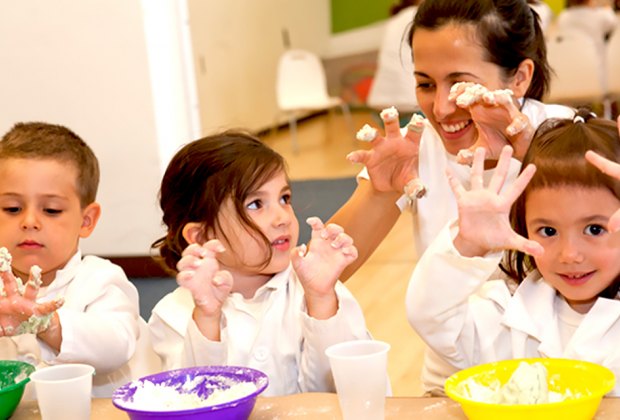 Campers go on new daily adventures (on a safari, digging for dinosaurs, or taking care of the earth) at Apple Seeds Camp.
Camp Apple Seeds – Chelsea and Upper West Side
10 West 25th Street
200 West End Avenue
Ages 3-4
This popular play space offers a half-day preschooler summer camp that runs in two week sessions, and parents can choose between two days, three days, four, or five day options. The kids get to play in the gym, as well as explore early learning subjects like dramatic play, storytelling, science, cooking, and more. They take daily "adventures" to explore their surroundings, too. Find an early bird registration deal in the Mommy Poppins directory.
Chelsea Piers Sports Camps – Chelsea
21st Street and 11th Avenue
Ages 3-5
Little athletes can hone their skills at Chelsea Piers' spectacular facilities. Campers ages 3 and 4 can participate in half-day programs in gymnastics (am or pm slots available) or ice skating (pm only). Junior campers, ages 4-5, spend five hours on site and can choose from gymnastics, ice skating, or ice hockey camp. Find an early bird registration deal in the Mommy Poppins directory.
RELATED: 5 NYC Day Trip Itineraries Perfect for Preschoolers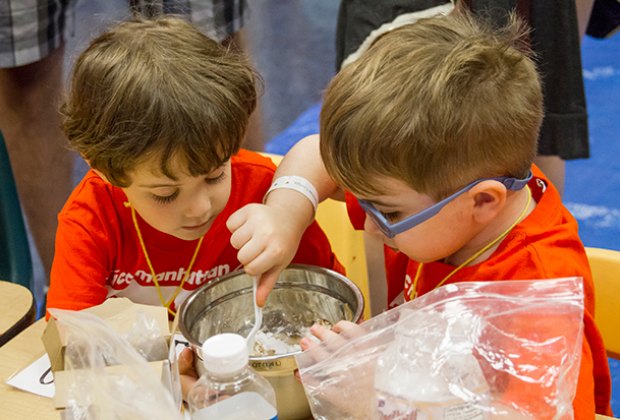 The JCC uses cooking to teach science to its campers.
Day Camp @ the JCC – Upper West Side
The JCC in Manhattan, 344 Amsterdam Avenue at 76th Street
Ages 3-6
This Jewish camp aims to give first-time campers unique and new experiences. Kids enjoy yoga, music, science, and cooking lessons all while learning about Jewish values. Sports, swim instruction, and plenty of outdoor time at the JCC's rooftop playground and green spaces round out the fun.
Dwight Summer Day Camp – Upper West Side
144 Riverside Blvd. at 66th Street
Ages 4-6
This year's Discover Camp, for the younger campers, takes place at the school's new Upper West Side location of Dwight Riverside Campus. Campers participate in a varied curriculum that includes sports like soccer, yoga, tennis, swimming, and basketball, along with dance, arts and crafts, and digital media sessions.
The 14th Street Y – East Village
344 East 14th Street between First and Second Avenues
Ages 1½-6
Children as young as 1.5 can attend this popular summer program held at the venerable East Village community hub. The Mini Camp (ages 17 months to 3.5) is a parent-and-me camp with caregivers and tots attending abbreviated 1-hour-45-minute sessions packed with arts and crafts, sing-alongs, and sprinkler time at the Y's rooftop playground. For children who have successfully separated from their parents, On Our Way (ages 2.5-3.5-years) offers more of the same in two weekly, half-day drop-off sessions. New Town Day Camp (ages 3.5 to 6) offers full- and half-day sessions, and participants can take advantage of the Y's excellent facilities including an indoor pool, community room, theater, art studio, and that fabulous rooftop playground. The new Junior Camp (ages 2.5 to 3.5) offers a four day per week, extended day experience.
La Escuelita – Upper West Side
225 West 99th Street
Ages 3-5
La Escuelita is well known for its Spanish immersion preschool program, and those interested in introducing their kids to a second language will appreciate the summer camp offerings here. Half-day programs are offered for 3 to five year olds. All programming is in Spanish.
Little Red Summer Camp – Greenwich Village
272 Sixth Avenue at Bleecker Street
Ages 3.5-6
The lower camp at Little Red offers half-day programs for campers who will be 4 by the end of the year and a full- or half-day program for children who are 4 by August 4. Campers spend ample time playing outdoors at the nearby Downing Street Playground as well as the school's well-equipped rooftop play area. Full-day campers also enjoy a "choice class" during select afternoons. There are weekly theme days like Big Green Meadow and Deep Blue Sea, and Fridays are for field trips to spots like the Central Park Zoo and Carousel, Green Meadows Farm, Teardrop Park, the Staten Island Children's Museum, and Central Park's Victorian Gardens amusement park.
New York Kids Club – Multiple locations
Visit the website for a list of locations
Ages 2.5-6
This chain of kiddie gyms offers half- and (nearly) full-day programs for kids ages 2.5 to 5 years. Kids will enjoy thematic adventures each day with guided play designed to engage each camper academically and physically. A two-week minimum is required for all campers, though the weeks need not be consecutive.
Oasis Day Camp: Early Start Imagination Camp – Manhattan, Queens, & Brooklyn
Visit the website for a list of locations
Ages 3-5
Oasis, the popular day camp for older kids, also offers an Early Start Imagination Camp, a modified version of its high-energy activities for the preschool set. Tots enjoy arts and crafts, dancing, music, and sports in shorter periods accompanied by snacks and nap breaks. Participants also have swim lessons daily.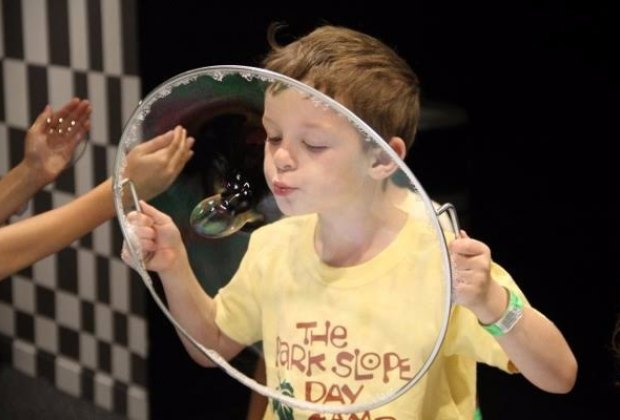 Park Slope Day Camp participants get to enjoy field trips to city institutions.
The Park Slope Day Camp: Pee Wee Camp — Multiple locations
Ages 3.5-5
With five Brooklyn outposts, this program's Pee Wee Camp strikes a balance between indoor and outdoor activities in Prospect Park. Along with weekly swimming lessons and field trips, campers enjoy music, arts and crafts, gymnastics, and even learn circus skills.
Staten Island Academy — Todt Hill, Staten Island
715 Todt Hill Road
Ages 3-5
This private school offers both half- and full-day programs for its youngest campers. Camp activities are housed in the early childhood classrooms, and youngsters have the run of the large playground as well as time to romp on the spacious campus. All full-day campers receive swimming instruction, too.
YMCA — Citywide
Ages 3-5
The city's YMCA branches offer affordable summer day camps for all ages, including the preschool set. Its Kinder Camp, for ages 3-5, is especially perfect for those little New Yorkers headed into kindergarten in the fall. It's offered at nearly all 20 branches and includes swimming, indoor and outdoor activities, and science and literacy projects designed to prep them for school in a hands-on, fun way.
Find out about other cool camps for preschoolers in our Summer Camp Guide.
Thanks to our friends at the American Camp Association of New York and New Jersey for helping to create this post.
Photos courtesy of the camps
This article first published in May 2014 but is updated annually.