Best Preschool Summer Camps in NYC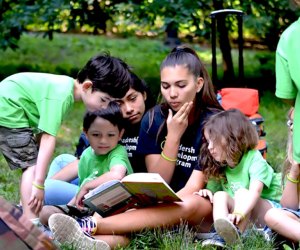 3/13/23
- By
Stephanie Ogozalek
Finding a summer camp in NYC that's a good fit for a first-time, preschool-age camper can be downright nerve-racking. You want their initial summer camp experience to be fun, safe, and memorable, but not over-stimulating or overwhelming. With so many high-quality summer day camps in NYC for preschoolers, it's hard to figure out which one to choose.
Through the years, we've compiled this list of kid-tested, parent-approved summer camps for preschoolers in Manhattan, Brooklyn, Queens, Staten Island, and the Bronx. Best of all, many of these preschool summer camps grow with your child, accepting kids in elementary school and beyond.
For all our top summer camp picks, including free and cheap summer camps, sports summer camps, and more, visit our Summer Camp Guide for NYC kids. You can also bookmark our Camp Directory, where you can search for summer camps in NYC by borough, interest, and age.