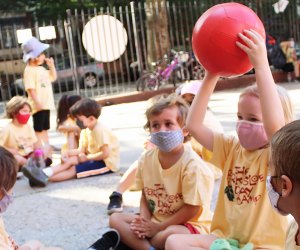 15 Popular Preschool Summer Camps in NYC
Finding an engaging and enriching summer camp that's right for your kid always takes a bit of work. Finding one that's a good fit for your first-time, preschool-age camper can be downright nerve-racking. You want their initial camp experience to be fun, safe, and memorable, but not over-stimulating or overwhelming. With so many high-quality camps for NYC preschoolers, it's hard to figure out which one to choose.
That's why we turned to the experts: our friends at the American Camp Association of New York and New Jersey. They've selected a handful of excellent New York City preschool summer camps offering a well-rounded experience filled with games, arts, sports, socializing, and plenty of outdoor time. Through the years, we've added more kid-tested, parent-approved picks of our own. Best of all, many of these preschool summer camps grow with your child, accepting kids in elementary school and beyond.
Keep in mind: Every camp has its own philosophy and program, so check out the website, call the director, and, if possible, attend an open house—likely virtual for 2021—to get all the information you need before registering. Check out our Summer Camp Guide for more ideas, or these Brooklyn and Queens preschool summer camps for more outer-borough options. You can also learn more about local and virtual summer camps with our upcoming Online Camp Fair. Visit virtual booths and watch live camp demos.
Editor's note: Summer camp information for the 2021 season is changing daily. All of the camps listed plan to offer in-person camps this summer, but please click the links to the individual camps below to see specific details about their programs this year. Some photos in this post were taken before the pademic.