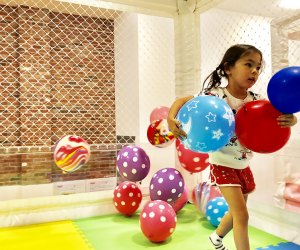 Get Out and Drop In! Best Queens Play Spaces and Gyms for Kids
From Queens' formerly industrial waterfront to deep in the borough, family-friendly spots and amenities are on the upswing. There are wide-open spaces to run with abandon, playgrounds aplenty, and indoor play spaces with open play hours are strong in number: In fact, Queens has more indoor play zones than Manhattan and is gaining on Brooklyn.
We found 20+ indoor romping locations in the borough that offer drop-in sessions open to the public (no membership required). Bonus: All of these spots host birthday parties, too, and most are much more affordable than their Manhattan competitors.
Sign up for our FREE newsletters to get posts like this delivered to your inbox.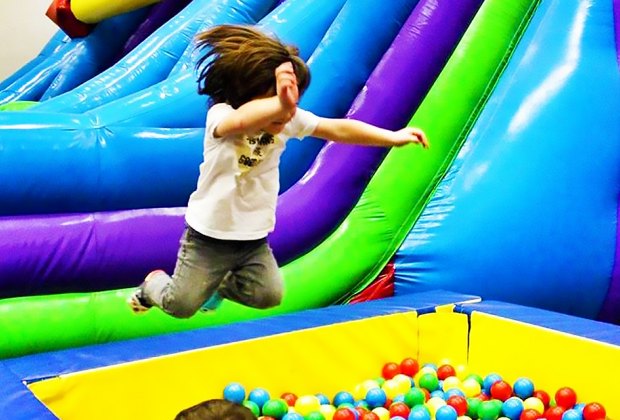 Check out Bounce N' Play for open play or for a birthday party. Photo courtesy of Bounce N' Play
Bounce 'N Play — Astoria
20-21 Steinway Street between 20th Avenue and 20th Road
Drop-in play offered daily; visit the website for current schedule.
$14 for children during open bounce. Two adults are included with each child.
Ages 1 and up
Opened by a local mom in spring 2014, this play space has bouncy houses and giant inflatable slides in addition to the standard play space attractions—play sets, a jungle gym with tubes, a rock climbing wall, toys, and arcade games. That makes it a great choice for children of all ages. In fact the "big playground" caters to kids up to 13. There are regular open play sessions for different age ranges: under 7, all ages, and even family nights that come with a buffet meal.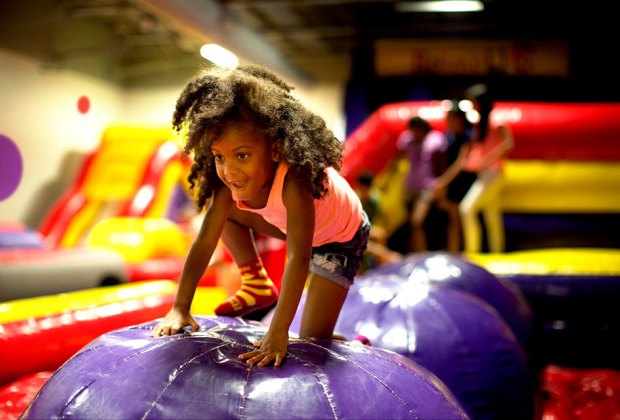 Head to an open play at BounceU for some bouncing on seriously massive inflatables.
BounceU — College Point
Whitepoint Center, 132-25 14th Avenue between 132nd Street and 133rd Place
Drop-in play offered daily; visit the website for current schedule.
Rates vary depending on schedule.
Ages 2 & older
Kids (and parents) can enjoy two huge rooms of bouncy and inflatable fun like obstacle courses and massive slides all year long at BounceU. This location regularly hosts open sessions including Family Bounce Nights, open bounce for all ages, open bounce for preschoolers, and even an out-of-this-world Cosmic Open Bounce with lasers and black lights. This is the perfect place for everyone in your family to get their sillies out. Socks are required, long sleeves are recommended, and prepaid reservations are encouraged to guarantee your spot.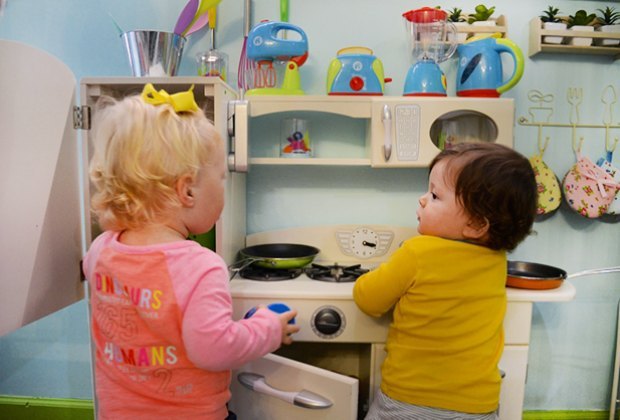 Kids get a kick out of "washing" dishes and "baking" cookies in the pretend kitchen at City Owlets. Photo by Sydney Ng
City Owlets — Long Island City
10-42 Jackson Avenue
Drop-in play offered daily; visit the website for current schedule.
$25 for the first child; $10 for siblings; discounts for multi-play packs and memberships are available
Ages 1–6 years
City Owlets opened to rave reviews in 2017, adding to an already booming kid play space landscape in Queens. This spot offers a host of nooks to play in, each overflowing with toys, from an area all about wheels (hello car-and-train enthusiasts), to an overflowing walk-in closet full of dress up things, and a sensory spot just for wee tots. There's an on-site espresso bar for weary parents, too, where kids can also snag a snack once they've worked up an appetite. City Owlets also hosts special events, playgroups, and baby-and-me and toddler classes.
Funtopia USA — Ridgewood
6626 Metropolitan Avenue near Rentar Plaza
Drop-in play offered daily.
Weekdays $10 per child
All ages
This is a one-stop fun spot for all ages, but be warned: It's more Chuck E. Cheese's than bespoke play space. If you have tweens or young teens, there are a lot of activities here including laser tag, bumper cars, and a video game arcade. The younger set gets a three-story indoor playground, plus a separate toddler area. The big catch? Many of the games and attractions cost extra on top of admission fee. There's no elevator so leave the stroller at home.
RELATED: 11 Favorite Baby and Toddler Classes in Queens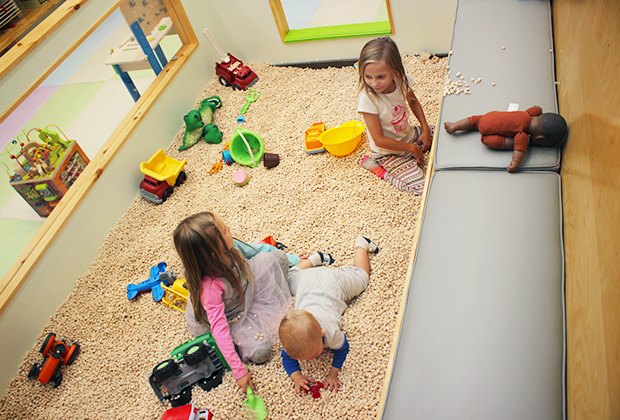 The Hinoki cypress wood cube pit is a hit for wee ones—and definitely cleaner than a sandbox! Photo by Kelly O.
Good Day Play Cafe — Bayside
208-03 35th Avenue
Drop-in play offered Monday–Saturday; visit the website for current schedule.
$10 per one-hour session weekdays; $11 weekends; discounts for siblings and longer sessions are available; babies under 8 months are FREE
Ages 8 months–6 years
Modeled after play spaces in Korea, Good Day Play Cafe has been a welcome addition to its neighborhood. Part play space, part healthy cafe, there's something to please everyone at this bright, airy spot. Kids will enjoy the whimsical play areas, which include a Hinoki cypress wood cube pit, climbing area, ball pit, Lego table, kitchen set, dress-up area, and more. Parents go for the Stumptown coffee, free Wi-Fi, and a decidedly laid-back vibe.
Jungle Adventure — Whitestone
149-13 14th Avenue
Open Sunday through Thursday, 10am-6pm, and Friday and Saturday, 10am-7pm.
Admission is $15 to $32, depending on how long you want to play and day of the week. Children under 2 are FREE with a paid child and each ticket includes one adult. Additional adults are $5. Package deals are also available.
This indoor playground, new in 2018 and intended for children 12 years and under, invites little ones to jump on the trampoline, and crawl, climb, slide, and wriggle through a colorful maze of play equipment.
Kanga's Indoor Playspace — Long Island CIty
32-15 37th Avenue
Open 9am-6pm daily
Adult admission is $5 and children's admission ranges from $13 to $20, depending on height and weekday versus weekend play, and children under 1 are FREE. Socks are required.
This new Long Island City hotspot is designated for children ages 1 to 11. Highlights of this Queens play space include a multi-level indoor playground, a merry-go-round, inflatable bouncy attractions, plastic ball pools, and a dedicated toddler play area. They also host birthday parties. Parents can chill at the cafe or get in on the fun in the play center. Children are given wristbands that correspond with their guardian's ticket number for added security.
Kids Fun House — Ridgewood
6273 Fresh Pond Road between 70th and 71st Avenues
Drop-in play Tuesdays–Sundays; visit the website for current hours.
$7–$20 per session depending on the day; discounts for members are available
Ages 6 months–12 years
Older kids can romp in the multi-level maze, swoosh down the triple slide, and even play a few arcade games. There's a separate socks-only toddler area for kids ages 6 months to 4 years with a tree to climb through, a playhouse, and a small slide. Adults can grab a seat and a snack at the cafe. Kids Fun House also offers affordable birthday party packages. As you can imagine, it's quite popular with locals—families even drive here from other parts of Queens.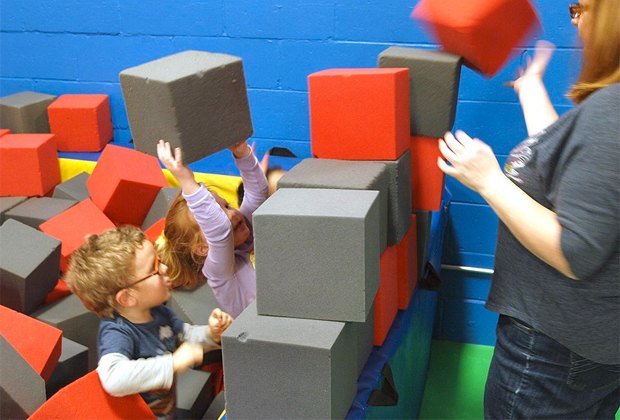 Get lost in the foam cube pit at Kids 'N Shape, a fun take on the popular ball pit.
Kids 'N Shape — Howard Beach
162-26 Cross Bay Boulevard between 162nd and 163rd Avenues
Drop-in play offered daily; visit the website for current schedule.
$12 per two-hour session
Ages 5–12
Founded in 1989 by a local family, this gym includes a bouncy castle, zip line, obstacle course, basketball/soccer court, ball and foam pits, air hockey, and more. Children are admitted on a first-come, first-served basis with a maximum of 50 kids per session.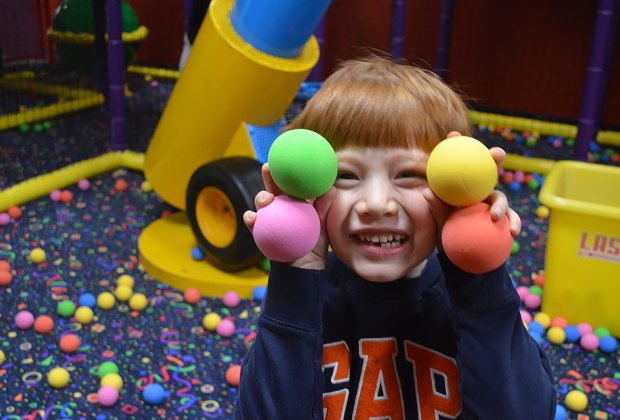 With a little bit of everything, laser Bounce is sure to have an activity for every kid!

Laser Bounce — Glendale
80-28 Cooper Avenue in The Shops at Atlas Park
Open Sunday-Thursday 10am-10pm, Friday 11am-12am, Sunday 10am-10pm
All Ages
Walk-in packages start at $15.95 per person and include 12 credits plus entry to some of the smaller attractions.
This sensory explosion in Glendale has a little bit of everything—old school arcade games like air hockey, car racing, and whack-a-mole, a virtual reality attraction, laser tag, and a floor of bounce houses and obstacles courses. Because of the lights, dark areas, noise, and crowds at Laser Bounce, this indoor mini amusement park is best for school-age kids. There are private party rooms for pizza and cake, exclusive use of the Laser Tag Arena, plus plenty of add-ons.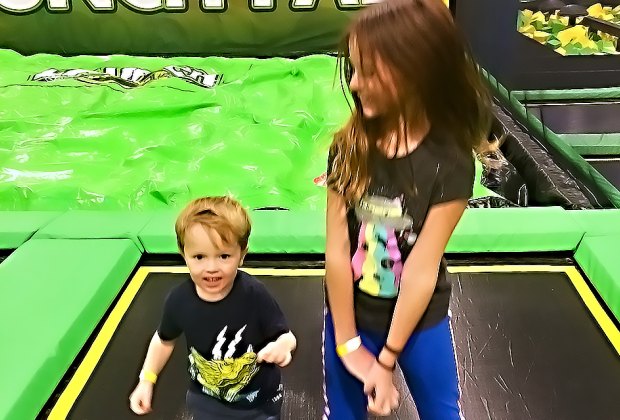 All ages can jump together at Launch Trampoline Park. Photo by Ros Muggeridge
Launch Trampoline Park — Howard Beach
163-50 Crossbay Boulevard
Open Monday-Thursday 3pm-9pm, Friday 3pm-10pm, Saturday 10am-11pm, and Sunday 10am-8pm
Best for kids 4 years and older
Admission starts at $26 per person for 1 hour.
Brand new as of November 2018, this trampoline park (and much more) boasts sparking clean attractions, super friendly staff, and lots of ways for kids of all ages to jump out their winter wiggles. Safety is the top priority here with plenty of staff who discreetly keep an eye on jumpers (especially little ones), to make sure everyone is following the rules to stay safe. For an extra fee, there are a few arcade machines along with Paradox VR headsets featuring 100 virtual reality games. The Launch Eats counter has the usual fast food concessions on offer.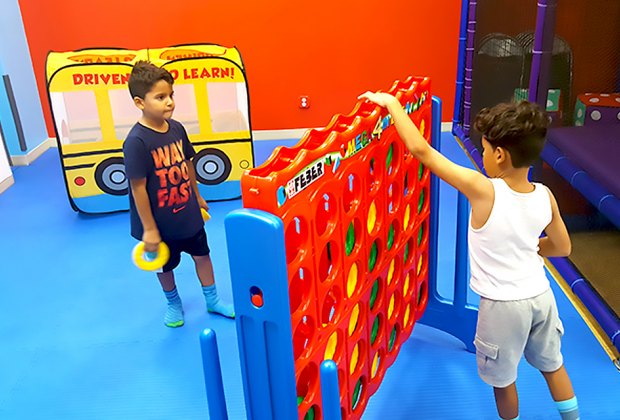 Learning through play is the mission at Let's Play Playhouse. Photo courtesy of Let's Play Playhouse
Let's Play Playhouse — Astoria
34-17 Steinway Street between 34th and 35th Avenues
Drop-in play offered Monday-Thursday from 12pm-6pm, Friday 11am-6pm; call to confirm availability, 718-806-1288.
$10 per child; discounts available for multi-play packs
Ages 0–5
Formerly a mini-chain known as Kids Playhouse, Let's Play Playhouse is under new ownership and received a few welcome updates. It still offers a two-tiered jungle gym with slides, but the spot's new motto is Learn through Play, and true to its word, it's added a selection of classes. A separate padded play area keeps tots and crawlers safe and happy. Let's Play also offers reasonable birthday party packages and allows exclusive use of the space during your event.
Little Dreamers Kingdom — Little Neck
254-18 Northern Blvd Suite 5
Drop-in offered Tuesday-Friday 10am-6pm, Saturday 10am-3pm and 3:30-6pm, Sunday 10am-6pm. Visit website to confirm weekend hours.
$10 for 1 hour, $15 for 2 hours, all day for $20
Ages 0-5
Sisters Donna and Alice Fu took over ownership of Little Dreamers Kingdom in September 2017 and have been busy making it into a toddler-friendly play zone. They've filled the cozy space with toys and installations that younger kids will love, including a climbing structure, ball pit and trampoline, and offer classes like Arts & Crafts and STEM for children aged 0–5. Party packages give you the use of the entire play area, plus a large adjacent party room.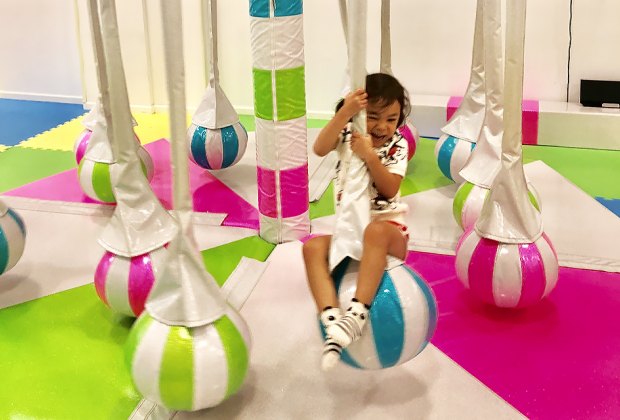 Swing on the ball pendulum at Mini Land Play. Photo by Janet Bloom
Mini Land Play — Long Island City
5-28 49th Avenue between Vernon Blvd and 5th Street
Drop-in daily from 9am-8pm; call to confirm weekend availability (929) 208-2886
$15 per child and one adult for unlimited play on weekdays, $20 for two hours on weekends
Ages 0-5
Mini Land feels like a rare find among NYC play spaces; a crazy-fun indoor playground with toddler-friendly rides that doesn't break the bank. Opened by local mom Shu Yeh, Mini Land features four big moving structures, including a dolphin merry-go-round, and a big climbing playground and ball pit. Go just for the awesome balloon room! Mini Land offers party packages and has a separate room for private events.
Mini Galaxy Play Cafe — Jamaica
178-02 Jamaica Avenue, 2nd Floor, entrance on 178th Street
Drop-in play Sunday through Thursday, 11am-7:30pm and Friday and Saturday 11am-8pm. Weekend availability listed on website.
$15 for 1 hour, $25 for 2 hours, or all day for $30
Ages 8 months- 7 years
Located just two blocks from the F train on Jamaica Avenue, Mini Galaxy Play Café is a bright, open space that is set up so that caregivers can sit back with a cup of coffee or delicious pastry while watching their little ones have a blast. With a two floor climbing structure, ball pit, fun toys and dedicated toddler area, there is plenty to keep kids occupied; all well within view of the fully stocked cafe area. The openness of the space makes it a great place for parties and events.
Okabaloo — Astoria
35-52 32nd Street
Open Monday thru Friday 10am-6pm, Saturday 10am-1pm. Check website for current class and PlayZone schedule.
PlayZone is $10/hr (parent supervised) or $20/hr (drop off), Classes are $25/class with package deals available.
Ages 0-6 years (for PlayZone)
Artists and mothers—as well as sisters—Olta and Bora opened Okabaloo in November 2017 with a focus on self-expression and exploration for kids and families. Okabaloo offers a regular schedule of art programs like "Fun & Fine in Art." There's also Zumba, ballet, yoga, theater, private music lessons, community events and much more. Check the calendar for specific details. Designed for both open play and scheduled structured activities, their Playzone is decked out in wooden toys geared toward the enrichment of babies to 6 year olds. They also offer birthday packages, with lots of options for customization.
Peek-a-BooO — Flushing
135-17 Northern Blvd near Main Street
Drop-in play offered daily from 9am-8pm
$15 for 1 hour, $20 for 2 hours, $25 for unlimited play; monthly pass for $99, quarterly pass for $199, yearly pass for $399
Ages 0-7
At over 6,000 square feet, Flushing's Peek-a-booO is a super-sized delight. And it's not just huge, it's filled with modern, bright, fun climbing equipment, ball pits, interactive games, toys, and so much more! Owner and Queens parent EJ Wang designed the space to be safe, fun, and interactive, and she definitely hit the mark on all counts.
Preschool Place — Corona
New York Hall of Science, 47-01 111th Street near 47th Avenue
Drop-in play offered daily; visit the website for current schedule.
Included in museum admission: $16 for adults; $13 for children ages 2-17; FREE for those under age 2
Ages 0–6 years
There are tons of hands-on attractions at the New York Hall of Science, but the wonderful multisensory play area located within the science museum is a highlight for young children. It's equipped with a play kitchen and a wide array of toys. Older siblings are welcome to tag along but should be supervised so they don't run all over the young ones. Storytime and art projects are offered on weekends and holidays.
RELATED: The Best Playgrounds in Queens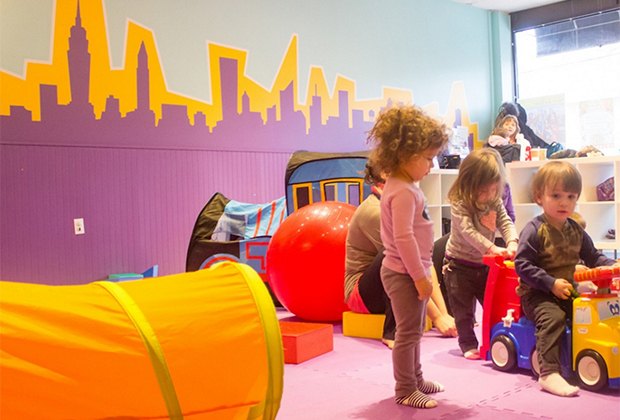 Enjoy drop-in playtime for tots at Raising Astoria.
Raising Astoria — Astoria
26-11 23rd Avenue between 26th and 27th Streets
Drop-in schedule varies; visit the website for schedule and to reserve.
$5–$10 per family
Ages 0–3
This Queens spot reinvented itself in 2015, abandoning its retail business to open an additional party-and-play room on-site. Expect to find affordable classes here for kids up to age 8, but also drop-in playtime and, occasionally, an indoor bouncy house that's just for toddlers. There are event date-night drop-in hours, too. Hours vary, but a frequently updated Facebook page keeps families in the know. There's also a dedicated open play session just for babies under 18 months.
Sabrina's Play Studio — Sunnyside
52-07 Queens Boulevard at 52nd Street
Drop-in play Monday–Thursday 9:30am-7pm, Friday 12pm-5pm, Saturday–Sunday 9am-11am.
$16 for walkers; $10 for crawlers
Ages 0–9 years
This 1,900-square-foot play space for children was opened by a local mom who ran a neighborhood daycare for 11 years. Attractions include a two-level maze, a small bounce house, and a play area with a kitchen, toys, and dress-up clothes, plus a gated baby zone for tiny tots. Drop-in on Tuesdays and Thursdays for an included-with-admission story, music, and snack time. The schedule can change, so stay up-to-date by following its Facebook page or check the website.
Sky Village Art Gallery and Play Space — Long Island City
23-05 29th Street
Drop-in art play offered Monday–Friday and some weekends; visit the website for current schedule.
$20
Ages 9 months–3 years
Local mom Shasta Molnar recognized the need for an arts play space when her daughter tried to color her sofa, so she went out and opened one where kids are free to create to their hearts' content. In addition to open play time for babies and toddlers, classes are offered in crafting, cooking, and art for kids ages 18 months to 8 years. The space can also be rented for parties.
Sunnyside Plays — Sunnyside
4309 48th Avenue
Drop-in play schedule varies; visit the Facebook page for weekly schedule.
$15 for the first child; siblings and babies under a year old are half price; discounts available for multi-play packs and membership options are also available
Ages 0–7
The brainchild of another pair of local parents, Sunnyside Plays offers 1,700 square feet of open space for kids to romp and roam. Our reviewer took all three of her kids for a morning of play and had a blast. While the main attraction is the on-site jungle gym, there are plenty of smaller toys scattered throughout to entertain tots. Padded floors make this friendly to the crawling set and an on-site cafe will give you a break from romping around (or chasing your child!). Toddler Happy Hours are even offered, complete with drink specials for mom and dad while the kids play. Beware, it's a socks-only spot so make sure your feet are covered or you'll be buying some on-site.
Unless noted, photos courtesy of the play spaces
A previous version of this article was first published in November 2010; it is updated annually. Katie Nave Freeman contributed additional reporting.