The Best Queens Play Spaces and Gyms Open Now For Kids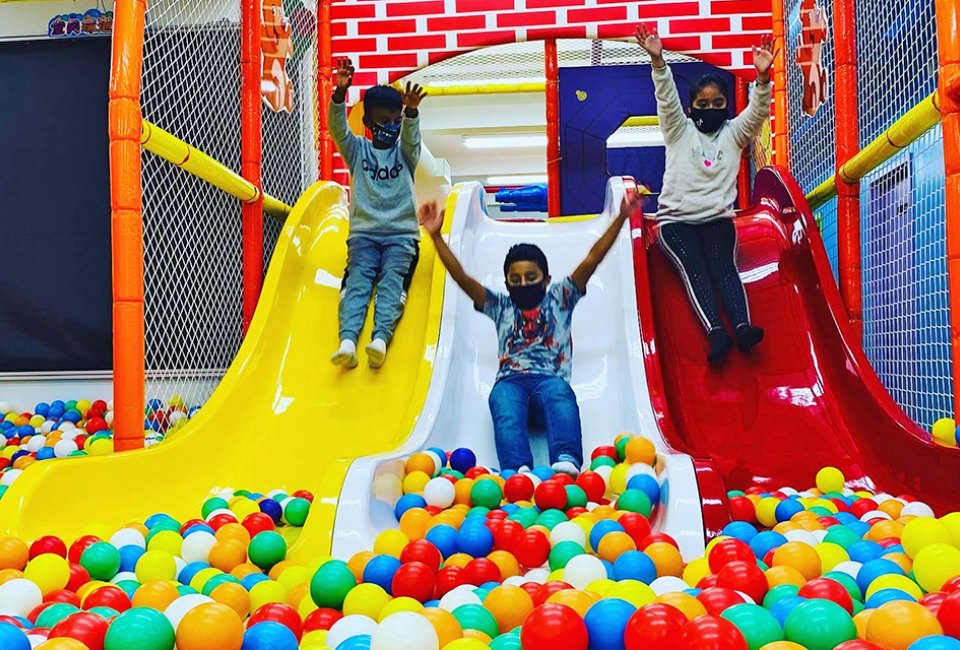 2/15/21
- By
Kelly O
From the formerly industrial waterfront to deep in the borough, family-friendly spots and amenities are aplenty in Queens. There are many great playgrounds in warm weather, but the winter season calls for something different, and we've rounded up the best Queens play spaces to while a day away.
The pandemic has been particularly tough on Queens play spaces, but we've still found more than a dozen indoor romping spots in the borough that are open now. While all of these spots are open to the public, no membership required, many require reservations right now.
Some of these spots are currently hosting private playtime for pods or parties, too, and most are much more affordable than their Manhattan competitors.
Find plenty more places to play in our Guide to Indoor Play.
Editor's note: All the play spaces listed are adhering to COVID regulations, including mandatory mask wearing, temperature checks, hand washing, and additional cleaning and sanitizing measures. Given how quickly things are changing during this pandemic, be sure to click through to their websites or call to confirm pricing and availability. Please always keep your family and others safe by wearing a mask and practicing social distancing.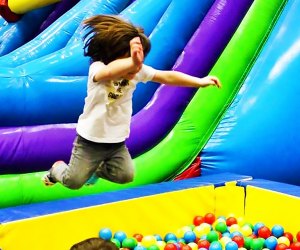 Check out Bounce 'N Play for open play or a birthday party.
Queens Play Spaces Open Now
2021 update: Play spots must be reserved in advance.
Steinway Street between 20th Avenue and 20th Road
Drop-in play: Open daily; visit the website for current hours.
Ages 1 and up
Opened by a local mom in spring 2014, this Queens play space has bouncy houses and giant inflatable slides in addition to standard play space attractions—playsets, a jungle gym with tubes, a rock-climbing wall, toys, and arcade games. That makes it a great choice for children of all ages. In fact, the "big playground" caters to kids up to age 13.
2021 update: Reserve a play spot at least one day ahead. Payment is not required at reservation time, however, parents are asked to call ahead to cancel or change the date. Slots are updated once a week.
149-13 14th Avenue
Drop-in play: Open daily; visit the website for current hours.
Ages 12 and younger
This indoor playground invites little ones to jump on the trampoline and crawl, climb, slide, and wriggle through a colorful maze of play equipment.
2021 update: Guest capacity is limited to 25 people. ​Reservations are required for both children and adults. A health screening form is required upon entry.
108-48 Queens Boulevard
Drop-in play: Monday-Friday, 8:30am-6pm; Saturday-Sunday, 9:30am-5pm. The schedule is subject to change, so check Dream City's Facebook page for updates.
Ages 1-6
Dream City is a 6,200-square-foot space filled with plenty of places for kids to climb, jump, and slide. The play space also incorporates sensory and imaginative play areas, including a wood cube pit with shovels and toy dump trucks, a ball travel machine, a costume dress-up room, and more.
RELATED: The Top Indoor Play Spaces Across New York City Open Now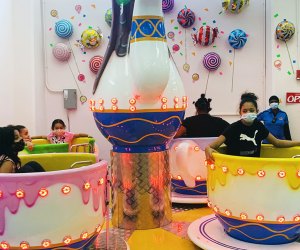 Kanga's Indoor Playcenter offers plenty of fun for all ages.
2021 update: Reserve your spot in advance online.
32-15 37th Avenue
Drop-in play: Monday-Friday, 10am-5:30pm; Saturday-Sunday, 10am-7:30pm
Ages 1-11
This Long Island City hotspot includes a multi-level indoor playground, a merry-go-round, inflatable bouncy attractions, plastic ball pools, and a dedicated toddler play area. It also hosts birthday parties. Children are given wristbands that correspond with their guardian's ticket number for added security.
2021 update: Pre-register to visit by calling 718-685-2283.
135-17 Northern Boulevard near Main Street
Drop-in play: Daily, 9am-8pm
Ages 0-7
Following a recent move from Flushing to Long Island City, Peek-a-booO has re-opened and is ready to delight. This location still has all the fun climbing equipment, ball pits, interactive games, toys, and much more! Owner and Queens parent EJ Wang designed the space to be safe, fun, and interactive.
2021 update: Reservations are required due to limited capacity.
54-32 Myrtle Avenue
Drop-in play: Daily, 10am-9am; visit the Joyful Palace Facebook page for updates.
Ages 5 and up
Made for kids who love to bounce, slide, and climb for hours, Joyful Palace doubles as an indoor playground and an arcade, where kids can score tickets and prizes. This massive, stimulating space is best for kids who can play independently.
RELATED: Arts and Crafts Studios and Shops Offering In-Person and Virtual Classes in NYC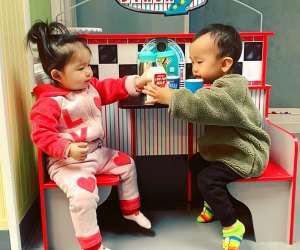 Share a pretend meal at a fabulous restaurant at Kids Play World. Note: Kids in the photo are not wearing masks because they are under 2-years-old.
2021 update: Reservations are required and can be made by calling 917-387-7274.
63-08 69th Place
Drop-in play: Monday-Friday, 9am-5pm
Ages 1-7
Opened in early 2020, this popular space brings kids on a trip around the globe. Each play area represents a different destination—from the Middle East to Europe, Asia, and the Americas. There's a handcrafted Lego table and wall, where older ones can keep busy making different creations, as well as a climbing wall and a slide. To get to the slide, kids must pass through a glow-in-the-dark ocean-themed tunnel. Little visitors can ride around the space in toy cars, go shopping in a well-stocked supermarket, and make pretend food in an Italian pizza shop.
2021 update: Temperature checks and health screening are administered to all guests and staff upon entering.
35-38 Junction Blvd.
Drop-in play: Monday-Thursday: 11am-8pm; Friday-Sunday and holidays: 11am-9pm
Ages 1-12
This newly re-opened 4,000-square-foot space is under new management and has undergone a complete makeover. The space features a massive ball pit, a merry-go-round and toddler section for little ones, an obstacle course, an enclosed trampoline, and an arcade with machines for the little ones as well as for the older kids.
2021 update: Open play is by reservation only and can be booked online. There is currently no food available for purchase, and no outside food is allowed.
100-26 Queens Boulevard between 67th Avenue and 67th Road
Drop-in play: Schedule varies; confirm hours before visiting
Ages 0-6
Little Bear Play Cafe includes a custom-designed play structure with stairs, slides, and a ball pit. There are also stations with toy kitchens, trains, blocks, and books, in addition to a room dedicated to Legos and arts and crafts.
RELATED: Brooklyn Drop-in Play Spaces and Kiddie Gyms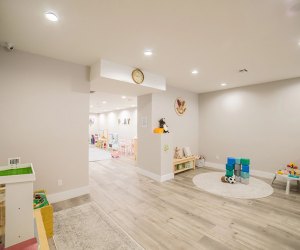 Kids can explore the gorgeous open space at Lidia's Play Cafe.
2021 update: Advance booking is required for private play (with your pod) or mixed play sessions with participants outside your social circle.
71-06 Fresh Pond Road between Myrtle and 71st Avenues
Drop-in play: Tuesday-Friday, 9am-6pm; Saturday-Sunday, 9am-4pm; hours may vary, so visit the website for current hours.
Ages 0-6
This play cafe in Ridgewood where little ones can explore many different activities while parents relax and enjoy refreshments. Named after the owner's daughter, Lidia's Play Cafe is a Montessori-inspired play zone with a simple, uncluttered space and toys focused on development. As a bonus, all toys are made of environmentally-friendly wood.
2021 update: Pre-register for play sessions, which are limited to 6 people.
84-56 Grand Avenue
Drop-in play: Daily, 10am-6pm; schedule is subject to change; check the Facebook page for closures.
Ages 1-12
If you're looking to entertain kids of different ages, this is the place to visit. Its two-level play space offers age-appropriate play for kids at different development stages, including a section for little ones, with a cushioned floor, small slides, and ride-on toys. Older visitors can slide into the ball pit or test out their building skills at the Lego wall.
RELATED: What's Open Now in NYC for Kids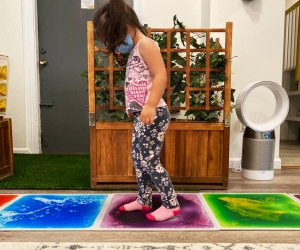 Take a sensory color walk at House of Playful Soul.
2021 update: Only private group bookings available at this time. Reserve your session online.
5 Station Square
Drop-in play: Private play by appointment only.
Ages 6 months-7
This cozy space is filled with a thoughtfully-curated collection of wooden toys reflecting the owner's "less is more" philosophy regarding kids' play. HOPS is also currently offering birthday parties, baby and toddler classes, and themed parties focusing on sensory play.
2021 update: Kids 'N Shape is open for private playdates only, which can be booked online.
162-26 Cross Bay Boulevard between 162nd and 163rd Avenues
Drop-in play: Private play by appointment only.
Ages 5-12
Founded in 1989 by a local family, this gym includes a bouncy castle, zip line, obstacle course, basketball/soccer court, ball and foam pits, air hockey, and more. Children are admitted on a first-come, first-served basis with a maximum of 50 kids per session.
2021 update: Let's Play Playhouse offers open play by appointment.
34-17 Steinway Street between 34th and 35th Avenues
Drop-in play: Private play by appointment only.
Ages 0–5
Formerly Kids Playhouse, Let's Play Playhouse is under new ownership and received a few welcome updates. It still offers a two-tiered jungle gym with slides, but the spot's new motto is "Learn Through Play," and true to its word, it's added a selection of classes. A separate padded play area keeps tots and crawlers safe and happy. Let's Play also offers reasonable birthday party packages and allows exclusive use of the space during your event.
Queens Play Spaces That Have Temporarily Closed
We're including some more of our favorite play spaces on this list even though they are currently closed due to COVID concerns, and we will update this post as conditions warrant and more spaces reopen.
66-26 Metropolitan Avenue near Rentar Plaza
All ages
This is a one-stop fun spot for all ages, but be warned: It's more Chuck E. Cheese's than bespoke play space. If you have tweens or young teens, there are many activities here, including laser tag, bumper cars, and a video game arcade. The younger set gets a three-story indoor playground, plus a separate toddler area.
6273 Fresh Pond Road between 70th and 71st Avenues
Ages 6 months-12 years
Older kids can romp in the multi-level maze, swoosh down the triple slide, and even play a few arcade games. There's a separate socks-only toddler area for kids ages 6 months to 4 years with a tree to climb through, a playhouse, and a small slide. Adults can grab a seat and a snack at the cafe. Kids Fun House also offers affordable birthday party packages.
163-50 Crossbay Boulevard
Ages 4 and older
This trampoline park (and much more) boasts sparkling clean attractions, super friendly staff, and lots of ways for kids of all ages to jump out their winter wiggles. Safety is the top priority here, with plenty of staff who discreetly keep an eye on jumpers (especially little ones) to ensure everyone is following the rules and staying safe. For an extra fee, there are a few arcade machines along with Paradox VR headsets featuring 100 virtual reality games.
5-28 49th Avenue between Vernon Blvd and 5th Street
Ages 0-5
Mini Land feels like a rare find among Queens play spaces, a crazy-fun indoor playground with toddler-friendly rides that doesn't break the bank. Opened by local mom Shu Yeh, Mini Land features four big moving structures, including a dolphin merry-go-round. There's a big climbing playground and a ball pit. The awesome balloon room is worth the trip on its own! Mini Land offers party packages and has a separate room for private events.
2021 update: Okabaloo is operating a remote school and after-school programming until further notice.
35-52 32nd Street
Recommended for 0-6
Okabaloo offers a regular schedule of art programs like "Fun & Fine in Art." There's also Zumba, ballet, yoga, theater, private music lessons, community events, and much more. Check the calendar for specific details. Designed for both open play and scheduled, structured activities, its Playzone is decked out with wooden toys geared toward the enrichment of babies to 6 year olds. It also offers birthday packages, with lots of options for customization.
New York Hall of Science, 47-01 111th Street near 47th Avenue
There are tons of hands-on attractions at the New York Hall of Science, but the wonderful multisensory play area within the science museum is a highlight for young children. It's equipped with a play kitchen and a wide array of toys.
52-07 Queens Boulevard at 52nd Street
Ages 0–9
This 1,900-square-foot play space for children was opened by a local mom who ran a neighborhood daycare for 11 years. Attractions include a two-level maze, a small bounce house, and a play area with a kitchen, toys, and dress-up clothes, plus a gated baby zone for tiny tots. Drop-in on Tuesdays and Thursdays for an included-with-admission story, music, and snack time.
2021 update: Sky Village NYC is currently providing remote school support to local families.
23-05 29th Street
Ages 9 months–12 years
Local mom Shasta Molnar recognized the need for art play space when her daughter tried to color her sofa, so she went out and opened one where kids are free to create to their hearts' content. Besides open-play time for babies and toddlers, classes are offered in crafting, cooking, and art for kids up to 12 years old.
80-28 Cooper Avenue in The Shops at Atlas Park
Ages 5 and older
This sensory explosion in Glendale has a little bit of everything—old-school arcade games like air hockey, car racing, and whack-a-mole, a virtual reality attraction, laser tag, and a floor of bounce houses and obstacle courses. Because of the lights, dark areas, noise, and crowds at Laser Bounce, this indoor mini amusement park is best for school-age kids. Planning a party: There are private party rooms for pizza and cake, exclusive use of the laser tag arena, and plenty of add-ons.
Photos courtesy of the play spaces
A previous version of this article was first published in November 2010; it is updated annually. Katie Nave Freeman and Elena Malykhina contributed additional reporting.