Long Island City Waterfront with Kids: 20 Fun Things To Do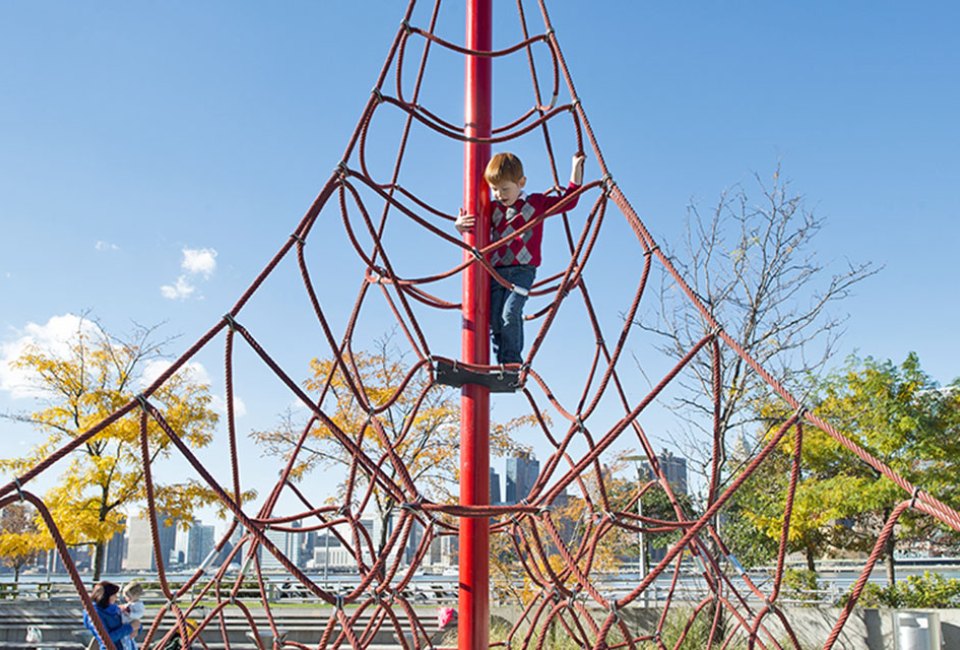 1/5/23
- By
Hans Howe-Freiwald
When I first moved to Long Island City, Queens, back in 2008, it was the perfect place for a bachelor living it up in the city in his mid-20s. It was up-and-coming with indie comedy clubs, late-night hangs, and 2am eggs at the Court Square Diner. Back then, I couldn't fathom that 15 years and 2 kids later, I would return to Long Island City and find it an equally ideal place to raise my kids.
The neighborhood's family-friendly vibes are not unique to those of us who live here. Long Island City has become the ideal hot spot full of things to do morning, noon, and night, thanks in large part to its beautiful waterfront. Hunters Point South Park, known as The Gantry to locals—and instantly recognizable by its iconic Pepsi sign—has grown into New York City kid heaven. Read on for 20 fun things to do on the Long Island City waterfront with kids, and find more fun local neighborhoods and haunts to explore in our NYC Kids Neighborhood Guide.
Subscribe to our newsletters to get stories like this delivered directly to your inbox.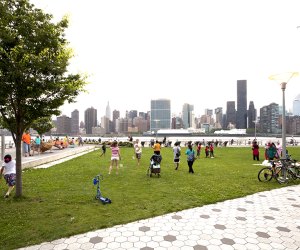 Ride, play, and scoot along the piers of the Long Island City waterfront. Photo by Will Steacy
Best Places to Play on the Long Island City Waterfront
1. Explore the Piers
Take advantage of the fresh air and cool breeze as you walk along the piers and waterfront of Hunters Point South Park. Kids can explore the newly minted walkways on scooters while you take in the awe of the ever-changing city skyline.
2. Watch the Pups Run and Play
I know my little ones can't get enough puppy play, and they're happy to watch the dogs run and play in the hilly dog park just off the main gantry.
3. Hit the Playground
The waterfront has a large playground—one of our favorites in all of Queens—for kids to run around to their heart's content, complete with a rubber-padded surface and a water feature they can control with the press of a button. Plus, it has plenty of benches for parents to take a break.
4. Play Ball
Located just next to the playground is a large, grass-inset playing field. Bust out the soccer balls or baseball mitts, because you'll have plenty of space to kick the ball around or prep for Little League.
5. Dip Your Toes in the Sand
Located just behind the NYC Ferry stop, find a sandy oasis. It's a fun spot to take in an impromptu beach volleyball game or help the kids build a sandcastle—or more aptly a New York City "sand-scraper."
6. Pose with the Pepsi Sign
Take advantage of the picnic tables and grassy fields that sit just next to the iconic Pepsi sign. Pack a fun little picnic to enjoy while the kids run around in the open air.
7. Hit the Tracks
The Gantry was once one of the main ports for goods coming into New York City in the early 20th century. Teach the kids a little New York history as they walk and balance on the century-old train tracks and see where they lead.
8. Hit the Open Sea
The Long Island City waterfront is just one of the kid-friendly NYC Ferry stops. Grab a seat and set sail for iconic New York neighborhoods, like Greenpoint, Williamsburg, and Dumbo, Brooklyn. Bonus: Kids under 44 inches tall ride FREE!
RELATED: Best of Queens, NY: 47 Things To Do in NYC's Largest Borough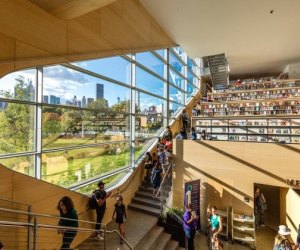 Creature comforts at the Hunters Point Library include comfy chairs to relax and read, charging stations, free WiFi access, and public restrooms. Photo courtesy of the NYPL
Top Free Things To Do on the Long Island City Waterfront
9. Hit The Hunters Point Library
The Hunters Point Library is a great place to take a break from the elements and curl up with a good book. We love the skyline view and impressive children's section with plenty of family-friendly programming and story times for kids.
10. Outdoor Movie Night
In the summer months, enjoy FREE outdoor screenings just off The Gantry. Bring a blanket and some popcorn and relax as Spider-Man scales the skyscrapers of Manhattan, literally in front of the actual skyscrapers of Manhattan!
11. Drop a Line
Just as you can walk one of the four piers that jut off of Hunters Point South Park, it's also one of our favorite places to cast a fishing line. Even if you don't reel anything in, fishing in the East River with the Chrysler Building in the background is a unique experience.
RELATED: Long Island City Neighborhood Guide

MoMA PS1 offers indoor and outdoor exhibits, including a permanent collection and a rotating array of visiting exhibitions. Photo by Steven Paneccasio courtesy of MoMA PS1
12. MoMA PS1 Museum
This offshoot of the Museum of Modern Art is a great way to introduce your little one to some fun modern art exhibits, and it's also one of our favorite neighborhood art spots. Admission is always FREE for New Yorkers.
13. Help the Conservancy
Teach the little ones about keeping the waterfront beautiful by teaming up with the Hunters Point Parks Conservancy, which hosts yearly volunteer events to help maintain the park's beautiful landscape and plant life. It's a great way to get some fresh air, while also teaching your kids the important lesson of conservation.
14. Shoot Some Hopes or Bust out the Racket
Long Island City is home to one of the most well-known streetball courts in the city. Located just off Vernon Boulevard and 48th Avenue, Hunters Point Park offers basketball courts, plus handball and tennis courts. So whether it's taking in a lively game of hoops or participating yourself, this park is a great place to get your game on.
RELATED: Kid-Friendly Waterfront Restaurants in NYC for Dinner With a View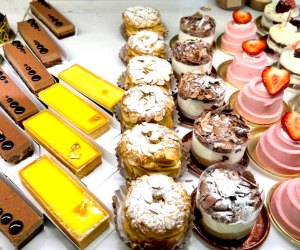 Grab a treat at Cannelle, a French bakery in the heart of Long Island City. Photo courtesy of the bakery
Best Family-Friendly Restaurants on the LIC Waterfront
14. Cannelle
Grab a treat from Cannelle, the premier treats and baked goods spot off the waterfront. Grab some colorful and flavorful macarons to replace all those waterfront walking calories you've been burning.
15. Food Trucks
Food trucks now line much of cobblestone Center Boulevard, which runs much of the waterfront. From falafel to french fries to frozen treats, they'll come in handy when the little ones get "hangry" or you need a boost of caffeine.
16. Skinny's Cantina
This LIC staple has authentic Mexican fare and even better margaritas for moms and dads. It also has some mild food options for kids. Sit outside and sip a marg as you contemplate your next move.
18. Cyclo
A Long Island City staple, Cyclo is an authentic Vietnamese restaurant that never disappoints. This is easily my favorite restaurant in LIC. It is affordable, plus vegan- and kid-friendly. The veggie pho and tofu banh mi are where it's at, and it never breaks the bank.
19. Manetta's Ristorante
When it comes to Italian fare, you don't get much more authentic than Manetta's Ristorante, which is just a short walk from the waterfront. One of the oldest restaurants in Long Island City, it's still one of the best, and its New York-style pizza is tough to beat. Grab a plain cheese slice for the kids and something a little more adventurous like portobello, truffle oil, and arugula for you. Feeling adventurous, trek over the Pulaski Bridge to take in breathtaking views of the city.
20. Sweetleaf
There is no denying Sweetleaf is one of the best coffee shops in the outer boroughs, and this is its mothership location. Grab its trademark Rocket Fuel for you and a vegan treat for your little one, and you'll both get a little pep in your step.
I hope you and your kids enjoy the LIC waterfront as much as we do. You can find even more fun things to do in the greater Long Island City neighborhood, too!
t Click Here to Sign Up!