45 Fun Things to Do with Kids in Long Island City, Queens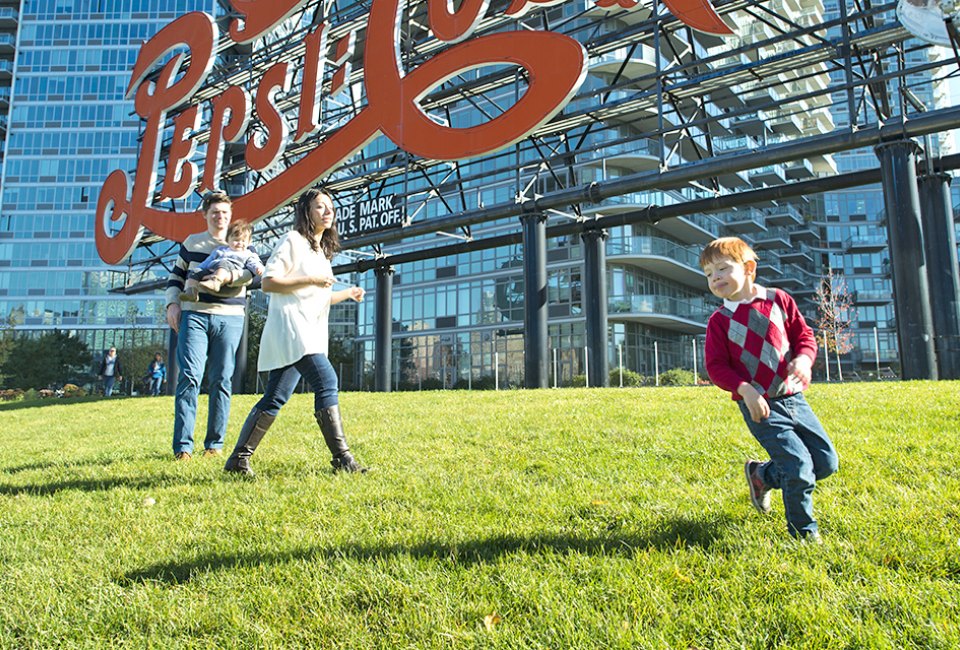 7/8/19
- By
Fiona Taylor
About 15 years ago, a friend told me Long Island City and Hunter's Point were the up and coming places to be. At the time, the area seemed too industrial to be the next hot spot, but the subsequent years have proved my friend right. Who would have thought former warehouses would be renovated to become restaurants and boutiques and LIC would be full of young families, eager to enjoy the amazing waterfront parks and amenities? Apparently, not me.
The change is evident. Glass-enclosed condos have remade the shoreline skyline and new amenities seemingly pop up daily. There's so much to see and do in this family-friendly neighborhood. Here's our list of 45 fun things to do in Long Island City with kids. Now, go forth and explore!
1. Take in the Manhattan skyline next to the iconic Pepsi sign and gaze out over Four Freedoms Park on Roosevelt Island.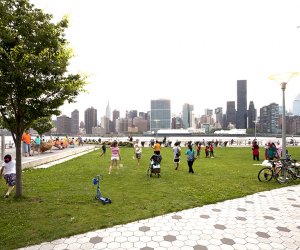 Photo by Will Steacy
2. Bike down the boardwalk in Gantry Plaza State Park. (The less crowded North end is perfect for shaky riders.)
3. Visit the Gantry Plaza State Park's playground, which has a state-of-the-art water play area during the summer months.
4. Go fishing off Pier 4 at Gantry Plaza State Park.
5. Introduce your kids to the sport of tennis at Court 16's indoor facility.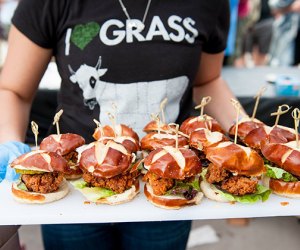 There are plenty of delicious food offerings at LIC Flea. Photo courtesy LIC Flea
6. A great dining option is the LIC Flea, where everyone in the family can find something they like.
7. Enjoy delectable treats, coffee, and hot chocolate at Cannelle Patisserie.
8. Work off the calories with a gymnastics class at LIC Kids Gymnastics.
9. Fly through the air with the greatest of ease after taking trapeze, aerial arts, and other classes from the teachers at Circus Warehouse.
10. Get creative at arts hub Playday, which offers tons of drop-in classes and cleans up the inevitable mess!
11. Discover hidden treasures at Just Things, a fascinatingly eclectic second-hand store.
12. Take a parent-child class at The Yoga Room.
13. Learn about Japanese culture through shadow puppet shows, kabuki, and art workshops at Resobox.
14. Chow down on home-style pizza and pasta at family-run trattoria Manetta's Ristorante.
15. Drop into the candy-cotton colored playspace Mini Land.
16. Bike or stroll over the Roosevelt Island Bridge to visit the isle, which is like a small town oasis (with high rises!) in the midst of New York City.
RELATED: Long Island City Museums with Kids: Spending the Day at MoMA PS1, the Noguchi and Socrates Sculpture Park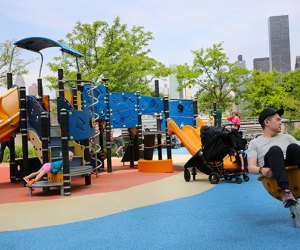 Hunter's Point South Park is ready for action. Photo by Shira Kronzon
17. Visit yet another amazing waterfront playground at Hunter's Point South Park.
18. While you're there, bring your pup to the dog park, or for the dog-less, live vicariously by watching them play.
19. Grab a coffee and baked goods at COFFEED, a kiosk with outdoor seating.
20. Take that coffee along as you catch the ferry for an East River adventure.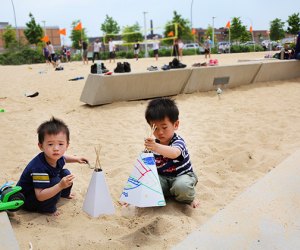 LIC Beach is the ultimate sandbox. Photo by Shira Kronzon
21. Hit the "LIC Beach," a sandy spot next to the ferry landing where kids can dig to their hearts content. (While it is just off the East River, it's more a giant sandbox than an actual beach, despite the name.)
22. During the summer months, catch an outdoor movie at Hunter's Point Park South or Socrates Sculpture Park.
23. Get a culture fix from the LaGuardia Performing Arts Center, which hosts theater, dance, and music performances.
24. Don't miss the matinees at The Secret Theatre.
25. Go retro at the old-school Court Square Diner, conveniently located right near MoMA PS1.
26. Speaking of PS1, enjoy some outdoor fun with the museum's long-running Warm Up music and art series on summer Saturdays.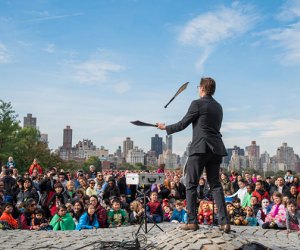 Socrates Sculpture Park has plenty of festivals and family events. Photo courtesy of the park
27. Check out the stunning Manhattan views, outdoor exhibits, and free kids' art workshops on Saturday mornings at Socrates Sculpture Park.
28. Can't get enough statues? Head to the SculptureCenter for indoor art.
29. Go kayaking for free at Hallets Cove.
30. Team up to get out of an escape room or pit yourself against each other with paintball, archery tag, or laser tag at Indoor Extreme Sports.
RELATED: Best Family-Friendly Restaurants in Long Island City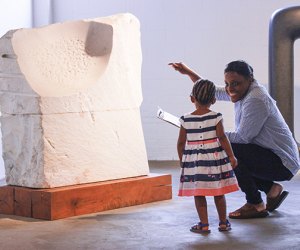 Get to know the Noguchi museum. Photo by Katherine Abbott/courtesy of The Noguchi Museum
31. Be artistic with your kids at the wonderful drop-in Open Studio sessions on the first Sunday of every month at The Noguchi Museum.
32. Learn to ice-skate year-round at indoor rink City Ice Pavilion.
33. Frolic at the tree-lined playground at Andrews Grove, which locals call "Shady Park."
34. Head to the waterfront Queensbridge Park for the playgrounds and amazing views.
35. Visit the LIC branch of the Queens Library for weekly storytime. We're also anxiously anticipating the new waterfront Hunter's Point Community Library, which is architecturally fascinating...but long delayed.
36. Romp at the playground and spray showers at Murray Playground.
37. Get a treat and sit in the old-school British telephone booths at Sweet Leaf Coffee.
38. Enjoy dining al fresco at John Brown Smokehouse or Anable Basin Sailing Bar & Grill.
39. Attend a performance or event at the New York Irish Center.
40. Explore sports and art classes for kids and adults at the LIC YMCA.
41. Rent a bike from LIC Bicycles and head out exploring.
42. Take a soccer class from the Long Island City Soccer Club.
43. Take a class or just browse at Artist & Craftsman Supply Long Island City, a fantastic art supply store.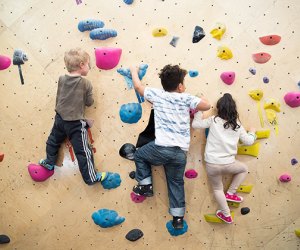 Kids love a good wall at Brooklyn Boulders. Photo courtesy of Brooklyn Boulders
44. Take a class or free-climb at Brooklyn Boulders.
45. Head to City Owlets with your toddlers and preschoolers for a little indoor play.
Want to get to know the whole borough? Check out our Queens Guide for Families.
A previous version of this post was published in 2017; it has been updated for 2019. Jody Mercier contributed additional reporting.
Click Here to Sign Up!
i