City Owlets: LIC's Newest Play Space for Tots and Preschoolers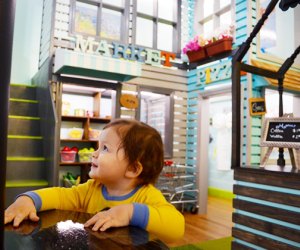 1/11/17
- By
Sydney Ng
New year, new indoor place space in Queens! City Owlets is Long Island City's newest hot spot for babies, toddlers, and preschoolers. My 1-year-old and I were delighted with the space, which just opened on Jackson Avenue after months of development.
It features a pint-sized play cafe and market, sensory wall, costumes, classes, birthday parties, and so much more, including perks for grown-ups. Part of a growing trend of "play cafes," such as Good Day Play Cafe, which opened last year in Bayside, Queens, Sunnyside Plays in Queens, and The Coop in Bay Ridge, Brooklyn, there's a full espresso and snacks menu for parents (and kids) to enjoy. A welcome addition to the neighborhood, City Owlets is a definite go-to for curing cabin fever with fuss-free play and enrichment.
Find more Queens play spaces in our article on the top gyms and kiddie drop-in spots around the borough. Looks like we'll be adding one more to it!
Owner and mother, Linda Nguyen, moved to Long Island City in 2014, and pretty much spent the next few years on the hunt for an indoor retreat for her and her young daughter. Ultimately she was inspired to cultivate and create the play space of her dreams. City Owlets opened its doors on January 3 with a thoughtfully designed and inviting space.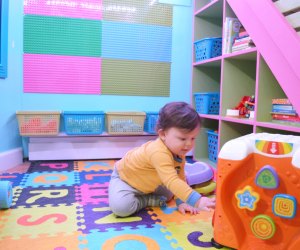 The sensory room is loaded with fun baby and tot toys.
The overall play space is divided into several sections, each nook loaded with a particular type of toy or plaything. With lights that slowly transition colors and musical and tactile toys, the sensory room is a joy of discovery. My 13-month-old son loved sifting through the many bins of clean and well-kept educational toys. This room was definitely his favorite, with a wall lined with locks and light switches.

Older toddlers will get a thrill out of playing pretend with a kid-sized pizzeria, café, and market, equipped with adorable shopping carts and other miniaturized items. For little ones looking to play dress-up, a walk-in closet bursting with costumes is a real treat. Another nook is loaded with all things wheels, so trains, trucks, buses, and cars, plus a fun road map on the floor. There's even an outdoor space with slides, playhouse and pretend gardening unit, which is open year-round (weather permitting).
Free-play is punctuated with a bit of storytime and other quick host-led experiences. For the most part, however, City Owlets encourages children to explore and put their imaginations to work.
City Owlets will soon offer a variety of classes, including mommy and me yoga, prenatal and infant care classes for parents, and a rotating roster of toddler and baby classes, including music, arts, and more. Check the website for updates. City Owlets will also host birthday parties in a variety of packages, which offer complete use of the 2,000-square-foot space.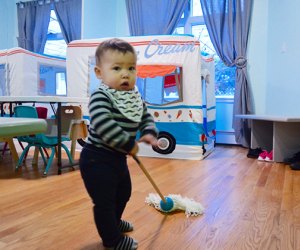 Toddlers love interacting with child-sized versions of home staples.
For parents, the café offers a well-priced espresso menu serving local favorite, COFFEED, roasts and Teapig Teas and modest snacks at this time (no sandwiches yet). Of course, you'll find yummy and healthy treats for the little ones, too. Food isn't allowed in the play areas, but there is a small section of tables, along with booster seats where you can enjoy a quick break with the kids.
Tips for visiting
Gated stroller parking is available and is large enough to accommodate a dozen or more strollers.

Socks are required for all visitors, children and grown-ups alike.

City Owlets is a nut-free space, so please plan and pack snacks accordingly.

Though all children are welcome, the sweet spot is probably ages 1-6.

Drop-offs are not permitted; parents must stay and supervise children at all times.
City Owlets is located at 10-42 Jackson Avenue in Long Island City, is open seven days per week, and offers daily drop-in free-play hours. Current hours are as follows: Monday-Friday, 9-5pm, and Saturday and Sunday, 8:30-11:30am. A one-day pass is $25 for the first child and $10 for the second, with an array of cost-saving packages available as well. Reservations are not required, but keep in mind that you may want to call ahead on busy times like weekends and school breaks.
Top photo: The Market and Pizzeria allow your kids to explore grown-up activities in fun-size. Photos courtesy of the author.