Good Day Play Cafe: New Drop-in Play Space and Cafe in Queens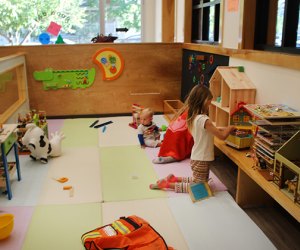 I first learned about Good Day Play Cafe in Bayside, Queens from three friends who raved after its June 2016 opening. They had me at Stumptown coffee and cold brew, but after hearing about the Hinoki cypress wood cube sensory pit and indoor play area, I knew I had to check it out with my kids, ages 6, 4, and 9 months. The thoughtfully designed space features an engaging and unique play area and a cafe serving delicious eats, making it an ideal destination for families with young kids.
Located off the Clearview Expressway on 35th Avenue in Bayside, owners of Good Day Play Cafe, Jesica Chang and Sarah Park (along with their husbands) developed the idea of a "kids' cafe," inspired by similar cafes in Korea and featuring a Hinoki cypress wood cube pit—a popular attraction in South Korea. This therapeutic wood has properties said to relax and release stress. It was imported and is soft to the touch. A sign inside the pit informs patrons that the wood contains natural compounds that kill microorganisms.
RELATED: Queens Party Places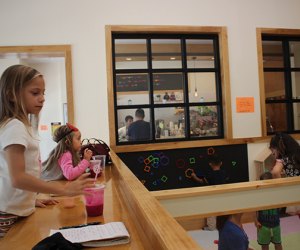 Enjoy delicious smoothies, tasty meals, and gourmet coffee.
The cafe is a central component at Good Day Play Cafe, occupying half of the venue's space and serving healthier fare than traditional play spaces including smoothies, top notch coffee and tea, sandwiches, and healthy bowls (chicken nuggets and mac and cheese were added by parent request). My girls loved the color and taste of the dragon fruit smoothies. I stuck with the Stumptown cold brew, which made my day. Adults without children are only allowed to order takeout.

The cafe has about five tables and two wood counters with stools. Parents can sit outside the play area to watch older kids from two different vantage points. It welcomes parents to relax, work on their laptops (free Wi-Fi), and encourages play dates. The cafe area also has a book nook for kids and about eight lockers are available for your possessions. Bring your own lock.
RELATED: A Dozen Baby and Me Music Classes Around NYC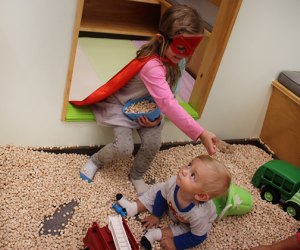 The Hinoki cypress wood cube pit is a hit for wee ones—and definitely cleaner than a sandbox!
The other half of Good Day is dedicated to a fantastic play area featuring a rock-climbing structure, a loft, a slide that leads to a ball pit (my 6-year-old's favorite), a dress-up area with a Lego table and kitchen set, and the Hinoki cypress wood cube sensory pit (Children under 3 require supervision). My 9-month-old son had a field day in the pit, kicking his feet and watching the cubes move. He was very calm in there, so maybe the relaxing effect is true. A child-proof gate at the entrance helps keep kids safe and cubbies are available, as no shoes are allowed in the play area (note: socks are required for both adults and children and are available for purchase if you forget yours).
Good Day Play Cafe aspires to create a space where parents can relax and not feel as if they are at a bounce house. It is bright and beautiful with high ceilings, recessed lighting, pastel decor, and Lego figures throughout place to dazzle kids. Care even went into the bathroom setup, where my eldest daughter proclaimed, "This bathroom is cool!" There were Legos in the liquid soap dispenser, a funky faucet cover, and a shelf with Lego figures.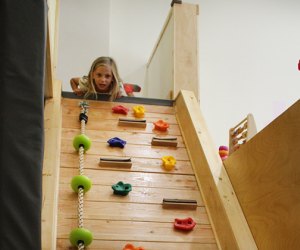 The climbing structure and loft area make for great imaginative play.
Other amenities include stroller parking, a changing table, high chairs, and two bathrooms (one in the cafe area; the other in the play area).

Good Day Play Cafe is located at 208-03 35th Avenue in Bayside, Queens and is recommended for ages 8 months to 6 years. Good Day is open Monday through Saturday (though sometimes they are closed for private parties on Saturday), and is closed on Sundays. Drop-off is not offered, so parents must supervise their children. The owners say they hope to start music and storytime sessions soon. Admission is per child (parents and guardians are FREE). Check the website for full pricing and membership information.
All photos by the author.