Queens Party Places: 33 Top Spots for Kids' Birthdays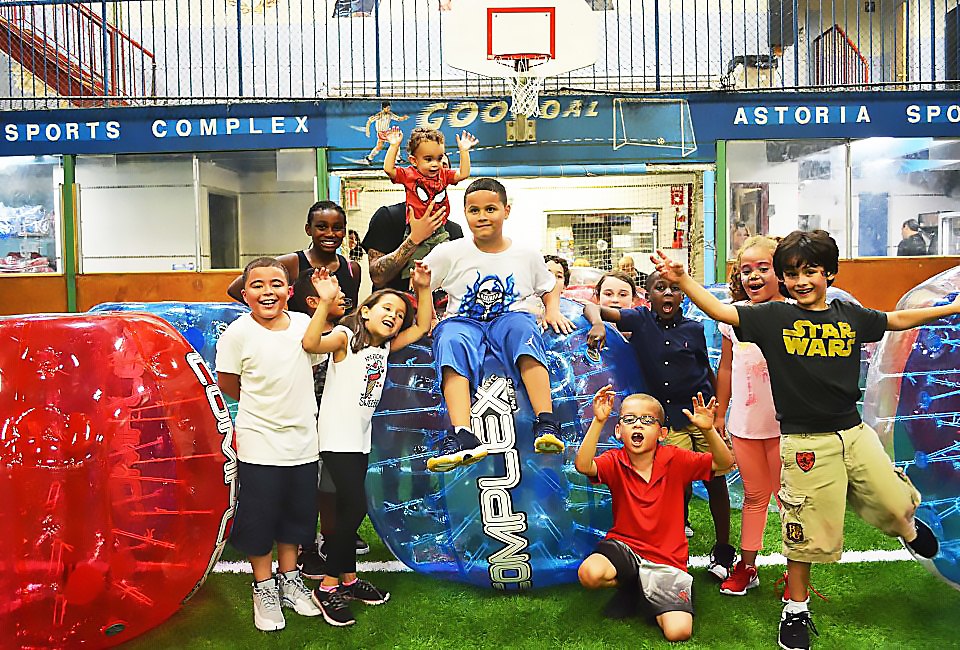 4/17/19
- By
Kelly O
We've profiled cool NYC party places in the past, but there are so many awesome birthday spots in good old Queens alone that it deserves a post of its own.
These Queens birthday party places cater to all kinds of kids, from active to artsy to animal lovers. As a Queens mom with two children, I've been to many of these spots personally. You can find additional birthday inspiration in our NYC Party Guide.
Alley Pond Environmental Center — Little Neck
At this awesome nature center, kids go on an educator-led walk around
Alley Pond Park
and enjoy a live animal encounter and themed games or crafts. Parents provide decorations, paper goods, food, drinks, and cake. Special "tween" themes include a spa party or owl pellet dissection.
Bakers and Shakers — Boroughwide
Working out of the Queens area, Bakers and Shakers comes to you. It can arrange a party at a venue, your home, or even your classroom. Themed cooking parties have included ravioli making, donuts, and, of course, pizza.

Choose your favorite theme for a birthday party at Bounce N' Play.
Bounce 'N Play — Astoria
Opened by a local mom in 2014, this play space has bounce houses and giant inflatable slides in addition to the standard play-space attractions—play sets, a jungle gym with tubes, rock climbing wall, toys, and arcade games. A variety of private birthday party packages are available, including some super deals on weekdays.
BounceU — College Point
We consistently rave about this chain of indoor bounce gyms. And why not? BounceU offers fun for kids and grown-ups, with two rooms filled with inflatable toys and games. Various party packages are available, and prices are better than at its Brooklyn location. Food, cake, and goodie bags are available, depending on package choice. Bonus: It's located in the Whitepoint Shopping Center, making parking a breeze.
Bowl 360 — Ozone Park
I have a special spot in my heart for bowling parties—always wanted one, never had one until I was an adult. Bowl 360 is an updated, modern alley with a disco vibe, but it's also family-friendly. There's an inviting menu that goes beyond the basic soft-pretzel, from chicken tenders for kids to salads for adults.
Brickhouse Ceramic Art Center — Long Island City
This LIC ceramics center holds custom parties centered around pottery making. Partygoers construct bowls, cups, plates, and more that can be enjoyed for years to come. Note: Minimum age is 7.
RELATED: Best Drop-In Play Spaces and Kiddie Gyms in Queens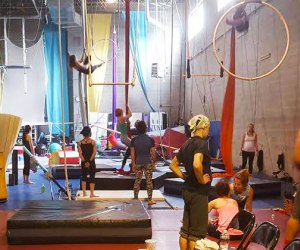 School-age kids and tweens will love a Circus Warehouse party!
Circus Warehouse – Long Island City
A flying trapeze party? What kid can resist spiraling in the air? And there's no better place to do so than in a safe environment with professionals. This venue is the perfect unique party option for the acrobat enthusiast in your family.
City Owlets — Long Island City
This LIC hot spot for babies and preschoolers offers several birthday party packages in its thoughtfully designed 2000-square-foot play space and cafe. Appropriate for kids up to 6 years old.

The Complex has a variety of activities to choose from to make a special birthday party.
The Complex – Astoria
Formerly known as The Astoria Sports Complex, this facility is the perfect location for kids with tons of energy. It offers swim, soccer, basketball, or bouncing slide/castle parties, all with nonstop action.
Fantasy Forest – Flushing
Isn't an amusement park party every kid's dream? Head to Queens' very own kiddie park in Flushing Meadows Corona Park for a shindig with unlimited rides for all partygoers. Add-on options include magician and clown performances, face painting, and balloon artists. Seasonal only.
Funtopia USA – Ridgewood
Funtopia has a lot of activities for toddlers, tweens, and young teens. For the younger set, there is a three-story indoor playground, plus a separate toddler area. For the older kids, there is laser tag, bumper cars, and a video game arcade.
Good Day Play Cafe – Bayside
Whimsical play areas include a Hinoki cypress wood cube pit, climbing area, ball pit, Lego table, kitchen set, dress-up area, and more. There is also a cafe where parents can sit back enjoy the laid-back vibe.
Jungle Adventure – Whitestone
Intended for children 12 years and under, Jungle Adventure invites little ones to jump on the trampoline, crawl, climb, slide, and wriggle through a colorful maze of play equipment.
Kanga's Indoor Playspace – Long Island City
Designated for children ages 1 to 11 with a cafe for parents to relax. There is a multi-level indoor playground, a merry-go-round, inflatable bouncy attractions, plastic ball pools, and a dedicated toddler play area.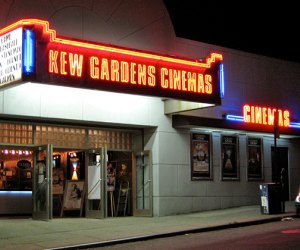 Movie theater parties are great for all ages at Kew Gardens Cinemas.
Kew Gardens Cinemas — Kew Gardens
There are plenty of multiplex theaters that host birthday parties in small rooms. But there are only a few theaters that let you rent out an entire space for just your party. At 10am, your family can have a showing of whatever film the theater has available or even watch a DVD of your own. Popcorn is included, but you can bring in pre-show snacks. Packages accommodate 25 or more audience members.
Kids Fun House — Ridgewood
With a triple slide, maze obstacle course, gated toddler area, and video games galore, Kids Fun House keeps kids busy for hours. Parties begin with pizza, snacks, and tokens, with plenty of add-ons such as cotton candy and make-your-own-sundaes.
Laser Bounce — Glendale
When you visit Laser Bounce, be prepared for an explosion of lights and sounds from the arcade machines. After game-hopping, shake those willies out at Ballocity, a gated area perfect for smaller kids and pre-teens. The bounce arena is full of houses and obstacle courses. Other highlights in Laser Bounce include the Hologate VR arena and the laser tag area.
Launch Trampoline Park — Howard Beach
While the trampoline courts take center stage, there are also two enclosed dodge ball courts, dedicated basketball hoops, and a Launch Pad, where kids get to practice doing tricks like a stuntman. If you want to conquer obstacles like the high flying trapeze, the spider wall, or the warped wall visit the Ninja obstacle course. The battle pit, allows you to joust with giant foam clubs on the battle beam or test your balance on the slack line.
LIC Kids Gymnastics — Long Island City
A neighborhood favorite, this facility is known for its trampoline. There is a separate room with a table for food and cake, and two party packages are available. My daughter went to a party here and can't stop talking about how fabulous it was.
Lollipop Spa — Maspeth
Got a little princess or prince in need of some pampering? Head to this kids' spa for a party full of indulgent treats, including manicures, mini facials, princess tattoos, glitter, and more.
Mini Galaxy Play Cafe — Jamaica
This bright, open space allows caregivers to sit back and relax with a cup of coffee while watching their little ones play. A two-floor climbing structure, ball pit, fun toys, and dedicated toddler area, will keep kids occupied while within their parents view from the fully stocked cafe area. This space makes it a great place for parties and events.
Mini Land Play — Long Island City
Affordable and fun indoor playground with toddler-friendly rides including a dolphin merry-go-round, and a big climbing playground and ball pit. Plan a visit just to experience their excellent balloon room! Mini Land offers party packages and has a separate room for private events.
RELATED: Best of Queens for Preschoolers and Tots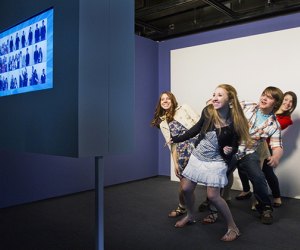 Kids making a flip-book at Museum of the Moving Image.
Museum of the Moving Image — Astoria
At the Museum of the Moving Image your child can be a star of his or her very own film-inspired party. Museum educators take guests on a tour, then guests hit special screenings of family-friendly films and make their own flip-books. For children 8 and older.
New York Hall of Science — Corona
NYC's premier science spot offers plenty of party themes for different age groups, including bubble-making for preschoolers, magic and space for young elementary schoolers, and chemistry and "gross out science" for tweens. All packages include museum admission, a science activity, an age-appropriate toy, a free pass for another visit, paper products, a personalized cake, food and beverages, and complimentary parking.
Okabaloo — Astoria
With a focus on self-expression and exploration for kids and families, Okabaloo offers art programs like "Fun & Fine in Art" as well as Zumba, ballet, yoga, theater, private music lessons, community events and more. Their Playzone is designed for both open play and scheduled structured activities. They also offer customizable birthday packages.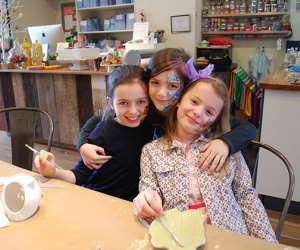 Let crafty kids enjoy artist-led activities at Oliloli Studio.
Oliloli Studio — Forest Hills
My daughter loves this beautiful art studio, which offers drop-in sessions and party packages for children 4 and older. Choose from a variety of artist-led projects, such as paint-your-own pottery or button collages on canvas. All packages include a gift for the birthday child and personalized decorations. Parents provide the food and cake. Fired pottery projects are available for pick up 10 days after the party.
Peek-a-BooO — Flushing
Flushing's Peek-a-BooO is filled with modern, bright, fun climbing equipment, ball pits, interactive games, and toys. This space was designed to be safe, fun, and interactive.
Queens County Farm Museum — Floral Park
NYC's only working historic farm is an ideal party spot for kids who want to learn about animals up-close-and-personal. From April through October, children 1 to 12 can enjoy a tractor-drawn hayride and help feed the animals. Everything you need is included, including invitations, paper goods, pizza and beverages, a personalized cake, goodie bags, and a special gift for the birthday child.
Queens Zoo — Corona
At Queens Zoo parties, children enjoy animal encounters, zoo admission, and plenty of crafts and play. Guests are responsible for the cake and juice, and there is a standard-sized refrigerator available.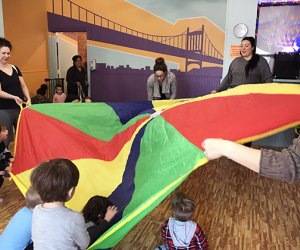 The tot-friendly Raising Astoria keeps little ones moving during its parties.

Raising Astoria — Astoria
This community staple reopened in 2015 with more space to party and play. Birthday bookings include use of both party rooms, one of which features a bounce castle, as well as tables, chairs, limited decorations, and a speaker system with a personalized playlist for the birthday child. Parents supply refreshments and cake, and there are a variety of add-ons available.
World Ice Arena — Flushing
This location takes cool parties literally, taking them on the ice. Add-ons and options are available—including an appearance by Captain America or Elsa—as well as a private party room.
Young Chefs Academy — Forest Hills
Budding culinary minds will love the food-centric parties at Young Chefs Academy. Kids make anything from pizza to scones, and you can even request a special party room for the accompanying parents. For children 4 and older.
This article was first published in March 2013 and is updated annually.
Photos courtesy of the venues