Best of Queens, NY: 47 Things To Do in NYC's Largest, Most Diverse Borough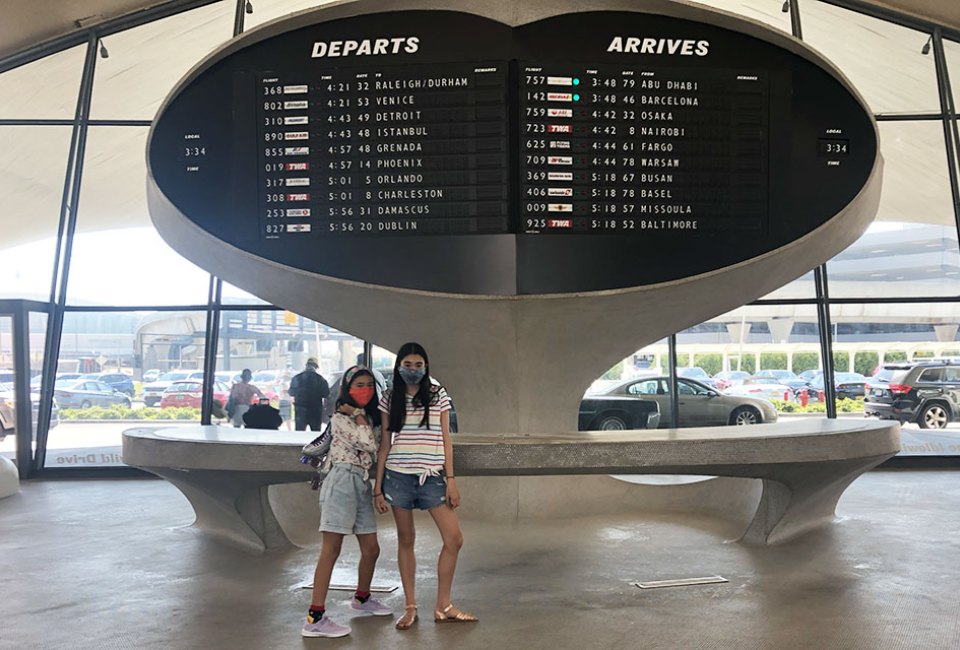 9/20/22
- By
Diana Kim
If you're looking for family-friendly things to do in Queens, NY, you've come to the right place. Queens is a melting pot of people and communities from various cultures and backgrounds. Indeed, it's the city's most diverse borough, and that makes Queens a great place to explore with kids. Excellent museums and cultural institutions, like NYSCI and the Queens Museum, a wide array of family-friendly restaurants and cuisines to try, plus a very cool night market, top-notch parks and playgrounds, and a ton of kid-friendly activities can all be found in Queens.
While we've highlighted some of our favorite kid-friendly Queens neighborhoods in our Neighborhood Guide, below we're putting forth our best-of-Queens list. This list of the top 47 things to do in Queens with kids includes all our picks for destination-worthy fun and family-friendly places to eat in Queens.
Subscribe to our newsletters to get stories like this delivered directly to your inbox.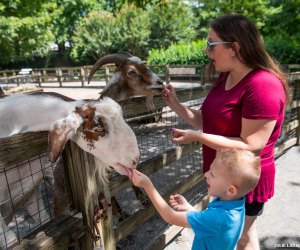 Visit the friendly farm animals at the Queens Zoo. Photo by Julie Larsen Maher/WCS
Top Attractions and Kid-Friendly Things To Do in Queens
1. Queens Zoo
The Queens Zoo is the perfect size for younger children to meet eagles, pumas, bears, sea lions, and exotic birds.
2. Queens Botanical Garden
Stop and smell the roses at the Queens Botanical Garden, which helps families celebrate nature by offering seasonal family programming, classes, and events.
3. Play Indoors
Perfect for a rainy day, head over to one of many indoor play spaces in Queens.
4. JFK Airport
This local transportation hub is more than a jumping-off point. The airport can be an adventure in itself thanks to the TWA Hotel, which is home to a rooftop pool, a roller rink, cool museum displays, stunning design and architecture, and trendy restaurants.
RELATED: The Best Playgrounds in Queens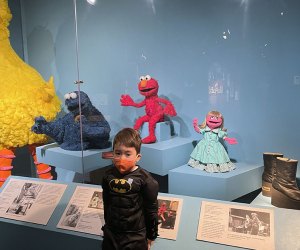 Meet the stars of Sesame Street and more stars of the screen at the Museum of the Moving Image. Photo by the author
5. Museum of the Moving Image
Learn about the history of film and movies at the Museum of the Moving Image which hotst a variety of family-friendly programs and exhibitions.
6. Queens Museum
Home to the iconic Panorama City of New York, the Queens Museum is a cultural center for the Queens' community with a hands-on art lab and family art workshops.
7. Queens Historical Society
Learn about the borough's rich history at the Queens Historical Society, which hosts special family events.
8. New York Hall of Science
Kids can get their hands on more than 450 interactive, science-oriented exhibits at the New York Hall of Science.
9. MoMA PS1
Expose kids to cutting-edge art at MoMA PS1, which supports a diverse array of artistic ideas and expression. While not specifically geared toward kids, the museum's exhibits are always thought-provoking and ideal for older kids.
RELATED: Long Island City Kids Neighborhood Guide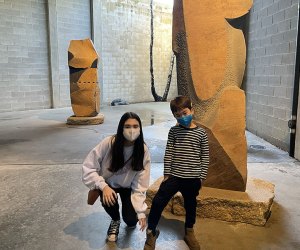 See larger-than-life sculptures at the completely unique Noguchi Museum. Photo by the author
10. Noguchi Museum
One of my favorite museums in NYC, even kids can appreciate the serene artwork and sculptures at the Noguchi Museum.
11. Louis Armstrong House Museum
Where better to learn about jazz than the Louis Armstrong House Museum?
12. City Ice Pavilion
Take the kids ice skating—even in the summer —at City Ice Pavilion, which also offers classes and summer camps.
RELATED: Visiting Flushing Meadows Corona Park with Kids

Root for the rowers at the annual Hong Kong Dragon Boat Festival. Photo by the author
13. Hong Kong Dragon Boat Festival
At the annual Hong Kong Dragon Boat Festival, enjoy traditional Chinese foods and performances and cheer on dragon boat teams from across the country.
14. Attend a Show
The LaGuardia Performance Arts Center is a great place to see community theater and performances including The Nutcracker. Flushing Town Hall is another gem of a performing arts venue that hosts kid-friendly shows and educational workshops
15. Bouldering
Make new friends rock climbing or bouldering at Brooklyn Boulders Queensbridge or The Cliffs in Long Island City.
16. Enjoy a Local Fair
Don't miss out on the Woodside Summer Street Fair for local food, entertainment, and vendors or the Queens County Fair, where the Amazing Maize Maze is always a draw.
17. Jackson Heights Halloween Parade
The largest children's Halloween parade in NYC, this annual parade draws throngs of children to march down 37th Avenue. At the end, goody bags are doled out and trick-or-treating begins.
RELATED: 30 Best Things to Do in Queens with Preschoolers and Toddlers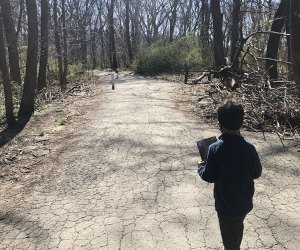 Explore Alley Pond Park. Photo by the author
Top Parks, Outdoor Places, and Playgrounds in Queens
18. Alley Pond Park
Alley Pond Park is Queens' second-largest public green space and has loads to offer families in the way of activities, sports, playgrounds, an Environmental Center, an adventure course, and hiking trails.
19. Astoria Park Pool
The largest FREE outdoor pool in New York City, and one of our favorite kid-friendly swimming pools, the Astoria Park Pool is nearly one city block long and situated in a beautiful waterfront location.
20. Flushing Meadows Corona Park
Spend a day at Flushing Meadows Corona Park, Queens' largest green space, engaging in a variety of sports and activities or just relaxing and hanging out.
21. Billie Jean King National Tennis Center
Watch your favorite tennis pros at the US Open at the USTA Billie Jean King National Tennis Center, or visit just before it opens for the FREE Arthur Ashe Kids' Day. When the pros aren't in town, book court time or enjoy classes, camps, and clinics.
22. Citi Field
Watch the Mets play at Citi Field or book a tour to catch a behind-the-scenes look at The Amazins' home turf.
23. Discover a New Playground
Queens has some of the best playgrounds with innovative play structures, climbing apparatuses, and awesome sprinklers. The borough even has some cool playgrounds for big kids.
RELATED: 11 Queens Water Playgrounds and Sprinkler Parks

The Fountain of the Fairs attracts visitors of all ages to frolic in its mist at the foot of The Unisphere. Photo by Jody Mercier
24. Fountain of the Fairs
Get drenched at the mega splash pad at the foot of The Unisphere. Don't forget to pose for a selfie in front of the World's Fair relic and Queens landmark.
25. Rockaway Beach
Spend a day at Rockaway Beach where you can swim, sunbathe, build sandcastles, and surf on the only NYC shore where it's allowed.
26. Go Bird Watching
Visit Jamaica Bay Wildlife Refuge which has one of the largest bird habitats in the northeastern United States. There are also FREE family programs like kayaking and tours led by National Park Rangers.
27. Visit Jacob Riis Park
Have a family beach day at Jacob Riis Park, a gorgeous beach on the Rockaway peninsula. There are a ton of pop-ups, food vendors, and events—plus a family-friendly "glamping" experience at Camp Rockaway.
28. Enjoy an Amusement Park
Little kids are thrilled with their first amusement park experience at Fantasy Forest Amusement Park, where the rides are just the right size.
RELATED: NYC's Only Corn Maze and More Fall Fun at the Queens County Farm Museum

Hunter's Point South Park is a lovely waterside green space. Photo courtesy of NYC Parks
29. Hunter's Point South Park
Once an abandoned industrial area, Hunter's Point South Park has been transformed into a vibrant green space with playgrounds, fitness facilities, a waterside promenade, and elevated platforms to take in the breathtaking views.
30. Queens County Farm Museum
New York City's only working farm, the Queens County Farm Museum overflows with fun things to do no matter the season.
32. Gantry Plaza State Park
Enjoy Gantry Plaza State Park, which offers myriad activities for families including railroad tracks for kids to play on.
32. Belmont Park
Introduce the kids to thoroughbred racing at this Triple Crown-worthy racetrack. Beyond the races, enjoy food trucks, games, and family-friendly events in the paddock.
33. Socrates Sculpture Park
This cool outdoor art museum and installation space hosts FREE family events like movie nights, workshops, and cultural celebrations.
34. Charybdis Playground
This kiddie haven underwent a $30 million renovation project that brought a major upgrade to the well-loved, time-tested, 85+-year-old playground.
RELATED: 20 Must-Visit Cafes, Sweet Shops, and Iconic Family-Friendly Restaurants in NYC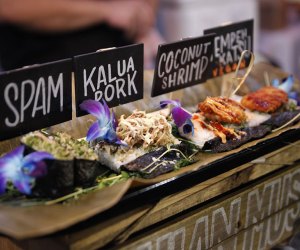 Enjoy the international eats at the Queens Night Market Best. Photo courtesy of the market
Fun Eats and Family-Friendly Restaurants in Queens
35. Queens Night Market
Try a little bit of everything at the Queens Night Market, which features an incredible array of global dishes.
36. Chinatown
Indulge your taste buds with some of the best dim sum in NYC in Flushing's Chinatown, and attend one of the many festivals and celebrations, including those for the Lunar New Year.
37. Sample Indian Delicacies
Head over to Usha Foods, an Indian food emporium for snacks, prepared foods, and sweet treats.
38. Lemon Ice King
The Lemon Ice King of Corona is a family-owned business that has been selling Italian ices for more than 60 years and offers 52 flavors made with pieces of fresh fruit, including sugar-free options.
39. Cassinelli Food Products
Stop at Cassinelli Food Products to pick up freshly made pasta and watch how it's done.
40. Anable Basin Sailing Bar & Grill
Enjoy burgers and hot dogs while taking in the sunset against the Manhattan Skyline at this waterfront eatery.
41. Little Banchan Shop
At the newly opened Little Banchan Shop in Long Island City, stock up on freshly prepared Korean side dishes and groceries.
42. Eddie's Sweet Shop
It's an old-school affair at this local soda fountain where you'll find one of the most over-the-top sweet treats citywide.
43. Jahn's Restaurant & Ice Cream Parlor
Looking for another sweet option? Consider stopping by Jahn's in Jackson Heights and ordering the Kitchen Sink Sundae, but bring friends: This is a family-sized portion!
44. Shop for Asian Foods and Goods
Shop for Asian foods, wares, and home decor at one of the neighborhood's unique shopping centers like Queens Crossing or New World Mall, one of the largest indoor Asian malls in all of the Northeast.
45. Eat Korean Barbecue
Try some kimchi at one of the many Korean barbecue restaurants in Flushing. San Soo Kap 2 is one of our favorites.
46. Family-Friendly Beer Garden
You'll find several families hanging out at the Beer Garden at Bohemian Hall where kids can nosh on chicken fingers while parents have a beer.
47. Taverna Kyclades
Go Greek at this Astoria eatery, where no meal is complete without an order of saganaki, aka: flaming cheese.