6 Things To Love about The Museum of the Moving Image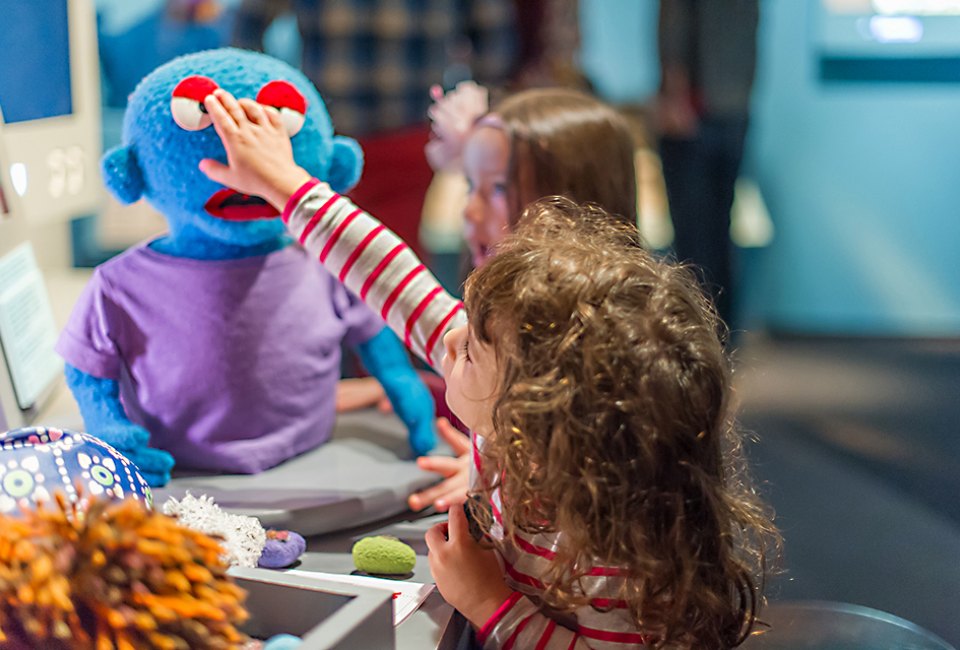 9/24/19
- By
Sydney Ng
The Museum of the Moving Image is one of Astoria's hidden gems. Situated right next to Kaufman Studios—the home of Sesame Street and nearly a century of film and television history—the museum features an amazing permanent exhibit as well as an ever-changing roster of special exhibitions, series, and events, including family movie showings and film series. There's something for every age range, making it one of our top NYC museums to visit with kids, and a favorite go-to spot for my Queens family.

Read on for details on what to see at the Museum of the Moving Image, plus other useful tips for making the most of your visit with kids, including the best time to visit, and the scoop on family programming.

Create your own animations at the animation table. Photo by Saychn Mital Momi
1. Behind the Screen
The Museum of the Moving Image's main exhibition is a hit for the entire family with lots of hands-on activities. Young children and teens love to gather around the animation table to create 15-second stop-motion animations which can be emailed to your loved ones. Visitors can also record a stop-motion video which can be purchased as a flip-book, and play around with sound effects and dialog editing tools. My son couldn't stop giggling when I made a Velociraptor meow like a kitten. The ongoing exhibit also includes a 1960s living room replica complete with Saturday morning cartoons; and an extensive display of special effect masks and prosthetics.
RELATED: Best Drop-In Play Spaces for Queens Kids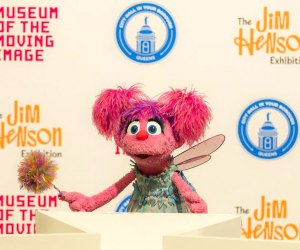 The exhibit displays selections from the Museum's collection of Jim Henson's work
2. The Jim Henson Exhibition
This not-to-be-missed exhibit celebrates the life and work of the legendary puppeteer, artist, and film director. The exhibit displays selections from the Museum's collection of Henson's work including historic puppets, costumes, and production design material donated by the Henson family. Kids will love seeing Kermit the Frog, Miss Piggy, Big Bird, Cookie Monster, and Elmo. Other artifacts include character sketches, scripts, storyboards, and behind-the-scenes footage.
3. Tut's Fever Movie Palace
The museum's working movie theater and art installation is a dazzling homage to the ornate picture palaces of the 1920s. The floor and seats of the theater are covered with hand-painted, Egyptian-style depictions of Hollywood royalty. Classic films are shown each day.
4. Creatures from the Land of Thra Exhibition
Get a behind-the-scenes look at the fantastical characters from the new Netflix series Dark Crystal: Age of Resistance, a prequel to the 1982 film co-directed by Jim Henson and Frank Oz. The exhibit features a selection of concept art, maquettes, puppets, and behind-the-scenes images.
5. Drop-in Studio Sessions
The Museum offers drop-in studio sessions most Saturdays, where visitors are invited to engage in hands-on creative work, making projects ranging from flipbooks and thaumatropes (hand-drawn optical toys) to stop-motion and computer animations and video games. Curious kiddos can also see, handle, and explore the inner workings of moving-image technology, such as projectors, film strips and video tape, video game consoles, and more. Recommended for ages four and up. FREE with museum admission.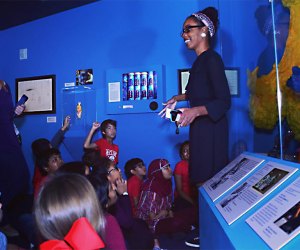 Join an intimate tour of The Jim Henson Exhibition, a dynamic experience that explores Henson's groundbreaking work.
6. Family Programs
The Museum offers opportunities for families to access the exhibits before the doors open to the general public during Access Mornings @ MoMI. Themed art projects are also offered. Family tours, birthday parties, and school recess workshops are also offered.

Have you ever wondered how the puppets you see on TV come to life? Come and see how experienced puppeteers work.
Tips for Visiting with Kids
Strollers are permitted on the first floor of the Museum, but they are not permitted in the galleries and may be checked for free at the admissions desk.
Backpacks and other large items must be left at their free bag check counter.
Baby-changing stations are located in both the men's and women's restrooms in the Education Center on the first floor of the Museum.
No food or beverages allowed beyond the cafe, which sells light fare and lunch options. For great dining with kids, check out our roundup of Astoria eateries.
Admission is FREE on Friday evenings and always FREE for those ages 3 and under.
The Museum of the Moving Image is located at 36-01 35th Avenue in Astoria, Queens and is easily accessible by subway (N, Q, R, M) and bus (Q101, Q66). There are also parking lots with museum patron discounts. The Museum is closed on Mondays and Tuesdays. For complete information on rates and visiting hours, check the museum's website.
A version of this article was first published in 2010, but it has been updated for 2019. Katie Nave Freeman contributed additional reporting.
Unless noted, photos courtesy of the museum
Places featured in this article:
---
Museum of the Moving Image
Click Here to Sign Up!
i