Children's Film Festivals and Indie Movie Theaters for NYC Kids
A visit to the movies is tempting in the cold of winter, but big-budget family films can be disappointing. Why not rediscover the magic of the movies with a visit to one of the children's film festivals that call New York City home?
City kids can sit back and enjoy the carefully curated lineup at the 2020 BAMkids Film Festival and the New York International Children's Film Festival, which showcase international and offbeat shorts and features. You'll also find cool classics every Sunday at Film Forum Jr., as well as a mix of indie and classics at the BAMkids movie matinee series. MoMA even hosts FREE movies for families once a month, too.
Read on for details on these children's film festivals and series, plus a special discount just for Mommy Poppins readers at this year's New York International Children's Film Festival.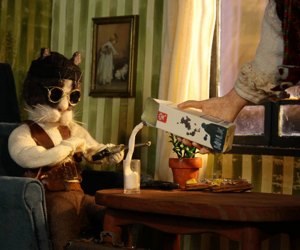 The Quintet of the Sunset is a splendid stop-motion celebration of endless love and connection between one human and her five very different fur-children. Photo courtesy of BAM
Annual Children's Film Festivals for NYC Kids
BAMkids Film Festival – Fort Greene, Brooklyn
BAM Rose Cinemas, Peter Jay Sharp Building, 30 Lafayette Avenue, at Ashland Place
Saturday, February 1-Sunday, February 2, 2020
Visit the website for a complete schedule.
$15 for adults, $10 for children younger than 13
BAM once again partners with the top movie fests in North America to showcase 87 films from 30 countries in 10 languages. Screenings are organized by age, starting at 3, and there are hands-on activities that include live entertainment, animation workshops, magic shows, face painting, and balloon twisting. Note: Tickets tend to sell out so purchasing in advance is a must.
OUR LATEST VIDEOS
RELATED: 20 Indoor Spots Where NYC Kids Play for FREE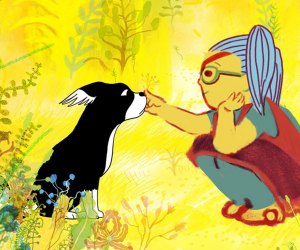 After an accident, Marona, a small Labrador mix with a big heart, reflects on all the homes and humans who have welcomed her throughout her life. Photo courtesy of fi:af
French Institute Alliance Française Animation First Festival – Midtown
Friday, February 7-Sunday, February 9, 2020
Visit the website for a complete schedule.
$16-$25 depending on the screening
The French Institute Alliance Française hosts a festival of French animation, featuring kid-friendly films and shorts, immersive exhibits, video game demonstrations, and panels with leading animators and film executives.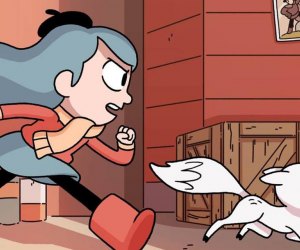 The New York International Children's Film Festival screens the world premiere of Netflix and Silvergate Media's Hilda, Season Two. Photo courtesy of NYICFF
New York International Children's Film Festival – Manhattan and Brooklyn
Various locations
Friday, February 21-Sunday, March 15, 2020
Visit the website for a complete schedule.
$14.50-$20.50
NYC's biggest children's film festival spans four weekends, multiple venues, and features 100 films from every corner of the globe. Programs are organized by age—with offerings for ages 3 and up—and everyone gets a ballot at each screening to help select festival winners. There are post-film Q&As with visiting filmmakers and other special events. Tickets go on sale to the general public on Wednesday, January 22 and screenings always sell out quickly. (When you buy tickets to an NYICFF screening, you also can give back to local schools. Just choose an institution from the drop-down list and the fest donates $3 of every sale to the PTA.)
Special discount code for Mommy Poppins readers: Enter the code MOMP20 at checkout and save $2 off short films tickets (not for features). Tickets available noon on Wednesday, January 22.
NYICFF Membership: Members get exclusive pre-sale access to festival tickets, limited edition swag, reserved seating, complimentary tickets, free year-round sneak peek previews, and more including free popcorn at their first screening at the SVA Theatre!
Bonus: The NYICFF also offers school-age kids (5-15) the opportunity to get behind the camera and make their own films with its popular filmmaking camps during school breaks. Participants learn to make live-action, stop-motion, or traditionally animated films. These also fill up quickly, so booking as early as possible is recommended.
Tribeca Film Festival– Manhattan
Various movie theaters
April 15-26, 2020
Ticket prices vary; packages available
While not as kid-friendly now as it was in the past (when the fest included a full day dedicated to little film fans), Tribeca still boasts its share of family-friendly fare, and it's worth looking through the schedule for gems—both old and new.
KidsFilmFest – Williamsburg, Brooklyn
Made in NY Media Center, 30 John Street
Saturday, May 30, 2020
$15 adults, children ages 12 and under are FREE
Part of the Brooklyn Film Festival, this mini-fest features G-rated live-action, animated, and documentary shorts.
Ongoing Indie Film Series for NYC Kids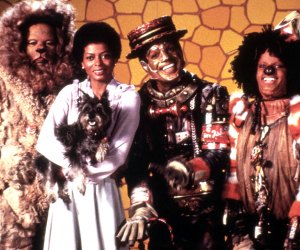 In The Wiz, Dorothy and her entourage of malfunctioning, under-achievers move on from rural Kansas to face the contemporary perils of… disco-chic New York in Motown version of the famed tale. Photo courtesy of the Film Forum
Film Forum Jr.: Classics for Kids and Their Families – Greenwich Village
Film Forum, 209 West Houston Street, between Varick Street and Sixth Avenue
Saturdays and Sundays at 11am
$9
The lauded indie theater screens family classics new and old on weekend mornings. Most of the matinees sell out, and it's no wonder. The lineup is an eclectic mix of oldies, from Technicolor musicals to newer favorites. To up the fun factor, there are frequently classic shorts preceding the films and special events following them, and you never know what special guest might show up. Past visitors have included Ethan Hawke and cast members from An American in Paris. Be sure to browse the entire schedule; there are plenty of gems.
Museum of Modern Art– Midtown West
4 West 54th Street
Monthly on select Saturdays at 12pm
Free
MoMA's family films include foreign shorts and features, along with American flicks, all keyed to a different theme each month, with upcoming themes that include Friends and Neighbors, Try, Try Again, Pets, and Sticky Situations. Tickets are distributed on a first-come, first-served basis starting at 10am on the day of the program.
Museum of the Moving Image – Astoria, Queens
36-01 35th Avenue, between 36th and 37th Streets
Schedule varies. Visit the website for a complete schedule.
Museum admission ($15 for adults, $11 for students, $9 for children ages 3-17) includes a ticket to that day's screening, but you may want to purchase tickets in advance for popular movies. Movie purchases can also be used toward museum admission.
True to its name, the Museum of the Moving Image regularly shows films in its state-of-the-art, 267-seat theater. While not all offerings are appropriate for kids, you can filter the calendar to list only family-friendly screenings. Most screenings are free with museum admission and seating is first-come, first-served. Bonus: Old serials are shown in the Red Grooms installation Tut's Fever, which is meant to evoke an old movie palace.
BAMkids Movie Matinees – Fort Greene, Brooklyn
BAM Rose Cinemas, Peter Jay Sharp Building, 30 Lafayette Avenue at Ashland Place
$10 for adults, $7 for children younger than 13
BAM's annual family film fest isn't the only time to catch kid-friendly screenings at this lovely theater. On select weekend afternoons, the culture spot shows children's classics on the big screen.
Lenfest Kids– Upper West Side/Columbia
Lenfest Center for the Arts, Columbia University, 615 W 129th St
$7 in advance; $9 at the door
Columbia University School of Arts presents Lenfest Kids, a monthly series of films for the whole family. The 2019-2020 theme, H2O, continues through the spring to feature films about water as part of Columbia's Year of Water, exploring the world's oceans as a space of adventure, fantasy, wonder, and mystery.
This post, originally published in February 2010, is updated annually. Katie Nave Freeman and Drew Kristofik contributed additional reporting.