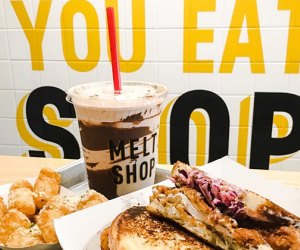 Best Restaurants Near Rockefeller Center for Families
Some of those who visit regularly or work near Rockefeller Center admit they find the dining choices less than exciting. But whether you're there over the holidays to see the famed Rockefeller tree, ice skate, check out the holiday windows, or to enjoy one of the other fun experiences in this action-packed complex, you'll need to eat eventually, and there are some good restaurant options if you know where to look.
Here are our top picks for kid-friendly eateries near Rockefeller Center, and for more family-friendly restaurant options in NYC, check out our Restaurant Guide.
American Girl Place
75 Rockefeller Plaza at 51st Street
If you want to go over the top for your doll fans, take them to the cafe at American Girl Place, which serves brunch, lunch, afternoon tea, and dinner with prices ranging from $20 to $28 per person. As shticky things go, this one is well done. The food is good, service attentive, and the kids love it. Remember to bring along their dolls, who get special seating at your table. As an extra treat, some nice take-home goodies are included. Meals are offered at specific seating times and reservations are recommended.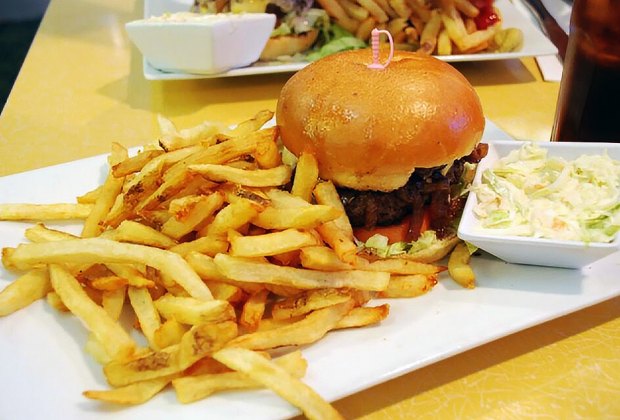 Burgers, fries, and wallet-friendly prices make Burger Heaven a win. Photo courtesy of the restaurant
Burger Heaven
20 East 49th Street, between Madison and Fifth Avenues
For a classic diner experience without the bells and whistles, our Midtown pick is Burger Heaven. There's no separate children's menu, but it offers plenty of kid-friendly options at reasonable prices. There are multiple locations; you'll find the one closest to Rockefeller Center at 49th Street just east of Fifth Avenue.
RELATED: Great Soho Restaurants for Family Eats While Shopping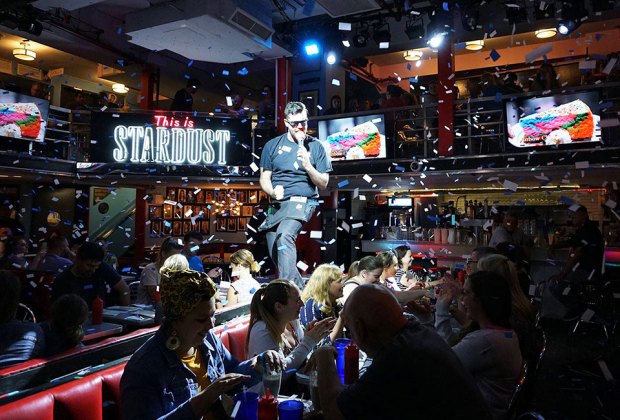 Catch a "show" with your nachos and hot dogs at Ellen's Stardust Diner. Photo by Ellen's Stardust Diner
Ellen's Stardust Diner
1650 Broadway at 51st Street
Ellen's Stardust might be our top recommendation for its combination of decent food and a fun, "theme" atmosphere without a ridiculous price tag. The food is typical diner fare, including burgers and hot dogs, meatloaf, and plenty of breakfast foods, and although prices are about twice what you'll pay at your local diner, the retro theme takes Ellen's to the next level. The outside looks like an old railroad car even though it's built into the side of an office building; the retro diner theme continues inside. Linger for a while and waiters break into song, singing old '50s rock tunes, standing on empty tables and putting on a fun show, making this Midtown spot a memorable stop for families.
McHale's Pub
251 West 51st Street, between Seventh and Eighth Avenues
If you're in the mood for some classic pub food and a brew, head to this Midtown spot. Kids aren't left out either: McHale's offers a children's menu with classics such as chicken fingers and grilled cheese, or options that challenge their palates such as shepherd's pie and fish and chips.
RELATED: NYC Visitors Guide for Families: Destinations, Sights, and Must-Know Info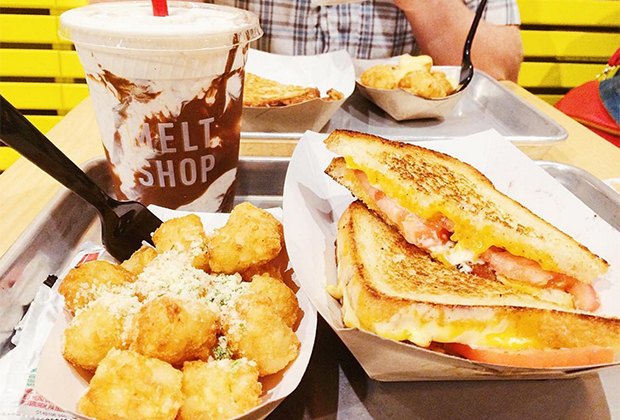 The kid-friendly fare at Melt Shop makes for a yummy shopping break. Photo by estephniknam via Instagram.
Melt Shop
135 West 50th Street, between Sixth and Seventh Avenues
877 Eighth Avenue, between 52nd and 53rd Streets
What's more kid friendly than an oozing, melting, grilled-cheese sandwich? This mini-chain has a pair of Midtown outposts, and the fast-casual atmosphere makes for a quick bite to prevent a hangry meltdown—kids will like it, too. Side dishes include a variety of tater tots, and you can wash it all down with a milkshake. The best part, though? The price point matches the casual food, a rarity in Midtown.
Rock Center Cafe
20 West 50th Street, between Fifth and Sixth Avenues
If you're looking for something more grown-up but still family friendly, try Rock Center Cafe, a stylish but casual restaurant serving contemporary American cuisine. Its children's menu includes favorites such as chicken tenders and pasta. The best part of Rock Center Cafe is the view: It borders the ice skating rink, which keeps little folks entertained while you eat. It's also home to a number of seasonal events, including a special Santa brunch that must be reserved ahead of time.
Rockefeller Center Concourse
30-45 Rockefeller Plaza, between Fifth and Sixth Avenues
For the same view on the cheap, head down to Rockefeller Center's concourse level, where you'll find many casual, inexpensive options such as Hale and Hearty, Pret a Manger, Potbelly, and more. Pick up your to-go items and sit at the tables near the glass looking out at the skating rink. Kids get a kick out of seeing the vast underground world of Rockefeller Center, too, and grown-ups can get their caffeine fix at Starbucks or cult favorite Blue Bottle Coffee. There's a Ben & Jerry's ice cream parlor on the lower level if you're looking for dessert, but we love the warm cookies at Pret.
Serafina
210 West 55th Street at Broadway
This local chain has several city locations. Fans flock here for delectable pizzas and Italian specialties. Mouthwatering desserts finish the meal with a flourish. Serafina opens at 7am every day for breakfast, and there's also a weekend brunch option.
La Bonne Soupe
48 West 55th Street, between Fifth and Sixth Avenues
This cute French bistro has reasonable prices (for Midtown) and a kids' menu that includes staples like hamburgers, grilled cheese, and chicken tenders. Adults can choose from options such as lamb burger with goat cheese on a brioche bun; quiche Lorraine; salade gorgonzola with endives, caramelized walnuts, and blue cheese; and of course, soupe a l'oignon.
Wu Liang Ye
36 West 48th Street, between Fifth and Sixth Avenues
Looking for something more adventurous? This Chinese restaurant serves authentic Szechuan-style fare right in the heart of Midtown Manhattan. While some dishes are spicy, there are plenty of kid-friendly options like dumplings and noodles. Kids will also love the stunning gilded decor and chandeliers.
Bill's Bar and Burger
16 West 51st Street at Fifth Avenue
A reliable spot for a casual bite, Bill's has something for the whole family. While kids may go for burgers, fries, and shakes, there are plenty of other options, including soups, salads, and even tacos.

These neat and flavorful sandwiches are perfect to go! Photo courtesy of Num Pang
Num Pang
133 West 38th Street, between Broadway and 7th Avenue
This NYC (and Boston) local chain is an awesome spot for a quick bite that's outside the usual sandwich boundaries. With a variety of offerings, ranging from pulled pork bahn mi to rice bowls, adventurous eaters will love tasting new flavors. Try the blood orange lemonade for a fun twist on a classic. There is limited seating, so take your food to go and head uptown to see the tree!
Utsav
1185 Sixth Avenue, between 6th and 7th Avenues
Don't forget to bring your appetite when you head to Utsav. This reasonably priced Indian establishment is a comfortable place to bring kids. The all-you-can-eat lunch buffet is a great option for families who want to try lots of different things without having to order a bunch of different entrees.

Prefer to walk and eat? Grab a quick bite at one of the many food trucks near Rock Center. Photo by Marianne O'Leary via Flickr
Food Trucks
Yes, you'll find hot dog vendors on every corner, but head over to West 50th Street just across Sixth Avenue from Rockefeller Center to find a bevy of vendors each weekday, serving the many Midtown office workers. The options tend to rotate, but you'll find a good variety that usually includes Thai, tacos, sometimes one of the lobster roll spots, Indian, Halal, and more.
And for dessert...
Jacques Torres Chocolate
30 Rockefeller Plaza
This chocolate-lover's paradise is hidden in Rockefeller Center's concourse. If you follow your nose, you shouldn't have trouble finding it. It's one of our favorite hot chocolate spots, but it also serves ice cream, plenty of melt-in-your-mouth truffles, and more.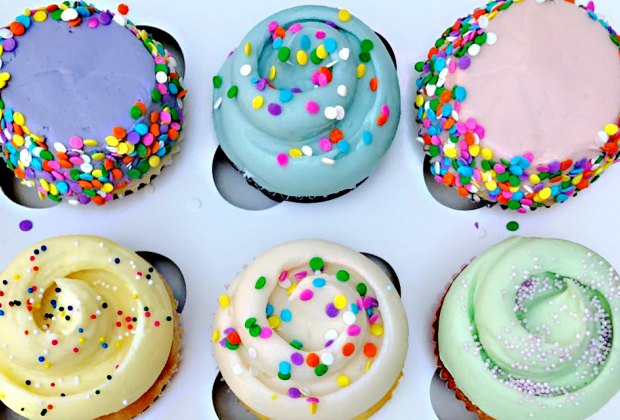 There's almost always a line at Magnolia Bakery, but it moves quickly and it's worth the short wait! Photo courtesy of the bakery
Magnolia Bakery
1240 Sixth Avenue at 49th Street
Take one (or a few) of these famed cupcakes to go. It's attached to Rock Center, so Magnolia makes a great post-ice skating treat. Flavors change with the seasons, but the flourless chocolate, piled high with sugary frosting, is always a sure bet. The oversize cookies, brownies, and cakes are all good options, too.

The Birthday Cake is a tasty bite at Momofuku Milk Bar. Photo Courtesy of the Momofuku Milk Bar
Momofuku Milk Bar
15 West 56th Street, between Fifth and Sixth Avenues
The sister store to the famed Momofuku restaurants shares fun confections with passersby. From cookies and truffles to soft serve and shakes, there are plenty of quick, portable bites to grab and go, all with that inventive Milk Bar flair (birthday cake truffles with confetti, anyone?).
Sprinkles Cupcake ATM
780 Lexington Avenue, between 60th and 61st Streets
This spot is a bit of a walk, but you could always hop on the F train—it's worth it for a one-time adventure. The Cupcake ATM is just as it sounds: Swipe your card, choose your flavor, and marvel as it's delivered by an automatic machine.
This article was first published in November 2009 but is regularly updated. Louise Finnell contributed additional reporting.