Family-Friendly Restaurants near Rockefeller Center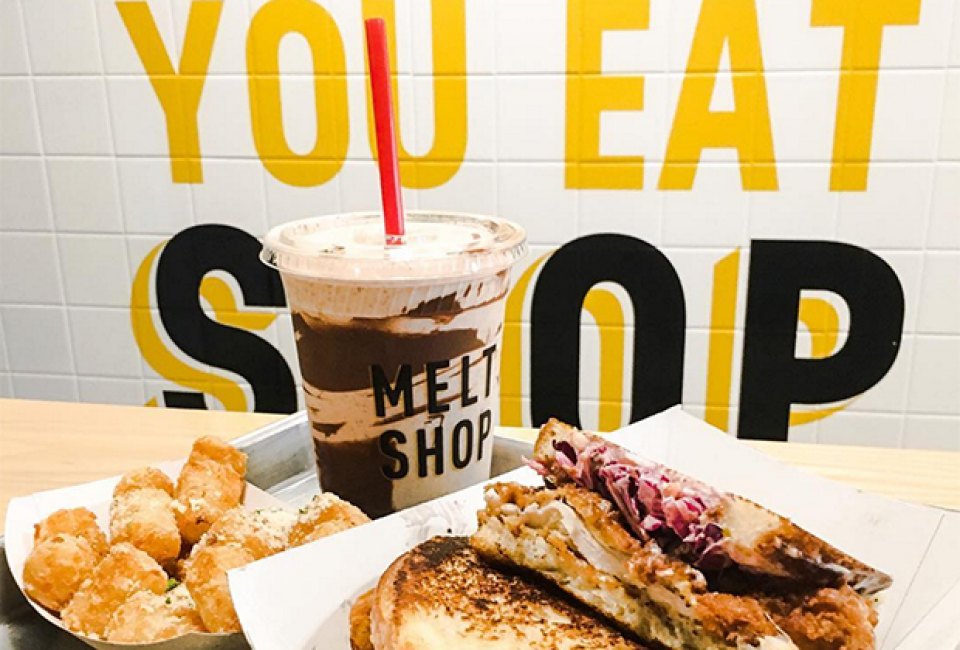 12/14/22
- By
Jody Mercier
While Rockefeller Center has not traditionally been known for its dining options, the area has undergone a bit of a culinary renaissance, and this list of the best family-friendly restaurants near Rockefeller Center is proof that it now has a little something for everyone. Whether you're there over the holidays to see the famed Rockefeller tree, ice skate, check out the holiday windows, or enjoy one of the other fun experiences in this action-packed complex, you'll be able to find something for even the pickiest eater when you need to take a snack break.
Here are our top picks for family-friendly restaurants near Rockefeller Center. To find more family-friendly dining options in NYC, check out our Restaurant Guide.
Subscribe to our newsletters to get stories like this delivered directly to your inbox.
If you want to go over the top for your doll fans, take them to the cafe at American Girl Place, which serves lunch, dinner, and an occasional afternoon tea, with prices ranging from $20 to $28 per person. The food is good, the service is attentive, and the kids love it. Remember to bring along their dolls, who get special place settings at your table. There are several seasonal events held at the cafe as well, including a Santa brunch. Meals are offered at specific seating times and reservations are recommended.
RELATED: 18 Family-Friendly Food Halls in NYC for an Easy, Delicious Meal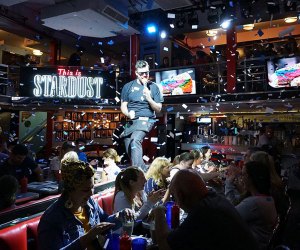 Catch a "show" with your nachos and hot dogs at Ellen's Stardust Diner. Photo by Ellen's Stardust Diner
Ellen's Stardust might be our top recommendation for its combination of decent food and a fun, "theme" atmosphere without a ridiculous price tag. The food is typical diner fare, including burgers and hot dogs, meatloaf, and plenty of breakfast foods, and although prices are about twice what you'll pay at your local diner, the retro theme takes Ellen's to the next level. The outside looks like an old railroad car even though it's built into the side of an office building, and the retro diner theme continues inside. Linger for a while and waiters break into song, singing old '50s rock tunes, standing on empty tables, and putting on a fun show, making this Midtown spot a memorable stop for families.
If you're in the mood for some classic pub food and a brew, head to this Midtown spot. Kids aren't left out either: McHale's offers kid-pleasing options like chicken fingers or dishes that challenge their palates, such as shepherd's pie and fish and chips.
What's more kid-friendly than an oozing, melting, grilled-cheese sandwich? This mini-chain has a pair of Midtown outposts, and the fast-casual atmosphere makes for a quick bite to prevent a hangry meltdown—kids will like it, too. Side dishes include a variety of tater tots, and you can wash it all down with a milkshake. The best part, though? The price point matches the casual food, a rarity in Midtown.
RELATED: Best Observation Decks in NYC for Kids and Families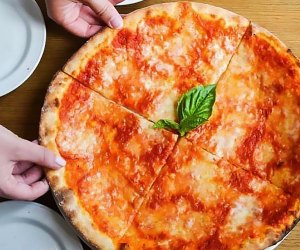 Dine on home-style Italian fare in a casual-cool setting at Serafina.
This local chain has several city locations. Fans flock here for delectable pizzas and Italian specialties. Mouthwatering desserts finish the meal with a flourish. The 55th Street and Broadway location opens at 7am every day for breakfast, and there's also a weekend brunch option.
RELATED: Best High Tea Spots in NYC to Enjoy a Cup with Kids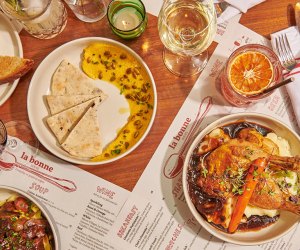 La Bonne Soupe offers classic French dishes in an approachable atmosphere.
This cute French bistro has reasonable prices for Midtown. Start your meal with pomme frites, and enjoy everything from a Croque madame to a burger topped with Brie and caramelized onions, and befitting its name, French onion soup.
A reliable spot for a casual bite, Bill's has something for the whole family. While kids may go for burgers, fries, and shakes, there are plenty of other options, including soups, salads, and even tacos.
Head down to Rockefeller Center's concourse to find many casual, inexpensive options such as Black Seed Bagels and Beatnic, a vegan option. We love Chef JJ Johnson's Field Trip, which celebrates the humble grain of rice with fresh, flavor-packed bowls at an approachable price point. Pick up your to-go items and bring them up to the Plaza for a picnic. Kids get a kick out of seeing the vast underground world of Rockefeller Center, and grown-ups can get their caffeine fix at cult favorite Blue Bottle Coffee. For a sweet fix, might we suggest Chip City or Ben & Jerry's?
RELATED: The 18 Most Insane, Must-Try NYC Desserts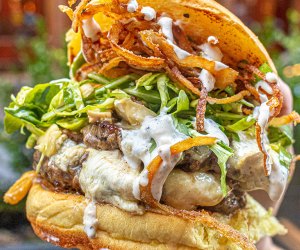 Black Tap may have a cult following for its monster shakes, but there's plenty to eat at the restaurant, too.
Famous for its trademarked CrazyShakes, this family-friendly restaurant also serves award-winning burgers. Plus, it's got salads, wings, sandwiches, and fries. Finish the meal with a photo-worthy CrazyShake like the Cotton Candy, a strawberry shake topped with a lollipop, rock candy, and a poof of its namesake sweet. Be sure to reserve your table before you visit!
RELATED: 20+ Family-Friendly Restaurants for Cozy Outdoor Dining in NYC

Try something out of the ordinary at Utsav, which offers an Indo-Chinese menu.
If you're in the mood for something different, bring your appetite to Utsav. This reasonably priced Indian establishment is a comfortable place to bring kids. An all-you-can-eat lunch buffet is a great option for families who want to try lots of different things without having to order a bunch of different entrees.
RELATED: 5 Kid-Tested, Kid-Approved Restaurants for Bao Buns in NYC

Prefer to walk and eat? Grab a quick bite at one of the many food trucks near Rock Center. Photo by Marianne O'Leary via Flickr
11. Food Trucks
Yes, you'll find hot dog vendors on every corner, but head over to West 50th Street just across Sixth Avenue from Rockefeller Center to find a bevy of vendors each weekday, serving the many Midtown office workers. The options tend to rotate, but you'll find a good variety that usually includes Thai, tacos, lobster rolls, Indian, Halal, and more.
RELATED: Restaurants Open on Christmas in NYC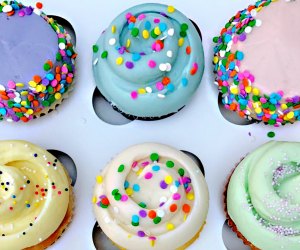 There's almost always a line at Magnolia Bakery, but it moves quickly and it's worth the short wait! Photo courtesy of the bakery
And for Dessert...
Take one (or a few) of these famed cupcakes to-go. Magnolia makes a great post-ice skating treat. Choose from one of its freshly-baked cupcakes topped with a trademarked swirl of buttercream, or grab a cup of its famous banana pudding, double-fudge brownies, cookies, or cheesecakes.
Known for its all-natural ice cream, including a slew of vegan options, Van Leeuwen is right around the corner from the main plaza. Dig into seasonal flavors like peppermint stick or pumpkin cheesecake, or try one of its mainstays like honeycomb or vegan oat milk brown sugar crunch.
Handmade artisanal doughnuts are served from this shop on 48th Street daily. Come early in the day for the best selection or risk getting shutout altogether—when they sell out, they close up shop for the day! Year-round flavors range from the vanilla-bean specked glazed to a Nutella-filled number. You can also shop seasonal flavors like s'mores or a white-chocolate peppermint.
Originally published in November 2009.