American Girl Debuts a Sparkling New Store at Rockefeller Center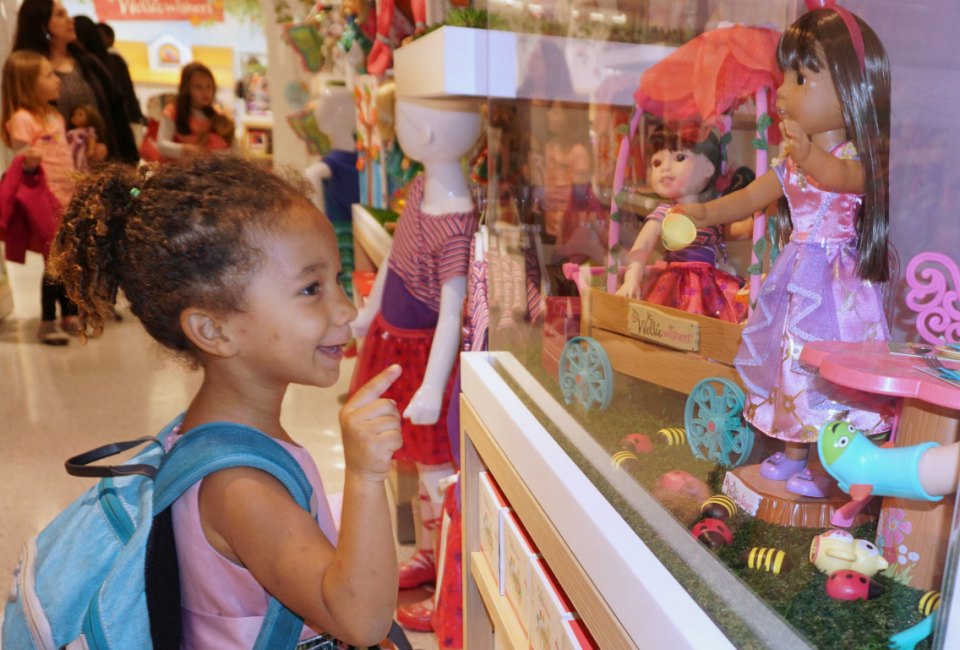 11/15/17
- By
Jody Mercier
Just in time for the holiday season, American Girl gave fans citywide a shiny new gift with the opening of its brand-new mega store in Rockefeller Plaza.
The 38,000-square-foot, two-story store opened November 11, replacing its old digs on Fifth Avenue, and is sure to be a destination for lovers of these iconic dolls for years to come. While the original location offered shopping, dining, and salon services, the upgraded spot serves up even more treats for kids (matching makeovers!) and adults (plush benches!) alike.
While the new store is actually a bit smaller than the previous location, the layout and glittering lighting give the space a wide-open feel.
The storefront, situated at the northern edge of Rockefeller Plaza, has entrances on both 51st and 52nd Streets. There's no entrance from inside the Rockefeller concourse. Guests who come through the main entrance, on 51st between Fifth and Sixth, are greeted with a glittering chandelier and huge window filled with all things American Girl. As eye-catching as the entrance is, it's only the beginning.
The main floor houses the current Girl of the Year star, Gabriela, as well as some of the newer dolls: Tenney, and the one and only boy doll, Logan.
RELATED: Best High Tea Spots in NYC to Enjoy a Cup with Kids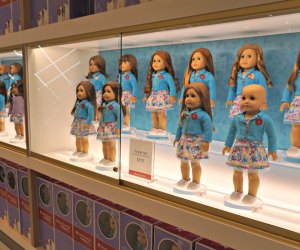 The Truly Me Collection is set right at kid level as are most of the store's displays.
Toward the 52nd Street side of the store, you'll find tons of space dedicated to the Truly Me collection. A big change here is a series of interactive screens where kids can design their own doll clothes and accessories, which can be printed and picked up same-day in store and, even better, design their very own doll. Even though my daughter already has two classic American Girl dolls, I had a hard time keeping my credit card in my pocket, as the appeal of letting my daughter design a doll to match her beautiful dark skin tone, blue eyes, and light brown hair was almost too great, but hey...Christmas is coming! A word to the wise: If you do let your child design their own doll, you'll have to have a little patience. Dolls are shipped to your home after being crafted elsewhere, but each one comes with an outfit of your choosing, a keepsake box, and a six-month subscription to American Girl magazine.
The other big draw here is the doll salon, which offers an only-in-New York experience: Girls can book spa appointments alongside their dolls. Beyond the doll hairstyling of the old store, you can book packages like doll-and-me 'dos, manis, and even ear piercing.
RELATED: NYC Stores Where Kids Can Play for Free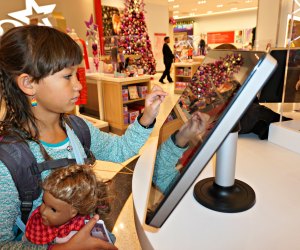 Kids can create their own doll, clothes, and more at interactive kiosks.
Another attention-grabbing section for my daughters: the Mega Construx blocks corner, complete with a Lego Store-like model of American Girl's new block and a kid-sized American Girl constructed from the blocks to pose with.
Head down the escalators to the basement level and you'll find display after display of historical American Girls like Kit, Addie, Samantha, MaryEllen, and all their friends. There are fun interactive elements, too—Kit's typewriter to fiddle with, photo opps where kids can see their reflection in life-sized cutouts of their favorite classic dolls.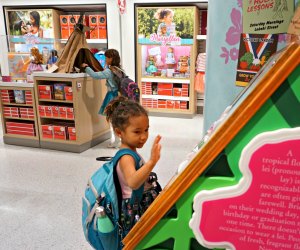 Kids are encouraged to play and interact with items throughout the store.
Other retail sections on this level include the brand's newer line, WellieWishers, meant for the 5-7 year old set, which gets an increased retail footprint in this location, as well as the ever-popular Bitty Babies.
There's also a ton of real estate dedicated to the books that profile each American Girl's story, and a pair of Nooks showing American Girl videos on a constant loop. One area is set off from the main retail space and will be used for the store's popular public events like book signings and public meet-and-greets. The events calendar is already populating with plenty of holiday-themed fun.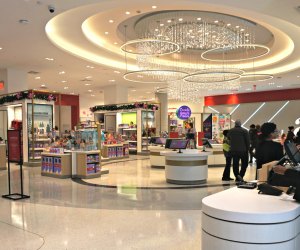 A sparkling chandelier greets visitors.
The on-site cafe takes up a significant portion of the floor and guests can make reservations for brunch, lunch, dinner, and afternoon tea. Private party rooms are a picture-perfect setting for your next soiree.
While the new store gets plenty of style points for its shiny new layout, the thing I was most impressed with over our first two visits—yes, we're regulars already!—was the staff. There are plenty more toys and playsets at kid level, and I was nervous my girls might be admonished for touching all the tiny, intricate pieces—but to the contrary, the staff encouraged this and eagerly engaged them in conversation about the scene or the doll. We're always looking for a new place to play when the weather takes a dive, and this will definitely be on the list.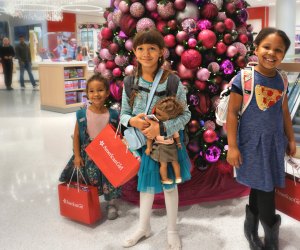 Little shoppers are all smiles!
Another parent-friendly feature: There are plenty of plush benches to take a rest while your children explore all the store has to offer.
American Girl Place is located at 75 Rockefeller Plaza and is usually open 10am to 7pm, but has extended holiday hours of 10am to 9pm until December 29 with an exception here or there. Check its website before heading out.
All photos by the author