Lego Store in Rockefeller Center: Must-See New York City Megastore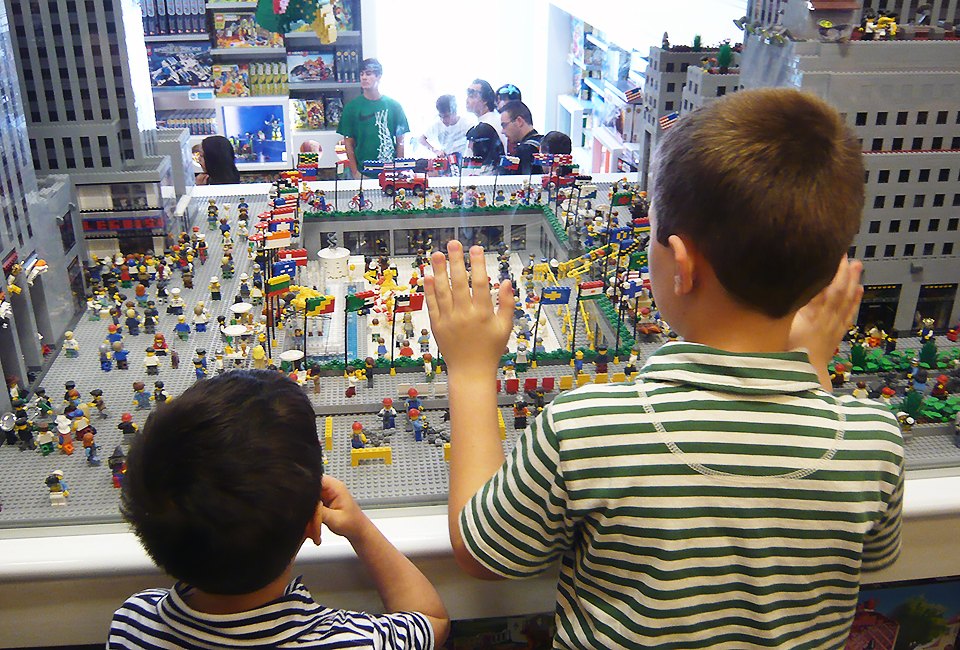 6/27/10
- By
Stephanie Ogozalek
Until I visited the new Lego Store that opened up in Rockefeller Center last week I never realized just how much New York City needed a store devoted to tiny plastic building bricks. This colorful showpiece of a store has so much to offer brick building kids and their parents, much more than just shopping! It is a total Lego experience from the Lego brick masterpieces throughout the store to the unique products for sale plus occasional events. So get ready for Lego fever!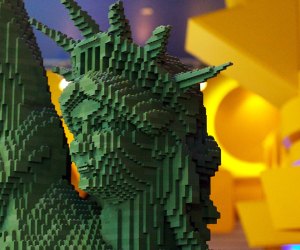 The iconic New York landmark, The Statue of Liberty, at the Rockefeller Center Lego Store. Photo by Paul Robinson via Flickr
The first thing you will notice as you walk through the doors are the iconic New York City landmarks created in Legos all over the store. Some in little portholes you have to bend down to see others in huge window displays and some perched in corners. These recreations are amazing and even the kids will recognize them: The George Washington Bridge complete with a Little Red Lighthouse, the Stock Exchange, the Empire State Building, the Guggenheim, the UN and the Statue of Liberty to just name a few. But the centerpiece display is a phenomenal Lego brick recreation of Rockefeller Center down to the smallest detail including the perfect miniature replica of the Lego Store.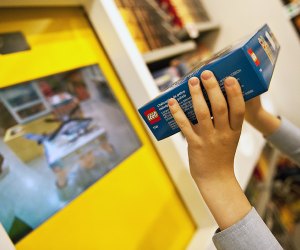 Legos come to life with the Digital Box. by Josh Hallett via Flickr
There are lots of places to interact with LEGOs, like the very cool 3D animation gizmo called the "digital box" where you can scan specific products and watch them come to life on the screen—planes and helicopters fly, cars drive and so on.
If you have a Lego maniac, the store offers some occasional brick building events and programs. Like the Lego Club, where preregistration and $25 bucks lets kids sign up to work on Lego projects with other like minded kids on Saturday mornings before the store opens for business.

It sounds like a play center, but it is a retail store, with a lot of cool Lego stuff to buy. Like the build-your-own mini-figures where kids or adults can put together three little people and customize them with bodies, heads and other accessories like police hats and coffee cups and pack them up in a real looking package.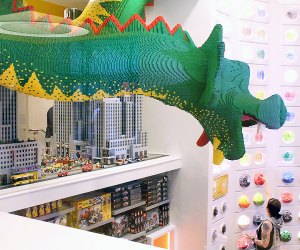 Do not steal the dragon's precious Legos! Photo by Sunny Ripert via Flickr
There is also the totally cool, bright and modern "pick a brick" wall that you just have see to believe. A giant white wall with clear plastic pods sticking off of it filled with millions of Legos in all shapes, colors and sizes imaginable—plus nifty extras like wheels and flowers. This is totally useful for kids who have specific designs in mind and may need 100 white Legos to create an airplane or other specific needs that aren't met in the boxed sets.
Lego Store Rockefeller Center
620 Fifth Avenue
New York, NY 10020
212-245-5973

Find other cool destinations in our Indoor Activity Guide.
Top photo by Shinya Suzuki via Flickr
Places featured in this article:
---
LEGO Store Rockefeller Center
---
LEGO Store Queens

Sign up for our free
newsletters.
Mommy Poppins is a family activity website that helps people find things to do with kids.
©
2023
MommyPoppins. All Rights Reserved.
mp-prod4-v4.32.99
We use cookies and other data collection technologies to provide the best experience for our customers.
Learn More
t Click Here to Sign Up!