Best Places for High Tea in NYC to Enjoy a Cup with Kids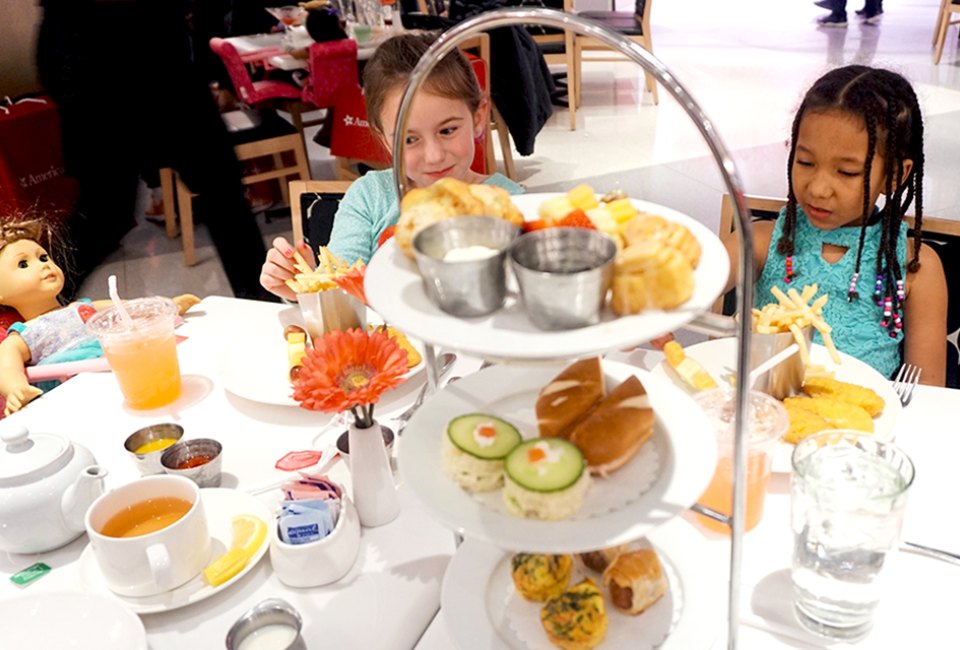 12/8/22
- By
Anna Fader
Whether you're celebrating a special occasion or just looking for a memorable experience, afternoon tea—sometimes called high tea in New York City—can be a fun outing with kids. It's an especially great winter outing and particularly fitting during the holidays.
Several places serve high tea in New York City, with varying degrees of appropriateness for children. From the fancy Eloise Tea at the Plaza Hotel to the less frilly Russian Tea Room, there are teas—and goodies—for children of all ages and parents of all budgets. Here's our take on the best spots to enjoy high tea in NYC with kids. Bookmark our Guide to Kid-Friendly Restaurants for more family-friendly options for your next meal out.
Subscribe to our newsletters to get stories like this delivered directly to your inbox.
Parents have plenty of opinions about American Girl dolls, ranging from "too expensive and too commercialized" to "love them!" But my daughter and I truly enjoyed the American Girl high tea experience. The room and tables are lovely and cheerful and the food is surprisingly good. American Girl serves high tea in NYC on weekends, and reservations book well in advance so plan accordingly.
Kids will love: Having a doll sit beside them in their own little seat and with their own place setting. The café provides plenty of dolls to choose from if your child doesn't have their own.
Children's tea: Tea sandwiches, butterfly cookies, and chocolate mousse flowerpots are among the highlights.
Best for: Children of all ages who love American Girl Dolls, but some of the special tea events are reserved for those ages 8 and up.
Cost and schedule: $40 per person, excluding tax and gratuity. Call or book reservations online. Be sure to check the calendar for holiday-themed events like a special brunch with Santa.
This iconic NYC restaurant offers a children's tea with a few Russian touches such as peanut butter and jelly blinis. It doesn't have the charm of other locations, but its lack of frilliness makes it possibly the best tea for boys. Read our full review and see photos.
Kids will love: Hot chocolate with whipped cream and marshmallows, plus a whole plate of desserts just for them. Seeing the fancy Russian toys in the gift shop is fun, too.
Children's tea: Tea served Russian-style, or enjoy hot chocolate plus a tiered carousel of kid-friendly tea sandwiches and that aforementioned plate of desserts.
Best for: Boys, since the art deco room is not super girly. The restaurant is often less than full so the antics of small children are accommodated.
Cost and schedule: $75 per person for children's tea; adult tea starts at $95 per person. Children's tea is served on weekdays from 1-4:30pm; weekends from 12-4:30pm.
RELATED: 12 Must-Do Holiday Experiences in NYC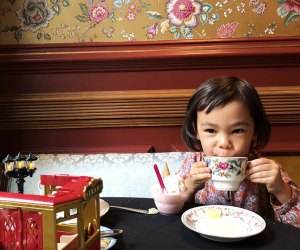 Afternoon tea, complete with treats and lifted pinkies, can be a fun special occasion outing with kids. Photo by Janet Bloom
Lady Mendl's is a true Victorian tea salon in a brownstone on Irving Place that serves classic English afternoon tea. Sit on couches by the fireplace or at elegantly set tables.
Kids will love: The fancy room, service, and touches such as decorative rose sugar.
Children's tea: There are no gimmicks here or even a children's menu. The five-course tea includes sandwiches, scones with Devonshire clotted cream and jam, desserts, and bottomless pots of tea from a wide selection, including several of the spot's own blends.
Best for: Ages 12 and older. Younger kids are not permitted, except at private events. This is an ideal spot for a special outing such as a family get-together or a teen girl's birthday treat. The five-course afternoon tea takes at least an hour and a half. Read our full review and see photos.
Cost and schedule: $78 per person plus tax and gratuity. Served Wednesday-Friday, 1-4pm, Saturdays and Sundays, 12-5pm. Call or visit the website to make a reservation.
RELATED: 49 NYC Holiday Activities Every Kid Should Try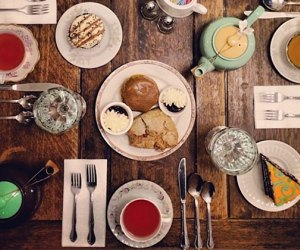 The pretty setting (and tableware) is half the fun at Alice's Tea Cup. Photo courtesy of the venue
Only someone with a heart of stone would fail to be enchanted by Alice's Tea Cup. With three NYC locations, including the Brooklyn-based Alice's To Go, it has the most magical atmosphere and the best food of any tea house we've sipped at. Note: Each outpost is tiny, so expect a bit of a wait.
Kids will love: Butterfly wings are everywhere (you can borrow a pair during your visit or buy a set in the gift shop). The "Menu for the Small" features items such as peanut butter and jelly, cookies and milk, or sliced apples with peanut butter or Nutella.
Children's tea: The Wee Tea includes a pot of tea or other beverage, one scone, a choice of any children's menu item, and dark chocolate mousse.
Best for: Everyone. The food is great, there are lots of options, and it's not pricey.
Cost and schedule: $36 for The Wee Tea. Adult tea prices range from $39 for The Nibble to $72 for The Jabberwocky. Patrons can order off the regular menu, too. Served daily. Reservations are accepted for parties of fewer than six.
This charming, long-running Village spot serves classic British comfort food and a lovely afternoon tea, with all the traditional treats at a fraction of the cost of some of our other picks. Expats flock here for a meal and a visit to the adjoining shop that carries British groceries, tea, and all the service ware you need to re-create the magic at home.
Kids will love: Customizable sandwiches, a selection of charming cakes baked daily, and a scrumptious, kid-pleasing mac-and-cheese if they're in the mood for something less traditional.
Children's tea: There's no specific children's menu here, but there are plenty of kid-pleasing options for sandwich fillings as well as a la carte options on the regular menu if you want to mix and match.
Best for: All ages! At $45 per person (less if you order tea for two or three), tea here is served year-round. It's got plenty of charm for a special occasion, but it's approachable enough for every day.
Cost and schedule: Afternoon tea is served daily year-round. Reservations can be booked for weekdays, but weekends are reserved for walk-ins only.
RELATED: The 18 Most Insane, Must-Try NYC Desserts

Live like Eloise by having high tea in The Palm Court. Photo courtesy of The Plaza
The stunning Palm Court at The Plaza Hotel reopened in 2014 after extensive renovations and launched the Eloise Tea and even a posh (and pricey) Eloise Suite, all inspired by the popular children's book series. There is also a special Eloise holiday tea.
Kids will love: Stopping by the Eloise shop, where they can peruse a curated selection of gifts, Eloise books, and even take home their own teacup. Santa greets guests during tea on select dates, and we can attest: He's rawther charming.
Children's tea: Tea sandwiches include peanut butter and jelly, and the dessert spread features a candied apple among other delicious delicacies. Kids can pick from pink lemonade, Shirley Temples, or a tropical tea. See the full menu.
Best for: Special occasions. This is an outing your child might remember for a lifetime.
Cost and schedule: Prices vary depending on the season—call to check prices and make reservations. Served daily from 10:30am-4pm.​
Vintage decor and place settings plus friendly, helpful staff make this neighborhood spot a true find. Settle into cozy nooks scattered around the dining room or head to the spacious patio, which is peppered with outdoor heaters for the colder months. If you'd prefer to enjoy your tea at home, order the Cream Tea To-Go, which includes four fresh baked scones, two jars of clotted cream and strawberry jam, a jar of honey, and of course, two bags of tea to brew at home.
Kids will love: Yummy sandwiches, fresh scones, and hot cocoa.
Children's tea: There's no specific children's menu but all three teas include lots of kid-friendly options.
Best for: Everyone. You get a lot of bang for your buck here. The prices are reasonable and the food is tasty.
Cost and schedule: Tea prices range from $48 for The Classic to $70 for The Grand Heights. Served Fridays, 10am-3:30pm, and Saturdays and Sundays from 10am-3:30pm. Reservations only; no walk-ins.
RELATED: 20 Must-Visit Cafes, Sweet Shops, and Iconic Family-Friendly Restaurants in NYC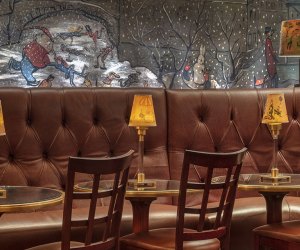 Celebrate 18 years of Madeline's Tea with classic storytelling and songs at Bemelmans Bar.
Largely due to singer/pianist Tina deVaron, Madeline's Tea at the Carlyle Hotel is one of our favorites in the city. Held in the famous Bemelmans Bar, Madeline's Tea pays tribute to the creator of the Madeline children's book series, Ludwig Bemelmans. Surrounded by the author-illustrator's delightful murals, deVaron explains how Bemelmans stayed in the Carlyle Hotel for 18 months painting depictions of famous NYC monuments in exchange for room and board. The setting is small and intimate, the food and tea are plentiful, and the music rocks. A big thumbs-up for little Madeline.
Kids will love: Kid-friendly foods, and Madeline dolls, books, napkins, and plates everywhere you look. But the star of the show is deVaron, who gets children up on their feet by singing requests, including everything from The Sound of Music to the Twelve Days of Christmas to Taylor Swift hits.
Children's tea: This is kid heaven. A buffet offers kid pleasers such as banana and Nutella crepes, bacon mac and cheese, silver-dollar pancakes, cupcakes, and, of course, lemon madeleines, as well as more traditional tea sandwiches.
Best for: Children younger than 10 who love music and dressing up.
Cost and schedule: $85 per person, plus tax and gratuity. Offered on Saturdays and Sundays through Sunday, December 18, 2022, with seatings at 10am and 12:15pm. Reservations are a must. Call 212-744-1600 or email TheCarlyle@RosewoodHotels.com.
What Ages Are Best for High Tea in NYC
We've noted what ages are appropriate at each venue, but you might be wondering if your kid is even ready for a high tea experience. We've found that age 5 is a great starting point, but kids as young as 3 may enjoy those places geared toward children.
Originally published in December 2010.
Click Here to Sign Up!
i