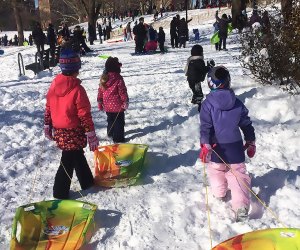 Best Sledding Hills in NYC
The best thing about a snow day is, of course, sledding! Hit these neighborhood hills across New York City for some wintertime fun with the kids. In compiling our list of the best sledding hills in NYC, we asked our readers, family, and Mommy Poppins writers and editors for their top recommendations for sledding hills across the five boroughs.
Wondering whether school is open or closed? Read our post on how to know if snow has canceled class or not.
Best Sledding Hills in Upper Manhattan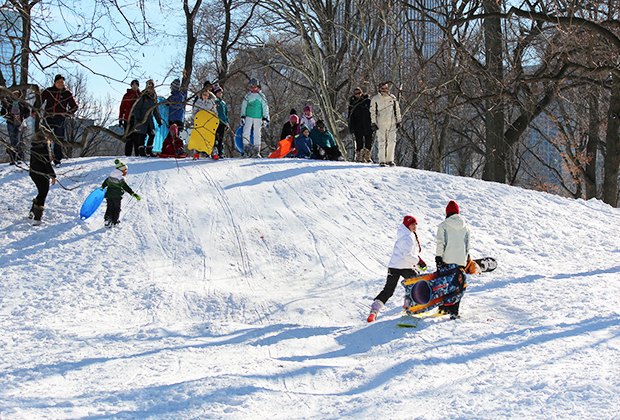 Wander into Central Park, and you're sure to find several fun sledding hills. Photo by Shinya Suzuki via Flickr
Central Park
By far the most popular sledding hill in Manhattan is Pilgrim Hill in Central Park. Just north of the 72nd Street entrance at Fifth Avenue, Pilgrim Hill is a steep slope with a gentle end, offering plenty of speed and not too rough of a ride. When Pilgrim Hill is crowded, head to Cedar Hill between 76th and 79th Streets just south of the Metropolitan Museum of Art or hit the hill next to the Conservatory Garden by 106th Street and Fifth Avenue. On the west side, crowds flock to the Great Hill and the Pool near the entrances at 100th and 103rd Streets. There are a variety of slopes here for sledders of all ages.
St. Nicholas Park
Harlem has many large parks, and almost all are built on steep hills. The slope at 135th Street in St. Nicholas Park is quite popular, but best for older kids.
Highbridge Park
This Washington Heights green space offers sledding near the field house at 174th Street and Amsterdam Avenue.
RELATED: 40 Snow Day Boredom Busters To Do Indoors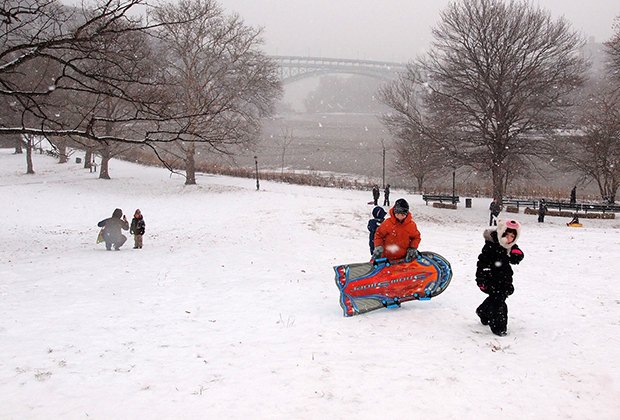 Inwood Hill Park offers some of the best sledding in Manhattan and a gorgeous view to boot. Photo by Steve Guttman via Flickr
Inwood Hill Park
This uptown park has perhaps the best (and least-known) sledding hill in Manhattan.
Riverside Park
Riverside Park is less crowded and has several different hills. The one near Hippo Playground at 91st Street is extremely popular as is the hill at 103rd Street, where tots to tweens enjoy an easy ride. Daredevils can try the steep slope at 105th Street, where kids careen down the incline toward the Hudson River, blocked by hay bales—and the West Side Highway.
Morningside Park
There are many sledding options in this Upper West Side park, including near where the Parks Department sets up on snow days, along the southern end at 110th Street and Morningside Drive.
Upper East Side
A reader recommends 91st Street between Second and Third Avenues, a steep street that's permanently closed to traffic and very popular with neighborhood kids.
Best Sledding Hills in Lower Manhattan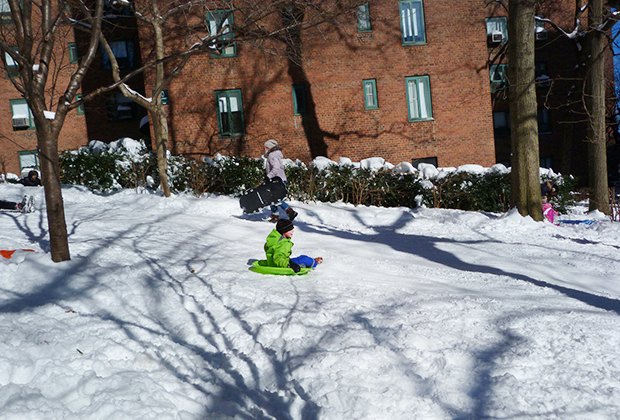 Stuy-Town hills are great for little kids. Photo by Marianne O'Leary via Flickr
Stuy-Town & Battery Park City
Lower Manhattan has fewer hills to offer, so many families pile onto the train with their sleds for the trip to Central Park. But there are a few spots that work in a pinch.
The hills in Stuyvesant Town, especially the 20th Street Loop Hill, are popular with local kids. Toddlers enjoy the gentle slopes of Teardrop Park in Battery Park City.
Best Sledding Hills in Brooklyn
Prospect Park
There's a great sledding hill just inside Prospect Park, at Ninth Street and Prospect Park West, that offers some toddler-appropriate slopes. For another option, enter at Fifth Street and head for the Picnic House, where kids plunge down all sides of the summer picnicking spot. Brooklynites also love the sledding hills around the Nethermead, a great field that feels as if you're in the middle of the woods.
Sunset Park
On official snow days, you'll find the Parks Department at this neighborhood namesake where the best sledding hill (with a beautiful view of lower Manhattan) is between 42nd and 43rd Streets.
Fort Greene Park
Fort Greene Park is like a mini-Central Park with four hills, including one gentle one. Just don't be tempted to sled down the stairs. It looks smooth, but people have been injured.
Owl's Head Park
Hit the slope at Colonial Road and 68th Street in Bay Ridge's beloved park.
Best Sledding Hills in Queens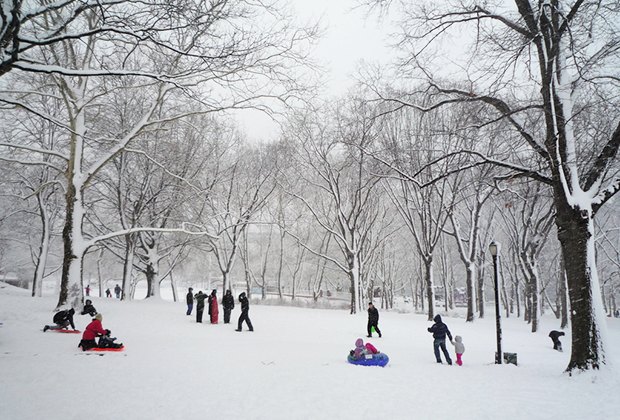 Astoria Park is among Queens preferred sledding destinations. Photo by Jason Eppink via Flickr
Forest Park
The preferred spot in Forest Park is the golf course where, technically, sledding is not allowed because it's considered unsafe by the Parks Department. But it's steep and popular. There's also a hill at Mary Whalen Playground at 79th Street and Park Lane that is legal and plenty of fun.
Juniper Valley Park
Head to 78th Street for another great family-friendly spot, which is the Parks Department's snow day spot in the borough. Juniper Valley offers short, fast runs straight into the park, which is free of obstacles such as trees and cars. It's usually mobbed on weekends with families from nearby Middle Village and Maspeth but works well for young tots and older kids who carve out jumps into the side of the broad, but short, hill.
Astoria Park
This spot has a variety of hills and is a pretty setting. NYC Parks recommends around 19th Street, between Shore and Ditmars Boulevards.
Our Queens-based writers offer a couple more suggestions: Kissena Park in Flushing and Doughboy Plaza in Sunnyside/Woodside.
Best Sledding Hills in the Bronx
Ewen Park
Sledders like this popular spot because it has stairs for climbing back up the hill. Its long, steep hill is considered one of the best sledding destinations in the city, but beware: Sledders have to bail at the bottom before hitting hay bales put up by the Parks Department to keep people from going out into the street.
Van Cortlandt Park
This park has nice, gentle hills for little kids.
Crotona Park
Crotona Park at Fulton Avenue around East 172nd Street is the official snow day location for the borough.
Claremont Park
We asked around, and it seems entering the park at 172nd Street at Teller Avenue is your best bet for sledding.
St. Mary's Park
With both steep hills and gentle slopes, St. Mary's is a popular family-friendly sledding spot.
Williamsbridge Oval
This former reservoir was converted into a 20-acre park in 1937. The reservoir floor was raised and now sits 12 feet below street level, which means most entrances to the park are elevated with paved paths wrapping around the oval-shaped park. Stairs are located all around, connecting the upper level to the lower areas of the park that houses the playgrounds, recreation center, basketball courts, track, etc. The spaces between the stairs offer prime hills for sledding on snowy days. The track in the center of the park is perfect for snow angels and snowman building.
Best Sledding in Staten Island
Clove Lake Park
Staten Island's official snow day spot is this park at Martling and Slosson Avenues.
Silver Lake Park
Despite the name, kids love Dead Man's Hill in Silver Lake Park.
This article is updated annually. Katie Nave Freeman contributed additional reporting.