Carl Schurz Park: 10 Things to Do With Kids in This Upper East Side Gem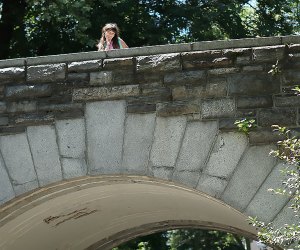 Carl Schurz Park on Manhattan's Upper East Side is a jewel of an urban green space. Nestled between East End Avenue and the East River, the 15-acre waterfront park spans six city blocks. While it can't match the Upper East Side's other big green space, Central Park, in size, Carl Schurz Park is charming in its own right with lovely arched bridges, wide paved waterfront walkways, flower-filled gardens, lush landscaping, towering old shade-producing trees, an iconic statue, a perpetually busy playground, and equally packed events calendar.
It's not surprising Carl Schurz has so much in common with Central Park: It was masterminded in 1902 by none other than Calvert Vaux (half of the duo that created Central Park and Prospect Park). Carl Schurz also has one attraction no other NYC park will ever have: The historic Gracie Mansion, which is home to New York City's mayor.
Here are 10 fun things to do in this jewel of a green space no matter the season.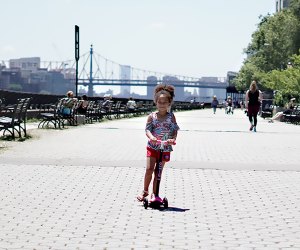 Scoot along the beautiful, wide promenade for some breathtaking views.
Roll or Walk Along the East River
The John Finley Walk is a glorious waterfront promenade on the east side of Carl Schurz Park. Cycle, scoot, skate, stroll, or run along the path and enjoy fantastic views of the Triborough (aka RFK) and Queensborough (aka Ed Koch) Bridges, as well as the lighthouse on Roosevelt Island.
RELATED: Upper East Side With Kids: 50 Best Things to Do

The enclosed sprinkler area is a wonderful place for kids to cool down on a hot summer day.
Romp in Catbird Playground
This well-used playground was last overhauled in 2000, so it's more old-fashioned than the newfangled play spots popping up all over town. Still, it's a favorite with neighborhood families because it's got something for kids of all ages and abilities. The tree-lined space has baby swings and big-kid swings, a sandbox, and three play structures, one for every age group: toddlers, littles, and big kids. There is a big enclosed sprinkler area for warm-weather days and a bathroom.
RELATED: 10 Underrated NYC Parks You (Probably) Haven't Visited Yet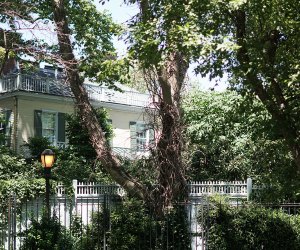 Explore the mansion where our mayor resides and learn the history of this beautiful property.
Tour Gracie Mansion
Originally built by a wealthy merchant named Archibald Gracie in 1799, the house and its grounds became city property in 1896. After being used as a concession stand and as the original home for the Museum of the City of New York, this beautiful country-style mansion became the official NYC mayoral residence in 1942 when Fiorello LaGuardia moved in. Visitors can tour the building on Mondays, though reservations are required and limited to two attendees. Families might see enough of "The People's House" from afar.
Celebrate Easter, Halloween, and Christmas
The city's oldest volunteer park group, the Carl Schurz Park Conservancy, hosts free events for all ages throughout the year. But the biggies for kids are the park's annual Easter egg hunt, the Halloween Harvest Festival, Halloween Howl and Healthy Hound Fair, and a lovely holiday tree lighting complete with caroling, free hot cocoa and candy canes. Visit the Carl Schurz Park Conservancy's website for a full calendar.
Hoop it Up
Swing by the basketball courts, sandwiched between Catbird Playground and the John Finley Walk near the south end of the park at 84th Street to see if you can join a game. Leagues and groups are required to reserve a court in advance.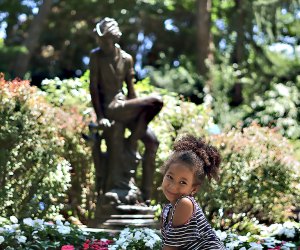 Admire Peter Pan and the lovely garden surrounding him.
Visit Peter Pan
Charles Andrew Hafner's stunning 1928 bronze sculpture originally graced the lobby fountain at Times Square's Paramount Theater. The statue was donated to the city in 1975 and installed in Carl Schurz Park where it stood until 1999, when vandals dislodged the statue and threw him in the East River. But Peter Pan was soon back on his pedestal where he's stayed ever since. Find him in his namesake circle, located at East 87th Street.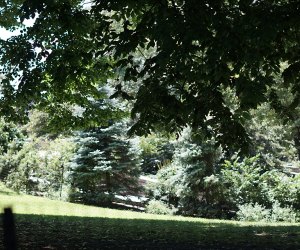 The lush lawns are a sanctuary from the bustling city.
Picnic or Sunbathe on the Lawns
The beautiful, well-maintained lawns are sheltered by shade trees and offer plenty of space to lounge. Whatever you do, leave the sports equipment behind. Signs will remind you they're meant for passive recreation. There's plenty of space to spread out and relax, and enjoy some people watching.
Play with Fido
With two separate dog runs, Carl Schurz is one of NYC's most canine-friendly parks. There's a tiny run for small dogs along the East River and a big space in the park's interior for larger mutts, plus the aforementioned annual Halloween Howl.
Browse Collectibles at the Annual Gracie Square Art Show
An annual favorite, this art show has called the park home for 47 years! It's not just for adults; there are always special kids' activities to keep them busy while you peruse the items.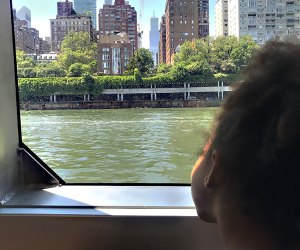 Hop on the East River Ferry to make the trip to the park extra special.
Catch a Ferry
The East River Ferry docks at the northern end of the park, taking passengers north to Soundview in the Bronx, or south to the Midtown East terminal on 34th Street, where you can transfer to other routes.
For more fun in the neighborhood, read all of our posts about things to do on the Upper East Side and see our Parks & Playgrounds Guide for more awesome NYC green spaces.
A previous version of this story was published in September, 2012. Stephanie Ogozalek contributed to its reporting.
Photos by the author