8 Things to Love About the Museum of the City of New York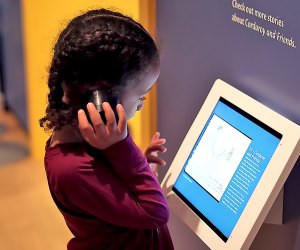 4/10/19
- By
Jody Mercier
The Museum of the City of New York, located near the top of Museum Mile on Fifth Avenue across from the northeastern corner of Central Park, may not look like a kid-friendly place at first glance, with its opulent facade. Look closer, however, and you'll learn it's actually a great destination for children, thanks to its frequent hands-on family programs, robust on-site classes meant to teach tweens about the history of NYC, and easy-to-digest NYC-themed exhibits that remind kids (and parents!) how lucky we are to live in a place with such a rich cultural past and present.
Originally opened in 1923 in Gracie Mansion, the Museum of the City of New York moved to its current, Georgian Colonial-Revival building in 1932. Its permanent collection overflows with drawings, photographs, garments, textiles, paintings, sculptures, furniture and artifacts that all have something to do with the history of our great city. Read on for eight things to love about this cultural gem in the heart of East Harlem.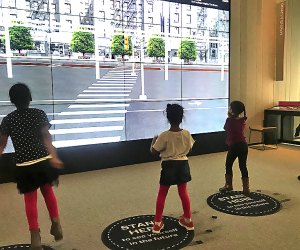 Tackle urban planning challenges at Future City Lab.
1. New York at Its Core: Opened in 2017, this exhibit is the cornerstone of the Museum. It spans 400 years of history over three separate galleries. You'll learn about the city's humble roots in the first gallery, Port City: 1609-1898; its growth into a World City: 1898-2012 in the second; and help imagine what comes next in the Future City Lab. All the galleries have kid-friendly artifacts and interactives to explore, including some old-school Sesame Street footage in the World City gallery, but the Future City Lab is always our first stop. Touchscreens allow kids (and adults) to tackle urban planning challenges by re-imagining housing, parks, and retail strips fit for the city's next era. These futuristic creations are projected on a wall-size screen and you can insert yourself into the image by standing on specially marked spots on the floor.
2. Timescapes: This 28-minute film is housed on the lower level of the museum and traces the history of the city in a compact, 28-minute film. Narrated by actor Stanley Tucci, the movie plays every 40 minutes throughout the day. It's a true crash course in Big Apple history.
RELATED: Where to Eat With Kids in East Harlem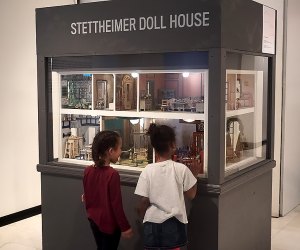 The Stettheimer Dollhouse is a two-story, twelve-room dollhouse, created by Carrie Walter Stettheimer (1869-1944) over the course of twenty-five years.
3. The Stettheimer Dollhouse: Located in a second floor corridor, this dollhouse is the handiwork of Carrie Walter Stettheimer and was decorated in the early 20th century with handmade furnishings that capture the culture-filled world Carrie and her sisters grew up in. The 12-room house is filled with intricate details and there are even miniature replicas of works by Marcel Duchamp and other well-known artists.
4. Family Programming: There's truly always something kid-friendly happening at this museum. The Education Department at MCNY puts on a wide variety of family-friendly programming meant for children and parents to participate in together, which encourage visitors to engage with the exhibits in a deeper way. Programs range from the annual Herstory Day, to holiday-specific activities like an upcoming Easter wreath-making class, and programs emphasize the message of current exhibitions in a kid-friendly way. Bonus points for the fact that all family programs are included with museum admission and include snacks, too. School breaks are always filled with kid-friendly programs, and even special camps like its I Spy New York photo camp, which has been presented as a FREE Stem Matters program. Preschool-age kids and their caretakers might enjoy the weekly, registration-required NYC Tots classes that include songs, stories and arts and crafts.
5. Activist New York: Another of the museum's permanent exhibitions, Activist New York traces the roots of social activism in the city, beginning in the 17th century and continuing through the present day. Best for tweens on up, it's an inspiring look at the role of grassroots organizing in creating a sea change in social policies.
RELATED: Best Children's Museums in New York City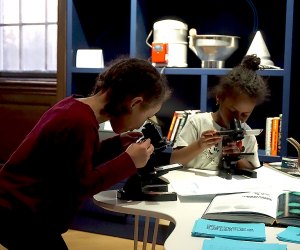 Delve into the complex stories of New York City's long battle against infectious disease, inspired by the exhibition "Germ City: Microbes and the Metropolis."
6. Rotating Exhibitions: Beyond the big permanent displays, the Museum of the City of New York is seemingly always opening a new exhibition. Current short-term displays are dedicated to Corduroy and all of author Don Freeman's work, the trailblazing ballplayer Jackie Robinson, and Germ City where everything is interactive, touchable, and guided by an education team member. Bottom line: It's always worth another visit, because there's always something new to see.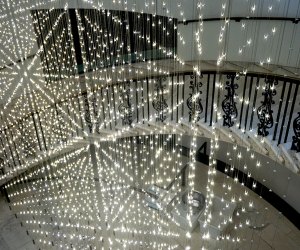 Take your best photo of the Starlight installation for a chance to be featured on the museum's social media channels.
7. Starlight: This installation is hard to miss with its 5,283 sparkling lights accenting the beautiful circular staircase leading from the entrance up to the second level. Meant to reflect the museum's mission of connecting the city's past with the present, the installation even has its own hashtag; share your best photo with #StarlightSunday for a chance to be featured on the museum's social media channels.
8. The Cafe and Gift Shop: I don't usually call out these extras, but both are lovely at the Museum of the City of New York. The reasonably priced Chalsty's Cafe features Amy's Bread products and coffee and occupies the second floor space atop the grand staircase. But its best feature might be the sweeping views of Central Park directly across Fifth Avenue. The ground-floor gift shop carries a carefully curated selection of awesome NYC-themed items and unique gifts, books, and more.
The Museum of the City of New York is located at 1220 Fifth Avenue between 103rd and 104th Streets. It's open seven days a week. Suggested admission is $18 for adults and its free for children under age 19. If you live or work in zip codes 10029, 10035 or 10037, just say "I'm a neighbor" and you get in for nothing! Bonus: With your admission, you also gain no-cost access to El Museo del Barrio one block north.
A previous version of this post was published in August 2016.
Photos by the author