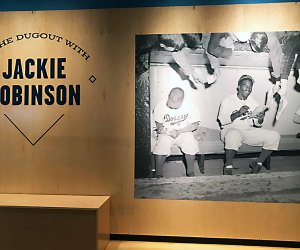 Jackie Robinson Honored with New Exhibition at the Museum of the City of New York
Baseball is a big deal in my house. Evenings and weekends are spent on ball fields and in batting cages and all three of my kids have donned Little League uniforms. As much as I love watching them play, I've been a long-time fan of the pro game, too, so when I heard one of our favorite local culture spots, the Museum of the City of New York, was honoring trailblazer and American hero Jackie Robinson, I had to visit.

Get a glimpse into some private, never-before-seen Robinson moments on and off the ball field.
In the Dugout with Jackie Robinson opened on January 31, a date that would have been the barrier-breaking star's 100th birthday. Presented in conjunction with the Jackie Robinson Foundation, the mostly photographic display offers a glimpse into some private, never-before-seen Robinson moments on and off the ball field.
While the baseball fan in me was drawn to the exhibit, curator Sean Corcoran was quick to point out that you don't need to be a fan of the sport to be a fan of the man at the center of the exhibition, best known for breaking the color barrier with his Major League debut on April 15, 1947.
RELATED: Best Children's Museums for Families in NYC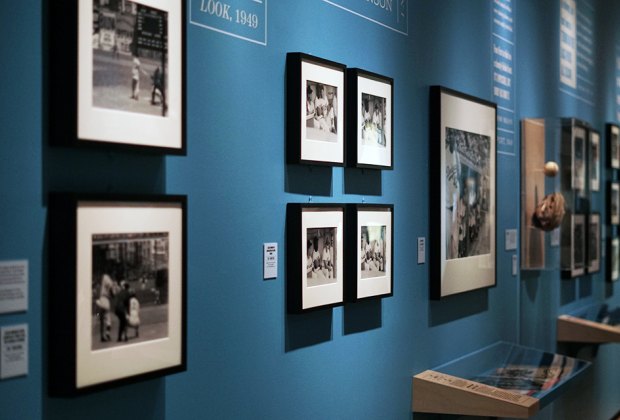 The photos and quotes in the hallway-length installation are impactful.
Photos, part of the Museum's permanent collection, are displayed on the wall alongside quotes from Robinson and those around him, which take you back to that particular moment in time and give viewers some idea of the pressure Robinson endured. Though small in scale (about 30 photos and related memorabilia), the impact of the hallway-length installation is great.
RELATED: 10 Must-See Off-the-Beaten-Path NYC Museums
Jackie Robinson was a man adored on the field and revered at home.
The most poignant shots are those behind-the-scenes showing how he was treated in the locker room, adored on the sidelines, and revered at home. My favorite piece in the whole exhibition is the grainy home video showing Robinson playing ball with his son and his son's friends in the family's backyard. Hearing the ribbing between father and son, and seeing Robinson offer tips to the youngsters is quite cool.
Beyond the photos, too, are a series of essays Robinson penned in Look magazine, the publication where Robinson announced his retirement.
All told, the exhibition provides an intimate portrait of a man so important to not just the history of the game, but the history of our country. The Jackie Robinson Foundation is prepping for the opening of a museum in his honor in December.
In the Dugout with Jackie Robinson is on view through September 15, 2019. Consider visiting on February 19 to enjoy Jackie Robinson Family Day.
Photos by the author
Places featured in this article:
---
Museum of the City of New York