9 NYC Batting Cages That Hit It Outta the Park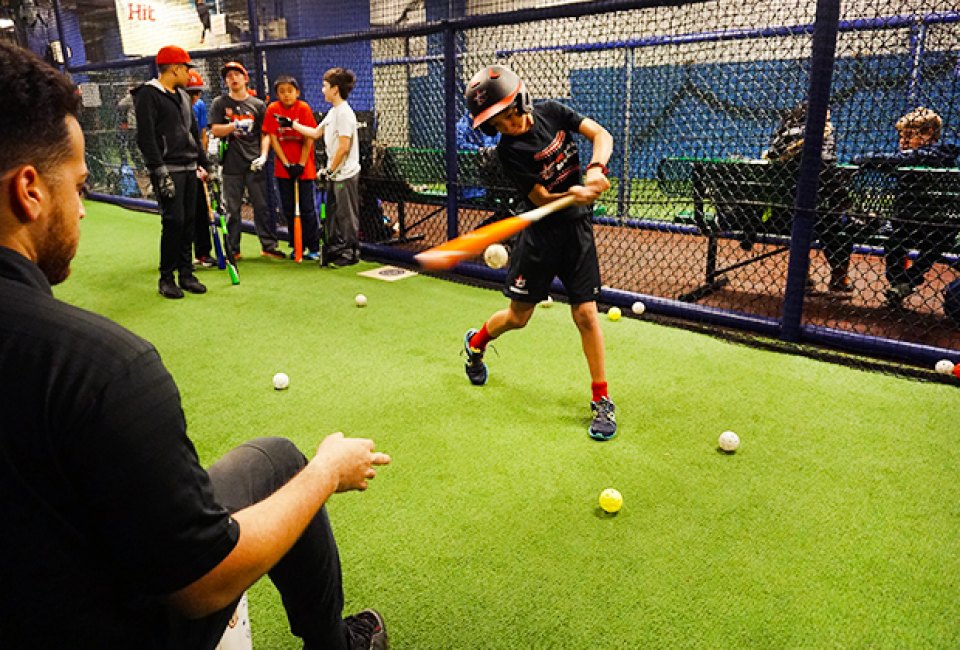 7/9/19
- By
Jody Mercier
For my family, no season is as sacred as the spring and summer baseball season, with its hours spent watching the game and playing Little League at our local ball fields. My son, who is serious about baseball, is always itching to get some real reps in, but there's only so much that can be tackled within the four walls of a cramped New York City apartment.
Luckily, the city has a slew of batting-cage options. Some even include private instruction and facilities where players can work on their fielding skills. Batter up!
Be sure to click through to each spot's website for details on current operating hours and prices. Find more action in our Kids' Sports Center Guide for NYC Families.
Artistic Stitch Sports Complex – Glendale, Queens
79-08 Cooper Avenue, at 79th Place
The brainchild of the embroidery, silk screen, and marketing firm of the same name, Artistic Stitch Sports Complex was born from the company's desire to give back to the community that helped build its business. Both baseball and softball machines are available, as well as private lessons. Special prices are offered for team training. The complex also hosts birthday parties. Call 718-416-1380, extension 3 for reservations.
RELATED: 12 Rock Climbing Walls For NYC Kids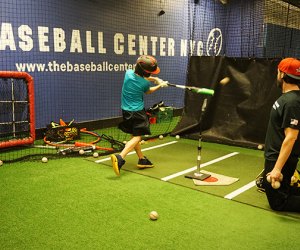 The Baseball Center offers a range of practice and hitting options for all abilities.
The Baseball Center – Upper West Side
202 West 74th Street, between Broadway and Amsterdam Avenue
We were wowed the first time we walked into this facility: The small, street-level storefront gives little clue to the baseball mecca belowground. Featuring six different cages, from the ProBatter simulator to four "Iron Mike" machines and one softball-only JUGS machine, The Baseball Center caters to hitters of all abilities, with pitching speeds ranging from 35 to 100 mph. There's a half-hour minimum and reservations can be made online or by calling 212-362-0344. The center also offers private lessons, birthday party packages, camps, offseason training, and after-school programs. It runs fall and spring leagues for recreational players and has a top-notch travel program. Full disclosure: It's become a home away from home for us as my son plays on one of its squads. Aside from the instruction he receives, his little sisters and I are thankful for the free Wi-Fi that keeps us entertained during many a long night of practice.
Brooklyn Sluggers – Red Hook, Brooklyn
80A Verona Street
This new indoor sports and fitness facility is perfect for both beginners and serious athletes. The locally-owned spot features coin-operated batting cages, pitching tunnels, and a parent lounge. The Red Hook hotspot also hosts birthday parties and summer clinics.
Cage Baseball Incorporated – Middle Village, Queens
62-40 Metropolitan Avenue, near Fresh Pond Road
This facility has eight batting/pitching tunnels for rent by the half-hour or hour. Each can be equipped with a pitching machine, pitching mound, "L" screen and practice tee. Another plus: The price is the same whether you're working out with one child or a whole team. Speaking of which, the facility can be reconfigured to create an infield practice area for a larger group. Reasonable prices make this a worthy destination for players from all five boroughs. Call 718-366-2122 to make a reservation during the winter or walk in during spring or summer. Pro tip: Because you must feed the pitching machines, arrive with at least two people.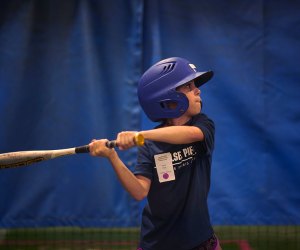 The Field House features four state-of-the-art batting cages. Photo courtesy of the Field House
The Field House at Chelsea Piers – Chelsea
Pier 62, West 23rd Street and Hudson River Park
This popular athletics complex features four batting cages. Its ProBatter Simulator employs the same technology as Major League Baseball clubs use, with a life-sized video pitcher hurling pitches of varying types, speeds, and locations. You can also switch-hit against the ProBatter. The remaining cages include two for right-handed batters and one for lefties. Multiple speeds are available. Cages take tokens or can be rented in half-hour or hourly increments. Due to the popularity of the venue, call 212-336-6500, extension 0 to confirm availability or to make a reservation. Chelsea Piers also offers semester-long baseball classes for ages 3-12 and private lessons for all ages.
Grand Slam Batting Cages – Tremont, the Bronx
478 East Tremont Avenue
The first time I walked into this batting cage, I was sure we'd entered the wrong door. The lobby smelled of potpourri and was festooned with sparkly decorations—not your usual batting-cage decor. But this spot shares space with a banquet hall of the same name. Hang a left at the top of the stairs and you'll find yourself in the batting cages, where you can work out with your team, or feed pitching machines with baseballs or softballs. It's not the cleanest cage on the list, but prices are reasonable, the workers are friendly, and there's a diverse crowd, from local Little Leaguers to grown men working out. A funny, only-in-New York feature: Besides sharing an entrance, the Grand Slam sister establishments are connected by a bathroom.
Primetime Baseball Complex – Long Island City, Queens
28-14 14th Street
This Long Island City gem offers regulation cages and playing fields for more than a dozen sports. Monthly passes are available at the climate-controlled facility, along with year-round sports academies for your little slugger.
Staten Island FunPark – Todt Hill, Staten Island
215 Schmidts Lane at Manor Road
This outdoor facility has nine batting cages that pitch both baseballs and softballs and run on a token system. If you have a very young player, choose the "lob pitch" machine that will mimic the speed and arc of an underhanded pitch, allowing little ones to perfect their swings.
Turtle Cove Golf Center – Pelham, the Bronx
1 City Island Road
If you imagine batting cages in a suburban sense, with large, semi-circular outdoor areas draped with nets and centered around an army of pitching machines, this place fits the bill. The facility takes tokens and also offers half-hour and hourly rentals. Its location, within Pelham Bay Park, makes it difficult to get to without a car, but there is ample parking on site.
This post, originally published in March 2015, has been updated for 2019.
Top photo: The Baseball Center. Photos by the author.