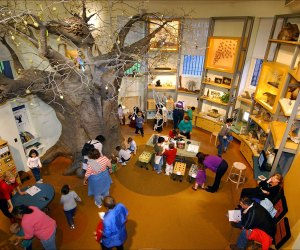 Best Children's Museums for Families to Visit in New York City
New York City doesn't lack for world-class museums and cultural institutions. While I've been to The Met more times than I can count (and still haven't seen it all) and can while away an afternoon at The Whitney no problem, sometimes my kids need something with a little more action.
That's where New York City's many family-friendly children's museums come in. We've rounded up a dozen of our favorites, ranging from totally interactive playspaces to spots for making art, studying history, and much more. All of NYC's kid museums provide plenty of fun things to do, and are great indoor activities whether you're beating the summer heat or escaping winter's chill.

Walking through The Hall of Dinosaurs is an awe-inspiring experience. Photo by Marley White for NYCgo
American Museum of Natural History – Upper West Side
What to see: Dinosaurs, dioramas, rotating exhibits, the blue whale
Best for: Ages 3+
Plan to: Spend the day
Sometimes it's easy to take this amazing, world-class institution for granted, but it's truly one of the city's gems, and houses plenty for kids of all ages (including older kids) to check out. The preschool set will appreciate the Hall of Dinosaurs and the never ending dioramas. My kids have always loved the Hall of North American Mammals, where they reacquaint themselves with the moose we meet during our summer visits to Grammy and Papa's Colorado cabin. No NYC upbringing is complete without gazing at the big, blue whale hanging in the Hall of Ocean Life, either. The Discovery Room is worth a visit; sign up for your time slot when you first arrive and then explore the rest of the halls while you wait for your reservation to come up. We also love the rotating special exhibitions: Although some are best for kids, there's always something new for younger kids to explore. Last but not least, the annual Butterfly Conservatory is a must-see each winter. Pay what you wish at all times at the ticket counters on site, though tickets to special exhibitions require you to pay full price.
RELATED: 50 Fun Indoor Activities for a Rainy Day in NYC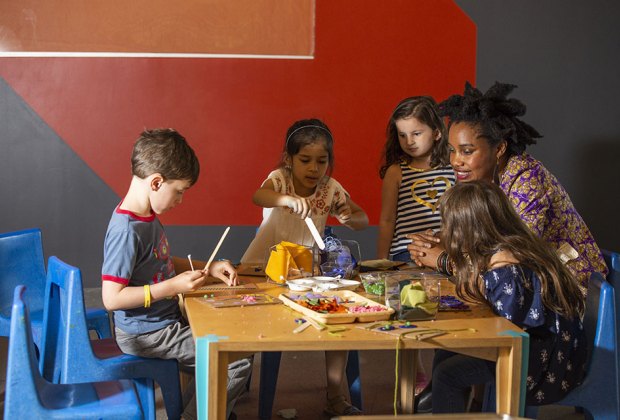 Hands-on art making inspires kids to get creative at the Brooklyn Children's Museum's new ColorLab. Photo by Carolina Cabanillas
Brooklyn Children's Museum – Crown Heights, Brooklyn
What to see: Everything!
Best for: Ages newborn-10
Plan to: Spend the day
The Brooklyn Children's Museum is the self-proclaimed first museum dedicated to kids, opening its doors in 1899. Cross the threshold and you'll enter an all-ages kid haven. The Totally Tots exhibit is a must-visit for the youngest museum-goers. The padded play space includes tons of sensory fun. Graduate from that exhibit and the World Brooklyn awaits; a pint-sized replica of the borough allows guests to play baker, pizza maker, shopper, shopkeeper and more. We're particularly excited about the museum's newest exhibit, ColorLab, which allows for hands-on art making, sensory experiences, and interactive story times. Brooklyn Children's Museum offers pay-what-you-wish admission on Thursdays from 2pm-6pm.
Children's Museum of the Arts – Hudson Square
What to see: Everything!
Best for: Ages 1-12
Plan to: Spend half a day
This creative mecca moved to its Hudson Square location in 2011, bringing interactive art-making to a beautiful new space and neighborhood. Young artists are welcomed in to the under-age-5 Wee Arts Studio (where big siblings are welcome to hang, too). There's always playdough and oobleck (and recipes are available upon request!), plus painting stations, Magna-tiles, and more. Even if you don't have little kids, it's easy to get drawn into the fun here. Make sure to book a time in the Sound Studio or the Clay Bar upon arrival. These activities require sign up and are well worth hanging around for. Teaching artists take you through small-group sessions where you'll learn the basics of music making, or craft a clay keepsake to take home. The Media Lab has big-kid activities like stop-motion animation that's always a hit, too. The Fine Arts Studio is a beautiful, light-drenched space that always offers fun, rotating workshops, as well as easels for drawing and painting. In addition to art to create, CMA hosts rotating works to admire in its gallery space. Pay-as-you-wish hours are Thursdays from 4pm-6pm.
RELATED: What Ages Get into NYC Museums and Zoos for FREE

Kawaii Central at the Hello From Japan exhibit is inspired by Tokyo's Harajuku District. Photo by the author
Children's Museum of Manhattan – Upper West Side
What to see: Everything!
Best for: Ages 1-8
Plan to: Spend half a day
Feeding Alphie the Dragon letters is a rite of passage for Manhattan tots. Keeping him company are the ever-popular Dora and Diego characters whose long-standing gallery dominates the second floor, and the gaggles of bus drivers and fire fighters who visit the galleries daily. Though the space is on the small side (soon to be much bigger), CMOM keeps things fresh with rotating exhibitions. Past favorites have included Hello from Japan and the ongoing Let's Dance. Arts, Artists, and You offers plenty to see and do through the end of 2018, while the seasonal Dynamic H2O is a perfect spot to cool off on a hot summer day. Target Free First Fridays grant visitors gratis admission the first Friday of the month from 5pm-7pm.
Jewish Children's Museum – Crown Heights, Brooklyn
What to see: Everything!
Best for: Ages 3-12
Plan to: Spend half a day
The hands-on galleries at this museum teach kids about Jewish life and history. Begin with the story of creation, wind your way to the day of rest, Shabbat, and then move on to learn about daily Jewish customs by shopping in a kosher market and cooking in a kosher kitchen. Play a game of mini golf that revolves around the Jewish customs from a bris to Bar Mitzvah and a wedding. You can also take an interactive journey through Jewish history in the fourth floor gallery, learning about the Patriarchs and Matriarchs, the Holocaust, and modern day Israel. The history is all delivered with a kid-friendly bent.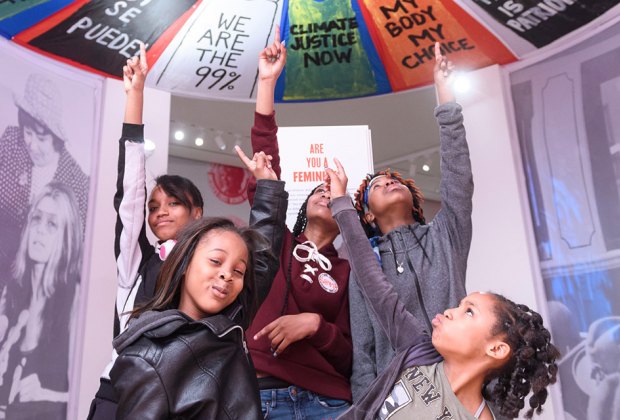 Girls celebrate "Herstory Day" at the Museum of the City of New York. Photo by Filip Wolack/Museum of the City of New York
Museum of the City of New York – East Harlem
What to see: New York at its Core, Timescapes, special children's programming
Best for: Ages 5+
Plan to: Spend a couple of hours
The Museum of the City of New York is among my favorite under-the-radar museums in the city. My kids know the halls like the backs of their hands and always beg to see the New York at its Core exhibit; particularly the Future City Lab, where they can create cityscapes that are then projected on a wall of LED screens for all to see. The Timescapes video plays on a loop in the ground-floor theater and gives a wonderful, condensed overview of the city's history. Beyond that, the education team at the museum is top-notch, always coming up with timely, inventive one-off programs that we can't get enough of. Case in point: My daughters and I spent "Herstory Day" here celebrating with Misty Copeland, and Girls Who Code founder Reshma Saujani before decorating our own activist tote bags. Check out the events calendar to see what they've got planned. Bonus: All family programs are included in admission and come with a snack for participants! Admission is always suggested and neighbors enter for FREE.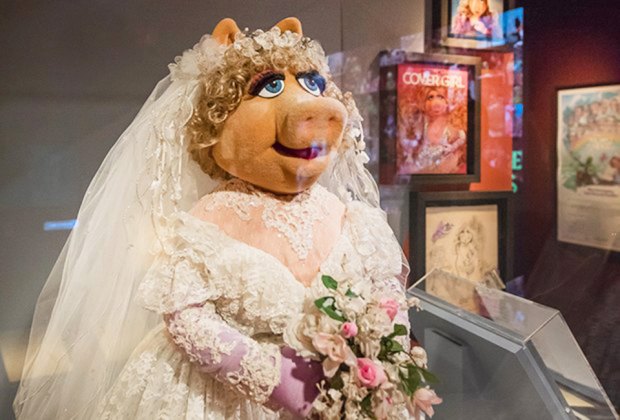 Miss Piggy gets married at the Museum of the Moving Image. Photo courtesy of the museum
Museum of the Moving Image – Astoria, Queens
What to see: Jim Henson Exhibit, Behind the Screen, included-with-admission screenings
Best for: Ages 5+
Plan to: Spend a half day
The long-awaited Jim Henson exhibition has finally opened, but it's just a fraction of the fun here for families. Besides visiting the creative genius' famous Muppets, take your kids to Behind the Scenes, where you can make interactive film clips and see some famous movie memorabilia. Make sure you pose for a picture with Jedi master Yoda! The on-site theater screens movies related to current exhibitions, as well as popular recent kid hits. School vacations generally mean you can attend a screening and participate in a related workshop. Free admission is offered on Friday afternoons from 4pm-8pm.
DiMenna Children's History Museum at the New-York Historical Society – Upper West Side
What to see: DiMenna Children's History Museum, rotating exhibits, seasonal train display
Best for: Ages 3+
Plan to: Spend a half day
I've heard about the many interesting exhibitions this museum has for grown ups, but my kids always herd me straight toward the Children's Museum located within. They love to read about the orphan trains, play an interactive table-top baseball game, and scream like newsies of years past. The on-site library offers plenty of New York-centric books to dive into, and regular story times dot the calendar. Many of the traveling exhibitions upstairs are kid-appropriate, too. Last summer saw Eloise come to life in its galleries, and the long-anticipated Harry Potter: A History of Magic exhibition opens later this year. Meanwhile, Harry Houdini and other real-life magicians take center stage all summer long. Another big kid draw here is the seasonal train show every winter. Admission is pay what you wish on Fridays from 6pm-8pm.

Rocket Park Mini-Golf at the New York Hall of Science lets kids explore scientific concepts. Photo courtesy of the museum

New York Hall of Science – Flushing, Queens
What to see: Everything!
Best for: All ages
Plan to: Spend the whole day
The New York Hall of Science is packed with hands-on fun for kids of all ages (and the adults who accompany them!). The smallest museum visitors will have plenty of interactive, science-inspired fun in the Preschool Place with its pulleys and wheel-barrows, as well as soft padded surfaces to crawl on and explore. The Sports Challenge is always a hit with my sports-loving kids. My husband and son could while away an afternoon trying to one-up one another on the pitching challenge, while my daughter likes to test her tennis swing. The Design Lab always has cool projects, while Connected Worlds is a larger-than-life touchscreen where you can manipulate an environment to keep it healthy and thriving. In the summer, the outdoor Rocket Park Mini Golf and Science Playground are so cool, kids don't even realize the lessons they're learning. Free general admission is offered on Fridays from 2pm-5pm and Sundays from 10am-11am.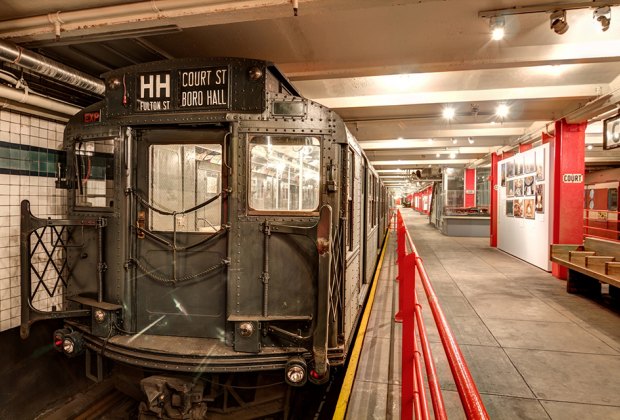 Trains, buses, a kid-friendly history of the Brooklyn Bridge—it's all at The New York Transit Museum. Photo courtesy of the museum
New York Transit Museum – Brooklyn Heights, Brooklyn
What to see: A museum in a subway stop, what could be better!?!
Best for: Ages 3+
Plan to: Spend half a day
No train-obsessed tot can turn down a visit to this museum, housed in an old subway stop below street level in Brooklyn Heights. Old-school subway cars beg to be climbed aboard and explored; old-school ads will also entertain mom and dad. There are buses and trolleys to test-drive, too, and all manner of turnstiles to investigate. Regularly scheduled programming includes Transit Tots story times, rides on its vintage fleet, and even subway conductor simulators and tours of abandoned stations suitable for tweens and up. Catch its vintage fleet of buses at special annual events, too, like Atlantic Antic and the Vintage Bus Bash. If you're in Grand Central, make sure to check out this museum's annex there.
Staten Island Children's Museum – Snug Harbor, Staten Island
What to see: Everything!
Best for: Ages newborn-10
Plan to: Spend half a day
Catch a ride on the Staten Island Ferry to get to this off-the-beaten path gem. On the grounds of the Snug Harbor Cultural Center, there's plenty to do at Staten Island's kid mecca. Play larger-than-life games in the Big Games gallery, get a close up look at insects in the exhibit dedicated to them, or take the stage in Portia's Playhouse. The seasonal Sea of Boats is a summertime draw, too. FREE admission on Wednesdays from 3pm-5pm.

Kids can create their own art at Sugar Hill Museum of Art & Storytelling. Photo by the author
Sugar Hill Museum of Art & Storytelling – Harlem
What to see: Everything!
Best for: Ages 2+
Plan to: Spend half a day
This uptown culture spot is part gallery, part kid-friendly creative studio. Located in an David Adjaye-designed building, this below-ground space is still flooded with light. Soaring ceilings encompass three galleries: The main space, dubbed The Living Room, houses a site-specific installation rotated annually. Two smaller galleries showcase works by the artist-in-residence and past artists who have called the arts-centric surrounding neighborhoods home. A pair of studios are open for creating. Sometimes projects are inspired by what's on view; other times by the teaching artists, or the available materials. We always seem to leave with armloads full of fresh art. Interactive story times are a must-see, too: Audience participation is encouraged, whether the storytellers read from a book or perform a piece from memory. Best of all, admission is always FREE for kids ages 8 & under. Everyone gets in free every third Sunday, too.
Coming soon: Sugar Hill is about to get some competition. Just down the hill and across the Harlem River, the Bronx Children's Museum is working to build its new permanent home. Organizers hope to open in 2019, though no official date has been announced.
Find more kid-friendly museums in our Museums Guide.