7 Things to Love About NYC's National Museum of Mathematics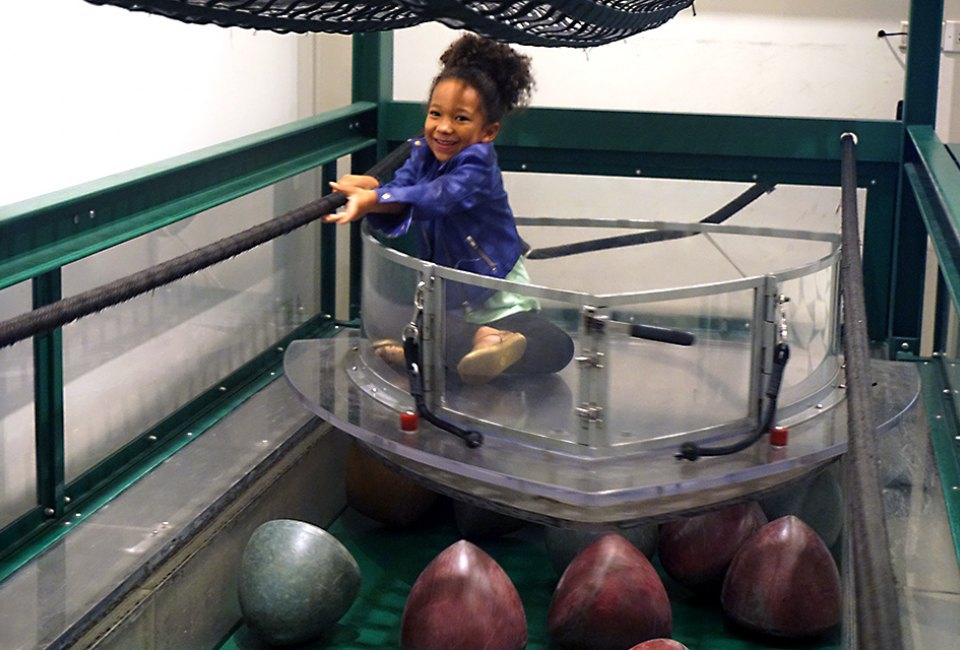 12/19/19
- By
Jody Mercier
My kids are usually game for adventure. They've trotted all over the five boroughs to help me review a range of museums, playgrounds, and play spaces. So I was a bit surprised when they protested an outing to the National Museum of Mathematics, a.k.a. MoMath. Math is boring, they exclaimed.
What was much less surprising: Their reaction after actually spending an afternoon at MoMath, one of the best STEM spots in NYC. I believe my 6-year-old's exact words were, "That's the best museum! When can we go back?" Read on for seven reasons to love the National Museum of Mathematics, and plan your own fun-filled (and educational!) outing.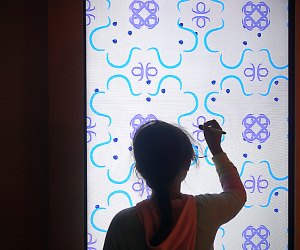 1. There's nary a math problem in sight: When you walk into MoMath, which occupies 19,000 square feet of space across from the kid-friendly Madison Square Park, you might expect to be surrounded by times tables and standard algorithms. Instead, you're greeted with colorful interactive displays, each of which teaches a core math principle but in a hands-on, interactive way. Near each interactive exhibit, you'll find a tablet explaining the underlying math principle, explained for every level of learner from math novice to mathematician. My girls dove right in to the Hyper Hyperboloid, where a simple spin in a chair led to the appearance of a curved surface made with only straight lines. From there, they were off, bopping from one display to another—and there are plenty to choose from, with more than 40 different displays to explore. We spent an entire afternoon and didn't get to all of them!
RELATED: 13 Best STEM Learning Spots for Kids in NYC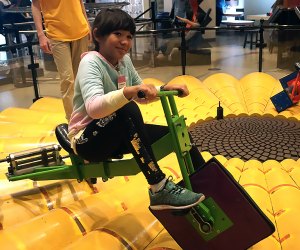 Take a smooth ride on square wheels.
2. The Square-Wheeled Tricycle: If you know anything about MoMath, it's probably this display, located on the ground floor of the space. Kids can test-drive a pair of square-wheeled tricycles and see for themselves how deceptively smooth the ride can be, thanks to a platform where the wheel's corners fit perfectly within the wavy grooves. Visitors beware: There's a strict closed-toe shoe rule for both tricycles (there's one for little kids, and a second for older children and adults), so leave the sandals at home. Another fun "ride" my kids enjoyed was the Coaster Rollers, where riders propel a sled-shaped vessel back and forth across a bed of acorns, and again, thanks to principles of math, the ride is smoother than it looks.

See successively smaller copies of yourself combined to make a dynamic fractal tree that sways in response to your motion.
3. Choices, Choices, Choices: MoMath definitely isn't a place for toddlers to run amok (hence no stroller parking and no diaper-changing station in the bathroom), and a grasp of basic mathematical concepts makes the exhibits more enriching, meaning this spot is best for the elementary-school and older set. I visited with my two daughters, ages 6 and 10. While some of the concepts were beyond my younger daughter, she still picked up plenty and I appreciated that I could work with her on one display while my older daughter explored another one independently nearby. The museum is jam packed with stations, and even on a Saturday afternoon it wasn't so crowded with guests that I couldn't easily keep track of two kids doing different activities simultaneously. Beyond that convenience, there were also multiple ways to learn concepts, whether investigating patterns with a projector on a wall, using angles to attempt sinking a shot at the basketball hoop, or manipulating magnets into repeating patterns. The variety definitely kept our attention and made the experience more exciting.
RELATED: 13 Brain-Boosting Playgrounds in NYC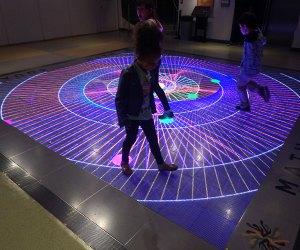 Step into the world of mathematical games, controlled by the movement of your feet.
4. The Math Square: Speaking of variety, this was a favorite exhibit. Located on the lower level, The Math Square features an ever rotating display of games projected onto the floor below. One minute, you could be navigating your way out of a maze made of ice blocks, the next you could be part of a human spirograph drawing. Every time we passed The Math Square, my girls had to jump into whatever game was lighting up the space.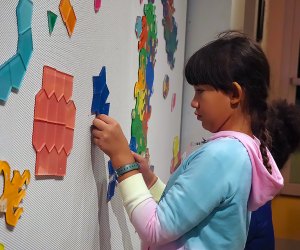 From nature to art to architecture, tessellations, or infinite tiling patterns, offer a creative way to understand geometry.
5. The Tessellation Station: MoMath opened in 2012, but The Tessellation Station came into my life before that. My family and I experienced the magic of MoMath when it was just a traveling "math midway" at the World Science Festival, trying to drum up support for its brick-and-mortar spot. The magnets we played with then were meant to create tessellations, a pattern of polygons that can be continuously replicated without any spaces in between. There's an entire wall dedicated to this art with magnetic shapes of many sizes and complexities at MoMath, and it easily ate up most of our visit. We couldn't get enough of making patterns with the monkeys, rabbits, dinosaurs, and geometric shapes. Sometimes they were tessellations, sometimes they were alternating patterns, but we were always thinking and experimenting, and that's really the point of math anyway.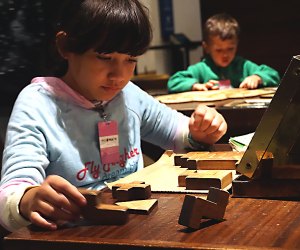 Sit down and enjoy one of the many mathematical puzzles on the menu.
6. The Enigma Cafe: If all the interactives aren't enough for you, a section on the lower level offers all manner of brain teasers, from old-school thrills like the remove-the-ring between two horseshoes, to wooden puzzles. Kids will have fun manipulating pieces and you will have fun showing them just how quickly you can get that ring off...at least I did!
7. Programming: Offering after-school programs, classes for gifted "mathletes," origami workshops, professional development, plus family-friendly workshops and more, MoMath's programming calendar has tons of ways to expand your math knowledge. Plan a visit around a special workshop to experience the museum in a new way.
The National Museum of Mathematics is open daily except for Thanksgiving Day. Admission is $16 for children ages 11 and under, $19 for adults, and free for those under age 2. You can save $1 per ticket by purchasing online in advance. An on-site gift shop sells plenty of math-inspired games, brain teasers, and more if you need a gift for your favorite mathematician.
This post, originally published in 2012, has since been updated. Stephanie Ogozalek contributed to its reporting.
Photos by the author
Places featured in this article:
---
The Museum of Mathematics