AMNH and More Places to Get Scientific in NYC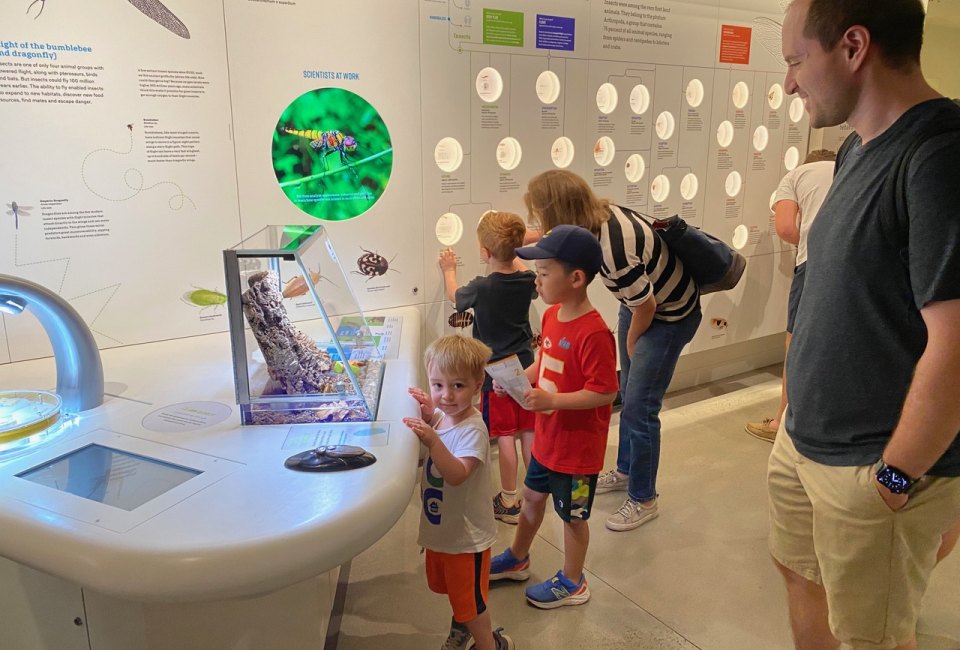 8/8/23
- By
Jody Mercier
Subscribe to our newsletters to get stories like this delivered directly to your inbox.
Top Science Museums near NYC
A science and technology center with more than 400 hands-on activities, the New York Hall of Science is a must-visit. We love the hands-on Connected Worlds exhibit, where kids build a virtual eco-system using teamwork and STEM knowledge to produce—and sustain—plants, animals, and more. In the seasonal, outdoor Rocket Park Mini Golf, get a lesson in jet propulsion—and other rocket science concepts—along with your quest for par. Though currently undergoing renovations, the Science Playground is an out-of-this-world interactive zone worth adding to your museum bucket list for a visit down the line.
RELATED: Gilder Center Opens at AMNH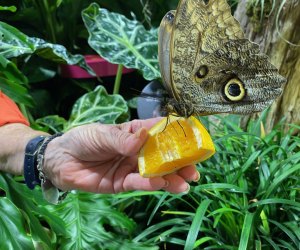 The American Museum of Natural History allows plenty of interactive, hands-on science fun for kids in NYC. Photo by Drew Kristofik
Of course, you've been to the American Museum of Natural History before, but don't forget that there's a lot more to this museum than dinosaur bones and the whale room. For starters, the brand new Gilder Center is a haven for kids who love creepy crawlers or beautiful butterflies. Shows in the Hayden Planetarium immerse kids in the most current science of space, and the IMAX theater takes children on entertaining and enthralling scientific voyages. Traveling exhibitions, including the current sharks exhibition, mean there's always something new to explore.
While this museum offers plenty of fun, quirky photo-ops, there's also real science involved. Each display is accompanied by a placard explaining the science that makes the optical illusion work. It's a sneaky lesson in understanding how the mind and senses operate together.
RELATED: Science and Natural History Museum Day Trips near NYC

Morph yourself into a human tree at MoMath thanks to the power of numbers. Photo by Jody Mercier
True to its name, this gem is heavy on numbers but offers plenty of hands-on activities to help kids learn to love math and appreciate its application in our everyday lives. The museum's 30 interactive displays are spread over two floors and 19,000 square feet, and include large-scale installations like a track for the square-wheeled tricycle, as well as the Enigma Cafe, an entire room filled with mind-bending puzzles to solve.
The Science Barge gives children hands-on opportunities to learn how technology can help lessen our impact on the earth and help us live more sustainably. Operating completely off the grid, the Science Barge is a sustainable urban farm powered by wind, sun, and biofuel; it's irrigated by rainwater and purified river water. While weekdays are devoted to school and camp groups, walk-in visitors are welcome on the weekends from mid-April through October.
RELATED: Easy Science Experiments for Kids To Do at Home

The Liberty Science Center's suspended infinity climber isn't just cool to look at; it's an epic spot to climb and explore. Photo by Kaylynn Chiarello Ebner
The Liberty Science Center in Jersey City is a world-class institution and easily accessible via the Path to New Jersey, plus a transfer to the light rail. The science institution has served the local community and beyond for more than a quarter century. It boasts the largest planetarium in the Western Hemisphere, and its Infinity Climber is a must-visit. Old favorites include the eco-focused exhibit, Our Hudson Home, plus an interactive skyscraper exhibit. Traveling exhibitions make frequent stops here, so there's always something new to explore. Though it's well worth the day trip, it's impossible to see it all in one visit!
Science-Centered Stores in NYC
7. Astro West – Upper West Side
Geologists in the making, as well as serious collectors, can appreciate a trip to this glittering gallery where minerals are the specialty of choice. Fossils and meteorites can also be found, and price points start small enough for kid collectors while stretching far enough to entice the most avid geology enthusiast. The store offers a collection of tumbled, polished stones it describes as "better than a candy store," while also boasting items as rare as a triceratops horn or a 4.5-billion-year-old meteorite.
This natural history and science emporium in Soho sells bones, fossils, mounted insects, and other unique artifacts, but even if you aren't in the market for a human skeleton or a trilobite fossil, kids are fascinated exploring the shop, which is packed to the gills with curiosities.
RELATED: 7 Space Museums near NYC for Out of this World Fun

Build more than robots at the Brooklyn Robot Foundry. Photo courtesy of the Brooklyn Robot Foundry
STEM Centers and Maker Spaces in NYC
This local spot focuses on STEM education and offers a wide variety of classes, from regular after-school options to summer camps, birthday parties, and semester-long workshops designed for specific age groups. If you can't make it to the store, consider checking out its online resources. A new location is slated to open on Manhattan's east side in fall 2023.
10. Beam Center – Red Hook, Brooklyn
While the Beam Center was once an after-school and summer camp destination, its focus has shifted. Through in-school workshops, it recruits high-school-aged apprentices who work together on large-scale installations. It aims to teach technical skills and build a new generation of science educators. Its annual Inventgenuity Festival invites the public to get hands-on and tackle large-scale projects together.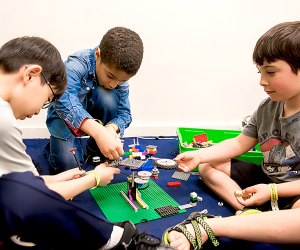 Kids learn with Legos at Robofun's Upper West Side hub. Photo courtesy of Robofun
11. Robofun – Upper West Side
This location caters to children as young as preschool-aged with STEM-focused classes offered after school and during school breaks. Kids get hands-on experience in Lego robotics, stop-motion animation, and more.
Together with its sister location, Skill Mill NYC, this spot offers both regularly scheduled after-school classes and camps, plus drop-in workshops, and it caters to kids and adults alike. You can learn skills both old-school (sewing) and new (printing with a laser cutter and coding).
Geek Forest is a STEM-inspired store that offers several classes after school and during school breaks. Study topics like video game development, coding, 3D art and animation, and more.
Read about more of our favorite spots to take science classes and enjoy drop-in maker fun, plus our favorite STEM camps in New York.
Originally published in 2009.