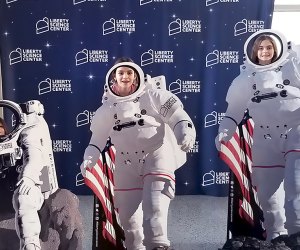 13 Best Science Museums and STEM Spots for NYC Kids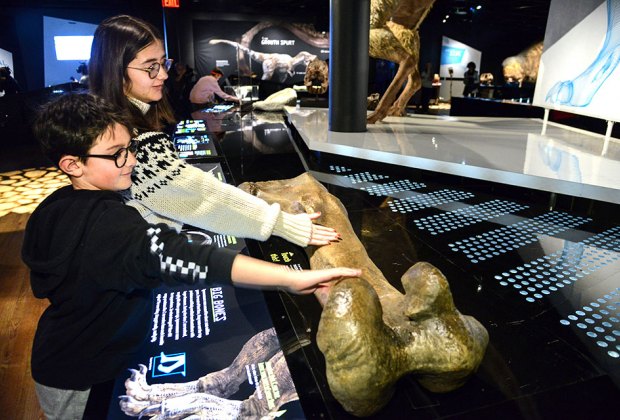 Touch a replica of a T. rex femur at the American Museum of Natural History. Photo by R. Mickens/AMNH
Museums
American Museum of Natural History – Upper West Side
Of course you've been to the American Museum of Natural History before, but don't forget that there's a lot more to this museum than dinosaur bones and the whale room. The Discovery Room offers an interactive entry to the museum's exhibits and a behind-the-scenes glimpse at the science involved. Shows in the Hayden Planetarium immerse kids in the most current science of space, and the IMAX theater takes children on entertaining and enthralling scientific voyages. Traveling exhibitions, including the current T. Rex exhibition, mean there's always something new to explore.
RELATED: Science and Natural History Museum Day Trips Near NYC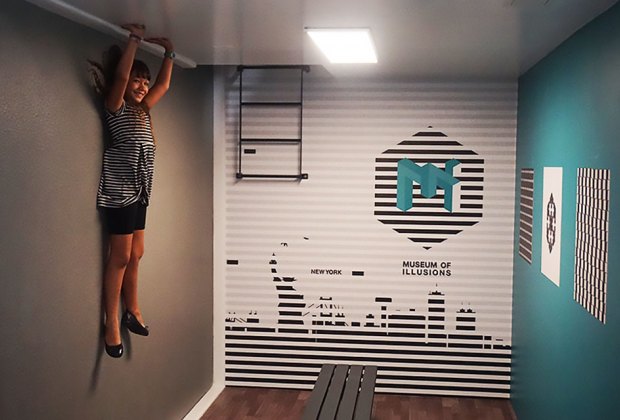 The Rotated Room at the Museum of Illusions. Photo by Jody Mercier
Museum of Illusions – Chelsea
While this new museum offers plenty of fun, quirky photo ops, there's also real science involved. Each display is accompanied by a placard explaining the science that makes the optical illusion work. It's a sneaky lesson in understanding how the mind and senses operate together.
Museum of Mathematics – Flatiron
True to its name, this Lower Manhattan gem is heavy on numbers, but offers plenty of hands-on activities to help kids learn to love math and appreciate its application in our everyday lives. The museums's 30 interactive displays are spread over two floors and 19,000 square feet, and include large scale installations like a track for the square-wheeled tricycle, as well as the Enigma Cafe, an entire room filled with mind-bending puzzles to solve.
RELATED: Guide to STEAM Classes, Science Museums, and Maker Spaces for Kids in NYC

It's all in the name: The New York Hall of Science is a hands-on, interactive science wonderland. Photo courtesy of NYSCI
New York Hall of Science – Flushing, Queens
A science and technology center with over more than 400 hands-on activities, the New York Hall of Science is a must-visit. Talk to any kid who's been there and you'll hear the highlight is the outdoor science playground where kids can learn about and explore the principles of physics through play. Beyond the everyday exhibits, its annual Maker Faire is a can't miss, jam-packed event sure to spark scientific curiosity.
Liberty Science Center – Jersey City, New Jersey
The Liberty Science Center in Jersey City is really a world-class institution and easily accessible via the Path to New Jersey, plus a transfer to the light rail. The science institution has served the local community and beyond for more than a quarter of a century. It boasts the largest planetarium in the Western Hemisphere, and its Infinity Climber is another cool, new addition. Old favorites include the toddler-friendly I Explore, eco-focused Our Hudson Home, and an interactive skyscraper exhibit, plus so much more. Though it's well worth the day trip, it's impossible to see it all in one day!
Science Barge – Yonkers, New York
The Science Barge gives children hands-on opportunities to learn how technology can help lessen our impact on the earth and help us live more sustainably. Operating completely off the grid, the Science Barge is a sustainable urban farm powered by wind, sun, and biofuel; it's irrigated by rainwater and purified river water. While weekdays are devoted to school and camp groups, walk-in visitors are welcomed on the weekends from mid-April to November.
Educational Outposts
Beam Center – Red Hook, Brooklyn
While the Beam Center was once an after-school and summer camp destination, its focus has shifted. Through in-school workshops, it recruits high-school aged apprentices who work together on large-scale installations, including a giant flip book coming to Brooklyn this summer. It aims to teach technical skills and build a new generation of science educators.

Build more than robots at the Brooklyn Robot Foundry. Photo courtesy of the Brooklyn Robot Foundry
Brooklyn Robot Foundry – Multiple Locations
This local mini-chain focusing on STEM education offers a wide variety of classes, from regular after-school options, to summer camps, birthday parties, and occasional one-off workshops.
Dazzling Discoveries – Upper West Side
Together with its sister location, Skill Mill NYC, this spot offers both regularly scheduled after-school and camps, plus drop-in workshops, and it caters to kids and adults alike. You can learn skills both old school (sewing!) and new (printing with a laser cutter).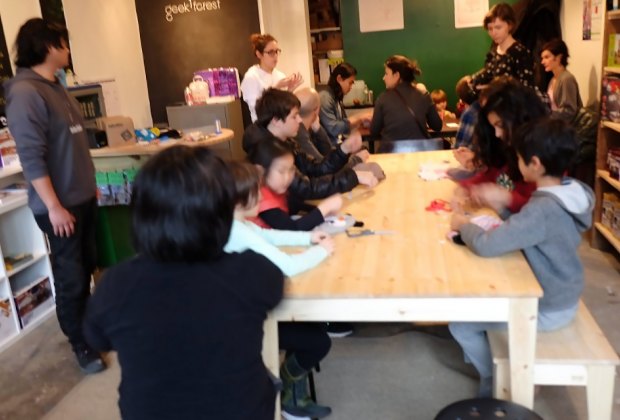 Take a class or go to summer camp at the Geek Forest. Photo courtesy of the Geek Forest
The Geek Forest – Brooklyn
A relative newcomer to the city's STEM scene, Geek Forest has grown to two Brooklyn locations. Programs are offered after-school and during school breaks, and specialty programming is offered for kids, teens, and even for the whole family to participate in together.
Robofun – Upper West Side
This all-ages (well, kids, anyway) location caters to children as young as preschool-aged with STEM-focused classes offered after-school and during school breaks. Kids will get hands-on experience in Lego robotics, stop-motion animation, and more.
Read about more of our favorite spots to take science classes and enjoy drop-in maker fun, plus our favorite STEM camps in New York and beyond.
Science-Centered Stores
Evolution – Soho
This natural history and science emporium in Soho sells bones, fossils, mounted insects and other unique artifacts, but even if you aren't in the market for a human skeleton or a trilobite fossil, kids will be fascinated exploring the shop, which is packed to the gills with curiosities.
Astro Gallery of Gems — Midtown East
Whether you've got a budding geologist or paleontologist on your hands, or just a little one with an eye for sparkly stuff, Astro Gallery of Gems offers plenty of eye candy. There are tons of crystals, geodes, fossils, and polished rock specimens to admire, plus plenty of small tumbled stones for suitable for kid collectors.
For more science-focused fun, visit our STEM and Geek Guides.
This post was originally published in 2009 but has since been updated. Jody Mercier contributed additional reporting.