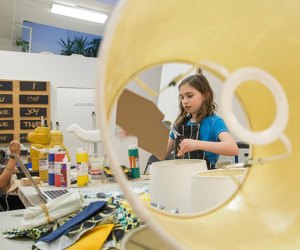 10 Science Classes for NYC Kids That Are Actually Fun
With Mayor Bill de Blasio's announcement last year that New York City schools must focus on a strong STEM track over the next decade, including computer science, it's no surprise that enrichment classes have popped up all over the city – from the Y After School Academy (offered at most local branches of the YMCA) to the American Museum of Natural History. But these 10 awesome options up the fun factor with quirky takes on science and technology, which means your kids will be hooked from the start.
Find more STEM classes in our NYC directory.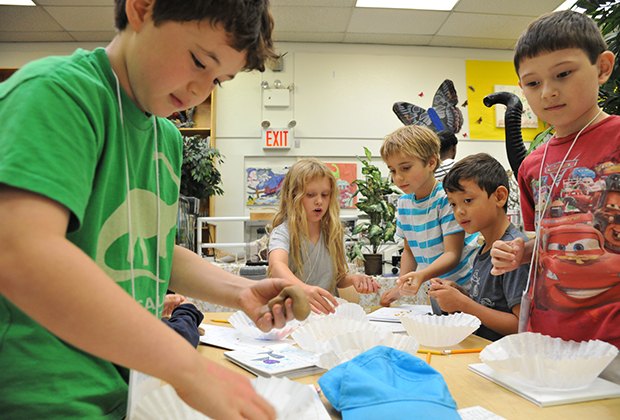 Science class is hands on at the Natural History museum. Photo by D. Finnin/courtesy of the museum.
American Museum of Natural History – Upper West Side
Who wouldn't want to take a class at the American Museum of Natural History? If you've got a pre-schooler, you can even tag along. The museum offers several three-session Sunday workshops for kids from preschool and up, focusing on specific explorations—from coral reefs to space to volcanoes, and, of course, dinosaurs—all drawing on the resources of perhaps the greatest natural history and science museum on the planet. Get on it quickly—classes sell out fast.
RELATED: 9 Places That Throw a Robotics Birthday Party in NYC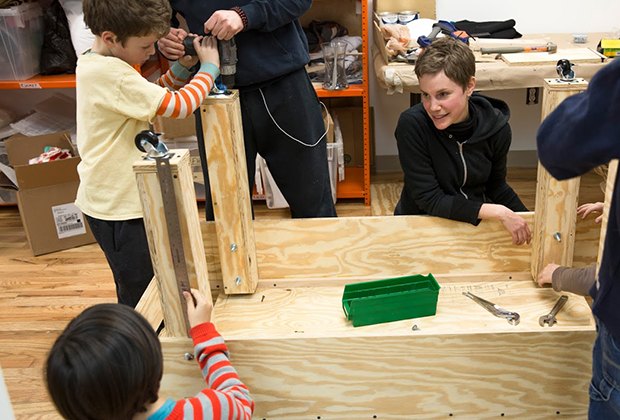 From boat-building to stop-motion animation, kids learn through doing at Beam Center. Photo courtesy of the center.
Beam Center — Carroll Gardens, Brooklyn
Bring on the STEAM! Meeting at the intersection of science and art, this Brooklyn center offers "ingenuity" workshops such as boat building, communication networking, stop-motion animation and even a metal-working class where you get to build your own "frankenbike." Beam lets kids unravel how the world works through fun, hands-on projects. They'll learn about real-life applications, exploring where science, art, and business combine to create something super cool. The center offers the BeamWorks apprenticeship program, teaching practical skills to low-income youths. After-school, spring, and summer programs are available.
Carmelo The Science Fellow – Downtown Brooklyn
With more than two decades of teaching science to Brooklyn kids, former elementary school teacher Carmelo Piazza and his Laboratory of Fun are pioneers in the STEM set. He sets the bar high—his Brooklyn Preschool of Science usually has a waitlist for both its Cobble Hill and Park Slope locations, and weekday workshops (for ages 2 to 11) fill up quickly. If variety is the spice of life, then Carmelo's renowned science camp is the place to be, offering eight weeks during the summer, each focusing on a different topic, from cooking chemistry and roller-coaster physics to botany, optics, and light. Good luck scoring a spot.
iD Tech – Multiple locations in Manhattan and Queens
One of the premiere tech academies in the city has been offering classes for mini-scientists for years, including workshops in game design, robotics, Web photography, and even app development. Taught by experienced tech professionals, usually on a college campus, these classes and camps are for kids who take tech seriously. But what's especially exciting about iD's program is its girls' only Alexa Café, which focuses solely on girls learning in a hands-on, vocal, and focused environment that inspires them to look at these fields as something they can do well.
Kidville – Multiple locations
Even the tiniest of tots can get their STEM on at Kidville's enrichment education programming for toddlers with classes like the Mess Lab's paint, putty, and physics to Savvy Scientists and Awesome Engineers classes, where they'll explore things such as magnets, air pressure, and the solar system in an age-appropriate format. Classes are available in Manhattan, Brooklyn, Queens and the Bronx, and offer little ones a playful, low-pressure introduction to how the world works.

New York Hall of Science — Corona, Queens
Superhero science? Sign us up! The New York Hall of Science offers structured, focused, and fun weeklong spring break workshops for kids from kindergarten to fifth grade, building an easy-to-understand, experiment-driven curriculum centered on a particular topic, from natural disasters to superheroes to city and habitat design.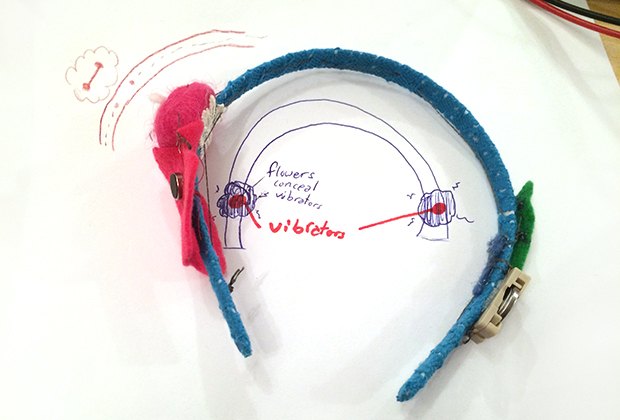 One NYC Makery student designed an augmented headband that can massage your head. Photo courtesy of the workshop.
NYC Makery – Multiple locations in Manhattan and Brooklyn
A pop-up science workshop? Bring it on. The Makery sets up single-session workshops in unusual settings such as bodegas, boutiques, and warehouses. Single and weeklong classes on creative coding, interactive painting, robot building, and even toy hacking (transforming an old toy into something fun and new) are offered in spring break and summer camps. There's also a weeklong Girls Make Steam workshop offered in the summer.
RELATED: Coding Camps and Classes for NYC Kids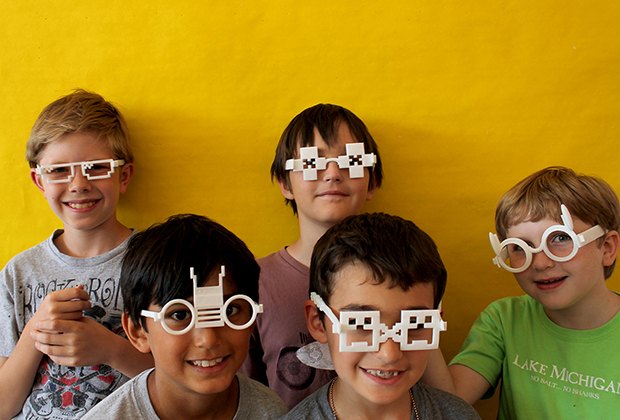 Print your own glasses at Pixel Academy. Photo courtesy of the academy.
Pixel Academy – Manhattan and Brooklyn locations
For kids who are tech-savvy—and let's face it, most of them are these days—Pixel Academy offers an amazing introduction to the practical and fun applications of computers, from digital art to video game design basics to workshops in Minecraft molding (ask your kid what that means) and 3D printing. Older kids can experiment with advanced video game design, robotics, and other too-cool-for-school technologies. After-school, vacation week and summer camp workshops at locations on the Upper East Side, the Financial District, and in downtown Brooklyn (some with school pickup) up the convenience factor.

ROBOFUN – Upper West Side
Hands-on, project-based problem-solving is at the heart of after-school enrichment workshops at the Upper West Side's Robofun. What does that mean for kids? Cool stuff, such as learning about robotics through Legos, and using stop-motion animation to unravel design, movement, and story. With classes at all levels from preschool to sixth grade, daytime and weekend workshops allow kids to build on basic premises in an accessible and enjoyable way.
Science Teacher Sarah – Union Square
A former elementary-school science teacher, Sarah takes learning out of books and into the real world with fun, hands-on experiments, such as an old-school vinegar and baking soda volcano, or creating liquid nitrogen. With structured, level-based classes for kids 4 and older, as well as focused single-session workshops on topics such as Star Wars, King Tut, superhero science, and even chocolate chemistry, Sarah proves science is as fascinating as you always told your kids it was.
This article was first published in 2016 but has since been updated.
Top photo courtesy of Beam Center.