Best Coding Classes in NYC for Kids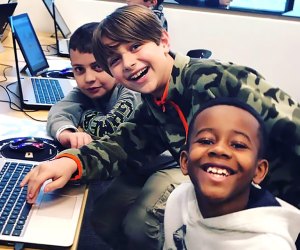 8/7/22
- By
Jennifer Coe
Coding classes are a great extracurricular activity for kids. Growing up in an increasingly tech-driven world means learning to code is an invaluable life skill. But kids who code don't really look at it that way—they just think it's lots of fun to design video games, create websites, and make robots move. That's exactly what these coding classes for kids in NYC teach. We've rounded up a selection of coding classes for kids ranging from coding summer camps to after-school coding classes and even some coding classes in NYC that kids can take from the comfort of their homes.
You can find more coding classes for kids and even book a class online in our directory of classes and listings. Check our New York City Classes for Kids Guide for more kids' activities and classes for kids of all ages and interests.
Subscribe to our newsletters to get stories like this delivered directly to your inbox.