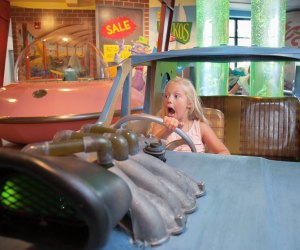 Free Admission for Kids at Connecticut Museums and Attractions
Connecticut may be small, but it boasts hundreds of art museums, historical homesteads, science museums, children's museums, and cultural centers across the state. If you want to take advantage of everything the Nutmeg State has to offer but don't love the price tag that comes along with it, then you'll love the fact that so many of Connecticut's greatest museums and cultural attractions are free for little (and in some cases, all) kids. From the Bruce Museum in Greenwich to the Wadsworth Antheneum in Hartford, there's something for every interest and age group.
Still craving more? Check out our complete Connecticut museum guide. And to make a low-cost family day of it, check out our complete guide to free fun across the state.
Connecticut Museums Free For All Kids

Photo courtesy of Stepping Stones Museum for Children
Connecticut Museums Free For Kids under 1
Connecticut Museums Free For Kids under 2

Open Cockpit Day at New England Air Museum. Photo courtesy of the museum
Connecticut Museums Free For Kids under 3
Connecticut Museums Free For Kids under 5

Photo courtesy of Harriet Beecher Stowe Center
Connecticut Museums Free For Kids under 6
Connecticut Museums Free For Kids under 12
Connecticut Museums Free For Kids under 18