6 Boston-Area Zoos That Aren't in Boston (and Totally Worth the Drive)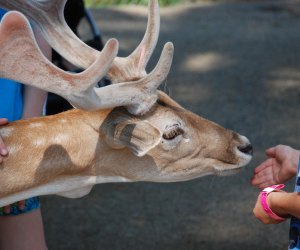 Zoos are a popular destination for families with kids of all ages—who doesn't love to gawk at giraffes and roar like a lion? While Franklin Park Zoo is a popular (and wonderful) option, there are six others within a 90-minute drive of Boston that each offer something unique for animal aficionados. Whether it's Franklin Park's sister zoo in Stoneham or York's Wild Kingdom in Maine, there is an option for you within day-trip distance, offering entrance to another world of miraculous and mysterious creatures not normally seen around Boston.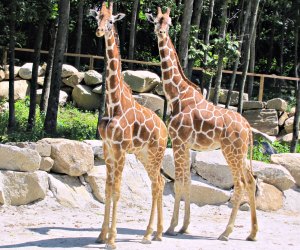 Giraffes stand tall at Southwick's Zoo. Photo courtesy of Massachusetts Office of Travel & Tourism
1. Massachusetts Southwick's Zoo, Mendon ​
Southwick's Zoo gets a lot of lip service for being one of – if not the best – zoo in New England. With more than 800 animals, including lions, giraffes, and cheetahs, Southwick's Zoo is one of New England's largest zoos. If you want exotic species, you will enjoy the capybara or the scimitar-horned oryx, or you can check out the familiar favorites like the Bengal tiger or the cheetah. There are five animal encounter attractions: Deer Forest, Petting Zoo, Parakeet Landing, Giraffe Encounter and Rhino Encounter. Little kids might like the Woodland Express Train, and lovers of adventure can take a ride on the Skyfari Sky Ride, which offers visitors a birds' eye view of the animals and their activities. Southwick's Zoo is open from April to October, from 10:00 a.m. to 5:00 p.m. Tickets are $28 for adults, $24 for children 3-12; children two and under are free. Combo tickets are $36 for adults and children and include admission to the SkyRide, the Woodland Express Train and the Rainforest Adventure Maze.
2. Stone Zoo, Stoneham
Do you like Franklin Park Zoo? Then you'll love its sister, Stone Zoo, just a half hour from Boston. Stone Zoo offers a variety of attractions, like the gila monster, snow leopard, or colobus monkey. The Zoo offers a number of shows that are sure to leave an impression–my kids still talk about the birds of prey show we saw five years ago. Smaller kids will love the Jungle Fun Ride and the Children's Train. Holiday visitors won't want to miss the popular annual light display, ZooLights. Stone Zoo is open from April to September, from 10:00 a.m. to 5:00 p.m. Tickets are $16.95 for adults and $11.95 for children 2–12, with free admission for kids under two and an online ticket discount.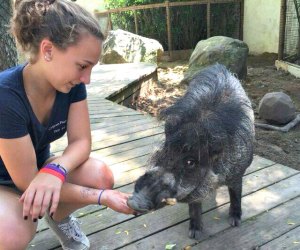 Kids can make new "friends" at Capron Park Zoo. Photo courtesy of the zoo
3. Capron Park Zoo, Attleboro
Are you looking for something a little smaller for your little ones? Check out Capron Park Zoo, near the Rhode Island border. Animals at Capron Park include kangaroos, alpacas, and a white lion and lionesses. Capron Park offers a number of 30-minute ZooQuest Adventure Tours that allow you to get up close and personal with a variety of animals: red pandas; lemurs; warty pigs, and lions and bears. Keep in mind these must be booked in advance and are not included in the general admission fee. In the summer, the Zoo offers a splashpad for hot and sweaty kids. Tickets are a bargain, as well, costing only $8.50 per adult and $7 per child for non-Attleboro residents (Attleboro residents pay a cheaper rate).
4. Buttonwood Park Zoo, New Bedford
Established in 1894, Buttonwood Park Zoo is the 12th oldest zoo in the country. Buttonwood Park Zoo is deceptively large, with more than 50 species, 250 animals and 30 exhibits. Attractions include Asian elephants, American bison, extensive birds, reptiles and fish. Visitors to the Zoo will not only see the animals, but will also learn about how to protect wildlife and endangered species. Younger kids will like the Wildlife Carousel, and the Black Bear Express. Buttonwood Zoo is open year-round, and non-resident admission is $7.50 for adults, $4.50 for kids 3–12, and free for children under three, with a less expensive rate for New Bedford residents.
5. York's Wild Kingdom Zoo and Fun Park, York, ME
Just a little more than an hour from Boston, York's Wild Kingdom is a great destination for a day trip from Boston (and the beach is just around the corner). Older kids might enjoy the attached amusement park. Zoo attractions include a Bengal tiger, wallabies, and American alligators. If your kids are more into bugs than bears, York's Wild Kingdom offers a 5,500 square foot Butterfly Kingdom. Amusements feature a mini-golf course, batting cages and an arcade, in addition to bumper boats, the Jungle Funhouse, and a ferris wheel, among numerous other options. York's Wild Kingdom is open May to September. Entrance to the zoo is $14.75 per adult, $9 for kids 4–12, and $1 for kids under 4; or $23.75 per adult, $18.50 per child and $5.50 for kids under 4 for the Zoo & Ride package.
6. Roger Williams Park Zoo, Providence, RI
Founded in 1872, Roger Williams Park Zoo is America's third oldest zoo, offering something for everybody: a variety of animals including African elephants, Komodo dragons, and zebras, as well as informative programs about conservation for budding animal activists. Exhibits include a brand-new rainforest exhibit, a children's farmyard, African animals exhibit, and an adaptation exhibit, among others. If you're looking for an unusual option, try the Zoo's Explore and Soar area with a zip ride, or take a ride on a camel. The Zoo is open year-round and general admission is $17.95 per adult, $12.95 for kids 2–12, and free for kids under 2.