15 Boston-Area Restaurants Where Kids Can Play While You Eat (and Relax)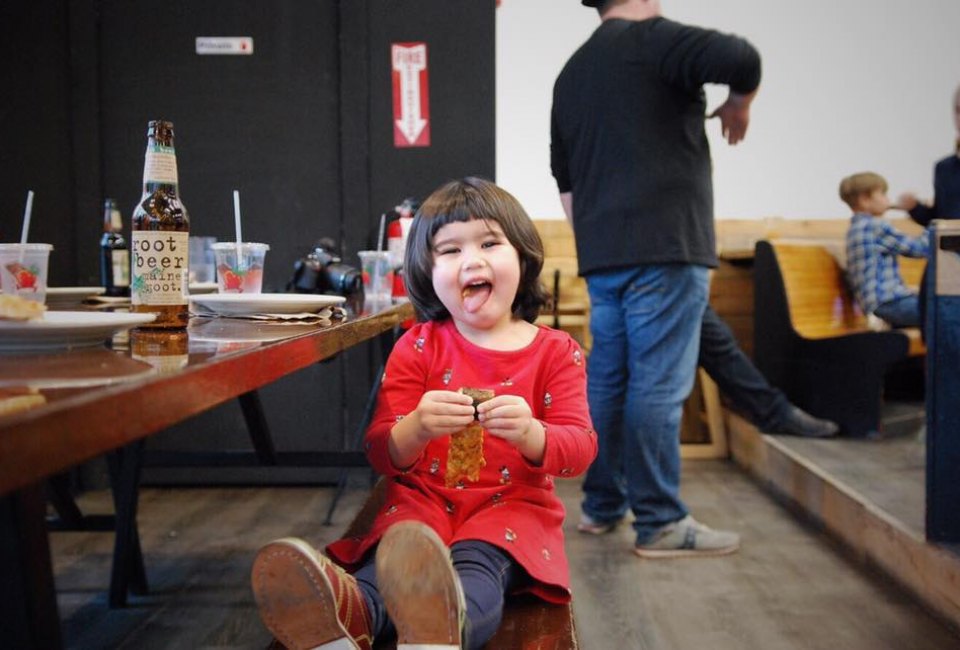 8/15/21
- By
Elyse Andrews
It's one thing to go to a kid-friendly restaurant, where you know you won't get any dirty looks from the proprietors or other patrons. But family dining heaven might just be a place that also allows kids to play—the idea being that you can actually enjoy your meal after they wolf down theirs. We decided to round up of the best Boston-area restaurants where kids can play, choosing those that serve up truly good food along with activities or entertainment for kids. We call that a win-win!
If the weather is nice, take advantage of these outdoor restaurants around Boston that are great for families. And explore our guide to Family-Friendly Boston Breweries and Beer Gardens.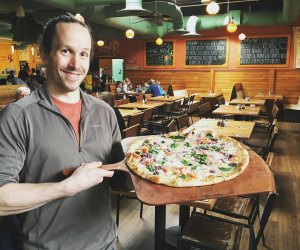 Eat well—and then bowl (as well as you can!) Photo courtesy of Flatbread Pizza, Somerville
Flatbread is not your average pizza joint. The handcrafted pies and salads are made with lots of local, organic ingredients in a wood-fired oven that kids love watching from the safety of a nearby bench. There's even gluten-free crust available. Before, during, or after your meal, snag a bowling lane and challenge the whole family to a round of candlepin.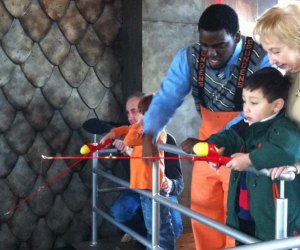 Kids can try fishing at the indoor trout pond at Legal Harborside. Photo courtesy of Legal Harborside Facebook page
Legal Sea Foods is known for going above and beyond to accommodate guests (such as having lots of gluten-free options), but the harborside location takes the cake for kid-friendly restaurants. Kids will love watching boats come in and out of the harbor, and they can fish in a stocked trout pond inside the restaurant! This is a great place to have a nice meal with children without worrying they'll be bored.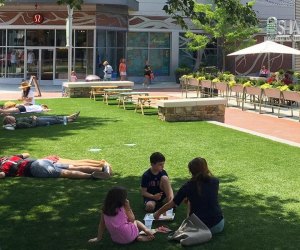 Before I went to a Shake Shack I was skeptical of the hype, but now I'm a true believer. The burgers, fries, and shakes are all delicious—the kind of delightfully decadent but quick meal parents and kids both love. Shake Shack Chestnut Hill is super kid-friendly, with a huge lawn for little ones to run around on, complete with kid-sized benches. It's right next to the outdoor seating (with umbrellas for shade), so parents can keep an eye on the play without missing their meal.
When you feel like having a healthy meal that still tastes great, head to Life Alive in Cambridge. There's a lot packed into this two-story location, including a special kids' area in the basement. Small tables and chairs, plus toys, means that little ones will be entertained while you enjoy a rice and vegetable bowl and green juice. Additional locations in the Back Bay, Brookline, Salem, and Lowell.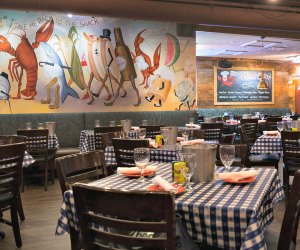 A cheery atmosphere gets even more fun on Sundays with DIY sundaes and balloon animals. Photo courtesy of Summer Shack
The name says it all with this next one, it truly feels like a New England summer day even in the dead of winter inside Summer Shack. It features food the whole family will love—classic and unique seafood dishes for parents and simple, homemade meals for kids. Sunday nights at Summer Shack in Cambridge were made for kids. In addition to the usual bucket of crayons and craft paper to draw on, there's a sundae bar and balloon animals.
With two kid-friendly restaurant locations now in the Boston area, The Friendly Toast is poised for a family breakfast takeover. The food is creative yet accessible, making it perfect for parents and kids. Sitting outside at the Back Bay location makes for great people watching, while indoors you'll be able to ogle the impressive collection of vintage, kitschy wares the restaurant has collected. Use Yelp and the NoWait App to avoid weekend lines or go on Wednesday evenings when kids eat free.
This Boston institution has been feeding both the bellies and minds of locals and visitors since it opened more than 30 years ago. The food isn't fancy, but it's delicious, and kids will love people watching from the patio. Or, let them pick out their new favorite books while you wait for your food.
Video game fun. Photo by Chris Anderson courtesy Bit Bar Salem
2021 Note: Bit Bar is in the process of relocating to a new location in Salem and will be open again soon.
If your little ones love playing video games, this restaurant is going to be a winner. Bit Bar is filled with arcade games they can play while dining. And, while going to an arcade drums up images of mediocre pizza and fries, that's not what you'll find on the menu of this kid-friendly restaurant. Instead, they offer upscale bar food like elk burgers and a West India Seafood Platter for the adults, and classic kid faves like pizza, chicken fingers, and grilled cheese. And if you order your little gamers a meal, they get $3 in game tokens. It is important to note this restaurant becomes 21+ after 8 p.m.
In business for more than 100 years, Woodman's of Essex is a must-visit restaurant for any kid who lives near Boston. Home of the original fried clam, Woodman's is the perfect summer dining spot for the whole family. Not only is the food appealing to both parents and children, but there's also a beautiful outdoor eating area with water views that's perfect for running around. Plus, there's an ice cream shop on the premises.
A new addition to the outdoor dining scene, a farm that has long been associated with pick-your-own apples and plums is now serving food on picnic tables during the warmer months. There are delicious lobster rolls and more to enjoy while admiring its spacious, rolling landscape before taking a walk through the orchards.
Located on the waterfront, sitting on their outdoor deck to watch boats cruise the harbor is the perfect way to keep little diners occupied. Parents can enjoy a delicious menu filled with seafood dishes including, the restaurants well known cup of clam chowder, while your little ones can order off the kids' menu. Make sure to save room for dessert.
What better way to keep tiny hands busy at a restaurant than getting them involved in actually making their meals? That's exactly what Fire+Ice is all about. Parents of picky eaters, this is a dream. Head up to the huge round grill and pick out the ingredients you want, then watch the chefs prepare it. You can order anything from Mexican to Italian dishes. Really turn up the wow factor and visit for brunch when you can load up your pancakes with fruit and other toppings.
This well-known Boston restaurant is located directly across the street from a playground. So if things head south while dining, pack up your meals to-go and let your kids burn off some energy while you snack on leftovers. Joe's offers a full kids' menu with classic staples like mac and cheese and burgers, as well as options like popcorn shrimp for more adventurous eaters.
Come for the BBQ and stay for the egg-laying chicken game in the back. When kids get antsy at the table, give them some quarters to play a chicken game that lays eggs filled with prizes. Then, they can play with the prizes back at the table. The menu features classic BBQ dishes you can share together, including kid-friendly favorites like mac and cheese and chicken tenders.
This New Orleans-inspired restaurant will have your kids on their feet in a good way. That's because they often offer live music during meals, including a great jazz brunch. There is no kids' menu, but this kid-friendly restaurant serves up plenty of breakfast favorites, like French toast and eggs.
Originally published 5/3/19
Updated 8/12/2021
Click Here to Sign Up!
i