Family-Friendly Boston Breweries and Beer Gardens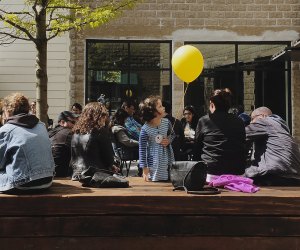 4/17/22
- By
Elyse Andrews
Boston breweries are a part of the city's landscape; the Sam Adams Brewery in Jamaica Plain has attracted tourists and locals for decades. Boston has seen an absolute boom in beer gardens (or biergartens) in the last few years. Craft brewing has flourished as well. Luckily for anyone with kids, many of these establishments are welcoming to families. If you like to sip a craft brew outside, these are the places to go with little ones in tow: Many have live music, lawn games, and great views. From the heart of the city to the suburbs, there's likely a beer garden near you that's open from summer through fall. Sip—and play!
Check out our guide to 10+ Boston-Area Restaurants Where Kids Eat Free for more locations to step out with the family. Be sure to explore our list of 15 Boston-Area Restaurants Where Kids Can Play While You Eat (and Relax). And our guide to Easy Recipes for Kids provides some wonderful ideas for those nights you stay in.
Family-Friendly Boston Breweries and Beer Gardens in the City

Kids have plenty of room to play at Boston breweries and beer gardens. Photo courtesy of The Anchor.
1. The Anchor Wine and Beer Garden—Charlestown
Head to Shipyard Park in the Navy Yard for community spirit, harbor views, and yes, refreshing beverages. The Anchor's new open-air wine and beer garden has lush grass lawns, swing chairs, cozy seating, and lobster rolls and other treats. Kids will feel at home sipping freshly squeezed lemonade and trying out lawn games like Jenga, checkers, and more.
2. ​Aeronaut Brewing Company — Allston
With tap rooms for the 21+ crowd in Somerville and Everett, this Greater Boston brewery has an outdoor, family-friendly location in Allston. Visit Aeronaut Allston on Wednesday, Thursday, and Friday nights through September for live music and food trucks.
3. Castle Island Brewing — South Boston & Norwood
This South Boston brewery and tap room sits near the family attractions of Fort Point Channel and Southie's beaches. Castle Island offers a great spot to stop and recharge during a trip through the city. The Norwood location serves a full menu of treats like sliders, hot dogs and flatbreads; the menu includes several kid-friendly beverages like juice.
4. Cisco Brewers — Seaport, Various Locations
Nantucket-based Cisco Brewers opens up a pop-up beer garden in the Seaport District that runs through October. Not only will the location have Cisco's signature brews, but it will also serve tacos and bowls courtesy of Rexicana Surf Cantina. You'll also find offerings from Cisco's sister company, Nantucket Vineyards, at the garden. This popular island beer also opened up a permanent locations in New Bedford (on the waterfront) and in Portsmouth, NH. These feature indoor taprooms and outdoor areas that host live music.
5. Trillium Brewing Company — Rose Kennedy Greenway, Various Locations
One of the most innovative Boston breweries, Trillium Brewing Company has a great patio space at its Canton, Fenway, and Fort Point locations. Canton's location does not have a restaurant on site, but the brewery often hosts food trucks on the weekends and you're welcome to bring your own food to enjoy alongside a pint of their local craft beer. Trillium is also hosting its Garden on the Greenway in Boston through at least mid-October.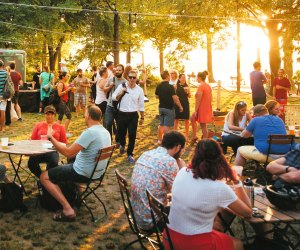 Night Shift's Boston beer garden at the Owl's Nest welcomes kids, too. Photo courtesy of Night Shift Brewing.
6. Night Shift Owl's Nest — Esplanade, Various Locations
The Everett-based Night Shift Brewing has several outdoor outposts going through October this year. Two are located along the Charles River, so there's plenty to see while you sit and sip. Catch Night Shift at the Owl's Nest on the Esplanade or at Herter Park to enjoy family-friendly lawn games, live entertainment, and plenty of space to run. They also have locations in Somerville's Assembly Square and by South Station.
7. The Harpoon Brewery — Seaport Boston
While the brewery and beer hall are open year round, they open up a seasonal Harpoon Keg Yard on Saturdays, and certain Sundays, during the summer and fall months. Beer, pretzels, and live entertainment will keep you and the kiddies having fun!
8. Brewer's Alley —Rowes Wharf Boston
This beer garden, hosted by the Boston Harbor Hotel, will feature a rotating list of brewers. Families can enjoy waterfront views while sipping on cold suds. The best part? Because they feature a variety of Boston breweries, your fam can come back multiple times to sample!
Family-Friendly Breweries and Beer Gardens Near Boston

Enjoy craft beers at a Newburyport beer garden. Photo courtesy of the Riverwalk Brewing Company, Facebook.
9. Riverwalk Brewing Co. — Newburyport
A quick walk from the commuter rail on the local Rail Trail will bring you to this Greater Boston brewery. Along with a great selection of locally brewed beers, pretzels, and tasty grilled cheese sandwiches, this brewery has a big backyard with lawn games and picnic tables. Inside the attached tap room, kids (and adults) can grab some quarters and play video games.
10. Wachusett Brewing Company — Worcester & Westminster
The Brew Yard in Westminster features an outdoor beer garden with a full menu, fire pits, and live music. While there isn't a kid's menu, there are definitely kid faves like chicken fingers, french fries, and pretzels. If you're out and about in Worcester, they also have a tap room in the Public Market. Along with delicious beers, Wachusett Brewing Company will also be offering up margaritas, hard seltzers, and non-alcoholic beverages.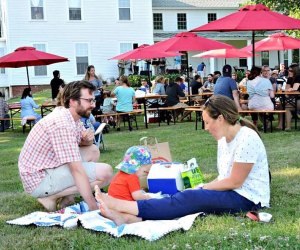 The Notch Traveling Biergarten shows up at various Trustees locations. Photo courtesy of The Trustees.
11. Notch Brewing Mobile Biergarten — Salem, Various locations
Visit Notch Brewing in Salem to take advantage of its year-round beer garden (yes, you read that right). With beautiful views that include appearances by harbor seals, games like cornhole, and even a dog-friendly policy, there's a lot to love about Notch. You can also catch the brewery as it pairs up with the Trustees of Reservations at various locations around Massachusetts. Their new location at the Charles River Speedway brings this Greater Boston brewery's session beers to the city.
12. Remnant Brewing — Union Square Somerville
Bow Market, a hub for a variety of small business, is also home to Remnant Brewing, a family- and dog-friendly brewery with large a outdoor patio. Grab food at one of the neighboring businesses to eat alongside Remnant's local brews. The "fire patio: allows for a year-round Boston beer garden!
13. Mighty Squirrel - Waltham
This Brewery and Tap Room features craft beers and live music in a family-friendly atmosphere. The spacious interior holds up to 300 people; but the patios are the best seats in the house. Especially if you have the family dog in tow. The Mighty Squirrel features their own food menu and a rotating schedule of food trucks.
Originally published October, 2018