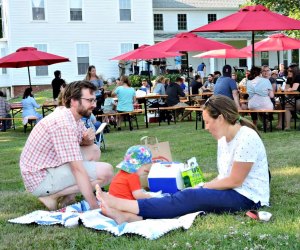 Boston-Area Beer Gardens That are Fun for Families
Boston has seen an absolute boom in beer gardens (or biergartens) in the last few years, and luckily for anyone with kids, many are welcoming to families. If you like to sip a craft brew outside, these are the places to go with little ones in tow: Many have live music, lawn games, and great views. From the heart of the city to several of the suburbs, there's likely a beer garden near you that's open from summer through fall. Sip—and play!
Keep in mind that all of the beer gardens are open weather-permitting, so check with each (most have active social media accounts) before stopping by.

Kids have plenty of room to play at Charlestown's beer gardens. Photo courtesy of The Anchor
1. The Anchor Wine and Beer Garden—Charlestown
Head to Shipyard Park in the Navy Yard for community spirit, harbor views, and yes, refreshing beverages. The Anchor's new open-air wine and beer garden has lush grass lawns, swing chairs, cozy seating, and lobster rolls and other treats. Kids will feel at home sipping freshly squeezed lemonade and trying out lawn games like Jenga, checkers, and more.
2. Night Shift Owl's Nest — Charles River Esplanade Boston & Herter Park Allston
The Everett-based Night Shift Brewing has two outdoor outposts going through October this year. Both are located along the Charles River, so there's plenty to see while you sit and sip. Catch Night Shift at the Owl's Nest on the Esplanade or at Herter Park to enjoy family-friendly lawn games, live entertainment, and plenty of space to run.
3. ​Aeronaut Brewing Company — Allston and Arlington
While its home base is in Somerville, Aeronaut's two outdoor, family-friendly locations are in Allston and Arlington. Visit Aeronaut Allston on Wednesday, Thursday, and Friday nights through September 28 for live music and food trucks, or stop by Aeronaut Arlington through September 7th on Saturday afternoons for music and brews.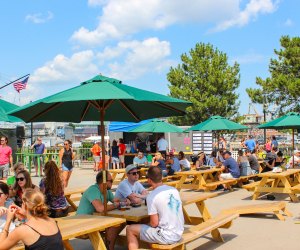 Constitution Wharf serves up ​Castle Island Beer and sea breezes. Photo courtesy of Castle Island Beer
4. Castle Island Beer at Constitution Wharf — Charlestown
Head to Charlestown to visit Castle Island Beer's harborside beer garden, open through October. Grab a seat at one of the shaded picnic tables to sip a Castle Island brew and watch boats float by while sea breezes cool you down. Kids and dogs are welcome and food trucks will be on site during open hours.
5. Cisco Brewers — Seaport Boston & Portsmouth
Nantucket-based Cisco Brewers opens up a pop-up beer garden in the Seaport District that runs through October. Not only will the location have Cisco's signature brews, but it will also serve tacos and a raw bar courtesy of South Boston's Loco Taqueria & Oyster Bar. You'll also find cider and wine from Cisco's sister company, Nantucket Vineyards, at the garden. This popular island beer also opened up a permanent location about an hour North of Boston in Portsmouth, NH. This location boasts both an indoor taproom and a large outdoor area that often hosts food truck festivals and live music.
6. Cape Ann Brewing Company — Gloucester
Heading way up the North Shore, families can visit Cape Ann Brewing Company in Gloucester, which offers outdoor, harborside seating and an indoor beer hall. Beers like Fisherman's Brew are right at home on the water, and there's a children's menu (of food) for the younger set. Everyone in the family will enjoy watching fishing vessels coming in and out of the harbor.

The Notch Traveling Biergarten shows up at various Trustees locations. Photo courtesy of The Trustees
7. Notch Brewing Mobile Biergarten — Salem, Various locations
Visit Notch Brewing in Salem to take advantage of its year-round beer garden (yes, you read that right). With beautiful views that include appearances by harbor seals, games like cornhole, and even a dog-friendly policy, there's a lot to love about Notch. You can also catch the brewery as it pairs up with the Trustees of Reservations at various locations this fall.
8. Remnant Brewing — Union Square Somerville
Bow Market, a hub for a variety of small business, is also home to Remnant Brewing, a family- and dog-friendly brewery with large a outdoor patio. Grab food at one of the neighboring businesses to eat alongside Remnant's local brews.
9. SoWa Beer Barn — South End Boston
If you're looking for a one-stop shop for family fun in Boston, look no further than SoWa Open Market, open through October. With tons of local vendors slinging crafts and food, plus music and now a Beer Barn, it's the place to be on Sundays in the city. The Beer Barn showcases a variety of local beers and ciders, plus lawn games and live music.
10. Trillium Brewing Company — Canton and Rose Kennedy Greenway Boston
Trillium Brewing Company has a great patio space at both its Canton and Fort Point locations. Canton's location does not have a restaurant on site, but the brewery often hosts food trucks on the weekends and you're welcome to bring your own food to enjoy alongside a pint of their local craft beer. Trillium is also hosting its Garden on the Greenway in Boston through at least mid-October.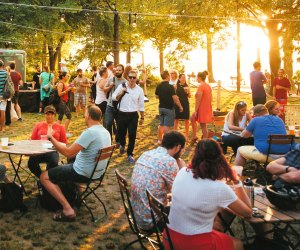 Night Shift at the Owl's Nest welcomes kids, too. Photo courtesy of Night Shift Brewing
11. Wachusett Brewing Company — Winchester & Boston
The newly opened Brew Yard in Winchester features an outdoor beer garden with a full menu, fire pits, and live music. While there isn't a kid's menu, there are definitely kid faves like chicken fingers, french fries, and pretzels. If you're looking to stay in the city, they also host a seasonal pop-up at City Hall Plaza's The Patios. Along with delicious beers, Wachusett Brewing Company will also be offering up margaritas, and The Patios will be hosting local food trucks and local restaurant pop-ups. There will even be grills available on Sundays if you want to BBQ up something of your own.
12. The Harpoon Brewery — Seaport Boston
While the brewery and beer hall are open year round, they open up a seasonal Harpoon Keg Yard on Saturdays, and certain Sundays, during the summer and fall months. Beer, pretzels, and live entertainment will keep you and the kiddies having fun!
13. Brewer's Alley —Rowes Wharf Boston
This beer garden, hosted by the Boston Harbor Hotel, will feature a rotating list of brewers. Families can enjoy waterfront views while sipping on cold suds. The best part? Because they're hosting multiple brewers, your fam can come back multiple times to sample!
14. City Winery — Rose Kennedy Greenway Boston
And for those that would prefer to sip on a glass of grape juice, Boston will also be hosting a wine garden this year! City Winery is setting up shop on the Greenway, Wednesday through Sunday, from May to October. Enjoy a selection of reds, whites, and roses—and for those that want to stick to beer, the winery will be serving up a selection of Harpoon beer and cider.
15. Riverwalk Brewing Co. — Newburyport
A quick walk from the commuter rail on the local Rail Trail will bring you to this brewery. Along with a great selection of locally brewed beers, pretzels, and tasty grilled cheese sandwiches, this brewery has a big backyard with lawn games and picnic tables. Inside the attached tap room, kids (and adults) can grab some quarters and play video games.
16. American Fresh Brewhouse — Assembly Row, Somerville
Somerville Brewing Company is owned and operated by a local mom and dad, so it's no surprise that their Assembly Row location is family-friendly. While not technically a beer garden, this year-round brewhouse has a huge airplane hanger door that opens during nice weather and an outdoor patio. Not only are they super close to Legoland and the movies, but they also offer kid-friendly live music as well as a trove of toys for little ones to dig into while you sip and savor brews and snacks. It even made our list of places to relax and eat while kids play!
Originally published October, 2018