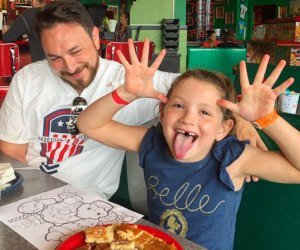 25 Boston-Area Restaurants Where Kids Eat Free
Letting a restaurant take care of family dinner is the dream—until the kids find "nothing good" on the menu, everyone is antsy before drinks are even served, and a fat check arrives anyway. Luckily, Boston and the surrounding 'burbs are home to some fantastic, family-oriented restaurants. Some feature play areas where children can get their energy out while you linger over your meal. Others, listed here, allow kids to eat for free. At these local eateries, children dine gratis on certain days or times, allowing you to enjoy family time without stressing about the bill. We know what you'll be making for dinner tonight: reservations.
Our Boston Free Fun Guide is chock-full of ideas for making a low-cost day of it, before or after your meal. For more eateries that welcome the kiddos, see Mommy Poppins' Boston Restaurant Guide.
Restaurants with Free Kids' Meals in Boston and Greater Boston
Friendly Toast
- Boston, Cambridge, Burlington
617-456-7849; 617-621-1200; 781-272-9777
Breakfast, lunch, and dinner are served all day, every day, at this colorful, quirky local chain. Kids eat free on Wednesdays after 4pm.
The Independent
- Somerville
617-440-6021
This comfy pub in Union Square is a neighborhood fave. Kids eat free from 4:30 to 6:30pm on Sundays through Thursdays.
Longwood Grille and Bar
- Boston
617-232-9770
The children's menu here is unapologetically full of reliable fare, like pb&j and Kraft Mac and Cheese. Kids eat free for lunch or dinner every day when an adult entree is also ordered.
Frogmore
- Jamaica Plain
857-203-9462
Southern comfort food reigns supreme here, but chicken tenders and simple cheeseburgers are on the menu for kids. While kids don't eat completely free, they do eat for half off every day until 7pm.
Osaka Japanese Sushi and Steakhouse
- Brookline
617-732-0088
Kids love hibachi-style restaurants where Japanese chefs perform their culinary magic on the grill right at the table: It's live entertainment, after all! Here, kids (one per adult) eat free on Fridays, Saturdays, and Sundays from 4:30 to 5:30pm.
Need another reason to cheer on the Sox? Beginning on March 27th, 2020, the Ninety Nine will serve up free meals to kids (ages 10 and under) the day after each Red Sox win (home or away). These post-win kids meals are free with the purchase of an adult entree in all Ninety Nine restaurants in Massachusetts, Rhode Island, Maine, New Hampshire, Vermont, and most of Connecticut.
Restaurants with Free Kids' Meals North of Boston
With a focus on comfort foods, this delicious restaurant is sure to have something delicious for both you and your kids. And on Mondays, two kids eat for free with an adult purchase of an entree.
Dockside
- Malden, Wakefield
781-321-3000; 781-245-0200
Children's meals include healthy choices like baked haddock and grilled chicken, and come with a visit to the ice cream bar for dessert. These restaurants also offer a game room so kids can get up from the table and play! Kids eat free on Monday nights when an adult orders an entree from the main menu.
Hale Street Tavern
- Beverly
978-922-9232
There's a fun mix of culinary delights at Hale Street, from seafood to sushi. Kids eat free for lunch or dinner on Sundays.
781-938-1900; 781-233-3765
Who doesn't agree on pizza for dinner? There's good pasta and a family-friendly vibe here, too. On Tuesday evenings, kids eat free.
Dine by the beach year-round at Tides. Their menu has everything from pizza to fresh seafood dishes for adults, while the kids' menu is packed with classics like pizza, grilled cheese, and fried haddock. Dinner with a view, plus kids eat free from 4 to 9pm every Tuesday.
Restaurants with Free Kids' Meals West of Boston
Samba Steak and Sushi
- Framingham
508-628-0288
Another hibachi restaurant a little farther out in the Metrowest, Samba also has a big sushi menu if that appeals to your kids' palates. Every kid per one adult eats free on Sunday nights.
John Brewer's Tavern
- Waltham, Malden (and sister property Brewer's Coalition in Newton)
781-894-9700; 781-324-8800; 617-964-7600
There's a lot to like about the children's menu at this local pub chain, including steak tips and fish and chips. Kids eat free Tuesday nights in Newton, and Monday nights in Waltham and Malden, when a grown-up orders a salad or specialty item.
Village Manor
- Dedham
781-407-9191
Pizza is a kid-fave here, but the pasta and seafood are tasty, too. Kids eat free on Tuesdays (one meal for every adult entree ordered).
Owen O'Leary's
- Southborough, Brockton/Easton
508-481-1714; 508-584-2221
There's a big menu at this local chain, with lots of crowd-pleasing sharing apps like loaded nachos and wings. Two kids eat free on Tuesdays from 4 to 8pm with the purchase of an adult entree.
Restaurants with Free Kids' Meals South of Boston
More Restaurants with Free Kids' Meals Across Massachusetts