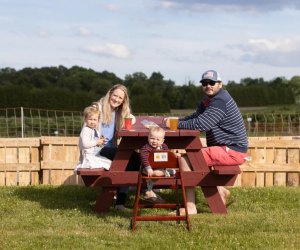 12 Outdoor Restaurants in Boston that Are Great for Families
With exciting views and kid-friendly vibes, outdoor restaurants around Boston are always a good choice for family dining—and that's especially true this summer. Boston-area restaurants have been busy creating expanded outdoor seating on patios, porches, gardens, and sidewalks to accommodate diners safely per Massachusetts reopening guidelines. From a city dock to a suburban orchard, these outdoor restaurants are loved by local families.
Some of these great outdoor restaurants even made our list of places where kids can play while you relax, the ultimate combination for happy dining as a family. Check websites or call before heading out to find out each individual restaurant's policies about reservations and other safety guidelines, and then enjoy the refreshing pleasures of a meal outside your own—or any!—four walls.
Note that as of press time, state regulations mandate that restaurants serve groups of 6 or fewer at any one table and space tables 6 feet apart. Diners must wear face coverings on restaurant property unless seated at a table, so bring your chicest or cutest face masks for the whole family!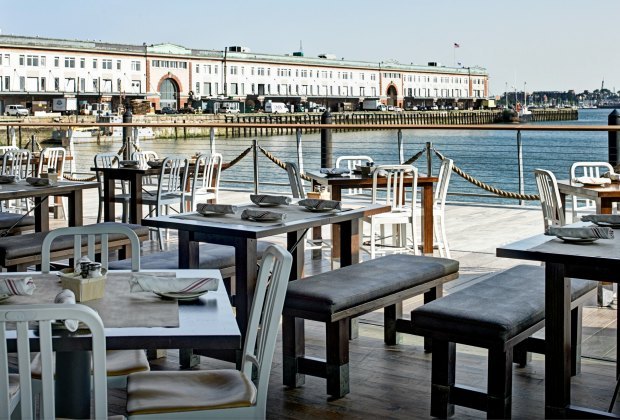 Legal Harborside offers exciting seaside and city views. Photo by Heath Robbins
2020 update: The patio is open for dining, and plans are underway to open the rooftop for meals, too.
Legal Harborside made our recent list of places to dine where kids can be entertained, too. That's because it's one of the most scenic outdoor dining spots in town, with ample opportunities to watch boats cruise in and out of the harbor.
2. Pier 6 — Charlestown
2020 update: The patio is open for dining, and online reservations are strongly encouraged.
Pier 6 serves up amazing waterfront views, too, as well as a nicely curated kids menu featuring grilled cheese, burgers, or salmon with the restaurant's delicious homemade chips. Ice cream sandwiches featuring cast iron-skillet-made chocolate chip cookies are a must for dessert.
3. Picco — South End
2020 update: The new patio at the corner of Berkeley and Tremont is open for outdoor dining.
There's plenty for kids to like at Picco (seriously, do you know any kids who don't like pizza and ice cream?), but this place is really a treat for the adults, with a nice selection of beer, wine, gourmet pizzas and desserts. The "Adult" Ice Cream Soda, with raspberry Belgian Lambic poured over vanilla ice cream, is reason enough to visit Picco. The large patio has ample seating and is great for people watching.
2020 update: The restaurant is open for outdoor dining Tuesday to Saturday, and is working with the city to expand its sidewalk seating space.
The sports bar has a lengthy row of outdoor tables under shade, and plenty of kid-friendly food, from cheeseburger egg rolls to tacos to trusty chicken tenders and grilled cheese.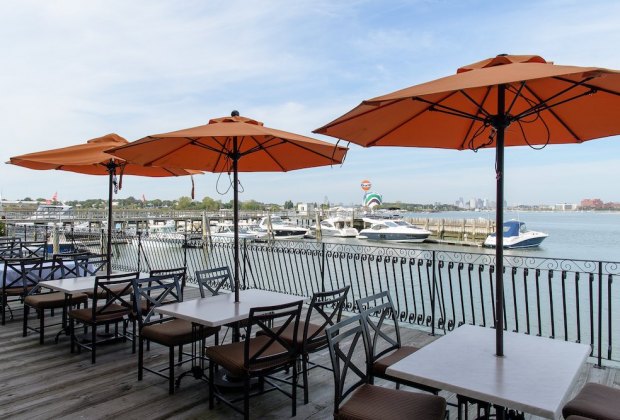 Kids can watch the boats go in and out of Boston Harbor as they enjoy pasta and pizza at Venezia.
6. Venezia — Dorchester
2020 update: Reservations are strongly recommended for outdoor dining.
The waterfront views at Venezia are arguably tops in Boston, and we love the extensive Italian menu that features pasta, pizza, calamari, and more.
2020 update: There's limited seating on the patio, so reservations are strongly recommended.
Tuck into fresh tacos, tortas and shared plates at Naco Taco in Central Square. The simple, yet inspired food is sure to please even the pickiest palates. And you can enjoy it on the restaurant's ample patio, where the tables have umbrellas to catch some shade on really hot days.
2020 update: Backyard patio dining is available, with dinner served Monday to Thursday and lunch and dinner served Friday to Sunday.
When (delicious) tater tots and chicken fingers are on the standard appetizer menu, you know the joint is going to be family friendly. For the more virtuous, there are plenty of yummy salads and grain bowls, too. There's sidewalk seating as well as a backyard patio open for 2020.
9. Shake Shack — Chestnut Hill (Watertown and Dedham are other locations)
2020 update: Diners ordering Shake Shack are welcome to eat on their outdoor patio spaces (and some locations are opening their indoor spaces, too, but call ahead for updates).
The delightfully decadent meals at Shake Shack will appeal to both parents and kids alike. Head to the Chestnut Hill location for juicy burgers, crunchy fries, and thick, creamy shakes. There's a big lawn with kid-sized benches so little ones can eat and run around while mom and dad enjoy their meal at nearby shaded tables. That's a win-win.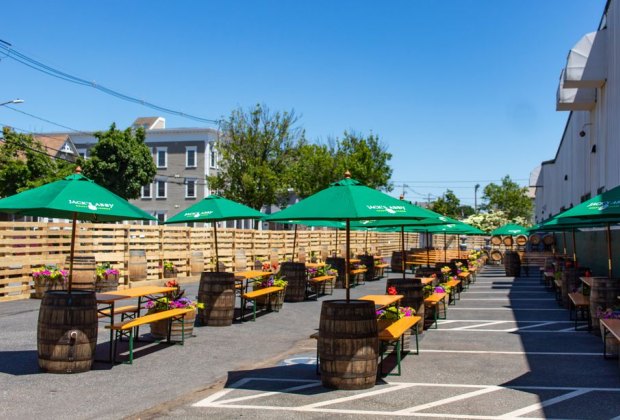 The backyard patio seats 150 at Jack's Abby.
2020 update: Reservations are required. The expansive array of outdoor seating can accommodate 150 diners.
This west suburban beer garden has a fun, spacious, and family-friendly atmosphere. Kids will enjoy wood-fired pizzas, and grown-ups will love the wide selection of craft brews.
2020 update: Guests are encouraged to make reservations and then order through the Lookout Farm website once seated.
Long beloved for its u-pick apples, peaches, and plums, Lookout Farm debuted outdoor dining on its 180 rolling acres this summer. Kids can nosh on sandwiches, lobster rolls, and other New England faves while parents enjoy beers and hard cider, all while taking in the surrounding farm views and fresh air. Families will enjoy taking a scenic walk in the orchards before or after eating.
2020 update: Heritage is accepting reservations for dining on its patio or lawn, where there are tables as well as Adirondack chairs for seating.
Farm-to-table food is the star at Heritage, but kids will also appreciate their mini pizzas, mac 'n cheese, and hot dogs (there's a haute dog version for grown-ups). The spacious lawn allows families to spread out and kids to get their wiggles out before or after eating.
---
Originally published May 2012; all photos courtesy of the restaurants