Best Outdoor Dining in Boston at Family-Friendly Restaurants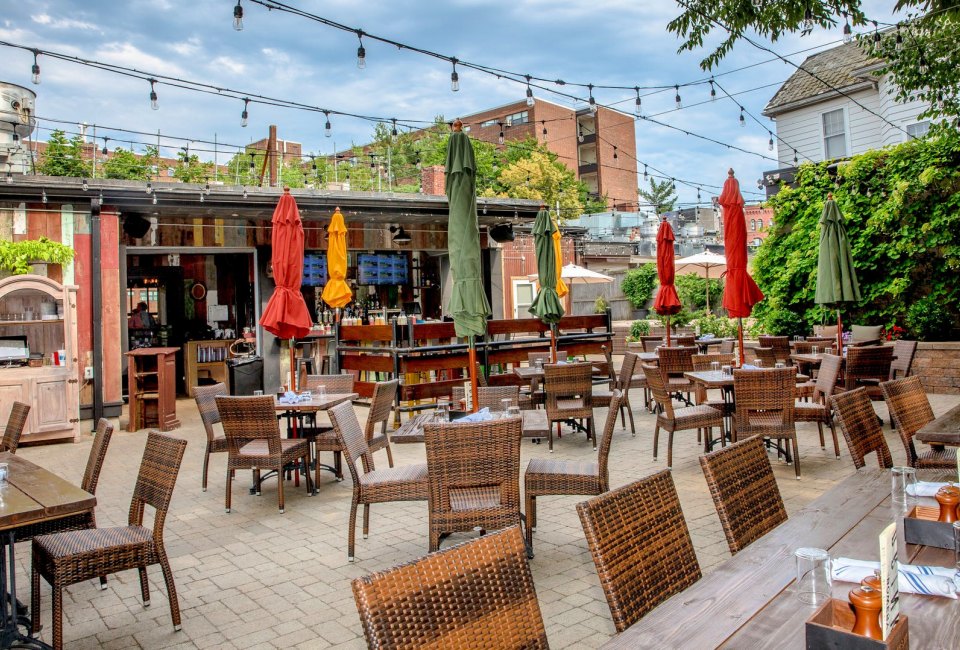 5/12/23
- By
Kelley Heyworth
With exciting views and kid-friendly vibes, these restaurants with outdoor dining near Boston are always a good choice for a family. From a city dock to a suburban orchard, outdoor restaurants offer families a chance to get out for a bite and enjoy the fresh air. Many even offer up green space and added activities and games to keep little diners—and their parents—happy and content throughout the whole meal.
Some of these great outdoor restaurants even made our list of places where kids can play while you relax, the ultimate combination for happy dining as a family. Check websites or call before heading out to find out each individual restaurant's policies about reservations and enjoy the refreshing pleasures of a meal outside!
Best Outdoor Dining in Boston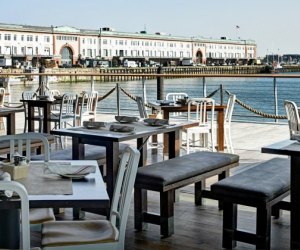 Legal Harborside offers exciting seaside and city views. Photo by Heath Robbins
Legal Harborside made our list of best places to dine where kids can be entertained, too. That's because it's one of the most scenic outdoor dining spots in town, with ample opportunities to watch boats cruise in and out of the harbor. Grab a seat on the patio or rooftop to soak up the rays. While reservations can be made ahead of time, outdoor seating cannot be reserved. Diners can request an outdoor table once they've arrived for their reservation, so try to plan your visit for a less busy time.
2. Pier 6 — Charlestown
Pier 6 serves up amazing waterfront views, too, as well as a nicely curated kids' menu featuring grilled cheese, burgers, or pan seared chicken—all with the restaurant's delicious homemade chips. Cast iron-skillet-made chocolate chunk cookie with vanilla ice cream is a must for dessert. While reservations are accepted, patio seating is on a first-come, first-serve basis.
3. Picco — South End
There's plenty for kids to like at Picco (seriously, are there any kids who don't like pizza and ice cream?), but this place is really a treat for the adults, with a nice selection of beer, wine, gourmet pizzas, and desserts. The "Adult" Ice Cream Soda, with raspberry Belgian Lambic, poured over vanilla ice cream, is reason enough to visit Picco. Their small patio is open for walk-in service only. Keep tabs on this restaurant, as they also plan to open up more outdoor dining when the summer weather heats up.
The sports bar has a long row of tables for outdoor dining in the shade. There's plenty of kid-friendly food, from cheeseburger egg rolls to tacos, to trusty popcorn chicken and quesadillas. Parents love the Maine lobster street tacos and the selection of salads, sandwiches, and bowls. Don't forget the churros for dessert.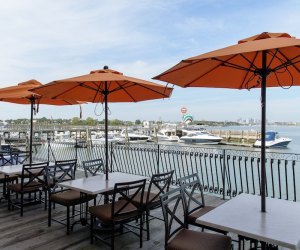 Kids can watch the boats go in and out of Boston Harbor as they enjoy pasta and pizza at Venezia.
6. Venezia — Dorchester
The waterfront views at Venezia are arguably some of the best in Boston, and it was even rated as one of the most scenic restaurants in America a few years back. Families love the extensive Italian menu that features pasta, pizza, calamari, and more. Reservations are strongly recommended for outdoor dining.
Dig into fresh tacos, tortas, or shared plates at Naco Taco in Central Square. The simple, yet inspired food is sure to please even the pickiest palates. Enjoy a wonderful meal on the restaurant's ample patio, where the tables have umbrellas to catch some shade on really hot days. Reservations for the patio are strongly recommended.
When (delicious) tater tots and chicken fingers are on the standard appetizer menu, Cambridge Common makes for a family-friendly experience. For the more virtuous, there are plenty of yummy salads and grain bowls, too. Offering a heated and tented backyard patio, guests can dine outside no matter what the weather is like. They open for lunch starting at noon from Monday to Saturday. On Sunday, they open starting at 11:00 am for brunch.
9. Shake Shack — Chestnut Hill (Watertown and Dedham are other locations)
The delightfully decadent meals at Shake Shack appeal to both parents and kids alike. Head to the Chestnut Hill location for juicy burgers, crunchy fries, and thick, creamy shakes. There's a big lawn with kid-sized benches, so little ones can eat and run around while mom and dad enjoy their meal at nearby shaded tables. That's a win-win. For other locations, diners ordering at Shake Shack are welcome to eat on their outdoor patio spaces.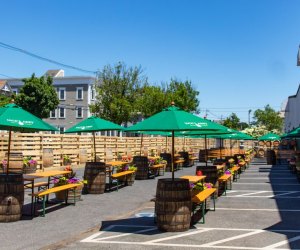 The backyard patio seats 150 at Jack's Abby. Photo courtesy of the restaurant.
This west-suburban beer garden has a fun, spacious, and family-friendly atmosphere, and their beer garden reopens in May. Kids enjoy wood-fired pizzas, and grown-ups love the wide selection of craft brews. Reservations can be made up to a month in advance and are strongly recommended. The expansive array of outdoor seating can accommodate 150 diners.
Long beloved for its u-pick apples, peaches, and plums, Lookout Farm debuted outdoor dining on its 180 rolling acres a few years ago. Kids can nosh on sandwiches, lobster pot pie, and other New England faves while parents enjoy beers and hard cider, all while taking in the surrounding farm views and fresh air. Guests are encouraged to make reservations and then order through the Lookout Farm website once seated. Families enjoy taking a scenic walk in the orchards before or after eating.

Have a relaxed meal at a picnic table in the field, and then burn off some energy walking around the orchard at Lookout Farm. Photo courtesy of The Swellesley Report
Farm-to-table food is the star at Heritage, but kids also appreciate their mini-pizzas, mac n'cheese, and hot dogs (there's an haute dog version for grown-ups). The spacious lawn allows families to spread out for outdoor dining. Kids can also get their wiggles out before or after eating! Heritage is accepting reservations for dining on its patio or lawn, where there are tables, as well as Adirondack chairs for seats, and fire pits and heaters for cooler nights.
Pull up a seat at one of the crab shack's picnic tables with waterfront views along Fort Point Channel. While dining at night, enjoy the twinkle of stranded lights strung from lobster traps. While there are a few non-fish options, this outdoor restaurant is known for its seafood—thus the name. Picnic tables are first-come, first-serve. Food can be ordered online for pickup upon arrival.
Serving up dinner during the week, with the addition of lunch and brunch on the weekends, this restaurant has a rotating menu, but the staple is the rotisserie chicken. For kiddos, the "Little Chicken" menu offers kid-friendly options including a burger, mac and cheese, pasta, and for little chickadees that finish their meal, an ice cream sundae (if mom and dad say it's ok)! The open-air patio offers outdoor dining complete with bocce ball—which is the real draw.
The Insta-worthy swings aren't the only attraction at The Lawn on D. Make a reservation for a high-top table and to enjoy a meal out with plenty of space for the kids to get up, run, and stretch their legs. The menu is filled with burgers, tacos, and sandwich meals, or opt for small plates like pizza, chicken tenders, and caramel popcorn to share—what kid doesn't prefer to snack after all?! The lawn also features games like Jenga and cornhole. Pickleball is coming so check their calendar for a list of events. The lawn officially opens for the season in early May.
Grab a seat on the outdoor patio to kick back and relax. The best part? This place is casual, and antsy kids don't need to stay seated the entire time. Hop up for a quick game of Jenga or cornhole before, after, or even during the meal. The kids' menu sticks to the obvious staples like burgers and chicken fingers, with Hoodsie cups for dessert. While the kids are happily playing and eating, adults can enjoy some comfort food and grab a beer from the rotating tap, featuring local New England brews. When the summer weather heats up, this patio even has a misting system to keep everyone cool.
Located at Somerville's Bow Market, this brewery has ample outdoor seating to kick back and sip on a brew or caffeinated beverage from their onsite cafe. While the brewery itself doesn't have a kitchen, it's actually a win. Delivery or takeout can be ordered from any of the Bow Market restaurants. For picky kiddies, order from multiple restaurants to satisfy everyone's taste buds.
This restaurant boasts a large patio for outdoor seating. It does not take reservations, so plan on visiting at less popular times or pack some entertainment in case there's a wait for an outdoor seat. While there's no designated kids' menu at this eatery, Brewer's Fork is all about family and creating dishes that everyone will enjoy, even the littlest of patrons. Sandwiches and pizzas dominate the menu, so it's pretty foolproof.
Eating at Joe's is a good option because it is directly across from the Christopher Columbus Playground. The kids' entrees come with a drink and a small sundae. The kids can play at the park and burn off all that calories after their meals. There is outdoor dining but you may need to make a reservation during nice weather days to get an outside seat.
Honorable Mention
Although this is not a full-service restaurant, this casual outpost sits right on Boston Common, so there's plenty of room for the kids to spread out and enjoy the fresh air. There are also plenty of outdoor tables to relax, eat, and watch the kids play. Adults can enjoy a variety of hot sandwiches, wraps, salads, soups, and pizza. For the kids, there are pizza bread, which is like a cheese pizza, grilled cheese sandwich, turkey with Swiss cheese sandwich, and yummy cookies and brownies. Sunday through Thursday, they close at 6 pm. On Fridays and Saturdays, they close at 7 pm.
---
Originally published May 2021. Updated May 2023. All photos courtesy of the restaurants.
Click Here to Sign Up!