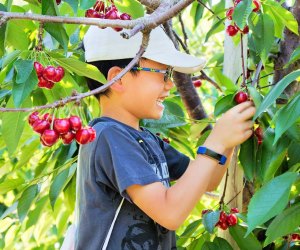 Where to Pick Peaches, Plums, Cherries, Corn, and More With Kids Near Boston
High temps mean it's high time for Boston-area kids to pick late-summer produce, like peaches, pears, raspberries, plums, cherries, corn, and more—even currants! Children who enjoyed hunting for strawberries and blueberries on local farms in June and early July will have a blast plucking (and sampling) stone fruits and more at these 22 nearby farms in Massachusetts and New Hampshire.
For another fun u-pick experience that will lead to a beautiful centerpiece of sunflowers, snapdragons, and more for your summer table, consider a visit with kids to these flower farms around Boston. Or, pick your favorite flavor at these local farms with homemade ice cream. And be sure to bookmark our post on places to pick apples with Boston kids—some varieties are ripe starting late August. Happy harvesting!
Where to Pick Summer Fruits West of Boston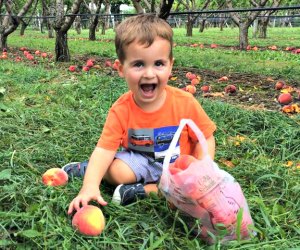 Stone fruit, like peaches, are easy for little hands to pick. Photo courtesy of Belkin Family Lookout Farm
Belkin Family Lookout Farm — South Natick
You'll find peaches, nectarines, and plums in the summer, plus pears, apples, and pumpkins in the fall, for picking at the Belkin Family Lookout Farm. The farm is super family-friendly, with a small train, children's play area, and farm animals.
OUR LATEST VIDEOS
RELATED: Animal Farms and Petting Zoos for Boston Kids
Parlee Farms — Tyngsboro
Parlee Farms is practically a one-stop-shop for all your summer fruit-picking needs. They've got strawberries, blueberries, cherries, peaches, apples, pumpkins, and even flowers. The farm is also home to Annie's Animal Barn, where kids can get up close with sheep, bunnies, chickens, and baby goats.
Kimball Fruit Farm — Pepperell
The name says it all with Kimball Fruit Farm. You can pick strawberries, raspberries, blackberries, and apples at this third-generation family farm.
Doe Orchards — Harvard
This family-owned farm offers pick-your-own blueberries and raspberries starting after the July 4 holiday and going into August. Come back for a visit in the fall for apples. Doe Orchards doesn't allow you to pick peaches anymore, but the farm-grown fruits are still available for purchase at its stand.
Carlson Orchards — Harvard
This second-generation family farm has plentiful fields of raspberries, blueberries, peaches, and even nectarines available for picking in the summer (that's in addition to fall apples). Stop by Carlson Orchards' frog pond to see some wildlife, including lots of dragonflies, while you're at the farm.
Carver Hill Orchard — Stow
Carver Hill Orchard lets you select your own peaches, apples, cherries, raspberries, tomatoes, beans, eggplant, corn, peppers, blueberries, squash, and pumpkins during the growing season each year. Bring lunch to enjoy at one of the picnic tables on this picturesque farm.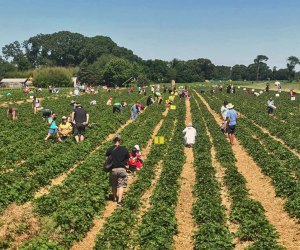 Raspberries are ready at Four-Town. Photo courtesy of Four Town Farm
Four Town Farm — Seekonk
There's a unique mix of things available for picking at Four Town Farm. Starting with strawberries in the summer and ending with pumpkins in the fall, you can pick peas, flowers, and raspberries in between.
RELATED: Boston-Area Farms with Pick-Your-Own Flowers
Nashoba Valley Winery — Bolton
While this next one is a winery, it's also kid-friendly in that they welcome families to the property to pick peaches and nectarines (and apples). Nashoba Valley has a new snack shack where you can purchase picnic lunches to enjoy outside before or after you pick.
Shelburne Farm — Stow
Head to Shelburne Farm to pick peaches and pears (along with apples and pumpkins) and get one of the farm's legendary cider doughnuts. There's also a spot to buy lunch as well as hayrides and a children's play area that opens in the fall.
Sunshine Farm — Sherborn
Come to Sunshine Farm to pick strawberries, raspberries, blueberries, and peaches in the summer and stay for a scoop of ice cream or a fresh baked good. The farm also offers community-supported agriculture (CSA) shares and a farm stand with fresh-picked produce.
RELATED: Farms with Homemade Ice Cream around Boston
Tangerini's Spring Street Farm — Millis
Peaches and plums are new this year to Tangerini's Spring Street Farm, which has a huge selection in their pick-your-own fields. Summer fruits and vegetables include strawberries, raspberries, blueberries, tomatoes, peppers, eggplants, peaches plums, and even wildflowers (and apples and pumpkins in the fall).
Tougas Family Farm — Northborough
At Tougas Family Farm you can pick strawberries, blueberries, raspberries, cherries, peaches, apples, and pumpkins. While you're at the farm, visit the barnyard, playground, and farm store to pick up a treat.
Wright-Locke Farm — Winchester
This farm offers u-pick raspberries, but there are also lots of other things to do during your visits. Visit with the barnyard animals that call Wright-Locke Farm home, take a stroll on of their walking trails, or plan your visit around the farm's family night celebrations.
Ward's Berry Farm — Sharon
You can pick your own strawberries, blueberries, and pumpkins at Ward's Berry Farm. The farm store offers lots more farm-grown fresh produce, fresh baked goods, a deli counter, and a smoothie bar.
Where to Pick Summer Fruit North of Boston
Brooksby Farm — Peabody
Come to family-friendly Brooksby Farm during the summer to pick your own raspberries, blueberries, and peaches. The farm welcomes kids with a large sandbox full of toys and a brand new play area with slides perfectly sized for little pickers.
Connors Farm — Danvers
While Connors Farm really wows in the fall with its hayrides, corn maze, and other seasonal attractions, there's plenty to do in the summer too. The main attractions are blueberry and raspberry picking, which you can do all summer long. Don't miss a visit to the well-stocked farm stand.
RELATED: Spots to Take a Fun Hayride with Boston Kids
Russell Orchards — Ipswich
Just before you get to Crane Beach, you'll find Russell Orchards, a scenic farm where you can pick strawberries, raspberries, currants, blueberries, blackberries, and apples. The farm store also sells fresh vegetables, like tomatoes and asparagus, and wine tastings are offered in the afternoons Friday-Sunday (for adults only, of course)!
Smolak Farms — North Andover
You can pick a lot of fruit at Smolak Farms: strawberries, raspberries, blueberries, currants, peaches, plums, and apples. You can also hop aboard a hayride or stop by the animal area, where you can see llamas, alpacas, pigs, and more.
Boston Hill Farm — North Andover
Starting with strawberries in the spring and ending with apples and pumpkins in the fall, you can pick it all at Boston Hill Farm. Pick-your-own raspberries, blueberries, and peaches are available all summer long, alongside a bounty of eggs, pies, and honey at the farm stand.
Cider Hill Farm — Amesbury
There's a lot to love about Cider Hill Farm. For starters, you can pick blueberries, raspberries, peaches, and nectarines in the summer (come back in the fall for apples). After you work up an appetite picking fruit, snag a freshly made cider doughnut or a whole meal from The Pitchfork onsite food stand (open Thursday through Sunday).
Turkey Hill Farm — Haverhill
While Turkey Hill Farm is most known for its beautiful selection of Christmas trees, it's also open in the summer and early fall for raspberry, blueberry, and flower picking. Stop by this bucolic hilltop farm to pick a bouquet and berries for a pie (or just for snacking in the car on the way home).
Applecrest Farm — Hampton Falls, NH
Just over the border into NH, Applecrest Farm offers U-pick strawberries, blueberries, apples, raspberries, peaches, pumpkins, and cut-your-own flowers. They've also recently added an ice cream stand to their farm, so make sure to grab a cone while visiting!
Originally published in 2017