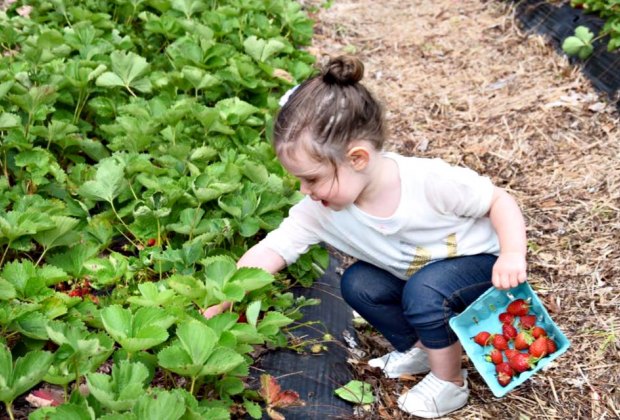 Where To Pick Strawberries with Kids Near Boston
When it comes to pick-your-own produce, I don't think there's a better fruit for kids to pluck than the strawberry. The plants are close to the ground, and the berries are accessible without having to reach way into the plant. Ripe berries are clustered together, so kids have the satisfaction of picking a lot in a short period of time. Searching for ripe, jewel-colored specimens feels like an exciting treasure hunt. And no prickers!
June is "strawberry month" and most farms are open for picking by mid-month, but some are ready even sooner. Read on for farms where you can plan a trip to pick your own strawberries, followed by tips for getting the most out of the experience.
Tougas Family Farm—Northborough
Strawberry picking begins at this farm mid-June, and if you visit towards the end of the month you may get to pick cherries too. In addition to fields for picking, Tougas Family Farm has a barnyard, playground, and farm kitchen with family-friendly activities that kids can enjoy. After picking fruits, visit the barnyard to see the goats climb their mountain of stone and then enjoy farm fresh homemade baked goods, ice cream, and strawberry donuts at the Tougas Farm Kitchen. Check the website or call for current conditions and hours. 508-393-6406
Marini Farm—Ipswich
Marini Farm offers pick-your-own strawberries and usually opens its fields for picking by mid-June; check the website for the picking schedule. While you're there, visit the farm stand, where you can find Marini farm-grown produce, additional fruit and vegetable selections, and fresh local bakery items, Richardson's Dairy products, Danvers Butchery meats and a variety of specialty food items. The farm stand opens in April and the Bakery opens up June 1st. Visit for their annual Strawberry Festival to enjoy pony rides, bouncy houses, hayrides, and more! The farm stand is open daily from 9 am to 5 pm. Check the Marini Farm website or call for current picking hours and conditions. 978-356-0430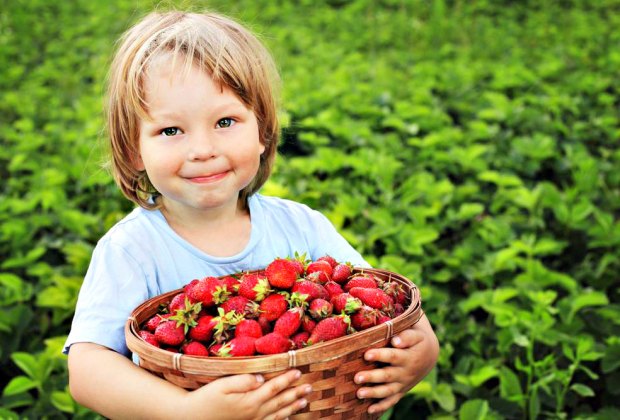 Photo courtesy of Smolak Farms
Smolak Farms—North Andover
After you pick your strawberries at the Strawberry Pick Your Own location, head to the main farm for the playground and farm animals. On festival weekends, the farm offers hay wagon rides, duck races, and wee wagons. Children's activities are plentiful, so plan some time to take advantage of what's available while you're there. The farm opens daily from 7 am to 6 pm; animal areas and playground are open during regular hours. Check the website for seasonal festivals and events, as well as daily picking times and conditions. 978-682-6332
Russell Orchards—Ipswich
Russell Orchards is a familiar and beloved family farm, made up of 120 acres of fruit trees, berries, vegetables, fields, and animal barns. Visit the farm for u-pick, and also stop by the bakery, famous for its homemade cider donuts. The farm is open daily from 9 am to 6 pm; check the farm's website or call for updated picking hours. 978-356-5366
Photo courtesy of Sunshine Farm
Sunshine Farm—Sherborn
Sunshine Farm's pick-your-own strawberries are typically available beginning in mid-June; check the website for crop updates. In its farm stand, look for a unique line of gourmet preserves, salad dressings, cheeses, local eggs, and breads. The farm also has an ice cream stand with tons of flavors. The farm is open daily Memorial Day to Labor Day, 12 pm to 9 pm. Check the website or call for picking dates and times. 508-655-5022
Parlee Farms—Tyngsboro
Parlee Farms is a pick-your-own farm that also has a farm stand, a bakery offering fresh fruit desserts & ice cream, and Annie's Animal Barns with over 60 friendly animals to feed and pet. Open every day but Mondays; check the farm's website for current picking conditions and hours or call ahead. 978-649-3854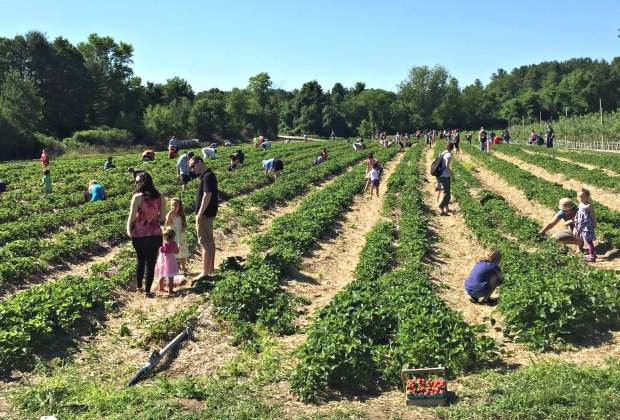 Photo courtesy of Parlee Farms
Cider Hill Farm—Amesbury
Strawberry picking starts sometime in June at this farm, with a big Strawberry Festival mid-June. Along with PYO, make sure to stop into their farm store to try out their famous cider donuts, hit up the food truck for a meal and bring the kids to play in the Tyke Yard and Sandbox! Beginning in May, the farm is open 7 days a week, 8 am to 6 pm. Make sure to visit the farm's website or call ahead, 978-388-5525, to check on picking schedules and conditions.
Belkin Family Lookout Farm—Natick
Spend the day at this farm that not only boasts a u-pick strawberry field but a great children's area as well. Take a ride a train through the orchards, climb a hay pyramid, and more. Visit on Saturdays and Sundays and there is even face painting and live entertainment. Note, there is an admission fee to visit this farm. The farm is open daily, from 10 am to 5 pm.
Good to know before you go strawberry picking:
Hours and availability vary depending on the weather and foot traffic in the fields, so definitely check the farm's website or call ahead for the schedule the morning you plan to go. Also, be aware that sometimes they get "picked out" and other times crops are ready before or after the times listed on the website or their Facebook pages.
Wear comfortable clothes that you don't mind getting dirty and footwear that is comfortable for walking. Wear sunscreen and hats.
Look at the farm's website before you plan your day—several farms have other activities that kids will enjoy in addition to picking.
If you don't have time to pick your own berries, or if the kids would rather visit with farm animals or play at the playground, you can still go home with sweet, mouthwatering strawberries, as most locations also sell their berries at their farm stands.
Check back later in the summer for more summer fruit posts!
Originally published in May 2012; updated May 2014, 2015, 2016, 2017, 2018, 2019