Best Things To Do in Boston this Weekend with Kids: Disney on Ice, Night Sky with Big Bird, and Sledding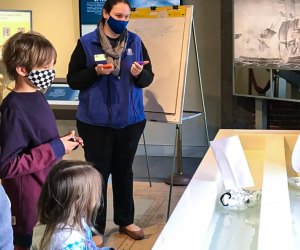 Looking for the best things to do in Boston this weekend? Here are some family-friendly events and activities to add to your list for this weekend.
With snow in the forecast, kids are going to want to take sleds out this weekend; we can point you toward 12 of Boston's best sledding hills. If you'd like to mix a little culture in with your fresh air, though, swing by the DeCordova Sculpture Park for ARTfull Explorations (for bigger kids) or a Make It ARTfull workshop (for preschoolers). Of course, you'd be forgiven if you choose to stick with indoor nature experiences in these temperatures, and some favorite characters make that easy: experience ice the Disney princess way at Disney on Ice, or swing by the Science Museum to take in the night sky with Big Bird.
For more ideas on what to do this weekend in Boston, find great Winter Day Trips to take with kids or look through our list of The 30 Best Winter Activities.
More Things To Do in Boston this Week with Kids:
Note: Many locations in Boston are requiring masks be worn indoors and some venues are requiring proof of vaccination, or a negative COVID-19 test, for entry. Check locations for specific details. If you are traveling to an activity outside of your state or local area, check for any travel restrictions, advisories, or quarantine orders.