WinterFest, Snowy Fun, and More Things To Do in Boston This Weekend with Kids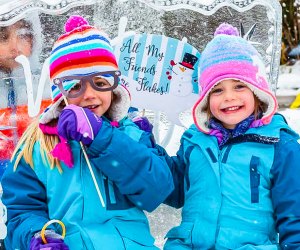 Looking for the best things to do in Boston this weekend? Here are some family-friendly events and activities in the area to add to your list for this weekend.
Time to get outdoors and enjoy all that winter has to offer us this weekend. Newton hosts their 2nd Annual WinterFest, with winter walks, ice sculptures, and visits from Frozen characters. Head down to Ipswich for a Snowy Owl Prowl (bring your binoculars), and a hot chocolate hike. Speaking of chocolate, sweets connoisseurs have to check out The Chocolate Expo in Wilmington. For those looking to keep warm indoors, hop over to the Kids Who Mean Business fair to support young entrepreneurs.
To find the right activity to fit for your family's weekend, peruse our event calendar for great options. And for more great activities, check out our guide to the Best of January: Top Things To Do in Boston with Kids. And be sure to explore 50 Snowday Boredom Busters for winter-weather fun indoors!