Early July 4th Fun and More Fun Things To Do in Boston This Weekend with Kids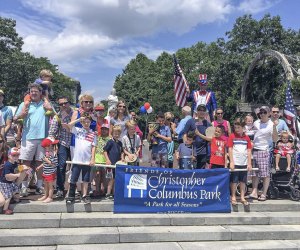 Looking for the best things to do in Boston this weekend? Here are some family-friendly events and activities in the area to add to your list for this weekend.
We've made it through Father's Day and Junteenth celebrations, and we're gearing up for the Fourth of July. There's so much fun to be had this weekend in Boston and the suburbs. Pride month is wrapping up, and there are a number of events available to help you and your kids celebrate individuality and diversity. There's the North Shore Pride Festival--and Parade--in Salem, a STEM-oriented salute to Pride at the Waterworks Museum, and Drag Queen Story Hour in the Seaport. If the weather is nice, take a boat ride to Georges Island and watch a game of America's pastime, played as it was in the Civil War era. And if you're anxious to get the patriotic festivities going, there are a few spots that are holding celebrations as early as this Saturday, such as Christopher Columbus Park and Braintree.
Of course, if none of these sound like the perfect fit for your family's weekend, peruse our event calendar for more great options.
If you haven't booked summer camps for this season, remember that those programs fill up early; check out our Boston Summer Camp Guide.