Black-Owned Restaurants, Shops, and Landmarks to Discover in Boston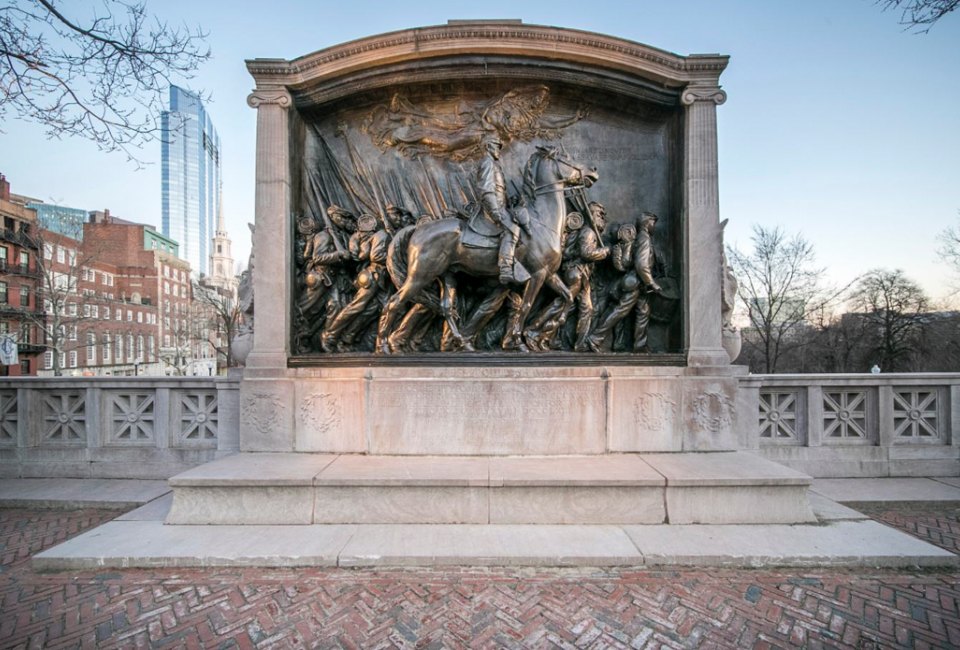 2/6/22
- By
Catherine Aillon
There's more to the month ahead than just Valentine's Day and Presidents Day: February brings Black History Month, officially observed since 1976, though its roots date to 1926. From a walk on the Black Heritage Trail to a tour of the African Meeting House to tasting fine chocolates at Chocolate Therapy, we've got plenty of suggestions for ways to celebrate and support the dynamic Black-owned businesses and African American historical sites in Boston—not just in February, but all 365 days of the year.
For more great kid-friendly activities and events to celebrate Black History month, browse our Boston events calendar— and don't miss our list of Children's Books to Celebrate Black History Month.
African American Historical Sites in Boston: The Black Heritage Trail
Your family can take a self-guided tour anytime on this trail that contains sites that are related to African American history. If you can't make it in person, you can take an educational virtual tour anytime that highlights some of the sites on the Black Heritage Trail. These are some of our favorite sites to visit with kids.
If you've seen the movie Glory with Denzel Washington, Morgan Freeman, and Matthew Broderick, then you know a little bit of the history of the 54th Regiment. This Civil War monument commemorates the brave men who fought in the Massachusetts 54th Regiment, the second African American regiment organized in the North. The monument is located across from the Massachusetts State House in Boston Common, the oldest city park in the United States.
Located in the Abiel Smith School, the nation's oldest public school for African-Americans, this Beacon Hill museum is a great stop to hear stories and learn about the men and women that shaped US history. Check the museum's website for admission information.

George Middleton House, a historic African-American home on Beacon Hill. Photo courtesy of the NPS
George Middleton led an all-black militia troop during the American Revolutionary War and was honored by Governor John Hancock for his services. After the war, he founded the African Society. This house is the oldest standing home on Beacon Hill.
John J. Smith, a noted abolitionist and community leader, served as one of Boston's first Black city councilors and the second African American state representative. His daughter Elizabeth was one of the first African American teachers in Boston's integrated public school system.
Lewis Hayden, a Massachusetts legislator, was well-known for giving aid and shelter to self-emancipated men, women, and children at this Underground Railroad safe house.
This house had served as the First African Methodist Episcopal Church, later serving other denominations. Frederick Douglass, Harriet Tubman, and Sojourner Truth all delivered speeches at this historic location.

The African Meeting House, part of the Museum of African-American History. Photo courtesy of the NPS
Built by free African-American artisans in 1806, this building served as a church, a school, and a community meeting place. Frederick Douglass, a leading black activist and abolitionist of his time, made many speeches here.
More African American Historical Sites in Boston
Dedicated to preserving and fostering awareness of African American art, this museum's exhibits include relics and reproductions from ancient Nubia. The Nubians conquered Egypt and ruled as the pharaohs of the 25th Dynasty. The museum hosts art performances and arts education programs on a regular basis.

Statue of Phyllis Wheatley, African American poet and innovator. Photo by Lorianne DiSabato, CC BY-NC-ND 2.0
9. Boston Women's Memorial
Take your kids for a stroll along this tree-lined mall, which is beautiful year-round. In the wintertime, the trees are strung with miniature lights. The park has three sculptures of prominent women from New England: First Lady Abigail Adams, Lucy Stone (abolitionist and suffragist), and Phillis Wheatley. Wheatley was the first African-American author to publish a book of poetry. One of the most unique voices of early American literature, Wheatley spoke to an emerging national identity. The memorial is located near the intersection of Gloucester St. and Commonwealth Ave.
Support Black-Owned Restaurants and Bakeries
Start the year off by exploring local neighborhood eats with your kids while also supporting black-owned businesses. Many are family-owned and operated. The list below is just a small sampling. For a more extensive list, visit bostonblackrestaurants.com for a guide to the Boston Black Restaurant Challenge, or check out Boston Eater's spreadsheet.

The Blue Nile's vibrant Ethiopian Cuisine is sure to delight. Photo courtesy of The Blue Nile
Have fun exploring Ethiopian cuisine, which generally does not require utensils to eat. You would use injera (sour fermented flatbread) to scoop up all the deliciousness.
My family recently tried this cozy, casual dining spot near Boston Symphony Hall. We had the veggie rolls (red lentil stew and collard greens rolled in injera), Lega Tibs (lean beef chunks sauteed with onions and tomatoes), and chicken stew with boiled eggs—all standouts! The cafe also offers a number of vegetarian options.

Tuck in at Slade's, one of Boston's iconic Black-owned restaurants. Photo courtesy of sladesbarandgrill.com
Legendary Boston Celtic Bill Russell (Hall of Fame player and the first Black coach in the history of American professional sports) once owned this Roxbury spot. Known for hearty soul food, Slade's has hosted Martin Luther King Jr. and Muhammad Ali.
With restaurants, catering, and food trucks, Jamaica Mi Hungry specializes in traditional island favorites like jerk chicken and coconut shrimp; there are grilled cheese sandwiches for discriminating little palates. The counter service locations work for a bite on the go or a full dinner to take home.
This Somerville ice cream shop's products are 100% peanut, tree-nut, and sesame-free. Tipping Cow also offers unique flavors such as Irish stout, cannoli, and blueberry ginger ice cream.
This Dorchester bakery delivers award-winning cupcakes, pies, cookies, and other treats like authentic Jamaican rum cake.

February is ideal for a custom cake from one of Boston's Black-owned bakeries. Photo courtesy of Sweet Tooth Boston
Custom cakes from Sweet Tooth in South Boston take 3 to 7 days—and you'll understand why when you see the edible artistry.
Free from artificial colors or preservatives, the unique gourmet delicacies at Caked, like toaster tarts and truffle balls, come delivered to your door.
Clarke's uses plant-based ingredients for concocting delectable sweets. The vegan treats are available for pickup on Friday afternoons.
While most bakeries and restaurants try to accommodate food allergies, Cupcake Therapy has made it a mission. This Roslindale Square bakery has next-day pick up and delivery for its creative confections.

Frugal Bookstore shares a love of books with readers of all ages. Photo courtesy of the Frugal Bookstore, Facebook
Support Black-Owned Businesses in Boston
All these restaurants and businesses are open year-round so feel free to drop by anytime. For a business directory, you can refer to this spreadsheet.
This community bookstore in Roxbury has a passion for promoting literacy in local children, teens, and adults. If you can't find a book you want, the owners are happy to order it for you!
This Boston-based business offers nutrition-focussed baby essentials. The Little Cocoa Bean Co. also supports income-constrained families and non-profit companies.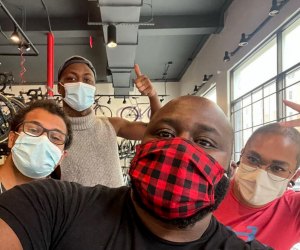 See what the crew at Crimson Bikes has to offer your little cyclist. Photo courtesy of Crimson Bikes, Cambridge
Crimson Bikes, open Friday through Tuesday, focuses on convenience and inclusion with customer-focused sales and repairs. The accessories and apparel are pretty cool too.
It's worth the trek out to Marblehead for a visit to this fun boutique with a play area for little ones.

Find your new favorite flavor at a Black-owned grocery. Photo courtesy of jallohafricanmarket.com
Explore African American Grocery Stores
Celebrate diversity by exploring these local neighborhood grocery stores. Make a meal with your kids using ingredients and spices from these stores:
Click Here to Sign Up!
i