30+ Children's Books to Celebrate Black History Month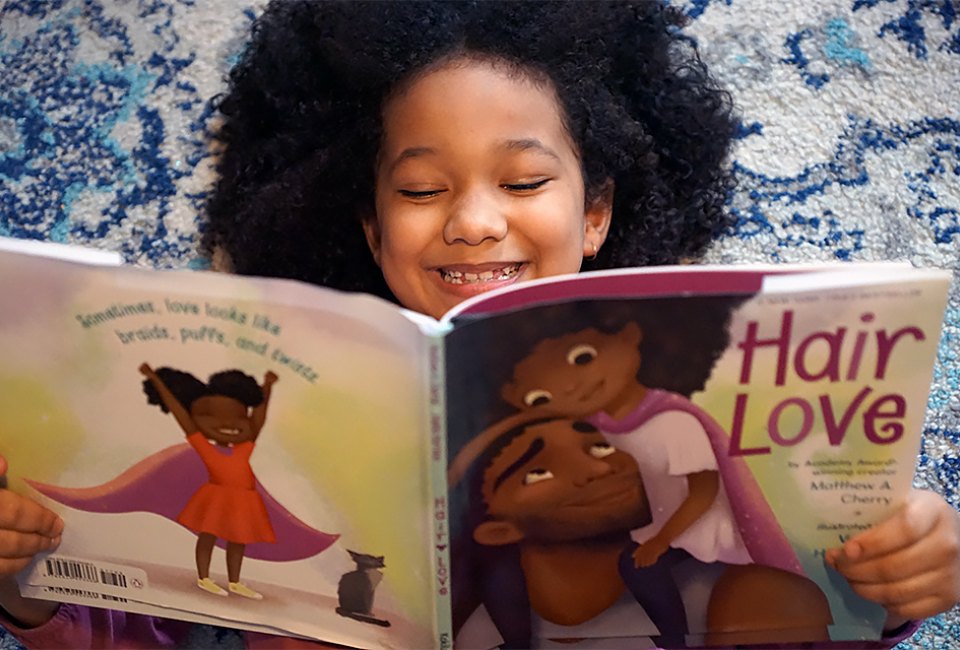 2/9/21
- By
Jody Mercier
Books have long been a key to happiness for me, and I've rarely said no to adding another tome to our collection when my kids have asked. A good book can transport you to another time and place and help you see the world through another's eyes—and it's that point that brings together this list of 30+ children's books to celebrate Black History Month.
To offer you a glimpse into my world, I'm a white mother, married to a Black man, raising three Black kids in the middle of Harlem. Many of the children's books on this list are in our own personal library, well-loved and worn from years of reading. Others are on the list because we're not quite ready for the tough topics they cover, and a few are aspirational picks we have yet to add.
Having these children's books in our library means my kids see themselves on the pages of books and are—hopefully—inspired by the powerful stories. But it's important to remember that representation matters not just for my kids, but for all kids. Seeing diversity on pages, and in media, normalizes it; it becomes the expectation instead of the exception.
Building our library—and indeed this list—has taught me more than a few powerful stories, and I hope you'll consider adding some of them to your own library for this month and always. For more powerful reads, bookmark our list of
21 books to teach kids about racism
.

Building a home library to include diversity makes representation the expectation, not the exception.
Illustrated Children's Books To Celebrate Black History Month
by Ezra Jack Keats
The most checked out title at the New York Public Library is an all-time favorite in my house, too. I can't walk down the street after a fresh snowfall without reciting its whimsical lines. This 1963 Caldecott Medal winner was one of the first major children's books to feature a Black protagonist.
by Matthew A. Cherry
Black girl hair is a crown to be worn and styled with pride. This endearing story is beautifully illustrated and highlights a powerful father-daughter relationship while Daddy styles Zuri's hair. You may have seen the Oscar-winning short of the same name.
by Kwame Alexander
Kadir Nelson's illustrations are as powerful as Alexander's words in this beautifully illustrated poem. Alexander's words tease powerful characters in the poem's verses and the message is driven home with bite-sized biographies in the appendix. Read the poem, then the biographies, and then re-read the poem to appreciate its artistry.

Little Leaders in Black History celebrates the significant contributions of Black women.
by Vashti Harrison
These books offer perfect history snacks: Harrison's beautiful illustrations accompany one-page biographies of notable leaders in Black history. They're perfect whether you need a quick fix at bedtime or want to lose yourself in the pages a little longer.
by Calvin Alexander Ramsey and Gwen Strauss
Chicago bred Ruth goes on a road trip with her family to segregation era Alabama and is introduced to the unfairness of Jim Crow laws. Ruth uses The Green Book to navigate her family safely through the rest of their journey.
by Robert Coles
Relive the true story of Ruby Bridges, the trailblazing 6-year-old who integrated William Frantz Elementary in New Orleans. My 7-year-old's eyes grow wide every time we read this powerful tale and see angry protesters lurching at Bridges.

Children can see that people who change the world all start out as kids, just like them.
by Brad Meltzer
I love that these kid-friendly, first-person biographies start with each protagonist as a youngster, often acting out or getting into trouble, then detail how these early characteristics ultimately blossom as building blocks for a powerful game-changing adult. Each book ends with a timeline of the character's life and some cool historical pictures.
by Grace Byers
This book has an almost melodic tone as you read, and gorgeous illustrations highlight the beauty of diversity in a self-esteem building, delightful read.
by Doreen Rappaport
Martin Luther King's life story plays out in this picture book biography, which weaves Rappaport's words with clips and quotes from King's life. I love letting my little one, a new reader, recite the larger-than-life quotes punctuating each page.

When a favorite book is part of your home library, it can be read again and again.
by Meena Harris
I ordered this book shortly after watching Kamala Harris deliver her victory speech, which still sends happy tears down my face but seems less remarkable and more "normal" to my two daughters. This based-on-a-true-story tale, penned by Harris' niece, gives youngsters a glimpse into the early years of the nation's most powerful woman.
by Barack Obama
You can almost hear the former president reading this book aloud as you turn the pages, each introducing a concept—strength, bravery, kindness—and a hero or heroine from all races, colors, and creeds, to look up to and emulate in this loving letter to Sasha, Malia, and children everywhere.
by Andrea Beaty
We love the entire "Questioneers" series in our house. Ada Twist is an endearing character with her Afro-puff ponies and constant "whys" as she works out problems big and small with the support of her parents and big brother, who are at times (relatably!), frazzled by all her queries.

This A-to-Z history is a great introduction to Black history for kids of all ages.
by Rio Cortez
This brand new book offers an A-to-Z history with brightly colored illustrations that make a perfect introduction to Black history from anthems to diaspora, Juneteenth, Black Power, and everything in between.
by Carole Boston Weatherford
A poem told in six-line stanzas—representing the six sides of a box—tells the true story of Henry Brown, who quite literally mailed himself to freedom in a custom-made box.

Brown Girl Dreaming is a beautiful collection of autobiographical poems.
Black History Month Poems and Books for Middle-Grade Readers
by Jacqueline Woodson
It's hard to go wrong with anything written by Woodson, one of the foremost contemporary Black authors—she's written everything from picture books to young adult novels. In Brown Girl Dreaming, Woodson offers an autobiographical collection of poems about her life, which my 11-year-old daughter says she loves because she can pick it up and read a poem at a time, and lose herself in its pages for much longer. It's one you'll read and re-read.
by Mahogany L. Browne, Elizabeth Acevedo, and Olivia Gatwood
At first sight, you might think this is a picture book, but the topics covered are a little too deep for wee ones. This collection of poetry invites kids to stay "woke" and join the ongoing fight for social justice.
by Nic Stone
Do Martin Luther King, Jr.'s messages still resonate today? That's the question Justyce McAllister asks in this journal to Dr. King, which is best for late middle schoolers and older.
by Margot Lee Shetterly
Even if you've seen the blockbuster movie, the book is always better (that's my motto anyway). Learn about the story of these heroic African American women mathematicians, dubbed "human computers," who helped put men on the moon.
by Evette Dionne
If you were paying attention to the 2020 election, you know how important the Black vote was to electing our new president, and Black women played an integral part in the mobilization of this traditionally marginalized demographic. It was far from the first time they've done so. In Lifting As We Climb, Dionne tells the story of Black suffragists who fought for the right to vote while fighting against white abolitionist suffragists.
by Lynda Blackmon Lowery
Learn about the 1965 voting rights march from the inside, as told in memoir form by Lowery, the youngest marcher to make the trek.

Several of these books, like The Hate U Give and Just Mercy, have been made into powerful movies.
Black History Month Books For Teens and Young Adults
by Angie Thomas
Thomas' blockbuster debut novel (subsequently made into a movie) follows Starr, a 16-year-old Black girl who witnesses the police killing of her unarmed best friend, Khalil, and its aftermath. Starr is forced to grow up quickly and—along with readers—confront the inequities of the system that works against her.
by Bryan Stevenson
Another before-it-was-a-movie pick, Just Mercy, is Stevenson's story of helping to free the wrongly convicted in Alabama, and has been described as To Kill a Mockingbird for modern times.

Honor the life and legacy of Congressman John Lewis by reading the graphic novels that tell the story of his life and work.
by John Lewis with Andrew Aydin
From Congressman John Lewis, this trio of books detail his life as a civil rights leader, working to end segregation. Told in graphic novel form, it offers a poignant look at the "good trouble" Lewis was known for.
by Maya Angelou
Angelou belongs in any home library, and her debut memoir (and the first piece in her seven-volume series) is a good place to start. The coming-of-age piece traces Angelou's remarkable early life.
by James Baldwin
The Harlem, New York-born and bred writer's first entree into the literary world is this 1953 classic, which is said to be semi-autobiographical. Another Baldwin bestseller, If Beale Street Could Talk, is also a worthy addition.
by Jason Reynolds and Brendan Kiely
Two talented, award-winning authors team up to tell the story of two talented, bright-futures-ahead high school classmates. One is white, one is Black, and one incident divides the nation and brings unspeakable truths to the forefront.
by Ilyasha Shabazz and Kekla Magoon
This fictional account is informed by the real-life of Malcolm X, as told by one of the human rights and civil rights activist's daughters. Told in the first person, it's a powerful, intimate portrait of the man.
by Toni Morrison
Another well-known Black author whose work belongs in your library, Beloved offers a haunting tale of a slave escaping to freedom, only to realize she's not really free.

These classics belong in every home library, even if your kids are too young for them right now.
by Zora Neale Hurston
Follow the life—and loves—of powerful female protagonist Janie Crawford in this 1937 novel, which, perhaps because it was ahead of the times, went unappreciated for decades. Now it is one of the most well-known works of the 20th century.
by Richard Wright
Set in the 1930s on the South Side of Chicago, this novel follows the troubled path of 20-year-old Bigger Thomas, and explores his downward spiral as not one man's problem, but the result of the systemic oppression of inner-city life.
Bonus: Forthcoming Black History Books Worth Pre-Ordering
by Amanda Gorman
Publication date: September 21, 2021
If you watched the inauguration, it was hard not to be transfixed by Poet Laureate Gorman. Her grace and presence on stage was a sight to behold. While you can already order The Hill We Climb, the forthcoming Change Sings is a beautifully illustrated "children's anthem," meant to inspire a new generation of changemakers.
Edited by Lilly Workneh
Publication date: Fall, 2021
We're sort of Rebel Girl superfans in my house. Much like the aforementioned Little Leaders books, Rebel Girls offer powerful one-page biographies accompanied by incredible illustrations. The most recent mini-pub Rebel Girls Lead: 25 Tales of Powerful Women was released to celebrate Harris' inauguration as VP. Black Girl Magic promises more of the same, with illustrations from talented Black female (and non-binary) artists worldwide.
Editor's note: If you click through the links to order these books, you'll be supporting local, Black-owned, independent bookshops in many of the cities Mommy Poppins calls home.
Photos by the author
t Click Here to Sign Up!