100 Things To Do in Boston Before Kids Grow Up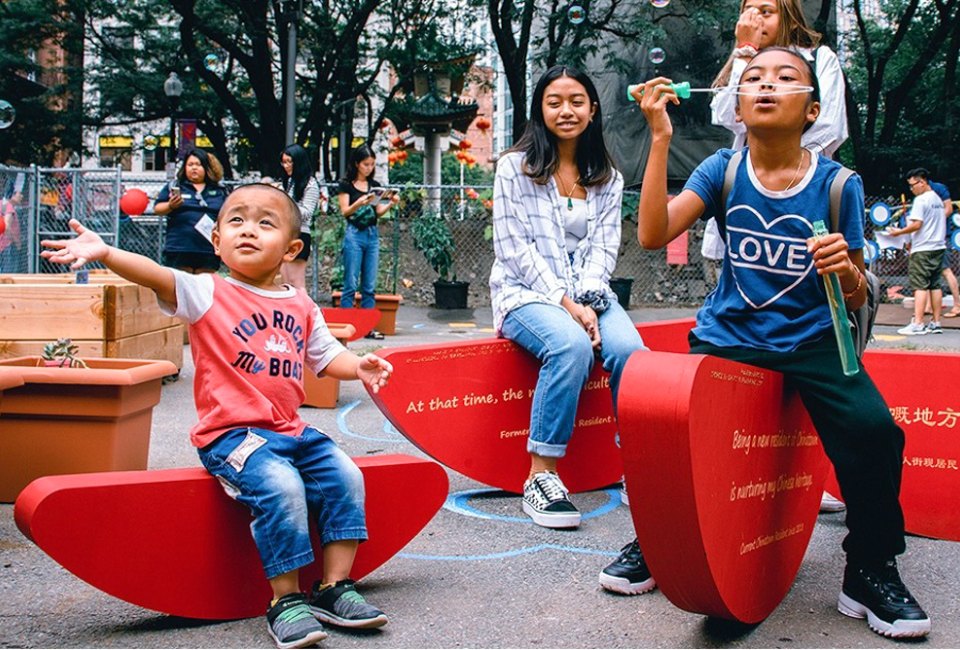 7/16/23
- By
Audrey Trieschman
There are so many things to do in Boston with kids. Steeped in history, compact, and easy to navigate (on foot, at least), Boston is the best city to raise kids. And Boston offers a wealth of opportunities for family fun that are hard to pass up. With our list of top family activities, Mommy Poppins can help to make sure you don't miss any of the best, most memorable things to do in Boston. We've included well-known favorites from the Freedom Trail to our glorious shoreline, as well as some of our more hidden local gems on this 100 not-to-be-missed, kid-friendly list of Boston activities.
Check out our Boston events calendar if you need still more things to do in Boston with the kids, or plan an excursion with our Day Trips Guide.
Things To Do in Boston Before Kids Grow Up
1. Take a tour of Fenway Park.
Go behind-the-scenes to learn everything about iconic Fenway Park. Kids under 3 are free!
2. Visit sea creatures at the New England Aquarium.
Get close to sharks, turtles, and other sea life at Boston's aquarium, including those local to New England.
Take your little artists to the museum on the last Saturday of each month for free. Play Dates offer a full day of activities—including hands-on art-making, performance, films, and more.
Opt for a self-guided or more organized tour and be on the lookout for the "sacred cod" on display.
5. Catch a free outdoor movie.
Grab a spot on a lawn in the summertime to watch free outdoor movies around Boston. Pack a picnic and get there early to score a good seat.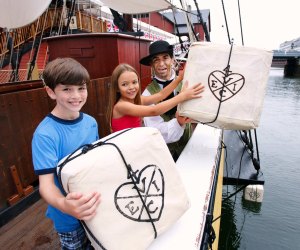 Throw tea boxes overboard at the Boston Tea Party Ships & Museum. Photo by Michael Blanchard Photography
Travel back to 1773 and throw tea over the side of the ship and into the harbor just like the patriots.
Bring a picnic and grab a spot on the Hatch Shell lawn to celebrate the 4th with some patriotic music.
Head to Wingaersheek Beach in Gloucester to search for tiny sea life at low tide or hit another family-friendly local beach.
Stop and smell native wildflowers at this magical garden just west of Boston.


The top things to do in Boston reveal magical places. Photo courtesy of the Isabella Stewart Gardner Museum
Gawk at priceless art and beautiful gardens in one gorgeous setting at this combined garden/museum.
11. Cheer on Boston Marathon runners.
Find a great spot along the marathon route to support the runners. Cowbells and signs welcome!
This little theater in Brookline performs weekly puppet shows just for kids. You can even throw a birthday party here!
13. Stop by the Frog Pond.
Go ice skating on the pond in the winter and cool off in the summer in the spray pool.
Enjoy a glassblowing demonstration and take a class to create your own masterpiece.
Learn about the Kennedy legacy at this museum. Make sure to check the calendar for special events before visiting.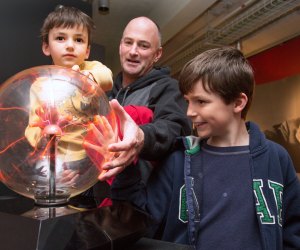 Get your hands on the plasma globe at the MIT Museum. Photo by Lisa Abitol
16. Explore science and technology at the MIT Museum.
Get your STEAM on and check out exhibits ranging from robots to holograms. Visit during school vacation weeks for added festivals and fun.
Home to where the Boston Tea Party began in 1773, a visit to this historical landmark is a must for little history buffs.


Visiting the Harbor Islands feels like journeying far from Boston! Photo courtesy of the Boston Harbor Islands website
Hop on a boat to this Harbor Island to explore and search for sea glass. Visit during July and August and you can score a free kite on your ride over.
Scramble up the giant climbing sculpture, make huge bubbles, visit a construction site, and so much more. Head outside after to hit the playground and board a pirate ship.
20. Take a ride on Swan Boats.
Go for a spin around the pond in the Public Garden in a one-of-a-kind boat.
Watch BC, BU, Harvard, and Northeastern battle it out during this annual puck tournament in February.
22. Ride the coasters at Six Flags.
Dare to go big with a day trip to Six Flags amusement park right outside of Springfield. It's one of our favorite New England theme parks.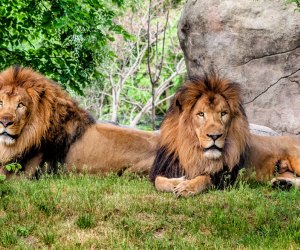 See the big cats at Boston's zoo, Franklin Park. Photo courtesy the zoo
Visit with gorillas, giraffes, lions, and more right in the middle of Boston.
Choose your favorite chowda, grabs some Boston baked beans, and top off the meal with—you guessed it—a Boston cream pie.
25. Stroll Hanover Street.
This North End street is a must-visit for any littles with a sweet tooth. Sample some Italian pastries from the famous Mike's or any of the other tempting bakeries.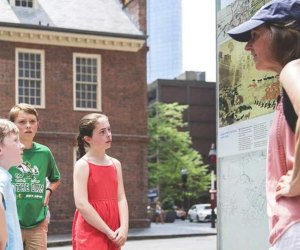 Boston lets you get some history and fun while getting your steps in! Boston By Foot photo courtesy of Little Feet Boston
Hit the streets to explore the rich history of Boston with either organized or self-guided tours that are just right for little legs.
This family-friendly art museum is a great place for budding little artists to explore. Don't forget to ask for a kids' activity tote with sketching supplies.
28. Burn off energy at Cambridge's Alexander Kemp Playground.
Climb hills, turn a crank to make water cascade, push a merry-go-round, and more at this creative playground. Keep the fun going and visit more of Boston's most unique playgrounds.
29. Stop in for storytime at the Harvard Coop.
Visit the downstairs children's section every Tuesday morning for a new story for kids six and under. Parents are encouraged to let new babies tag along too.
30. Explore the grounds of Gore Place.
Try out snowshoeing or take a walk with an activities bag from the visitors center.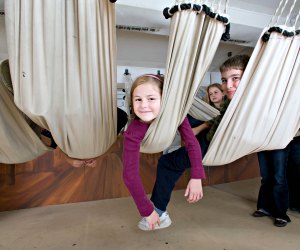 Test out the sleeping hammocks at the USS Constitution Museum. Photo by Greg M. Cooper

Tour the USS Constitution (Old Ironsides) and experience a sailor's life firsthand.
32. Take a ferry to Fort Warren.
A short boat ride over to Georges Island will bring you to this civil war era fort.
33. Catch a Bruins game at the Garden.
Tiny Boston sports fans love watching the B's hit the ice live.
This colorful and playful library is a great place to stop in to play with toys, read a book, or attend one of the many children's events they host.
Climb aboard at Boston Harbor Cruises right outside of the New England Aquarium for an ocean adventure.
36. Walk through the gates of Harvard University.
Explore the campus of Boston's very own ivy league college. Don't forget to walk around Harvard Yard while you're there too.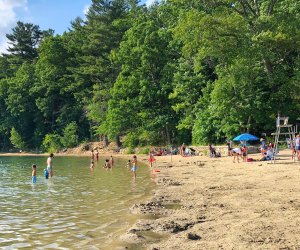 Go for a family swim at Walden Pond! Photo by Todd Van Hoosear/CC-BY-SA 2.0
Swim or hike around the pond where Henry David Thoreau found poetic inspiration.
Watch the street entertainers, grab a bite in the food court, and shop around for some Boston swag at the outdoor carts.
Browse New England's largest outdoor weekly bazaar! Expect food trucks, artwork, and even a beer garden.
40. Go for a sail on the Charles River.
Raise the mast and learn to sail right in the city. Lessons are available for both adults and kids, with camp options in the summer too.
Head just south of Boston to explore this maritime museum, best known for its Harbor Illumination event in July.
42. Venture to the Concord Museum.
A visit to this museum will teach your kiddos about American history. Make plans to see the annual Family Trees exhibit during the holidays.
Try some of the hands-on activities at these kid-focused STEM exhibits.
Along with a visit to the museum, Blue Hills is a great spot to go for a hike or hit the slopes—right outside of the city.
45. Pick a pumpkin.
See who can pick the biggest gourd from these pumpkin patches near Boston.
Step back into history with a visit to this famous house. You might even catch a fife and drum concert in the courtyard.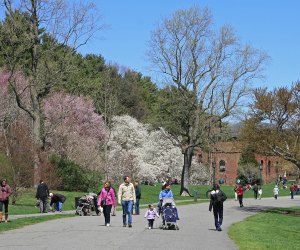 Enjoy the spring blooms at the Arnold Arboretum. Photo by Jon Hetman/Arnold Arboretum of Harvard University
47. Get in touch with nature at the Arnold Arboretum.
Pick up a discovery pack to explore the beautiful grounds for the day. The Arboretum is free but donations are welcome.
This annual event takes place in the North End in August and promises delicious food, a parade, and children's activities all weekend long.
Tour this old church, school, and community meeting place located in Beacon Hill. This museum also has a location in Nantucket.



Salem, Mass. has so many things to do beyond Halloween activities. Photo courtesy of Pioneer Village in Salem
50. Visit the nation's Halloween capital, Salem.
This coastal town features tons of kid-friendly Halloween activities all season long, but there's so much to do it's worth a visit year-round.
51. Root for the Celtics at the Garden.
Put on your green and cheer for the home team. Visiting the Garden why the Celt's are away? Check out the Boston Sports Museum located at the stadium.
52. Cheer at "The Game" when it's Harvard's turn to host Yale.
This rival game happens in November and draws a huge crowd.
53. Go apple picking.
Don't miss that falltime virtual of apple picking at the farms just outside of Boston.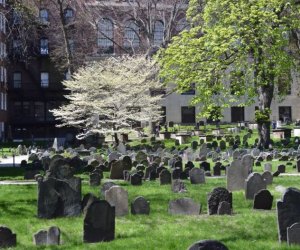 Take a stroll along Boston's Freedom Trail and see the city's history. Photo courtesy of the freedomtrail.org
54. Take a self-guided walk along the Freedom Trail.
One of Boston's most well-known attractions, the Freedom Trail is a combo of history and exercise all in one!
55. Try a bunch of different flavors at a J.P. Licks.
Founded in Jamaica Plains, J.P. Licks now has sixteen delicious locations in the Boston area. The shops feature a variety of creative ice cream flavors to try.
Explore the history of Boston's 19th-century African American community and get in some exercise.
Part boat, part car—the Duck Boat tours the city by land and water, including a splashdown into the Charles.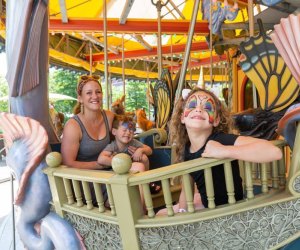 A spin on a carousel is a must for Boston kids! Photo courtesy of the Rose Kennedy Greenway Facebook page
58. Take a spin on a carousel.
Visit the Frog Pond or the Greenway to go round and round on painted ponies.
See the whale skeletons, a giant amethyst, and over 500 taxidermy animals at this museum in Cambridge.
Start a holiday tradition and grab tickets to the Christmas Revels show in December filled with lots of festive singing and dancing.
Visit this historic church in the North End most famous for being the site where lanterns were hung to warn Paul Revere the British were coming.

Make way for Boston kids having fun! Duckling Day photo courtesy of Friends of the Public Garden
Dress in your best yellow get-ups and celebrate your mama duck at this annual parade on Mother's Day.
63. See the Boston Ballet perform The Nutcracker.
From giant nutcrackers to sugar plum fairies, your little ones will love watching this magical holiday tale come to life live on stage.
Visit this museum in Lexington free of charge to learn about American history.
65. Hit the water slides.
Visit a New England water park for wave pools, lazy rivers, and thrilling raft rides and slides.
Visit these Boston-area homes that go all out with Christmas lights each year!
67. Join the crowds celebrating Independence Day during Boston Harborfest.
Kick off the Fourth of July celebrations with a weekend long patriotic celebration.
Take your water taxi to go somewhere—or nowhere!
Visit the farm animals, owls, geese, and nature center at this local farm.
At this museum, you can learn about all things H2O and enjoy exhibits and pop classes designed for kids.
Hobnob with scientists and try hands-on activities during this April festival in Cambridge.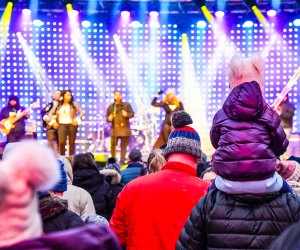 Families can celebrate First Night in Boston each and every New Year! Photo courtesy of First Night Boston
72. Ring in the New Year at Boston's First Night.
Spend the day—and night if you're up for skipping bedtime— celebrating New Year's Eve in the city with ice sculptures, concerts, and fireworks.
73. Hunt for Easter eggs.
Join the hunt at these Boston Easter egg events.
Hop on two wheels and go for a family ride along this 11-mile bike path that starts in Cambridge and ends in Bedford.
75. Go for a swing at the Lawn on D.
Take a swing on the lawn's signature circle swings and then hang out after to play lawn games and grab a quick bite.
76. Take a chocolate tour at Taza Factory.
Sample some delicious treats during the tour and purchase some chocolates to take home.
77. Watch a re-enactment during Patriots' Day.
Travel back in time and salute the soldiers at this Revolutionary War-era re-enactment in Concord.
See Boston's most iconic landmarks recreated with more than 1.5 million Lego bricks, go on rides, and of course—build with Legos!
79. Get in the spirit at the annual Holiday Pops family concert.
At this family edition of the Pop's holiday concerts, kids can sing and dance along to holiday classics. Be on the lookout for Santa who always makes an appearance towards the end.
80. Visit Revere Beach for the annual Sand Sculpting Competition.
This is the largest sand sculpting competition on the East Coast and will not disappoint.


Families will love the deCordova's sculptures. Photo courtesy of the deCordova Sculpture Park and Museum
Explore and find your favorite sculptures at this outdoor garden in Lincoln. Check their events calendar for special kid-friendly activities and crafts, family picnics, and more.
Immerse yourself in the life of pilgrims at this living museum just south of Boston.
Cheer on your favorite college rowers during this annual boat race in October.
84. Make a trip to Gillette Stadium.
See the six-time-Super-Bowl-champs hit the field or tour The Hall at Patriot Place in Foxboro for memorabilia.
85. Cross the bridge to Charlestown to visit the Bunker Hill Monument.
Climb the 294 steps to the top and then visit the museum across the street.
86. Paddle along the Charles River.
Rent a kayak and hit the river to explore the city by water.
87.Take a ride on the "T."
Ride the Green, Red, Blue, and Orange lines on the "T" (and learn the words to "Charlie on the MTA").
88. Walk around the Esplanade.
Walk along the Esplanade and stop at one of the playgrounds along the river.
From outdoor adventure to indoor hands-on activities, this museum is the perfect place for kids to spend the day.
90. Indulge in some fresh seafood.
Pop into Union Oyster House (in the city) or the North Shore (after a day at the beach) for the freshest eats.
Sit way up front and maybe get splashed with some blue paint while you rock out to this fun musical show.
From fried Oreos to carnival rides to farm friends, this Fall festival is not to be missed.
The Museum of Science planetarium offers sweeping views of the sky and kid-friendly shows featuring Sesame Street characters.
94. Visit the islands— Cape Cod, Nantucket, and Martha's Vineyard.
Take a day or overnight trip to the Cape. Got a weekend? Hit Nantucket or the Vineyard.
This newly renovated sprayground is the best place to cool off on a hot summer day.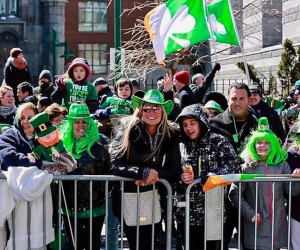 Evacuation Day St Pats Parade photo courtesy of Caught in Southie
Dress up your little leprechauns and head to the parade for some St. Patty's Day fun.
97. Cruise the Boston Harbor on Codzilla.
Got a need to speed? Take your little dare devils for a high-speed ride around the Boston waterfront.
98. Dress up for a holiday Teddy Bear Tea at the Four Seasons.
This is one of our favorite things to do in Boston during the holidays! Put on your holiday best and bring your favorite squishy sidekick for a magical tea.
Play statue and see if you can get a butterfly to land on you. Spend the rest of the day exploring the entire museum.
100. Visit the Boston Nature Center during maple season.
Learn to tap a maple tree and get a sweet reward fit for homemade pancakes and waffles.
A version of this article was first published in December 2012; updated in 2021, 2023