Best Splash Pads, Splash Parks, and Water Playgrounds in Boston
6/4/23
- By
Elyse Andrews
You know it's summertime in Boston when kids are running through splash pads, splash parks, and sprinkler playgrounds, on the Rose Kennedy Greenway and at area parks and playgrounds. When the weather heats up, the water turns on, and kids can splash around at several of the area's "coolest" spraygrounds, splash pads, and wading pools. As an added bonus, these spray parks are all free to visit. Read on for the best splash pads, splash parks, and water playgrounds in Boston and the surrounding communities. Make sure to check with the local parks departments before heading out for any updates or changes to hours and rules.
For more fun summer ideas, check out our guide to Drive-in Movie Theaters in and Around Boston for Outdoor Movie Night with Kids. If you're looking to get out of the city for some splash time, read up on The Best Cape Cod Beaches for Families. And our Ultimate Summer Bucket List Ideas:100 (Mostly) Free Outdoor Games and Activities for Kids can show you plenty of great ways to enjoy the season in your home and around the neighborhood.
Best Splash Pads, Splash Parks, and Water Playgrounds in Boston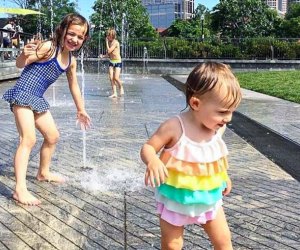 The Canal Fountains are perfect for little kids who just want to get their feet wet. Photo courtesy of Rose Kennedy Greenway Conservancy
Rose Kennedy Greenway fountains, listed below from north to south, are available for splashing through early October.
Rings Fountain—Greenway at Central Street
64 nozzles shoot up in the air and create circles of vertical water.
Canal Fountains—Greenway at Salem Street (North Canal Fountain) and Greenway at North Street (South Canal Fountain)
The Canal fountains run along the North and South lawns of the Parks. These fountains are perfect for smaller children, who just want to get their feet wet.
River Stream Fountain—Surface Road and Beach Street
The bamboo-lined, rocky stream in Chinatown is best for older kids.
Harbor Fog Sculpture
The contemporary, interactive sculpture takes cool to the next level. Movement activates and cool, foggy mist. Perfect for kids who don't want to get soaked but need a refreshing escape from the summer sun.
This nautically-themed playground has some of the coolest water features in town: several large seaweed sculptures that spray kids down when the weather heats up. It's the perfect spot to keep the kiddos nice and cool.
​The small, nicely maintained DCR playground has a spray deck and wading pool for cooling off. The spray deck is open through early September, while the wading pool is open Saturday and Sunday through August.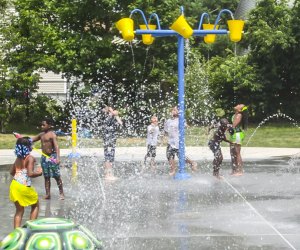 Mattapan's Ryan wading pool and splash pad are perfect for summer fun! Photo courtesy of Ryan Wading Pool and Playground
The water features at this next one are extensive. Not only is there a substantial wading pool, but there are several spray features in the shapes of animals. Ryan Wading Pool is open daily from mid-June to late August with extended hours on Thursdays in July and August.
This small neighborhood spray deck is part of the Stony Brook Playground. It's open daily from late May to early September. Water quality tests were done daily last summer during the pandemic, and the spray deck operated at limited capacity, which may or may not be the case in 2021.
Like Stony Brook, this is small neighborhood spray deck is part of the Johnson Playground. It's open daily from late May to early September with extended hours in July and August.
You may not be able to dive into the Charles River, but you can cool down on its shores at the Alfond Memorial Spray Deck.
With brightly colored spray features, this splash pad is big enough for everyone who needs to cool down on hot days. The spray deck is open from late June to late August with extended hours in July and August.

The splash pad at Boston Common's Frog Pond lets kids beat the summer heat. Photo courtesy of the Boston Frog Pond
From late June through Labor Day weekend, children ages 12 and under can cool off in the Frog Pond Spray Pool, open daily at 11 am.
This newer splash pool and fountain area that includes evening lighting is open daily, weather permitting. The fountain is on the Belvidere Street side of the plaza.
Best Sprinkler Parks and Splash Pads in Brookline
At Coolidge Playground, water shoots out of what looks like a volcano, which is a big hit with the little ones.
Nestled right in the middle of a large playground, this sizable spray deck lets kids cool down in between turns on the slides and swings.
Best Splash Pads, Splash Parks, and Water Playgrounds in Cambridge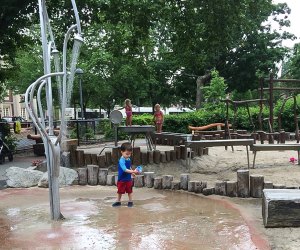 Cambridge has some of Greater Boston's most creative splash pads. Kemp Park in Cambridge, photo by Frankie D., courtesy of Yelp
This super unique playground Cambridge Common (it's built of natural materials) has a splash pad and water wheel with attached water tables.
In addition to playgrounds, open green space, and paths, Danehy Park has a large spray deck that's perfect for cooling off on hot days.
The spray deck at North Point Park has one of the best views in the area. You can see Boston and the Zakim Bridge while splashing around.
Best Splash Pads, Splash Parks, and Water Playgrounds in Somerville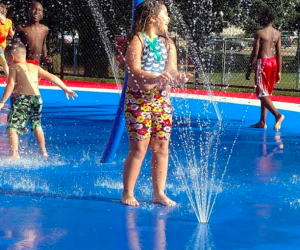 The splash pad in Foss Park in Somerville features many different-sized vertical jets for kids to run through.
A large, colorful splash pad with inviting vertical jets of various sizes opened last summer in Foss Park, near the popular Latta Brothers Memorial Pool.
The innovative water feature at Chuckie Harris Park isn't the only cool thing about this park; there's also a multi-person slide and plenty of green space.
Best Splash Pads, Splash Parks, and Water Playgrounds in Greater Boston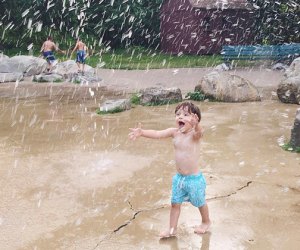 The rock features make Beaver Brook feel a little like a natural spring. Photo by aslava via Instagram.
There are a lot of fun water features in the Beaver Brook Spray Deck as well as a playground and lots of green space to explore in the Beaver Brook Reservation (a favorite for dogs and their humans). Tip: The rocks in the water area get slippery, so have your little ones wear water shoes with tread.
This multi-use park has a baseball field, basketball court, playground, and a huge splash pad. Parking is available, and the park provides portable restrooms in the summer.
This 4,000-square-foot splash pad provides big relief for hot days on the South Shore. Kids will love the brightly colored water features. The surrounding park has a playground and athletic fields as well as trails and views of the Monatiquot River.
This splash park features run-through water arches and sprinkling snakes. Kids will also love the adjoining playground where they can run around and dry off.
The playground and splash pad are fully-fenced which is great for little wanderers.
Click Here to Sign Up!
i