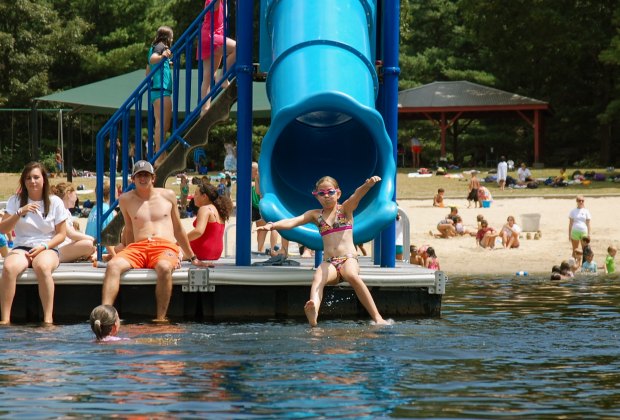 Best Swimming Ponds and Lakes Around Boston
Living in or near Boston means that there are plenty of beaches that are perfect for families looking to spend the day outside. But swimming in the ocean can be tricky. First of all, it's usually freezing, which may not bother your kids, but makes most parents feel like popsicles. Also, the waves at many coastal beaches are often too strong for little ones to enjoy. Luckily, there are many local ponds and lakes where swimming is not only easy, but super-fun. So we've rounded up 10 places near Boston where you and your kids can splash around in freshwater all summer long.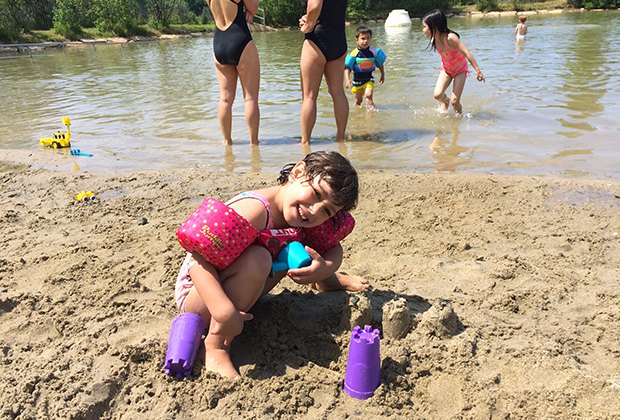 Arlington Reservoir's swimming area has a busy beach as well as a playground. Photo via Flickr/CC BY-SA 2.0

Arlington Reservoir—Arlington
The Arlington Reservoir is a great place to take kids for a freshwater dip. It has a swimming area with a beach that's monitored by lifeguards, a concession stand, a bathhouse, and even a playground. Buy a season pass if you plan to come often, or a day pass for a one-time visit. If you're feeling really adventurous, ride your bike to the reservoir, which is very close to the Minuteman Bikeway.
RELATED: Family-Friendly Bike Trails Near Boston
Chebacco Lake—Hamilton & Essex
This 209-acre pond spans across two towns and offers boating, swimming, and year-round fishing. While there are lots of private houses along the Chebacco Lake, the best place for the public take a dip is at Centennial Groove where there is a small beach and bathrooms. This area is only open after 1pm on weekdays and on weekends.

Cochituate State Park—Natick
Cochituate State Park is a popular spot for outdoor recreation in the summer. People flock to the three sections of Lake Cochituate—north, middle and south—for boating, kayaking, canoeing, windsurfing, fishing, and, of course, swimming. There are plenty of places to picnic, and nearby trails are perfect for stretching your legs. Daily parking fees are $8 for Massachusetts vehicles and $15 for out-of-state cars.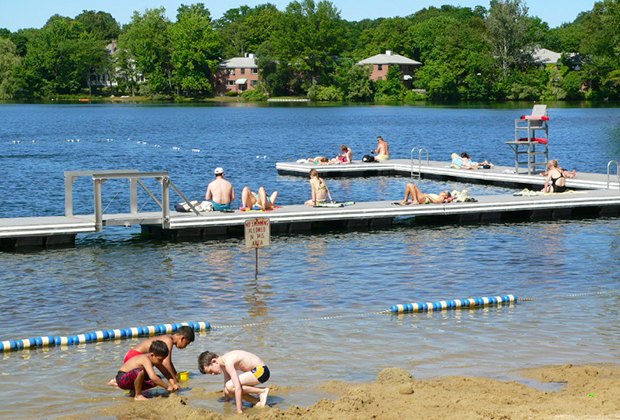 On sunny days, Crystal Lake is as sparkly as its name. Photo courtesy of Newton Conservators

Crystal Lake—Newton
Visit the beautiful 33-acre Crystal Lake in Newton this summer for a day of fun in the sun. While much of the lake is surrounded by private homes, there are two town parks, a town beach, and a bathhouse that are open to the public. Only Newton residents can buy summer-long swim passes, but anyone can purchase a day pass for $10 per person.

Hopkinton Reservoir, Hopkinton State Park—Hopkinton
Hopkinton may be best known for being the start of the Boston Marathon, but it's also home to the terrific Hopkinton State Park. There are two designated swimming areas that are monitored by lifeguards and the Main Area waterfront has an accessible ramp, so anyone can use the facilities. The state park also has ample spots for picnicking and trails for exploring. Daily parking fees of $8 for Massachusetts vehicles and $15 for out-of-state cars apply.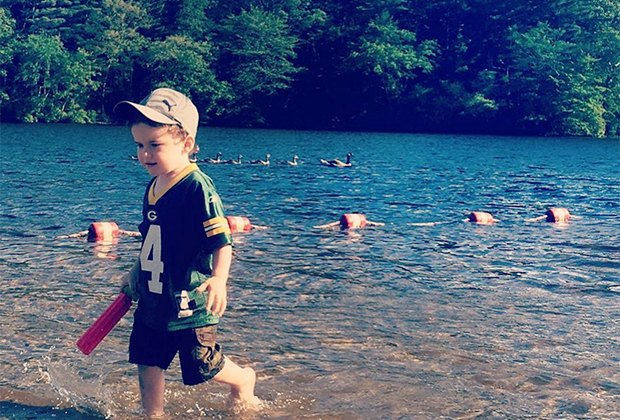 The water and beaches are super-clean at Houghton's Pond. Photo by cathgarn via Instagram

Houghton's Pond—Milton
You can't go wrong with a trip to Houghton's Pond in the Blue Hills Reservation. This pristine waterway offers lots of outlets for recreation, like swimming, fishing, picnicking, and hiking. The pond is a great place to bring children because it also has a playground, concession area, restrooms, and first-aid station. The swimming area is monitored by lifeguards.
Lake Quinsigamond—Worcester
This lake has two different areas where you can enjoy a day of swimming. The Regatta Point area on Lake Quinsigamond has swimming and sailing and a great spot for picnicking; and the Lake Park location offers up swimming and picnicking as well as tennis courts. Daily parking fees of $8 for Massachusetts vehicles and $15 for out-of-state cars apply.

Morses Pond—Wellesley
Morses Pond is a bit of a hidden gem in the local freshwater swimming scene. But it's one that's well worth adding to your list of places to head when the temperature rises. There's a roped-off swimming area that's monitored by lifeguards, plus a playground, picnic, and barbecue areas, and even an ice cream truck that makes regular visits. There are also canoes, kayaks, and paddle boards for rent if you're feeling adventurous. You can buy a season pass or one-day pass, depending on how often you plan to swim.
RELATED: 10 Reasons It's Great to Be a Wellesley Mom

The Mystic Lakes—Arlington, Medford, Winchester
While the western shore of the Mystic Lakes is occupied by private homes, the eastern shore is open to the public. The most popular spot for freshwater swimming in the lakes is at Shannon Beach, where you'll also find a playground, trails, and bathrooms. There are sometimes lifeguards on duty, and locals rave about the free parking.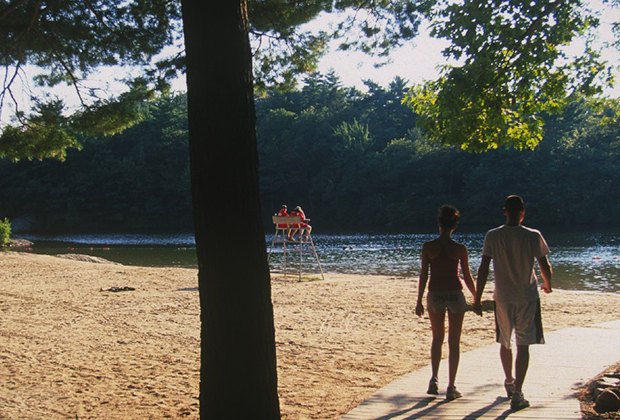 A swim in Pearce Lake is a great reward after a hike through Breakheart. Photo courtesy of Department of Conservation and Recreation

Pearce Lake, Breakheart Reservation—Saugus
Head north to Pearce Lake in Breakheart Reservation for a peaceful swim. The lake has a sandy beach with a supervised swimming area, a picnic area, and first aid station that's open in the summer. Take to the trails of the reservation before heading to the lake to cool off. The free parking is a nice bonus.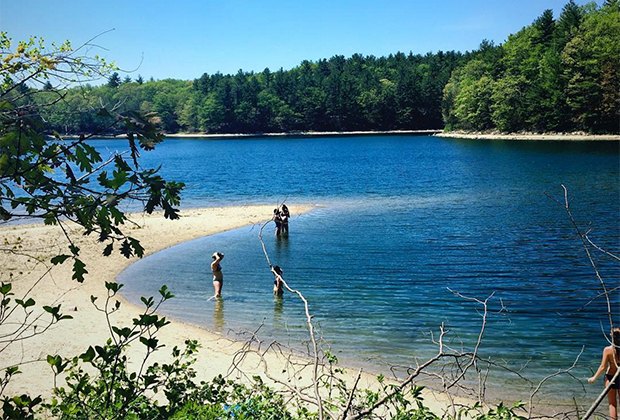 Walden Pond has a roped-off swimming area for little kids. Photo by 1130_nagisa via Instagram

Walden Pond—Concord
I recently wrote an article about everything you need to know about visiting Walden Pond. Since it's one of my favorite spots for summer swimming, I had to include it again here. Walden's waters are super clean and warm, plus there are lifeguards and a roped-off swimming areas for smaller kids. A bathhouse with restrooms and changing areas is easily accessible near the main beach. Daily parking fees of $8 for Massachusetts vehicles and $15 for out-of-state cars apply.